If you are passionate about woodworking we have some great news for you. You can use your love for it to make some extra cash. There are plenty of woodworking projects out there that are easy to build and sell. If you're looking for a way to make some money on the side or possibly do this full-time here are 50 woodworking projects that sell online to help inspire you!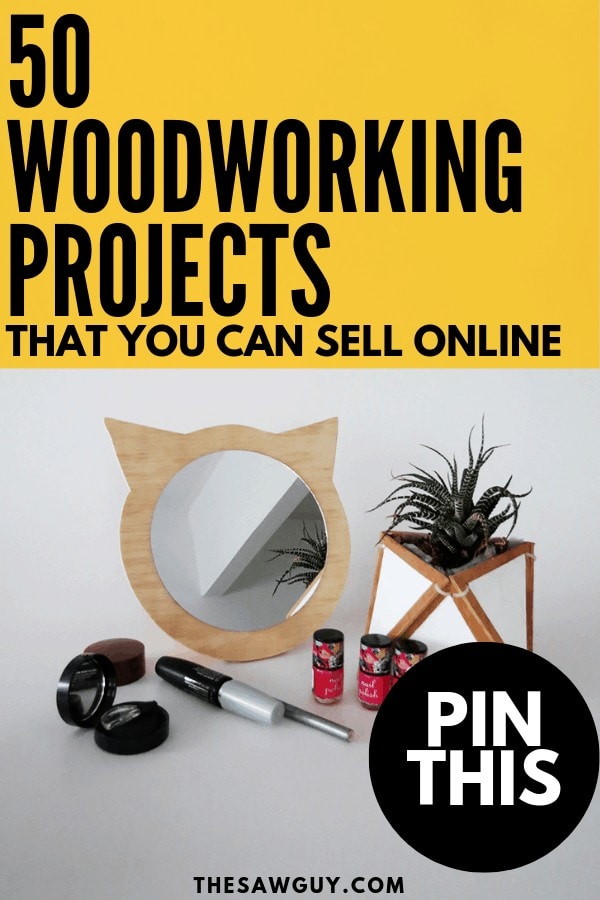 1. Storage Box
Storage boxes are a great product to sell online for many reasons. The number one reason is you can create these quickly. You can make them as intricately or simply as possible depending on what you want the price point to be.
2. Planter Box
This planter is easy to make and easy to sell to outdoor decor lovers. For more decor ideas check out 20 DIY dollar store decor ideas.
3. Trigonal Shelves
This shelf will definitely sell because it is a work of art that is completely functional! This shelf makes a statement and buyers will snag it fast.
4. Traditional Blanket Rack
This blanket rack is a great addition to any home. They're useful to display your blankets and keep them organized and clean. Note: you may want to consider adding some details if you plan on creating this.
5. Seasonal Signs
These seasonal signs are very beginner friendly. The materials you need are very easy to get your hands on. These are also great because they can be based on the seasons and holidays. This means there will always be a need for these signs.
6. Coffee Table
If you're someone who wants to work on bigger projects then this coffee table is for you. These types of projects can bring in quite a bit of money. Just keep in mind shipping may be expensive! For another coffee table idea check out, live edge walnut coffee table kit.
7. Mantle Clock
Clocks are super easy to make, and while this may not seem like it would be a hit, it is. There are a lot of people who love the timelessness of these.
8. Storage Organizer
People love organizers for the entryways of their homes. You can store jackets, shoes, purses and more in this great piece.
9. Personalized Jenga
This project is fun, creative, and easy. Since this project is customizable it will be a hit for special events like weddings, baby showers, etc.
10. Kitchen Utensils
Kitchen utensils are a hit with culinary fanatics. You can create custom pieces to cater to the styles of each customer.
11. Keepsake Box
This keepsake box is great for people of all ages. It's also a great gift! These boxes can sell quickly because they are beautiful and aesthetically pleasing.
12. Cornhole Set
Cornhole is such a fun game and it has become increasingly popular over the last couple of years. Keep in mind if you want to sell this you will want to create something that stands out to sell fast.
13. Coasters
Coasters are great because they're a simple piece and always needed. You can sell them separately or you can sell them with other products like TV trays.
14. Wooden iPad Dock
These days a lot of people work with their tablets. Whether it be for writing or research, email and more many people can make use of this. It's a great piece for a beginner to make.
15. Wooden Doormat
A wooden doormat is not something you see very often. For that reason, it will draw the attention of people who like statement pieces for their home.
16. Bowls & Chopsticks
This project is unique and easy to make. It is a beautiful set that's eye-catching and will be the talk of the table.
17. Garden Bench
These kinds of benches have been really popular. People with backyard spaces and gardens love buying these to transform their space.
18. Wooden Bookends
This is another project that is perfect for beginners to make. They are really modern and will be a hit with any book buff. They don't just look good, they are also quite useful.
19. Business Card Holder
People who wish to build their business world have business cards. These business card holders will help these busy professionals display and keep track of cards.
20. Plant Stand
This functional stand will be a hit for many reasons. It is cheap, functional, easy to make, and stylish. Perfect for selling online.
21. Wine Rack
Wine racks sell like crazy online because they are decorative and functional. Wine lovers will flock to buy these great pieces.
22. Mini Planter Boxes
Rounded pots are extremely popular for garden plants. People want to make their garden different with these mini planter boxes. These planter boxes give off a more modern feel.
23. Toy Blocks
These toy blocks are another simple kid product that is sure to sell. It's fun, nostalgic, and durable.
24. Serving Trays
These serving trays are very modern. Something like this can sell well because entertainers often look to refresh their space.
25. Bird Houses
These are simple yet effective woodworking projects that sell online. People love attracting a variety of birds to their backyards because they make spaces more scenic.
26. Cutting Board
This project is pretty straightforward and easy. This cutting board is very rustic and will appeal to those looking for a high-quality addition to their kitchen.
27. Picture Frame
This is such an easy project, but it will definitely sell. This picture farm style frame is a big hit with fans of rustic decor.
28. Shoe Rack
Everyone has shoes, and it's hard to keep them organized. Especially for people who have larger families. Shoe racks are great to sell because there will always be a need for them.
29. Candle Holder
A rustic candle holder is perfect for any home. These easy projects sell quickly because of their mass appeal.
30. Toy Trucks and Cars
These toy trucks and cars are a great project to sell because they're a great gift and they're nostalgic. You can sell them individually or as a set.
31. Wooden Sofa Sleeve With Cup Holder
This is one of the easiest woodworking projects. These are great for the homebodies and couch potatoes out there.
32. Chess Board
Chess boards tend to sell easily online. You can create just the board and create the board and pieces as well. Creating both the pieces and board may be a little more time consuming but you will be able to charge more for the set.
33. Treasure Chest Toy Box
This is a really fun idea for children decor. This will be successful because the market for toys and decor for children is always booming. Once parents find good quality products, they come back for more.
34. Key Holder
Key holders are a great touch to any home. There are many people who enjoy the rustic look. (+ not losing their keys).
35. Wood Mail Sorter
This wooden mail sorter will help people keep things organized and give a home a classic feel. Perfect as a gift or for the home organization lovers.
36. Desktop Clock
Desktop clocks are great gifts because they are a nice decor piece. These will sell because a lot of people can use them in while in school or if they work at a desk job.
37. Wooden Beads
Wooden beads are great because there is a huge crafts market in the online world. You can make a variety of shapes and colors. They can be sold as a craft kit or just by themselves.
38. Personalized Wooden Signs
Everyone will love these personalized wooden signs. Whether they buy for themselves or get them as gifts.
39. Bath Trays
Everyone loves bath trays. You can make these as simplistic as you want or as complex as you want depending on how much you want to charge.
40. Floating Shelves
These floating shelves are popular right now. They're really simplistic and modern looking with many uses. You wouldn't have any trouble selling these.
41. Guitar Picks
Guitar picks are great for musicians. They aren't great for playing the guitar but you can create necklaces, bracelets, ornaments and more with them.
42. Sunglasses Boxes
People spend hundreds of dollars on sunglasses. Unfortunately, they can be dropped, scratched, or broken without any protection. Sunglasses boxes will sell because people will want to protect their sunglasses.
43. Animal Mirror
This mirror is really easy to make, and it's definitely a hit with the younger generations. It is a really cute and simple idea.
44. Board Game Boards
Board game boards are another thing that may not seem like it would do well. However, custom boards are actually something that people find cool and fun to gift.
45. Hexagonal Shelves
These hexagonal shelves will attract everyone's attention. Why would someone buy plain old shelves when you can have cool geometric shaped shelves?
46. Jewelry Box
This jewelry box is a great project to sell online because it makes a great gift for all ages.
47. Ottoman Trays
These ottoman trays are awesome projects to sell because they can turn any ottoman into a mock coffee table.
48. Board Game Pieces
This may seem like something so minuscule but they will definitely sell. It's easy for pieces to go missing since they're so small. You can also create custom pieces to generate interest,
49. Bedside Docking Station
This is a great woodworking project to sell online because anyone and everyone can use it! Since you can market to everyone, you should be able to make a good profit.
50. Easels
Easels are a great product you can sell online because you can create very intricate ones or very basic ones. You can branch out to all types of artists, beginners, hobbyists, experts, etc.
There are 50 woodworking projects that sell online! We hope these things help inspire you to start selling your woodworking projects online. The great thing about this is you can turn your hobby into a side-job or even possibly a full-time job.
Have you ever sold any of your woodworking projects online? If not, are you considering it? We would love to hear your thoughts. Please feel free to leave a comment, we would love to hear from you! If you're are looking for more woodworking projects, here are 26 of the best woodworking projects for kids.