It doesn't need to cost a fortune to add some creative, fun decor to your home. You can head on over to your local dollar store for some supplies. Are you looking for some budget home decor? Decorate for less with these 20 DIY dollar store decor ideas.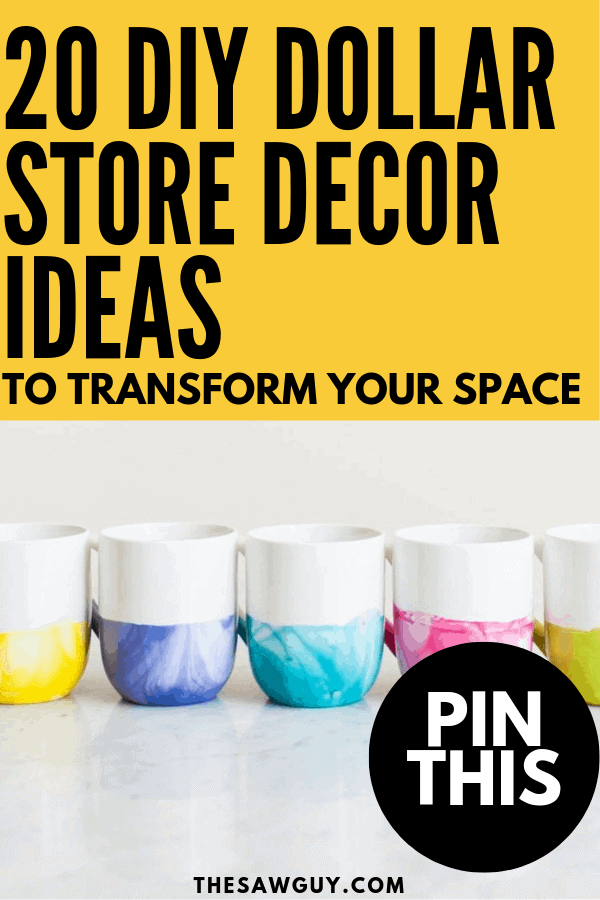 1. Transform Regular Plastic Elephants into Bookends
Do you need a cute accent decor piece for your home? These bookends are perfect for that! You don't need many supplies for this DIY, and you can easily find everything at the dollar store or in the dollar bin at the craft store.
2. Simple Candles Transformed into Nautical Beach Themed Candles
With this DIY you can either transform white candles that you already have or you can pick some up at the dollar store. All you need to complete this DIY is candles in glass, twine, shells, rocks, a glue gun, and a platter. These candles are a great idea for gifts. Everyone loves candles, and they can be used in any room. For more DIY gift ideas click here.
3. Create Marble Gazing Stones Easily
Source
These marble gazing stones are a great addition to any garden. Also, they're really easy to make! All you need to do is insert a chopstick into the bottom of a styrofoam ball and then glue marbles around the outside of the ball.
4. Create a Tiered Bowl Planter with Plastic Bowls
This tiered bowl planter is great for everyone. All you need is three or four plastic bowls! To make this planter tier the bowls and then add your desired plants.
Tip: Make sure to add holes to the bottoms of these bowls. You want to make sure water is able to drain. If water doesn't drain you could drown your plants!
5. Create Ombre Vases with Some Paint
These ombre vases are simple and pretty. To make these vases you need vases and some paint. For the vases, the sizes can be the same or they can vary.
6. Transform an Old Candle Holder into a Glass Bead Candle Holder
This glass bead candle holder is really pretty. To create this all you need to do is glue glass marbles to a candle holder!
7. Create a Picture Frame Luminarie Easily
This DIY Project is highly personal and customizable. You can give this as a gift or create one for yourself.
8. Transform a Plain Old Mirror into a Sunburst Mirror
You can easily transform a plain round mirror found at the dollar store with bamboo skewers, gold paint, and a glue gun.
9. Create a Chic Wall Mirror with Compacts
Do you want a decorative mirror without having to pay a lot of money? This wall mirror made from compacts is super easy to make and it looks incredible. Just glue the compact mirrors into a circular frame shaped like the frame in the picture!
10. Create Wall Art with a Rubber Door Mat
This DIY is actually really cool and different. You can create wall art with a doormat! To make this all you need to do is spray paint a rubber door mat found at the dollar store. If you want a more distressed look you can sand it down.
11. Transform a Bath Mat with Pebbles
To make this pebble bath mat all you need to do is super glue a variety of rocks onto a bath mat. This mat will make your bathroom look more modern.
12. Create Mirror Boxes Quickly and Easily
These mirror boxes can be used in many ways. You can use them as organizers, vases, holders, etc. To make these mirror boxes all you need is mirror squares and a glue gun.
13. Transform Plain Buckets into Chic Storage Buckets
Do you need more storage and want decor that looks chic? If so, then these buckets are perfect for you! Take plain old buckets and change them into chic storage buckets. These don't require much work. If you need more DIY storage ideas, check out these 25 brilliant storage ideas.
14. Transform Plain Locker Bins into Vintage Locker Bins
Create vintage looking locker bins easily with plain locker bins you can buy at the dollar store. You can also add tags for organization.
15. Easy to Make Faux Moss Topiaries
These faux moss topiaries look great and are easy to make! All you need is styrofoam balls, wooden dowels, sheet moss, and a flower pot. All of those supplies can be found at your local dollar store!
16. Make a Garland Wreath Easily
Add a welcoming feel to your home with this garland wreath. You can find everything you need to make the wreath at the dollar store.
17. Make Colorful Marble Mugs with Nail Polish
These marble mugs are so pretty. They're also really customizable. Get your favorite nail polish colors from the dollar store along with white ceramic mugs. Dip the mugs into the water with nail polish floating on the surface. Then remove the cup and you will have created your colorful marble mugs!
18. Create Industrial Wire Mail Baskets with Caddies
These wire mail baskets are a must-have. They look great and they will also keep you organized. To make these wire mail baskets all you need to do is attach some labels onto the caddies and then hang them!
19. Create Rustic Burlap Bins with Plastic Bins
These rustic burlap bins are a great way to keep your home tidy. To create these bins glue burlap fabric to the outside of plastic bins. Then add labels and place them in the desired location.
20. Create a Tablet Holder/Charging Station with a Picture Frame
This DIY project is a great way to keep all your electronics in one place. You can find everything you need to make this tablet holder at the dollar store.
Are you ready to head over to the dollar store and gather some supplies? Those faux moss topiaries would make a great addition to any home! There is something really satisfying about making your own decor. What are some of your favorite DIY dollar store decor ideas? Click here to check out more DIY Projects to transform your home.