There are so many ways to make your backyard a little more lively. One great way to do that is to create outdoor furniture made from pallets. These pieces of furniture will save you money and make your outdoor space look great! You can make your backyard the go-to spot for family events and neighborhood barbeques. All you need is some creativity and motivation and you can transform your patio and backyard with these 12 DIY outdoor pallet furniture ideas.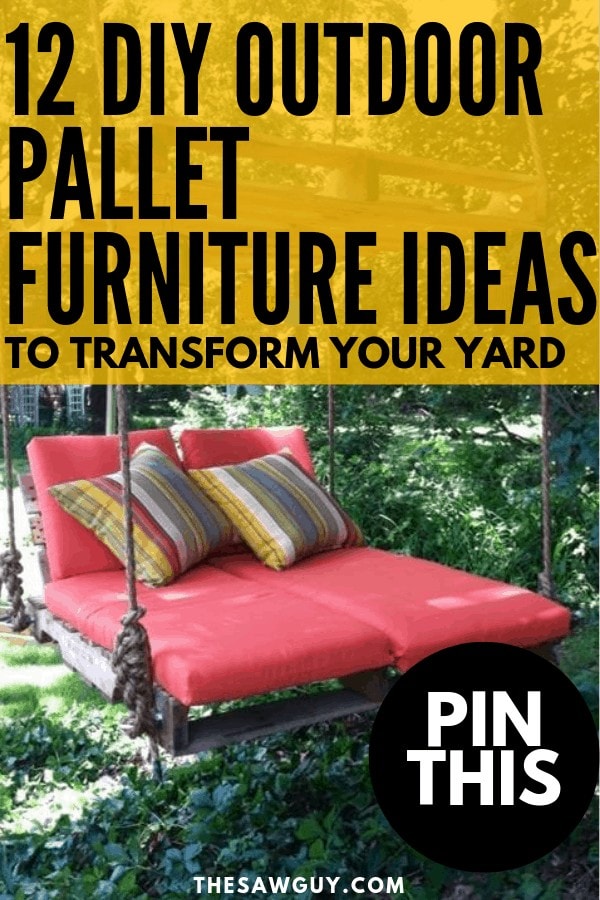 1. Create a Hanging Swing with Two Pallets
Are you looking for a creative and fun addition to your yard? This hanging pallet swing is a great way to enjoy the outdoors. The swing is held up by a thick rope, and you can add pillows and blankets to add some comfort as well!
2. Outdoor Pallet Coffee Table with a Hardwood Top
This outdoor pallet coffee table gives off a country feel. This table will be able to withstand outdoor barbeques and family nights. Since the table is made from pallets there are spaces in between that can be used for storage. You can store your kid's toys or some garden supplies. Another way you can spice up your outdoor area is with solar lights. Click here, for a guide on the best outdoor solar lights.
3. Wooden Bar Made from Pallets for Entertaining
Do you need more space for when you have guests? This wooden bar perfect for that! This bar gives you the space to entertain guests without having to worry about it getting too crowded. You can add hooks to hang a variety of things.
4. Bench with a Footstool for Your Patio
This bench and footstool is a great piece to decorate your patio or deck. All you need for this is pallets, cushions, and pillows. This DIY gives off a rustic feel, it will give your outdoor space a warm and homey feeling. Do you want to update the look of your deck? If so, check out these deck design railing ideas.
5. Make a Moveable Daybed from Pallets
Are you looking for a piece of furniture that is more unique than a patio set? This daybed is perfect for you. With this daybed, you can relax with friends or even take a nap on a nice summer day. It is a pretty straight forward project that can really tie your patio together. As a bonus this daybed has wheels, so you can rearrange with ease!
6. Small Suspended Bed Made from Pallets
This s one of my favorite DIY outdoor pallet furniture ideas! This suspended bed is great for relaxation. This bed will be enjoyed by everyone, it will definitely be a talking point at outdoor barbeques. Since the bed is suspended you will need to make sure you have a sturdy tree to hang it from.
7. Outdoor Dining Table for Your Patio
This dining table is great for those summer nights you want to enjoy the nice weather with your family. It can seat up to four people. The table itself is really easy to make, you can keep the top of the table plain and accent it with cushions or you can decorate the top of the table with whatever pattern you like.
8. Small Wooden Table Made from Pallets
This small wooden table can be used for many things. However, we recommend using it for an outdoor reading nook. You can set the table is a comfy, shady spot in your yard. We recommend layering some outdoor cushions and pillows around the table to add to the comfort.
9. Create a Vintage Looking Arm Chair with Some Pallets
This DIY is definitely more of a statement piece than the other DIY projects. When people visit your outdoor area this piece of furniture is definitely one of the first things they will see. You can customize and accent this chair however you like but to keep the vintage look it is recommended that you wrap the cushions in burlap sacks. For more pallet ideas, check out 27 DIY pallet furniture ideas – amazing and affordable.
10. Movable Pet Bed Made from Pallet Scraps
Do you want to make something special for your furry friend? If so, then this DIY project is perfect for you! This movable pet bed is great for those times you want your pet with you in your outdoor space. The cushion is removable and washable so you don't have to worry about dirtying the cushion when bringing it outside.
11. Build a Teepee Playhouse From Pallets
Spoil your kids with this DIY teepee playhouse! This playhouse will be a hit with your kids and their friends they will be able to let their imaginations run wild. You can also create a teepee for yourself, you can use it as a relaxation spot. Either way, whether you build one for yourself or your children, it is a great statement piece for your outdoor area.
12. Create a Rustic Cooler with Pallet Wood
This rustic cooler is great for the summertime, and if you're someone who spends a lot of time outside or has a lot of gatherings at your home this cooler is perfect! Fortunately, and cooler will work for this project! Just make sure you build the holder to match the cooler's size.
Are you going to head over to your local home improvement supply store to buy some pallets? The outdoor pallet coffee table looks great. It would be a great addition to any patio! You can customize it to fit the theme of your patio. What are some of your favorite DIY outdoor pallet furniture ideas?