Porter Cable is a brand name that has been around in power tools for over a century, and despite being bought and sold by several larger corporations throughout its history, it has a strong track record of inventing and producing high quality products for both professional and do-it-yourself camps of woodworkers.
At A Glance:
Last update on 2021-04-13 / Affiliate links / Images from Amazon Product Advertising API
Are you looking for some general information on table saws or other tools? Check out our complete resource guides on Miter Saws, Table Saws, Chainsaws, Band Saws and Circular Saws. These guides have all the information you need. You will be able to find history, the differnt types of the tool, top brand sold, and more!
Read on to find the best Porter Cable table saw and learn reasons why this brand may be a good choice for your workshop or jobsite.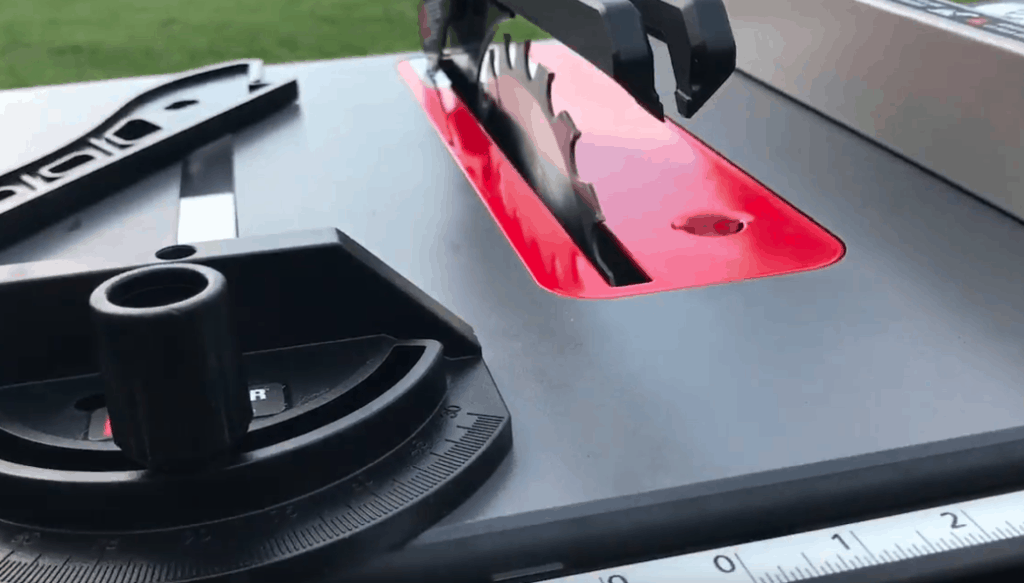 Porter Cable Table Saw Reviews
First, there are two models of Porter Cable Table Saws: the PCB270TS model and the PCB222TS (jobsite model). However, there is a major difference between the two models. The PCB270TS model has dado cut capability, while the jobsite model PCB222TS does not.
PCB270TS Porter Cable Table Saw: This lightweight table saw has a surprising amount of power for such a compact unit and is a good option for DIY craftsmen and woodworkers pottering around in the home woodshop. It is not considered durable enough for heavy or constant use, however.
Last update on 2021-03-20 / Affiliate links / Images from Amazon Product Advertising API
What We Like About It

Compact and economical design: The small size of this machine makes for a small footprint in the workshop, so it won't seem like it's in the way when you're working on other projects.
Industrial grade motor: A good amount of power in a small package, this table saw assembly can cut through hardwoods without bogging down.
Easy gliding rip fence: Ensures accuracy and a square slice every time for repeatable cuts.
Included blade chute: Allows for easy dust collection to improve visibility and decrease inhaled wood dust during operation.
3-way, tool-free guard system: An important design inclusion to keep your fingers out of the saw blade. Safety first!
Portable folding stand: The portable stand on this table saw allows you to take it wherever you need to cut, and its light weight means it can be moved without throwing your back out in the process.
Durable steel post design: Despite its lightweight construction, the steel post stand makes for a stable table saw assembly and does not threaten to wobble or tip.
What We Don't Like About It
Last update on 2021-03-20 / Affiliate links / Images from Amazon Product Advertising API
Cheaper materials: Extension tables are made out of stamped steel sheet metal rather than solid cast iron, decreasing overall durability.
Not an easy saw to get repaired if it breaks, or source replacement parts: Some major parts, such as the motor assembly, have been discontinued and are considered effectively obsolete.
The guard system can be somewhat difficult to get on and off: This can be a real hassle if you want to do larger cuts without a guard in the way.
Dado usage does require an optional throat plate that is not included with the base model: If you want to make dado cuts, you'll have to get an upgrade accessory.
The Porter Cable table saw jobsite model, the PCB222TS: This is where added emphasis is put on portability and power for the professional carpenter or construction worker.
What We Like About It

Blade alignment is an easy process: Is often close to true after assembly with very little adjustment required, and any adjustments needed are easy to perform.
Crank-adjusted bevel cutting action: Cranking adjustment allows you to make changes to your cut quickly and easily.
Smooth assembly: The table saw comes together fast, and the instructions are in readable English, with decent diagrams.
What We Don't Like About It

Company can be cagey in the event of a warranty claim: This can make a Porter Cable saw difficult to get repaired if something goes wrong.
Odd kerf plate design makes finding aftermarket additions difficult: Many standard aftermarket kerf plates will not fit this saw.
No dado throat plate insert available (dado plate for PCB270TS does not fit this model): If you want to do dado cuts, you'll need to get the PCB270TS, but that saw doesn't come stock with a dado insert either, so you'll still need to buy one.
Porter Cable Table Saw PCB270TS Parts
Now lets go over, this portable table saw and its parts:
Last update on 2021-03-06 / Affiliate links / Images from Amazon Product Advertising API
Saw blade and assembly (with motor)
Winged extensions
Miter gauge
Splitter
Guard assembly
Blade hardware
Table saw fence
Rail system in front and rear
While the stock model contains many components you'd find standard in any major brand of table saw, the Porter Cable Table Saw is able to be customized by the woodworker to integrate routers or other aftermarket accessories to suit their preference.
Porter Cable Table Saw PCB270TS Specifications
| | |
| --- | --- |
| Amps | 15 amps |
| Depth of Cut at 45° | 2.25 inches |
| Depth of Cut at 90° | 3.5 inches |
| Blade rpms | 3450 rpms |
| Arbor Size | 5/8 inch |
| Power Tool Type | Corded |
Porter Cable Table Saw Portability
Next, lets go over its portability. The Porter Cable Table Saw (PCBS270TS) is a very portable model with an easy-to-fold design that lets the user break it down and set it up quickly to prepare for and clean up after woodworking projects. The stand stores under the saw and does not protrude.
This table saw features wheels so that it can be easily moved around on flat hard surfaces like a garage or workshop floor, but a downside of that is that the wheels are a bit small for the bulk of the table saw, and should ideally be a bit larger for easier wheeling action.
This table saw is also a little on the short side for taller people to wheel around, and many over five feet will have to stoop slightly in order to move it.
Porter Cable Table Saw Cutting Ability
The Porter Cable Table Saw incorporates many design aspects that reinforce the saw's cutting ability. These cutting features include the following:
Easy manipulation of the blade with an intuitive front-knob design
Degree markings that are highly visible and easy to read
An included measuring guide under the fence that is both helpful and accurate
A blade chute that helps funnel away waste wood shavings
A riving knife that moves up and down with the saw blade
For an entry level woodworking saw, the Porter Cable Table Saw has a lot of the amenities a DIY carpenter is going to need out of a table saw workhorse.
It's got good clear measurements for those who are still new to woodworking, and for the most part, its moving parts are easy to tweak or maneuver during crafting. With a strong, sharp blade, this saw can easily cut through even the hardest of hardwoods.
Porter Cable Table Saw Recall
Lastly, consumers researching table saws may have heard of a Porter Cable Table Saw recall in late July of 2019. This was regarding the Porter Cable Table Saw model number PCX362010 regarding fire hazard when the saw overheats.
This Porter Cable Table Saw recall only affects the PCX362010 and does not pertain to any other Porter Cable Table saw model, including the PCB270TS, which poses no fire hazard and is considered safe for use.
Final Thoughts on Buying a Porter Cable Table Saw
While there are some design flaws that affect the ease of use and durability in minor ways, the Porter Cable Table Saw in either of the two model options available is a good choice all-around for a woodworker wanting a good mid-range workshop table saw with both portability and good cutting strength.
The Porter Cable Table Saw is not as sturdy as some more expensive table saws and can be a bit tedious to repair if something goes wrong, but overall as a entry-level table saw for the home hobbyist, you can't get much better bang for your buck.
Are you looking for more guides on table saws? Check out some of our most popular guides, Ryobi Table Saw Parts and Accessories, Hercules Harbor Freight Table Saw VS DeWalt, The Best Portable Table Saws, Kobalt Table Saw Review + Buyer's Guide, and Track Saw vs. Table Saw: Everything You Need to Know.