You don't have to have years of woodworking experience to create cool wood projects. There are many great woodworking projects out there for beginners. We have compiled a list of 15 easy beginner woodworking projects to get you inspired.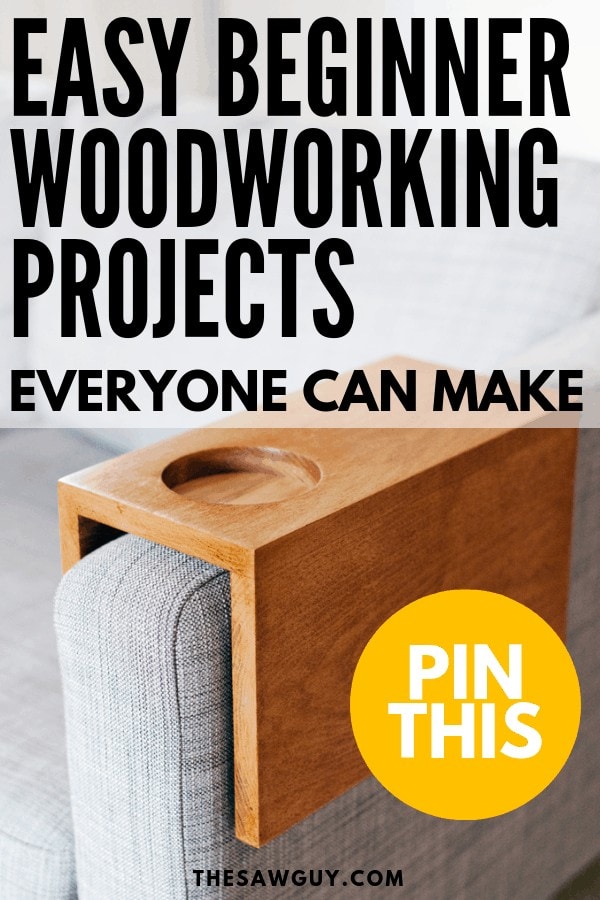 1. Create a Floating Nightstand Easily
Nowhere to put a nightstand in your small bedroom? This floating nightstand is perfect for you! This floating nightstand is a really easy project, and it saves you space. You can do everything you normally can with a regular nightstand. You can add a lamp, store your personal items, charge your phone, etc.
2. Create a Wood Coat Rack Easily
With just a few pieces of wood and some paint, you can easily create this coat rack. You can hang jackets, purses, backpacks, aprons, etc! You can even go a step further and color code the rack so each member of your family knows where to put their belongings.
3. Store Your Blankets with this Blanket Ladder
This blanket ladder is super easy to build, and its' really unique. It is unique in the sense you don't see this option of storage for blankets very often. Even though you don't see this method of storage often, it is very practical. A plus it's a really cute piece of decor!
4. Organize Your Media Players with this Media Box
Are you tired of cords getting all tangled? This media box will help you organize your cords and declutter your tv space. All you need for this project is three pieces of wood, a sanding block, clamps, wood glue, and a finishing product.
5. Increase Your Productivity with this Tablet/Cookbook Stand
Are you tired of your cookbook or tablet getting dirty while your cooking? You're not the only one. This tablet/cookbook stand is so helpful. You can use it to prop up your cookbook while your cooking, or you can place your tablet in there so you can watch cooking tutorials easily.
6. Create a Sofa Sleeve Easily
This sofa sleeve will solve all the dilemmas that occur when you want to place something down while on the sofa but simply don't have any place for it. You don't need much to complete this project. Here's what you'll need clamps, a hole saw, and a drill.
7. Create a Bath Caddy to Maximize Relaxation
This DIY bath caddy is perfect for all you bath lovers. You can simply relax without having to worry about your book, phone, or glass of wine falling into the bathwater. Building this bath caddy is recommended because it literally couldn't be easier, and it's great on your wallet.
8. Provide a Safe Space for Your Local Birds to Eat with this Bird Feeder
Bird houses are normally one of the first projects people tackle when they start woodworking. So why not create a bird feeder as well? This project is simple and budget friendly. You don't need much for this project, all you need is cedar board, wood glue, and screws.
9. Organize Your Magazines with these Magazine Storage Containers
Do you need a good way to archive magazines? These magazine storage containers can do just that! You organize your magazines by favorite, type, date, etc. These containers are made from plywood. The best way to cut plywood is with a jigsaw or bandsaw. If you need more information on a jigsaw or you don't know what jigsaw to get, check out the best jigsaw for the money – complete buying guide.
10. Create a Statement with this Triangle Mirror
This is another great project for if you want to make a statement. This mirror is very modern looking, and just like most of these projects, it is super easy to make. You can hang this on any empty wall and it will make your space look a lot cooler.
11. Create Extra Storage Space with this Rustic Bench
This bench may seem far from a beginner's project but it is possible for beginner woodworkers to complete. To complete this project you'll need some 2X4's, a 2X2, a pocket-hole jig, a drill, and a miter saw to name a few. For more storage ideas, check out these 25 brilliant storage ideas. If you would rather pick up a high quality but reasonably priced bench check out Artisan Born's amazing line of benches available on their Etsy shop: Handmade Solid Black Walnut Bench, Live Edge Black Walnut Bench, and Handmade Live Edge Black Walnut Bench.
12. Keep Your Books Organized with these Book Ledges
Do you or your kids have books strewn everywhere with no place to put them? These book ledges are great for organizing said books. These ledges can easily be made within an hour, and they're a really cute looking decor piece. They can really tie a room together if you have any empty space on your wall.
13. Show off Your Wine Collection with this Wine Rack
Are you a wine lover? If so, this wine rack is a must-have. This wine rack is must have simply because it is such a beautiful, simple piece. It provides a safe way for you to store your wine and it gives you a great decor piece.
14. Create a Hexagonal Shelf Easily
Are you looking for an eye-catching display piece? If so, this shelf is perfect for you. This simple hexagon shelf is a really cute decor piece, and you can display whatever you want. You can tie it into any space in your home, your bedroom, bathroom or living room! For more shelving ideas, check out 21 brilliantly clever DIY pallet shelves to make for any room in your home.
15. Create Wood Wall Shelves Easily
These wood wall shelves will help you get things organized. These shelves are very simplistic and modern looking. Fortunately, because they are so simplistic you can add them to almost any room in your house You can add them to a bedroom, office, living room, bathroom, or kitchen.
There are 15 easy beginner woodworking projects. We hope this inspires you to create some cool projects. There is something really satisfying about making projects, you feel accomplished and satisfied. What woodworking projects have you created? What're your favorite projects from this list? We would love to hear from you so please feel free to leave us some comments! For more easy beginner woodworking projects check out, 27 easiest woodworking projects for beginners.