In this post, we are going to focus on cheap IKEA hacks for the home. We gathered 20 cheap IKEA hacks for the home to help you easily decorate on a budget.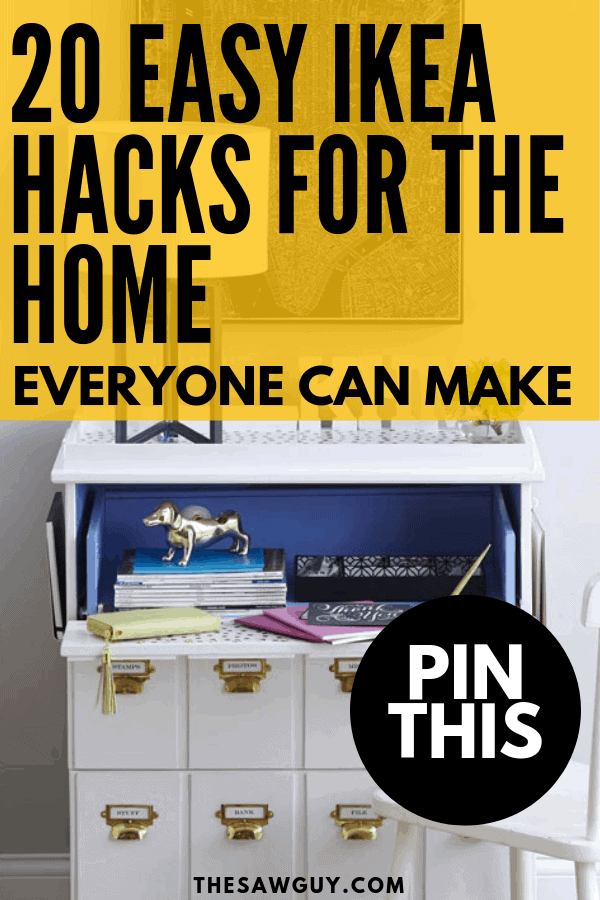 1. Rolling Drawers
Do your kitchen supplies get all cluttered up? If so, you need these rolling drawers. These drawers make everything a lot more convenient, you will be able to find everything you need. They will also make your cooking experience a lot more smooth. You can organize your spices, cans, sauces and more.
2. Turn Bookshelves into an Island
Do you need more storage in your kitchen? These bookshelf islands are perfect for that. You can use this to store cookbooks and baking supplies, and you can use the top of it to prepare your food. This will make your cooking and baking more much easier.
3. Make a Window Seat
Window seats are a great relaxation spot. If you need to take some time out of your day to relax you can sit in this cozy spot and take a nap, read a book, or just day dream.
4. Color Dipped Entryway Table
Are you looking for a colorful entryway table that's budget friendly? This color dipped entryway table is just that. You can display and store whatever you like with this table and it'll come out to under a hundred dollars when completed!
5. Transform Your Headboard
You can use stikwood to transform your headboard. All you need it to stick the stikwood to your headboard and it'll look like you purchased a brand new headboard! Stikwood is reclaimed wood with adhesive on the back of it.
6. Copper and Marble Side Table
This hack uses copper and marble contact paper. With these two things, you can get a table that looks really expensive and high-end for almost half the price. This is a great statement piece for any home.
7. Wood Stool
Would you like to bring the outdoors inside your house? This wood stool is a perfect way to do that. This stool is so easy to make you really don't need much to make it. All you need is a cheap stool from IKEA and a slice of wood. That's it!
8. Built-in Bookcases
Built-in bookcases will instantly upgrade the look of your house. The give off a custom and expensive. Unfortunately, to buy and install built-in bookcases from the store can be expensive. Fortunately, these aren't! This IKEA hack lets you create built-in bookcases for a fraction of the price.
9. Rug Pillows
Pillows may seem like a minor piece of decor but hey really do tie entire rooms together. You can create these rub pillows easily with pillow inserts and rugs found at IKEA! For more decor ideas check out 22 rustic DIY home decor ideas for 2019.
10. Moveable Working Station
Is your home not big enough for a dedicated office? No worries! This moveable working station is perfect for scenarios like this. It is big enough for you to get all of your work done and small enough to be stored where it's not in the way. Another great thing about this is you can move it to wherever you want! This is one of our favorite IKEA hacks for the home. This hack offers so much flexibility.
11. Copper End Table
This copper end table is super easy to make, it can be completed in five minutes! All you will need for this hack is a melamine tray, a camping stool, spray paint, newspaper, and velcro.
12. Painted Frames
This hack is really budget friendly. You can buy cheap frames at IKEA and customize them to your liking. You can paint the whole thing or only certain sides.
13. Dessert Cart
This hack is great for events and parties. With this dessert cart, you can display desserts, drinks, appetizers, etc.
14. Cutting Boards
With cheap cutting boards from IKEA, you can create these geometric-shaped cutting boards. They are more creative and lively than traditional cutting boards. It may not seem like much but these little details do add up. If you want to learn how to make a cutting board from scratch check out step by step: how to make a cutting board.
15. Repurpose Bed Slats
This hack is super cheap. You may not consider using something like this but it's great for hanging things. Hang it in the kitchen to store utensils, herbs, and recipes, or you can use it outside to hang plants, tools, gloves, etc.
16. Pantry Jars
Do you need more organization in your pantry? This hack is perfect for that. You can buy jars for cheap at IKEA and use a chalk marker to label the jars. It's that easy!
17. Faux Gold Desk Drawers
Transform your desk easily with these faux gold desk drawers. To achieve this look you need to use gold foil, which fortunately is inexpensive. This upgrade is so simple and it will cost you less than ten dollars!
18. Under the Bed Storage
Does your bedroom not have enough storage to store all of your things? Create under the bed storage to store all of your extra things. You can store a variety of things. Sweaters can be stored away for the summer or old books can be stored to make room for new ones. There are a variety of ways to utilize that new space. For more storage ideas check out 25 brilliant storage ideas.
19. Entryway Lockers
Entryways can get really cluttered, between backpacks, coats, shoes, and purses. You can control that clutter with entryway lockers. You can create a locker for each member of the family so when they come into the house they have a designated space for their things.
20. Floating Cabinets
Cabinets are great but they can be big and take up a lot of floor space. With these floating cabinets, you can free up a lot of floor space. You get the same amount of storage as regular cabinets. These can be placed in a living room to store blankets and pillows, or you can place it in a bathroom to store towels, toiletries and more.
There are 20 cheap IKEA hacks for the home! We hope these things help inspire you to start decorating for less. The great thing is these hacks can significantly save you money. Have you ever used IKEA hacks in the past? If so, tell us about it in the comments.