Having such a massive variety of power tools out there to choose from is great, but it can be a bit of a double-edged sword at times as well: when there's a specific tool out there for every job imaginable, it can become a headache trying to decide which one you need.
This can be especially true if you're in the market for a small little rotary or oscillating multi-tool like a RotoZip or Dremel. These are great, very practical tools that can be used for dozens and dozens of different applications, but with all of the different models and sizes out there to choose from, it can be difficult trying to figure out which one is the best option to add to your arsenal.
In this article, we'll go over everything you ever wanted to know about the differences between RotoZip vs. Dremel multi-tools – what each one is used for, and which specific tool/model might be the best for you and your needs.
General Overview: RotoZip vs. Dremel
The first thing we need to do is go over the difference between rotary and oscillating motion.
Rotary action tools simply spin around really fast in a circle, whereas oscillating tools move in a back and forth motion. All of the different RotoZip vs. Dremel tools we'll discuss are rotary. The one exception is the Dremel Multi Max which is an oscillating tool (we'll talk about that tool in more detail later).
The first thing you'll want to consider if you're in the market for the RotoZip vs. Dremel, is what you anticipate doing with it. Now, we realize that's a bit of a loaded question given that these are multi-tools, and are designed to be useful on a wide range of materials and in a wide range of situations. However, there are some general things to consider as they're fairly different in size and have varying functions/uses.
The major distinction between a RotoZip vs. Dremel is size; RotoZips are about three times bigger (and heavier) than Dremels – there's a ton they can be used for as far as general remodeling and home renovations go (cutting drywall, floors, ceilings, tile, etc). Dremels, on the other hand, are much smaller and typically used more for crafts, hobbies, and/or for getting into tiny little nooks and crannies where no other power tool can get.
Let's consider a few different practical scenarios for home/DIY use, and talk about which tool would be better for each specific job.
Cutting
Both the Dremel and RotoZip are excellent tools, albeit each with their own specific ambiguities. The Dremel is used mostly as a miniature angle grinder with tiny little cut-off wheels, but it can also be used as a small spiral saw with cutter ends. It's excellent for cutting small, thin materials in hard-to-get-to areas. However, it's way too small for cutting anything like drywall or plywood on a consistent basis.
The RotoZip (also called a spiral saw) on the other hand is perfectly capable of handling some of the bigger stuff – drywall especially (in fact, it was originally invented as a drywall saw). It's also super convenient for cutting other material like trim, tile, osb board, backerboard, and laminate flooring.
Anything on the large side (like 2×4's or plywood sheets) however, you should really upgrade to a jigsaw. Here's a couple great videos showing some of the cutting capabilities of the RotoZip (for wood and drywall), and here's a great summary showing several different functions using various bits and attachments for it.
Sanding, Grinding, Buffing, Shaping, Scraping, and Prepping
In addition, Dremels are great for intricate scribing/engraving work, inlays, and cleaning up small holes where old screws, nails, or bolts have been removed.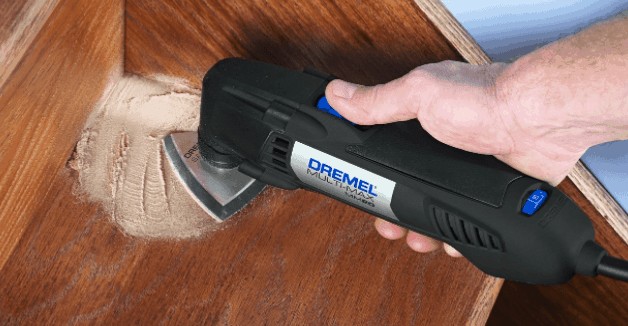 For sanding, grinding, buffing, shaping, scraping, and prepping, the Dremel is the tool of choice (the RotoZip is pretty much strictly a cutting tool). Again though, with the Dremel you're limited to small little areas – edges, awkward corners, and/or other hard-to-get-to nooks and crannies that palm sanders or angle grinders can't reach.
Here's a good video showing just a little bit of the versatility of the rotary Dremel.
Here's a remarkable video showing how intricate and creative you can get with the right engraving bit.
Bits, Attachments, and Other Features
Oh goodness. There are dozens upon dozens upon dozens of different bits, blades, attachments, add-ons, and other accessories for both the Dremel and the RotoZip – that's what makes them such wildly versatile tools. Suffice it to say, pretty much whatever use for each tool you can think of, there's a bit or blade for that specific purpose.
The Dremel especially has a seemingly endless array of different attachments: flap wheels, sanding bands/drums, shaping wheels, cutter bits, cut-off wheels, engravers, mini router bits – anything you can think of, and there's more than likely a Dremel bit for it.
Same goes with the RotoZip; dozens and dozens of different bits for whatever specific material you're working on, as well as cool features/attachments like the jigsaw handle, flex shaft attachment for getting into super tight areas, straight edge guide for long rip cuts, plunge router, dust vault to save your lungs (great for drywall), circle cutting guide for perfect circle cuts from 1" to 20", and the grout removal attachment for tile demo work, among others.
Models: RotoZip vs. Dremel
If the dozens and dozens of different bits and attachments weren't enough to confuse you, there are plenty of different models of the tool itself to choose from as well, for both the RotoZip and the Dremel.
Rotozip SS355-10 5.5 Amp High Speed Spiral Saw System with 2 Accessories
Actually, the RotoZip only has a few different models to choose from: the SS355-10 is the classic, standard spiral saw that weighs 2.5 lbs and comes with two bits.
Rotozip SS355-20 5.5 Amp High Speed Spiral Saw System with 2 Accessories and Diamond Bit
The SS355-20 is the slightly more expensive model – exactly the same tool, but it comes with a diamond bit blade in addition to the two standard blades.
For a slight price increase, the RotoZip RotoSaw+ is the slightly beefed-up version of the SS355-10, weighing about 3.7 lbs; it has a 6-amp motor (instead of 5.5) with speed control, an improved handle design, and is compatible with the RotoZip Connect bits as well as standard bits.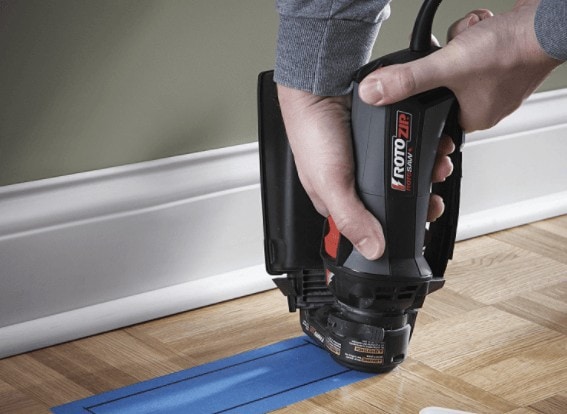 ​
Dremel 3000-2/28 2 Attachments/28 Accessories Rotary Tool
The standard, all-around, most popular Dremel tool is probably the Dremel 3000 – this is the classic multi-tool that the Dremel name has built its reputation on.
Dremel 4000-2/30 120-Volt Variable Speed Rotary Tool Kit – Corded
The Dremel 4000 is essentially the same thing, just a slightly more beefed up model with a juicier 1.6 amp motor that has a max rpm of 35,000 (compared to the Dremel 3000 which has a 1.2 amp, 32,000-rpm motor). Additionally, (unlike the 3000's) the 4000-model Dremel's have electronic feedback control, which allows for greater precision and control at high-rpm's.
The Dremel lineup has far more different tools to choose from, with over a dozen different rotary tools, three different mini saws, and several Multi Max oscillating tools currently on the market.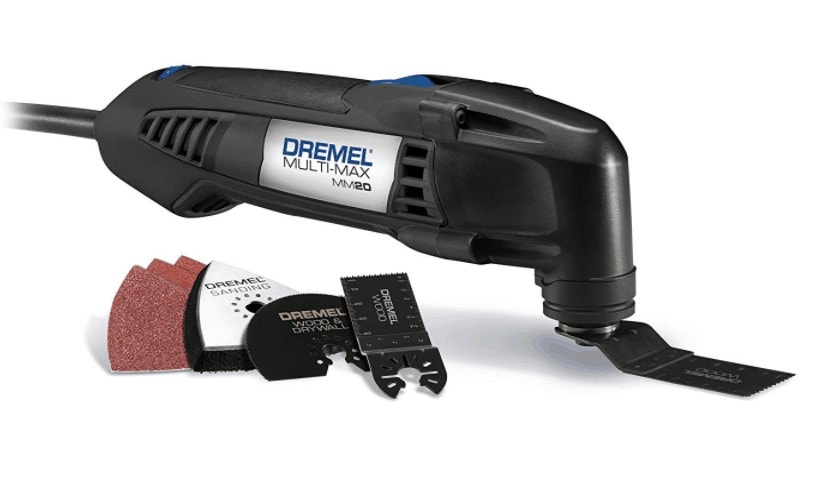 There are literally dozens of other Dremel tools out there available, including the super-popular and well-reviewed oscillating Multi Max series (MM20, MM30, and MM40), which are great for larger-area sanding/buffing, scraping, flush-cutting along walls and floors, and grout removal.
Also, don't forget about the Dremel Engraver, as well as some of the other super-micro rotary tools like the cordless MiniMite, the 8050-Micro, and the 2.5-amp heavy-duty Fortiflex Flex Shaft 9100 with hands-free foot pedal operation.
(Lastly, be sure to check out the Dremel and RotoZip websites for a complete description of each of their products, as well as a full lineup of all their various bits and attachments).
Bottom Line
So to summarize, when you think of the Dremel, think small – tiny little areas, small surfaces, awkward angles, and hard-to-reach corners. The tool is amazing and absurdly versatile, but certainly don't expect it to cut through thick wood, or any other similarly-thick material.
The RotoZip on the other hand is a drywall-cutting specialist; if you plan on doing a lot of demo work or home renovations, it's a wonderfully handy tool to have lying around. Whether used freehand or with a jig, it's great for plunging holes and cutting out boxes and circles in all sorts of building materials – from wood to drywall to sheet metal, laminate flooring, cement backerboard, tile, plexiglass, and granite.
I genuinely hope, after reading RotoZip vs. Dremel, you can make a far more educated buying decision. Why else does The Saw Guy exist?
Thanks! ​
Are you looking for more? Check out some other articles I have written: