When your air conditioner stops cooling, something has probably gone wrong. The cause can be as trivial as a busted fuse or a broken compressor—but it could also be much worse. While some air conditioning repairs require the services of a professional, there are some you can do on your own.
DIY AC repair is a project well worth taking on if you're not afraid of getting your hands dirty to save some money. The most uncomplicated repairs merely require everyday tools, some of which you may already have around the house, like pliers, a water hose, or a wrench.
With enough enthusiasm and diligence, you can restore your AC without having to call a handyman. You could even cultivate your electrical engineering skills. Here are 5 DIY Air Conditioner Repair Tips to indulge your inner tinkerer.
DIY Air Conditioning Repair Tips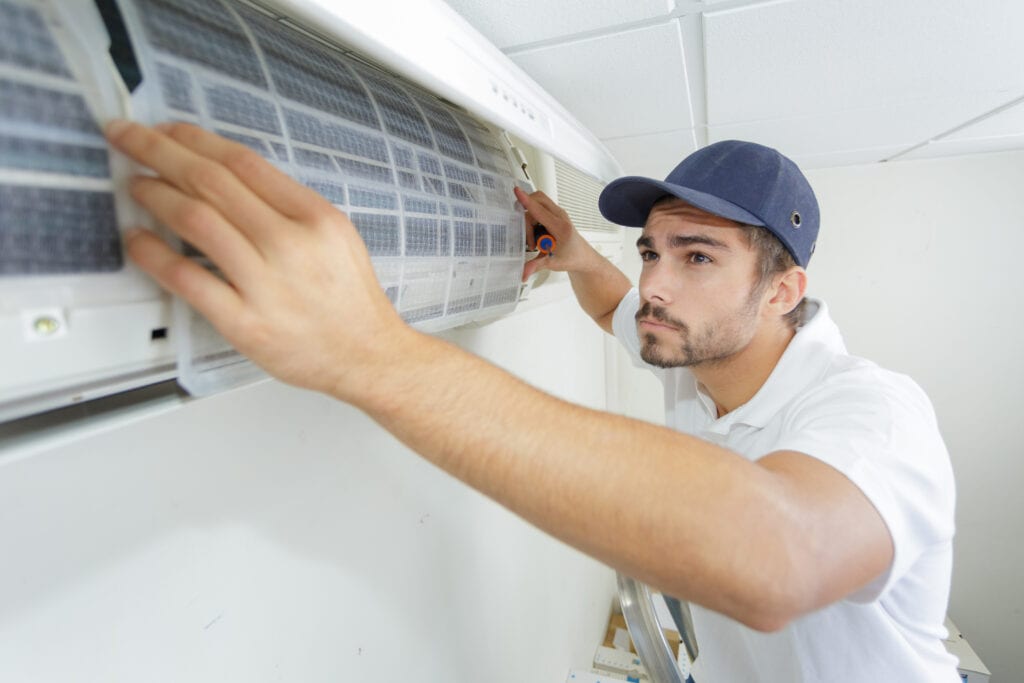 1. Inspect Your Thermostat.
The first thing to do when your air conditioner stops working is to check the thermostat. This gadget is responsible for regulating the temperature. You can tell it's not correctly functioning if turning it on seems to do nothing or if the screen remains blank. If you encounter the latter problem, consider replacing its batteries or check for faulty or loose wiring.
2. Check Your Breaker.
An overcrowded breaker could cause the AC to stop working or not turn on at all. Having multiple devices connected to a single switch is a fire hazard, so it's best to dedicate a socket solely for your unit. Before calling a repair company, take a quick peek at your circuit breaker to save you money and potential embarrassment.
3. Replace Your Filter.
Sometimes changing a filter is all it takes to get your unit working like new again. Your AC sucks in air and dirt particles every time you use it. When left unattended, these particles can clog your cooling system and render it useless.
As a preventative measure, replace your air filter every few months. A cursory search of your AC's brand and model will give you an idea of how often you should replace its filter and where you can find the appropriate replacement.
4. Clean Your Unit Regularly.
If replacing your filter isn't an option, consider cleaning it. One of the most common reasons an air conditioner malfunctions is dirt blockage in its air ducts. Make it a habit to clean your AC at least twice a year.
5. Defrost Any Ice that Has Built-Up, or Switch to Fan Mode.
Your AC converts ambient heat into chilly air. In doing so, its coils tend to frost over. This frequently happens if you live in a cold and humid environment.
As frost builds up in your unit, airflow becomes more restricted, so don't neglect to defrost your AC from time to time. You could also switch to fan mode during cold weather to lessen ice buildup.
Tools for Repairing an AC
When repairing an AC by yourself, it's crucial to equip yourself with the right tools:
Needle-nose pliers
¼-inch nut driver
Socket set
Voltage testers
Multi-wrench
Electric-powered drill
Channel locks
Breakers or fuses
Water hose or compressed air
You'll find most of these items in your local hardware store. A higher price tag doesn't necessarily equate to better quality or performance, so make sure to read reviews before making a purchase.
If you suspect that your unit has broken or missing parts, consult your manual or check the serial number. The most common pieces in need of replacement are:
Contactors
Capacitors
Condenser fan motors
Reasons Your Unit Might Not Be Working
1. You Have a Clogged Air Filter.
If you are new to DIY AC repair, you might not know how often you should check your air ducts. They can get clogged with dirt, insects, and dust, so make sure to clean out your air filter several times throughout the year. It's best to scrub your screen clean at least once a month if you live somewhere with more substantial pollution.
2. Your AC Remote is Faulty.
Sometimes the problem lies outside your unit. Make sure your remote is functioning properly and change the batteries as necessary.
3. Your Air Conditioner is Too Small for Your Home.
Size matters, especially if you live in a home with multiple rooms and large spaces. In such cases, you should opt for larger models with higher temperature capacities.
4. The Atmospheric Temperature is Too High.
No matter how powerful an air conditioner is, ambient heat will affect its performance. If the atmospheric temperature is above your AC's maximum capacity, it won't be able to lower the heat efficiently.
5. Your Thermostat is Defective.
The thermostat controls your AC's temperature. Before reaching out to an HVAC company, try changing its batteries.
6. Too Much Debris is Obstructing Your Compressor Coils.
Your condenser has coils that remove heat from the air. If the reels have too much dirt in them, they will not be able to expel heat effectively. It's best to clean them often. The dirtier they get, the harder it will be for your air conditioner to cool your room.
7. Your AC Doesn't Have Enough Coolant.
The coolant is what helps your unit produce cold air. Inadequate amounts cause your AC to underperform. Using refrigerant is straightforward. Pour it in on the compressor coils to extract heat and allow cold air to flow.
For more complicated DIY AC repairs, look no further than the experts at The Saw Guy. Our team of handymen strives to offer helpful tips and solutions for most homeowners' problems.
With over a century's worth of combined experience, we can guide you to make practical and budget-conscious decisions for repairs, restorations, or building projects.
Our website covers a broad range of topics, from appliance maintenance to home improvements. The Saw Guy features an extensive library of product-versus-product reviews to help the average consumer make sound purchases. Trust us to keep you updated with the latest technology and the best equipment.