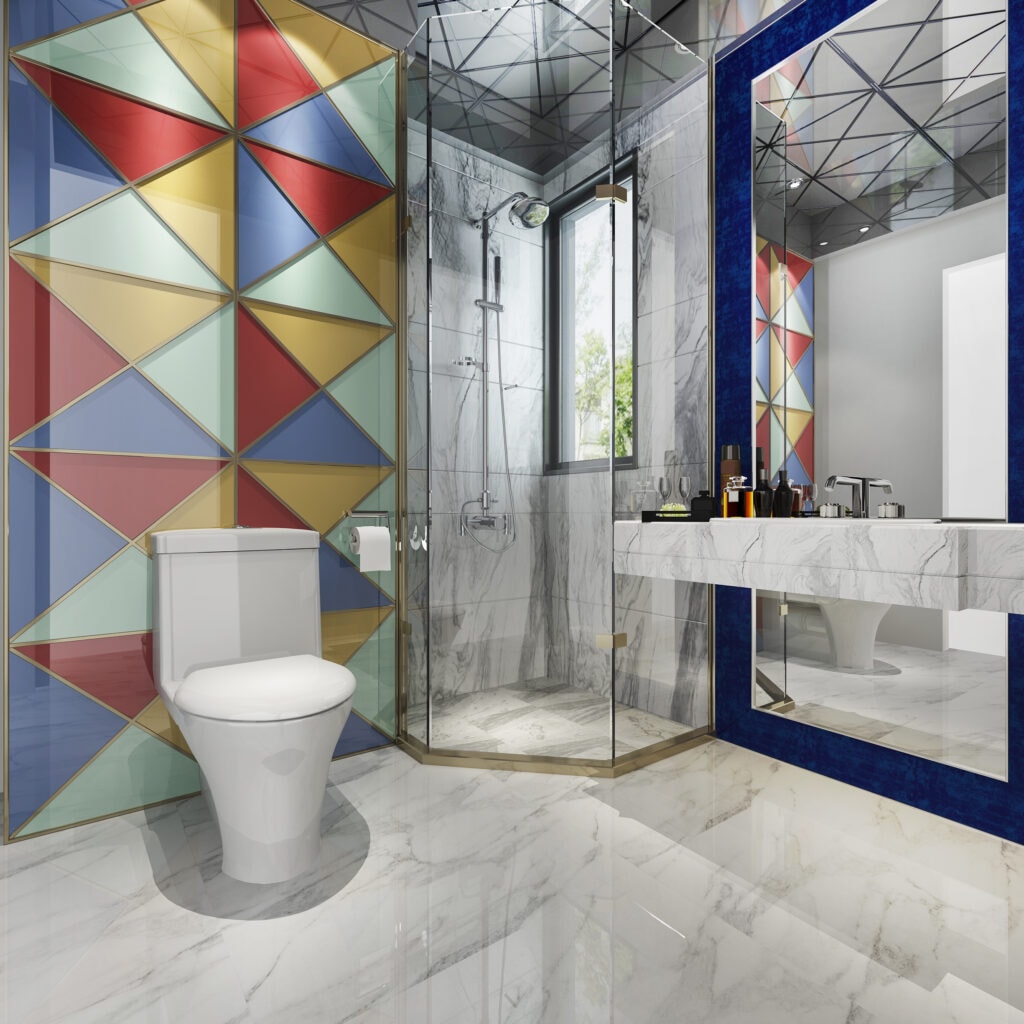 Is your tiny bathroom a stylistic nightmare? With these smart small DIY bathroom decor ideas and creativity, it needn't be. You can easily update your decor!
How Can I Make a Small Bathroom Look Bigger?
The general rule to make any small room look bigger is using lighter tones on the walls and sticking to simple design features that make a lot of impacts. Darker colors, while dramatic, can make your space feel smaller.
Choose a Monochrome Look
Consider a monochromatic scheme so that every element seems to tie in with every other one. Paint everything from the walls to the trim and the ceiling in just one color. This trick makes the walls seem to go on forever. Add interest with some well-chosen design features like a marble bathroom sink or stunning tile floors.
Maximize Light and Space
Consider switching out your closed storage space for open shelving. With the extra space, see how much more uncluttered the room feels!
Here are some more simple ideas:
Towel hooks can go anywhere
A towel shelf in an area that would otherwise be unused is a good option for guests
Replace the shower curtain with a sheet of glass for extra light
Pare down window treatments so that they filter in as much light as possible.
The more open space you have, the more spacious the area will seem.
How Do I Decorate a Small Bathroom?
It's easy for a small bathroom to seem cluttered. Use some clever interior design tricks to prevent this from happening.
A "Tub" Shelf
These are small-bathroom ideas at their best. These shelves fit over the side of the tub and create extra storage surfaces. Use them to store your essentials–like candles and your wine glass.
Add Interest to the Mirror
Updating the mirror is simple with a border stencil or vinyl sticker. Create a new border for your mirror, and it will look like new.
Use Your Floor Space
Is there an area under the sink going to waste? Get some pretty baskets and use them as extra storage space. Wicker baskets give a country feel, while wire baskets match a contemporary look.
Consider Adding a Ghost Chair
You may see seating as a luxury bathroom idea. A ghost chair adds an element of style without taking up too much room. Use it to store extra towels in need of a home.
Make the Mirror Bigger to Be a Focal Point
Making a statement with mirrors is an inexpensive, glamorous update. If you have one small mirror, add extra sheet mirrors around it to make it look bigger. If you have the cash, replace it with one large sheet. The glass adds glamour and reflects light.
You might even have the mirror glass framed with a decorative picture frame to create a DIY designer mirror. Select a bold structure that will fit over the mirror and add a color scheme or a design that matches your decor. The frame becomes a centerpiece for the room. This is a good option if you're renting because it's easy to remove.
What Kind of Wallpaper Should I Use in a Small Bathroom?
Again, consider the overall light in the room. You can get away with dark, dramatic wallpaper if you use it wisely. You could, for example, cover the top half of one wall in wallpaper with a bold print.
Choose a light element within the print for a color to paint the ceiling and the other walls. Take it one step further and carry that tint into a rug on the floor, or to the tiles. Finish off the look with shiplap boards colored to match.
By painting the ceiling and boards as well, you create a cohesive look.
How Can I Decorate a Small Bathroom Economically?
The best of the small bathroom ideas is to keep everything organized and straightforward. The powder room isn't the spot for those hundreds of little collectibles. Keep as many surfaces as possible clear.
Carefully Arrange Pieces in the Bathroom
Strategically placing mirrors and artwork dramatically increases the impact of both. Placing an artwork opposite a mirror adds depth if the glass reflects the color in the piece. It's an old interior designer trick that works well.
Use a Gallery Wall Hack
Not everyone can afford to put original art in a small bathroom. If you take hot and steamy showers, you don't want to, anyway.
A bright interior design hack is to buy two pieces of abstract art on clearance. Hang the first one high on the wall. Place the second farther down the wall, but hang it upside down. It covers a lot of the blank wall and looks like a diptych.
Get Some Expensive Knobs
You are replacing the cabinet's hardware can makeover the whole piece. Spend a few dollars on some bright or funky doorknobs. Maybe they could match your mirror's frame. Buy paint to match and paint the walls, and you've got a gorgeous new look for less.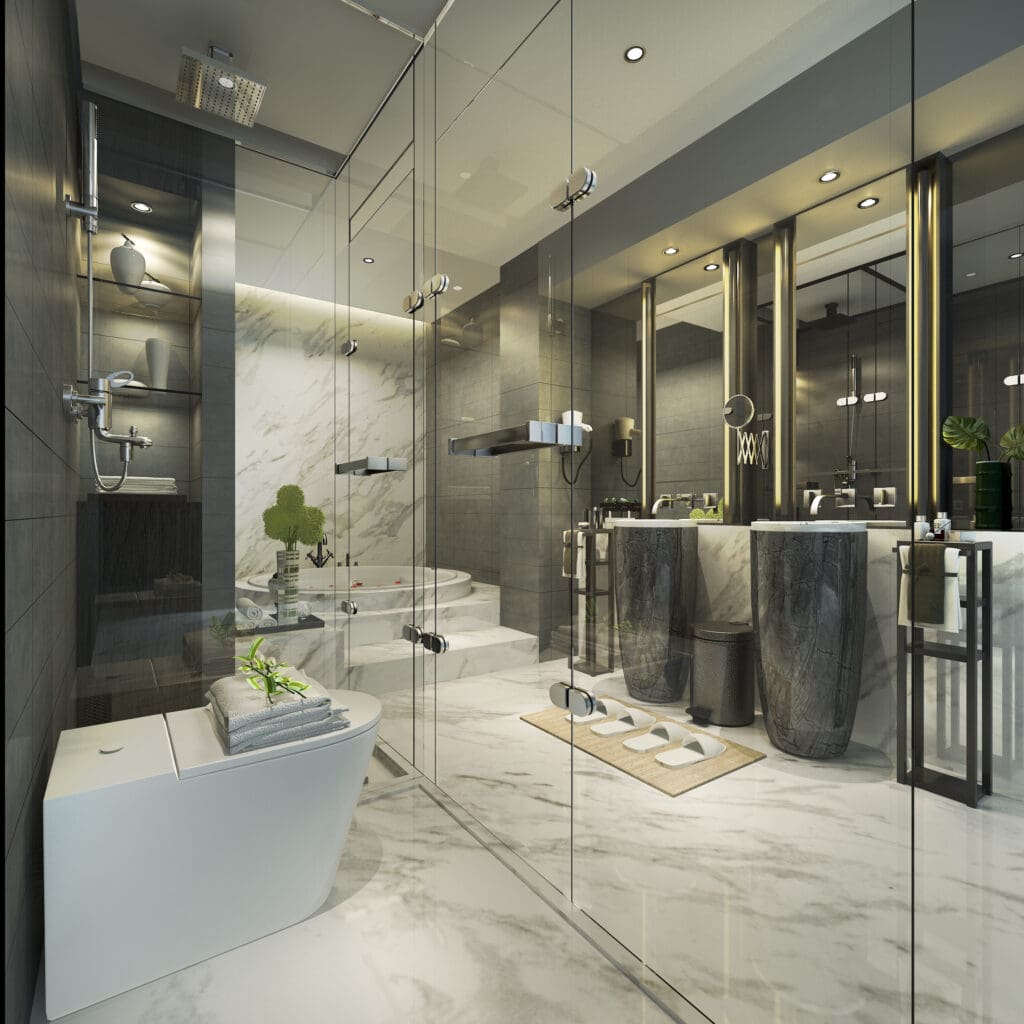 Final Notes
You don't need to waste the small space in a powder room or bathroom. Use the wall space creatively, and work out ways to make the bathroom feel light and airy. Add some drama with pops of color and quirky features, but keep to simple basics otherwise.
When you're tired of the bathroom again, you can merely update one or two elements to refresh the entire room.