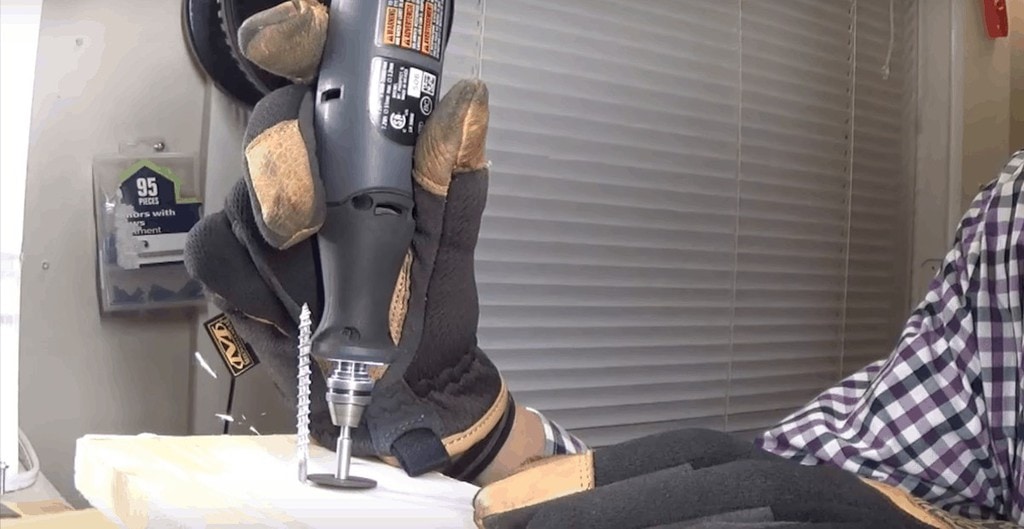 Chances are that you'll eventually come face to face with a screw, nail, or similar fastener that just needs to be cut.
In my experience, this most commonly happens when a screw head gets stripped or a nail head gets bent and you can't otherwise remove it or drive it farther in.
I've found that just cutting the screw or nail down, instead of trying to remove it, is a much more time efficient option.
But cutting through metal, even as small an amount as a screw or nail, can seem difficult to those that haven't done it before.
Our guide will show you exactly how to cut screws like a seasoned vet.
What You'll Need:
There are multiple methods to cut screws. Each requires a different set of tools.
Method 1: Snipping
Method 2: Hand Saw
Method 3: Jigsaw
Method 4: Reciprocating Saw
Method 5: Bolt Cutters
Always remember to install a metal-cutting blade before attempting to cut screw, nails, and other metal with a power saw.
Method 1: Wire Cutters
There's no simpler way to cut through a screw or nail than with a pair of wire cutters.
There are a ton of different types of wire cutters available, made to snip through different materials.
You'll want a pair with beveled blades that come into contact with each other after a cut is made. These are known as anvil cutters (others have blades that bypass each other).
Also, of importance is a long handle. The longer the handle on your wire cutters, the easier it will be to cut through screws and nails with minimal force.
Now that you have the right set of wire cutters, simply use them to snip the screw or nail where you'd like it to be cut.
Method 2: Hand Saw
A hacksaw is a type of hand saw with very fine teeth that's specifically made to cut through metal. See our side by side comparisons of the best hand saw.
You can use this type of hand saw to relatively easily saw through a nail or screw for a clean, efficient cut.
Don't have a hacksaw on hand? You can actually use a woodworking hand saw to accomplish the same task.
According to Lifehacker, you can do this by making a few small dings and divots on the backside of the hand saw blade with a hammer or other hard object.
You then use the backside of the blade to saw through the screw or nail so as not to damage the wood-cutting side of the blade.
Method 3: Jigsaw
Metal-cutting blades are available for just about every type of power saw.
That said, you should avoid attempting to cut through screws with a circular saw since it's so much easier with a jigsaw (or reciprocating saw).
After installing the metal-cutting blade, just run the jigsaw through the nail or screw you wish to cut.
Note that a jigsaw must be placed against a flat surface to perform a cut. This makes them much more accurate, but at the same time it limits their versatility.
Method 4: Reciprocating Saw
My personal favorite way how to cut screws is with a reciprocating saw.
Also known as a sawzall, this power tool is among the most versatile saws for cutting nails and screws around.
It's much quicker and efficient than using wire cutters or a hand saw and is far more versatile than a jigsaw.
When I come up against a nail or screw I need to cut on a woodworking project, I typically just use my sawzall to do the job.
This tool is particularly effective at cutting hard-to-reach screws and nails, especially if you need to cut one that is holding two pieces of wood together.
Once again, it's important to remember to put a metal-cutting blade on your reciprocating saw before attempting to cut a screw or a nail.
Make sure to hold the saw guard of your sawzall tightly against the wood while making all cuts to limit binding and pinching.
Method 5: Bolt Cutters
Similar to wire cutters, bolt cutters enable you to cut through a screw or nail with the power of your hands.
This tool is basically a beefier version of wire cutters. It has longer handles to give you more leverage and larger, sharper blades to make an easier cut.
Bolt cutters are particularly effective at cutting through thicker-than-normal screws, nails, and fasteners.
Final Thoughts
Cutting through screws, nails, and other metal fasteners is actually very easy once you know how.
Now that you've read our guide, you've learned how to cut screws with a variety of tools, including wire cutters, hand saws, and reciprocating saws.
So, why not put this new skill to the test by taking on one of our top woodworking projects as your next do-it-yourself adventure?
Talk to a tool expert in minutes, 24/7
Talk to a tool expert in minutes, 24/7
First NameContinue
16,216,105
questions answered
11,990
verified experts