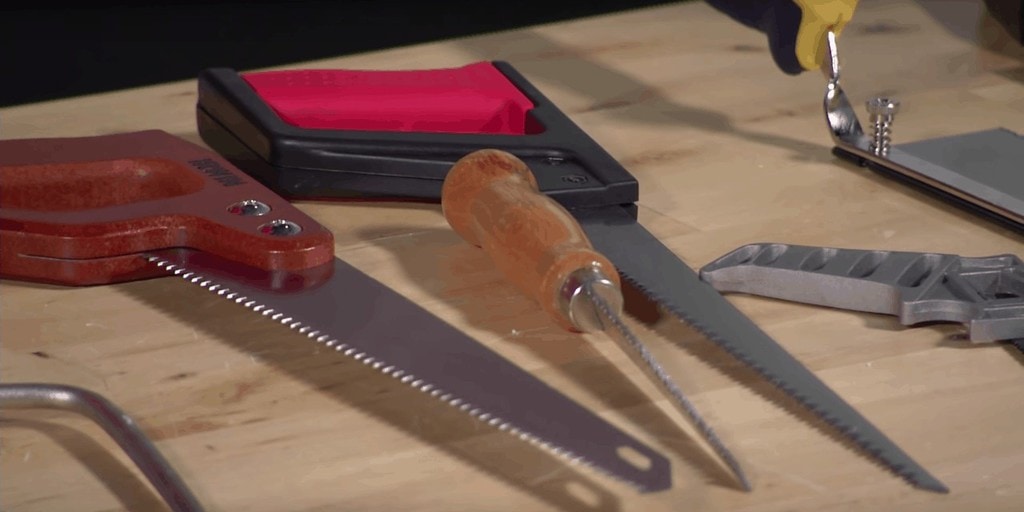 If you're completing a DIY project in your home, you'll need to make sure that you have the right tools at your disposal to do so. One of the tools you will likely need for some reason or another is a hand saw. However, when browsing online or in your local hardware store, you may find that there are hundreds of different hand saw types.
An array of saws fall under the "hand saw" umbrella. Each one has a unique purpose, which could be beneficial when completing your project. Below, we've provided an extensive guide for everything you need to know.
Our hand saw types buyer's guide will not only detail the various hand saw types available, but it will also outline the purpose of each and a couple of the best products available.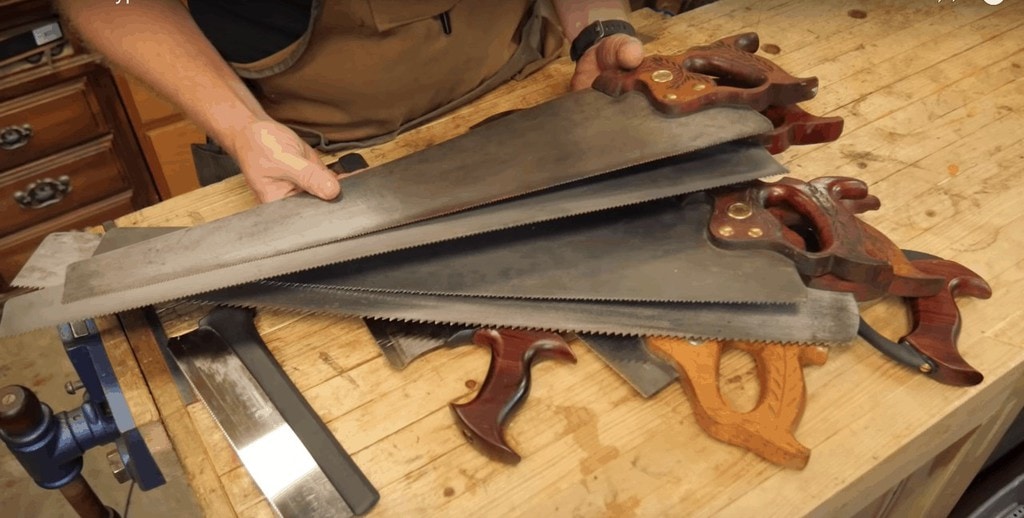 Different Hand Saw Types
A hand saw is rather self-explanatory – it's a tool that you operate manually to cut materials. Hand saws can cut things such as:
Soft wood
Hard wood
Non-ferrous metal
Plastic
"Hand saw" is a rather broad term, as it covers an array of products, similar to how "electric saw" is an all-encompassing term that represents many different tools. Below, you'll find a brief overview of some of the most common hand saw types.
Hacksaw
A hacksaw is one of the most common hand saw types. Hacksaws have a bow-shape with a thick handle. The bottom of the saw contains a thin blade. These saws include a tool at the end of the blade, allowing you to make it more or less rigid. The ability to adjust the tension is critical, as it can prevent twisting or bending when cutting more robust materials. We reviewed the top hacksaws, with side by side comparisons.
The tool also allows you to replace the blade in the hacksaw. You can elect to replace the blade for something either finer or coarser. Hacksaws typically cut on the "push" stroke, although the ability to replace the blade allows you to flip it over so that the tool cuts on the "pull" stroke. Hacksaws are typically best for:
Trimming
Cutting Plastic
Cutting Metal
Carpenter Saw
A carpenter saw is another one of the more common hand saw types. Unlike the hacksaw, which contains an opening in the middle and a thin blade at the bottom, the carpenter saw is entirely one piece. A thick piece of metal attaches to the handle directly.
Manufacturers design carpenter saws so that they release wood when they cut. They are a useful tool that could help you get a job done quickly, as they cut on both the "push" and "pull" stroke. When shopping for carpenter saws, you'll likely notice something called "TPI." "TPI" stands for "Teeth per Inch." The more TPI a saw has, the finer the cut will be.
Carpenter saws are best for cutting wood, specifically square lumber. They work well when cutting across the grain. A TPI of six or seven is useful for producing fast cuts, although you may need to sand the resulting cut afterward.
A TPI of ten is middle of the road, with many considering it to be "general purpose." And a TPI of 12 is useful for finer woodworking projects when you need a smooth cut.
Coping Saw
A coping saw is quite similar to a hack saw, although the blade tends not to be as long. This tool features a deep, bowed shape with a handle similar to the one that you would find on the end of a screwdriver. Much like the hacksaw, you can adjust the tension on the blade of a coping saw and replace the blade quickly.
The thin blade on the coping saw is useful when cutting irregular patterns or shapes. While the hack saw is a bit bulky and tends to cut in a straight line, you can maneuver the coping saw so that it cuts various angles and curves. Additionally, you can use a coping saw when cutting softer wood, such as baseboards or crown molding, something that is not necessarily possible with the hack saw.
Jab Saw
Jab saws look like what you would typically use to carve a pumpkin. They have a small, cylinder handle around which you would wrap your hand. Then, at the end of the handle, a long blade protrudes outward. Jab saws may remind you of the knives you have in your kitchen. Jab saws could also go by other names, including:
Drywall saw
Keyhole saw
Compass saw
The blades on a jab saw have a stiff blade with a sharp tip. The blade is shallow, allowing you to cut a variety of patterns and curves. The blade tends to be quite shallow, which means this saw may not work well if you need to cut through thick material. However, if you need to do something like cut a round hole in drywall for a piece of pipe, the jab saw could be a useful option.
Backsaw
Backsaws look a bit similar to a carpenter saw, although the handle again resembles something that you would find on a screwdriver. The blade tends to sit lower than the handle. The blade also has a thick ridge on the edge, which tends to provide you with both precision and control when making your cuts.
The teeth on the backsaw tend to be quite fine, making this the ideal tool for precision cuts. For instance, many may find this saw useful when cutting wood joints or working on floorboards. You may also find backsaws labeled as:
Mitre saws
Dovetail saws
Pull saws
The backsaw is unique because it cuts on the "pull" stroke. Carpenter saws require force, as they cut on the downward "push" stroke. However, a backsaw relies on blade tension to achieve the proper cut, working on the "pull" stroke. You'll likely find that cutting on the pull stroke can provide you with more control and precision than carpenter saws.
2019's Best Hand Saws
Once you've identified which hand saw you need to complete your DIY project, you'll need to find a tool that works. You want to be able to trust your saw when you need it most. Fortunately, we're here to help. Below, we've provided you with the best tool in each hand saw category.
DEWALT 5-in-1 Hacksaw
If you're searching for a hacksaw, one of the best options available is the 5-in-1 from DEWALT, which you can purchase for around $25. The product features a sleek, modern design complete with an ergonomic handle that makes it easy to grip this tool for hours without any problems.
This hacksaw also stands out because it allows you to make cuts at both 45 and 90 degrees. The ability to make cuts at different angles is useful when producing both flush and standard cuts. Furthermore, the hacksaw features a highly-adjustable tension system. At its highest setting, the DEWALT 5-in-1 Hacksaw blade can hold up to 330 pounds.
You'll also likely find that this hacksaw is easy to maneuver, ideal for cutting in tight spaces. You'll also probably find that the saw has a very long reach, thanks to how DEWALT attached the blade to the front frame. The blade length on this saw is 12″. Overall, the saw weighs roughly 18.2″ x 9.5″ x 6.7″. The saw weighs less than three pounds.
What We Like
Allows users to cut at angles
Easy to adjust the blade
Ergonomic handle and lightweight design
What Could be Better
Some find it challenging to see the blade when using the tool
Some customers mentioned that the blade tension mechanism was tricky to operate
Stanley SharpTooth Carpenter Saw
If you need a carpenter saw and aren't too worried about the TPI, then you'll want to check out the SharpTooth Carpenter Saw from Stanley. The product is quite affordable, as customers can purchase it for less than $18. The SharpTooth Saw comes with a 15" blade and nine TPI, which is slightly less than average. This carpenter saw should do the trick for quick lumber cuts.
One of the features that makes this carpenter saw stand out is its three-sided tooth design. During testing, we could cut would nearly 50 percent faster with this product than with other carpenter saws. Additionally, you'll likely find that this product is quite durable as well. The teeth on this saw stay sharp up to five times longer than the teeth on other carpenter saws.
The teeth on this carpenter saw are strong enough to cut plastic pipe. The saw measures 18" x 6" x 1" and weighs a bit more than 14 ounces.
What We Like
Three-sided tooth design cuts wood easily
Ideal for routine cuts
The durable blade is an investment that will last
What Could be Better
Some found it difficult to cut straight
The handle could be a bit more comfortable
BAHCO 301 6.5" Coping Saw
If you need a coping saw, you'll surely want to check out this option from BAHCO. The blade on this saw measures 6.5" long. The frame on this coping saw is nickel-plated steel, which lends to the product's durability. Additionally, the handle on this saw is orange-lacquered, wooden beech. Not only does the handle look nice, but it's comfortable to hold as well.
You'll likely find that you can replace the blades of this coping saw easily. The blades sit on retaining pins, which are easy to remove. The blades themselves are also quite durable. BAHCO makes the blades of hardened and tempered carbon steel, ensuring that the blades are strong enough to help you complete your project.
Customers will find that the blade that comes included has a 14 TPI, allowing them to produce high-quality cuts. The saw measures roughly 11" x 11" x 7.1" and weighs less than ten ounces. You can purchase this saw for less than $20.
What We Like
Sturdy saw allows you to cut through thick materials
The blade is easily replaceable
The blade doesn't get stuck when cutting
What Could be Better
Some customers mentioned that the blade holder was not parallel with the handle
Some customers said they found it tough to maintain the tension of the blade
Stanley Jab Saw with Cushion Grip
If you need a jab saw, this product from Stanley is right up your alley. The tool is incredibly affordable, as customers can purchase it for less than $10. However, considering how durable the blade is, this may be the only jab saw that you'll end up needing. Stanley designed the blade with a hardened, tempered design that makes it more durable than other jab saws on the market.
Additionally, this jab saw stands out because it has a very sharp tip. You'll likely find this useful for when you need to make plunge cuts with your tool. Once you've made your plunge cut, you should have no problem cutting, thanks to the unique engineering of the teeth on this product. Stanley designed this saw so that the teeth cut fast and do not clog during the process.
Stanley also used epoxy-bonding when securing the blade to the handle. You should never have to worry about the blade becoming detached from the handle. You'll also likely find that the grip is quite comfortable to hold, thanks to its ergonomically-designed curved shape. The product measures .79″ x 5.9″ x 20.47″ and weighs less than five ounces.
What We Like
An incredibly durable design
Sharp, clean cuts
Easy to handle
What Could be Better
Does not come with a cover
Some customers indicated their cuts were too jagged
Gyokucho Razor Ryoba Backsaw with Blade
If you need a backsaw, you'll likely find this tool from Gyokucho quite interesting. The blade on this tool is double-sided. On one side, you have coarse teeth that are ideal when performing rip work. On the other side, you have finer teeth that are perfect for when you need to complete crosscut work. The blade on this too is .5mm thick, providing you a fine cut.
This product is also one of our favorite backsaws because of its grip. Gyokucho wraps the handle with rattan, allowing you to hold the saw securely. No matter if you're wearing gloves or your hands are sweaty from a hard day's work, you should find that the grip should work well.
Customers should also find that they can change the blades on this product easily. The blade length is 7", while the handle length is 8". The handle is also tilted, which could allow you to access certain places that otherwise may be too challenging. The product weighs less than five ounces. You can purchase this tool for less than $20.
What We Like
The double-sided blade allows you to make any cut quickly
The tilted handle allows you to access areas otherwise hard to reach
Durable handle
What Could be Better
The blade tends to dull a bit quickly
Not a full-sized backsaw
Hand Saw Tips
No matter if you're someone beginning to use a hand saw for the first time or are someone more experienced who is looking for ways to become more efficient with your tools, you'll want to consider some of the following tips.
First and foremost, remember that a quality blade could be an investment well worth your while. The higher the blade quality, the fewer strokes you'll need to make when completing your cut. Buying a high-quality blade could save you both time and money in the long run, as you won't have to replace your blade nearly as frequently.
Secondly, you'll want to keep an eye out for blades that have deep gullets. A deep gorge will release materials as you cut. If you do not purchase a blade with deep gullets, you'll need to stop cutting to brush away excess materials, which could slow you down considerably. So, make sure that your blade has gullets that allow you to cut in one continuous motion without having to stop.
Lastly, if you could only purchase one saw on the list, we recommend going with a carpenter saw. Most people consider carpenter saws to be "universal" handsaws, meaning they can complete the most significant array of tasks. However, you may also want to look for "3-in-1" or "5-in-1" saws that combine numerous features into a single tool.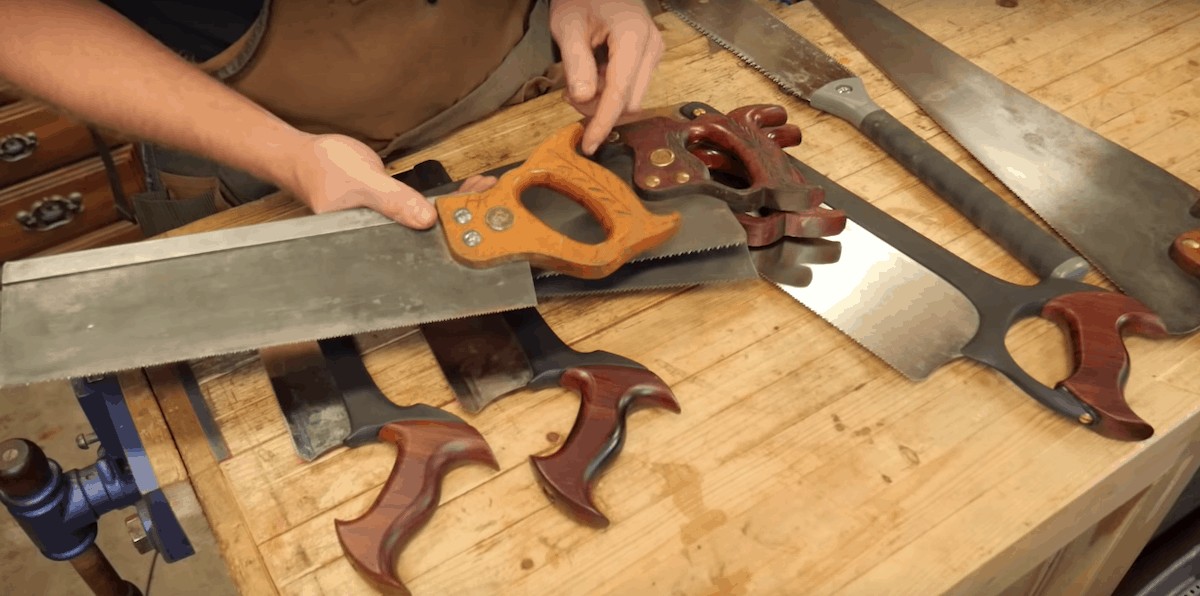 Conclusion
If you're looking to complete a project next weekend, you'll want to make sure that you have the correct tools at your disposal. Not all hand saws are the same. You should take time to plan so that you can garner a better understanding of the different types of tools you'll need. Once you've acquired the tools, completing your project should be a breeze.
We provided you with what we feel are the best hand saw types available on the market today. All of the saws that we provided are affordable.
You can purchase our entire list for around $100. Buying these saws should not only help you with project, but should also help you with projects down the road as well. The tools are quite durable, and we have no doubt they'll be in your toolshed for years to come.