Thinking about getting a Stihl HT 56 C-E pole saw? If you're like most homeowners, you have at least a few trees on your property that need a proper trimming. Professional tree trimming can be expensive. Also, heading up the ladder with a chainsaw is just as dangerous as it sounds. So, what do you do when you have branches to cut on a tall tree?
This is where a pole saw comes in. A pole saw, which is essentially an ultra-lightweight chainsaw on a stick. Allows you to quickly and safely trim overgrown trees from the ground. Stihl makes some of the best options on the market, and today, we'll cover the Stihl HT 56 C-E Pole Saw.
What to Consider Before Buying a Pole Saw
Before you begin shopping, there are a few critical considerations to make. Depending on your needs, these factors will help point you in the right direction. This is so you can select the best saw for yourself.
Manual or Powered
The most economical pole saws are manual versions which feature a saw blade attached to a long pole. These are ideal if you only need to trim a few branches occasionally. But, if you have multiple trees to cut or a lot of trimming to do on one tree, it can get tiring working with a hand-powered saw.
Electric and gas versions are essentially a chainsaw blade mounted to a long pole. The motor sits at the end of the pole. These saws allow you to make quick work of all your trimming needs. They're the ideal choice if you have a lot of trimming to do, or if you cut your trees often.
Electric or Gas
If you choose to go with a powered pole saw, you'll need to decide between an electric or gas model.
Electric models are ideal for lighter duty work. While gas-powered models are best for bigger jobs, and tree trimming professionals.
With electric pole saws, you'll find battery powered models and models which must be plugged into power to work. The battery-powered models allow for complete freedom of motion. However, you can only work for as long as your battery holds a charge. Corded electric models don't have this issue, but you can only work as far away as your extension cord allows.
Gas powered pole saws are the industry standard, and they're well suited for any kind of tree trimming work.
Telescoping Pole
Whether you go the manual, gas, or electric route, it's best to look for a saw which features a telescoping pole. This will allow you to reach higher branches without having to contend with a ladder.
Self Lubricating Chain
With all powered pole saws, a self-lubricating chain is a key feature. A chain that lubricates itself requires less maintenance. It will also do a better job of cutting through thicker branches without binding. Binding can damage your saw.
Stihl HT 56 C-E Pole Saw Overview
The HT 56 C-E from Stihl is arguably the most popular pole saw for homeowners that have a relatively large amount of pruning to take care of.
This pruner is packed with desirable features. It is designed to make it easier than ever for homeowners to do their own tree trimming. It's also exceptionally lightweight. While this pole saw boasts some features that you won't find on other trimmers from competing brands, it's still an affordable alternative to most quality pole saws.
The HT 56 C-E boasts a 27.2cc engine and measures in at 9'2" long, making it the ideal size for most residential trimming jobs.
This pole saw is backed by a two-year warranty from Stihl. Even if you use the saw for commercial purposes. This means you'll have peace of mind knowing you're covered if there are any issues with your saw.
What We Like
Easy to use right out of the box
Made in the USA
Lots of high-end features
Self-lubricating chain
Pole comes apart for easy storage
Room For Improvement
Doesn't have an extendable pole
Difficult to find replacement chains
Replacement chains are expensive
Features & Benefits
Let's discuss the meat & potatoes of this pole saw. This pole saw has all of the unique features and benefits that the saw includes.
Easy2Start System
One of the most helpful features of this pole saw is its starter, which has many advancements designed to make it easier than ever for anybody to start the tool. Except for an electric start function, you'll be hard pressed to find a power tool that starts quicker or with less effort than a tool equipped with Stihl's Easy2Start System.
Made in the USA
With so many manufacturers moving production overseas to take advantage of more affordable parts and labor, there's something to be said for the companies that continue to make their tools in America. While foreign and domestic parts are used, this pole saw is entirely assembled in the United States.
Reduced-Emission Engine Technology
One of the main drawbacks of gas-powered tools are the emissions they release into the atmosphere. This trimmer's engine produces significantly fewer emissions than what's required by the EPA and CARB, and it's also quieter than models without this technology.
OILOMATIC Chain
A properly lubricated saw chain is the key to a clean cut and extended chain life. This pole saw features Stihl's patented OILOMATIC chain, which lubricates itself during use to reduce friction and chain wear.
A self-lubricating chain will save you time and money over the life of your saw, so you can spend more time working and less time fussing with a dull chain.
Lightweight Gearbox
One of the most important aspects of a pole saw is its weight. Fatigue is quick to set in when you're working with a pole saw, and the heavier your saw is, the harder your job will be.
Thankfully, this pruner comes in at an exceptionally lightweight 5.8lbs thanks to its lightweight components and gearbox.
Two-Piece Pole
The HT 56 C-E features a two-piece pole design which allows you to functionally split the tool in half when it's time to pack it up for storage. At nearly ten feet in length, it can be difficult to find room to store an assembled pole saw, and this feature makes it much easier for you to stow away your pruner when not in use.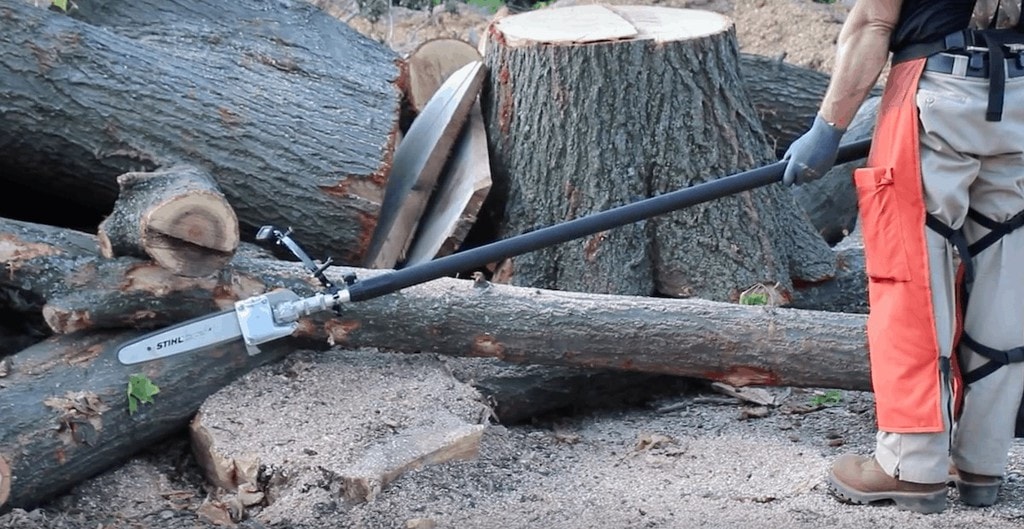 Alternatives
The Stihl HT 56 C-E is one of the most popular pole trimmers for discerning homeowners, and it may be a great choice for you, as well. But, there's no one-size-fits-all option when it comes to pole saws or any product for that matter, and you may find there are other options that fit your needs better.
If you're looking for a higher-end commercial saw that's capable of tackling even higher branches with it's 16' telescoping pole, the Stihl HT103 may be a great option for you.
Stihl's top-of-the-line offering, the HT250, is also a great alternative, especially if you're a gearhead who enjoys having the best of everything.
Of course, if you'd like to look into other brands outside of Stihl, you'll find plenty of options there as well. Remington has quickly developed a reputation for making great tools that are also exceptionally affordable, and their RM25CS pole saw delivers impressive features without the hefty price tag.
Finally, if you'd like to avoid a gas engine altogether, you'll find plenty of quality electric pruners, like the full-featured and affordable Sun Joe SWJ803E.