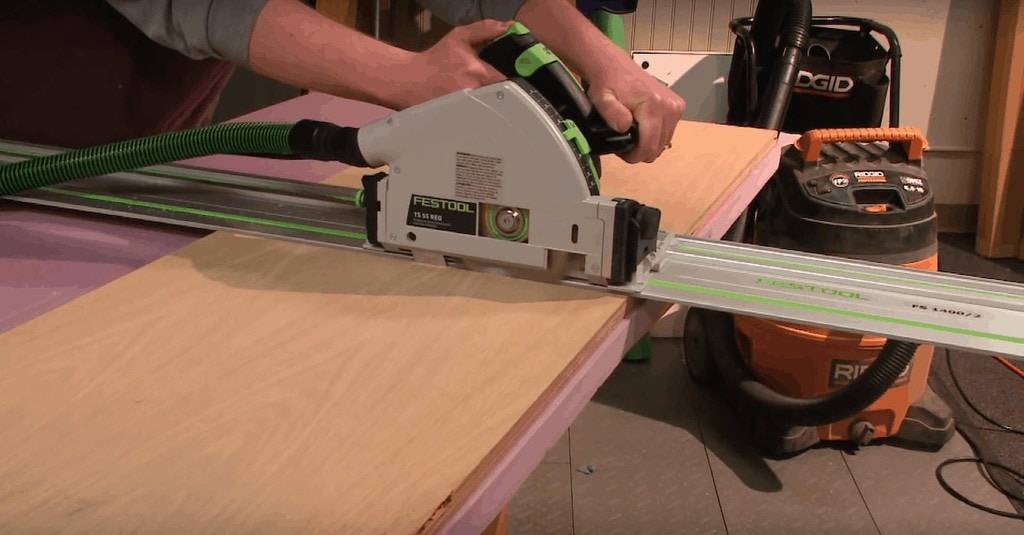 We know what you're thinking – another power saw? Isn't my circular saw, table saw, and miter saw enough? While those saws are all great, and they certainly have earned their place in your workshop. A track saw may be the best power saw you've never considered.
Today, we're going to take a look at why a track saw is such a useful addition to your workshop. We'll review one of the top track saws on the market, the Festool TS 55 REQ.
What to Consider Before Buying a Track Saw
Before you head out to buy one for yourself, take a closer look at what a track saw is, why you'd use one, and when to use it.
What is a Track Saw?
At first glance, you may think a track saw looks remarkably similar to a circular saw, and you'd be correct.
But there are a few key differences.
The first difference is that the blade of a track saw remains inside its shroud until it's time to begin cutting. When it's time to start a cut, the operator engages the saw, and the blade plunges into a material. With a circular saw, the blade engages before it's time to cut, and the material must be cut from one side or the other.
This makes a track saw safer to use, and it also means that your cuts are more uniform, smooth, and professional.
A track saw is a must for flooring contractors, remodelers, general woodworkers and DIY enthusiasts.
What are the Benefits of a Track Saw?
There are several benefits associated with using a track saw, including:
Clamp-Free Operation
The track of the saw has a non-slip bottom. This non-slip bottom allows you to quickly position your saw to make cuts without the need for clamps. It feels a little like you're flying without a parachute at first, but you get used to it, and it's a real time saver.
Instant Set-up
Thanks to the inherent advantages of a track saw you're ready to cut as soon as you've measured and marked your material. Simply align the edge of the track with your cutting line. That's it, you're ready to go! This allows you to cut without the need for test cuts or re-checking your measurements.
Less Mess
The shroud for your track saw blade also acts as a trap for sawdust, so they generate a bit less mess than a circular saw. But, hook your track saw up to a dust collection system and you'll be amazed just how little sawdust makes its way onto the floor.
Perfect for Tight Spaces
Sometimes, you need the functionality of a table saw, but the space you're working in doesn't allow you that luxury. A track saw eliminates the need for material clearance. So you can make cuts in tight quarters that you'd never dream of with a table saw.
Highly Portable
Even the best job site table saws are heavy and cumbersome. Meanwhile, a track saw provides the same functionality as a table saw without having to worry about lugging around over a hundred pounds of additional equipment.
Cleaner, Smoother Cuts
Since track saws plunge into the wood as opposed to ripping through it, the result is a beautiful edge on your finished material. Track saws produce the cleanest cuts of any saw, so they're ideal for finish work.
Long Cuts? No Problem
A track saw is only limited by the length of its track. If you need to make exceptionally long cuts, you can buy multiple tracks. You can attach them, assuring yourself of a perfectly straight cut through the full length of your material.
Features to Consider
You see how a track saw can be one of the most useful tools in your arsenal. Let's move on to what features you'll need to consider before you purchase your track saw.
Power
Motor power is one of the most critical concerns with any power tool. Depending on how often you plan on using the saw, and the different types of projects you plan on tackling, you may find that a more powerful saw is worth the extra investment for you.
As a rule of thumb, any track saw with a motor about nine amps will have plenty of power for most jobs. But, if you demand more out of your tools, you may want to consider a saw with a more powerful motor.
Bevel Capacity
The most affordable track saws can only tackle straight cuts or cuts at a 90-degree angle. More expensive models are capable of bevel cuts. Bevel cuts allow you to cut on an angle, for tasks like cutting crown molding. A track saw that makes bevel cuts is instantly more versatile and will let you to tackle a broader range of jobs.
Cord Length
While it may seem like an afterthought, the length of your power cord is a critical feature to look at. Most saws come with an eight-foot power cord. This is quite short considering that you'll be walking the saw through the length of a cut. Meanwhile, some models have longer power cables. Around the 14-foot range. These are more useful for larger jobs.
Of course, you can always reach for an extension cord if need be; make sure that the cable you're using can handle the demands of your saw.
Track Length
Track length is another feature to consider. It functionally determines the length of the cuts you'll be able to make. The length of the track varies depending on the manufacturer. Most manufacturers also offer extension tracks that allow you to cut longer lengths. You'll want to make sure you have track length options before you settle on a particular saw.
Dust Collection
We mentioned earlier that track saws inherently do an excellent job at reducing the mess associated with woodworking. A dust collection port is a great feature to have, as it will allow you to connect your shop vac to the saw, virtually eliminating dust from your workspace.
Durability
One of the most important things to consider is the build quality and durability of the saw. You may be able to save money today with a cheaper saw, but will it be worth it in the long run if the more inexpensive saw doesn't last? Regardless of the saw you choose, be sure to go with a brand you can trust; one that's known for their durability.
Ease of Maintenance
A quality track saw should last for decades, and that probably means you'll need to perform some basic maintenance to keep your saw running at it's best. Replacing the blade is one of the most frequently performed maintenance tasks, and a saw that allows you to quickly and easily change the blade will save you plenty of future headaches.
Warranty
Finally, take a look at what kind of a warranty the manufacturer offers. Do they stand behind their tools with a warranty that's as good or better than the industry average? If not, that may be a red flag to consider. A saw with a strong warranty will provide you peace of mind since you'll be covered in the event something goes wrong.
Festool TS 55 REQ-F-Plus-FS Overview
Without further adieu, let's learn more about one of the leading track saws on the market. The TS 55 REQ-F-Plus-FS from Festool is trusted by everyone from flooring contractors and cabinet makers to remodelers and DIYers alike.
This saw combines the functionality of a table saw, panel saw, and miter saw, with the portability of a circular saw. Loaded with impressive features like a spring-loaded riving knife, the FastFix blade change system, triple motor bearing, and micro-adjustment depth controls, the TS 55 REQ-F-Plus-FS is arguably the finest track saw on the market.
Things We Like
Incredibly clean cuts
Bevels to 47° for miter cuts
Easy blade changes
Strong warranty with free repair shipping
Room For Improvement
Doesn't include track clamps
Additional tracks are expensive
Features & Benefits of the TS 55 REQ-F-Plus-FS Track Saw
This Festool track saw certainly isn't short on features. In fact, it's one of the most full-featured saws on the market, here are some of the highlights:
Precision Guide Rails
Festool is well known for producing laser-straight guide rails. While the other components of the saw are essential, a quality guide rail is what will ultimately determine the quality of your cuts, and the included guide rail ensures perfectly precise cuts every time.
MMC Electronics
The variable speed motor of this saw allows you to match the power of the saw with the material you're working with to ensure professional quality cuts. The electronics also maintain constant speed under any load, which not only helps performance but also helps extend the life of your saw by protecting against thermal and current overload.
Rotating Dust Port
The saw's dust port is ideally located out of the way, so you'll never have to worry about tangling yourself in your shop vac hose. This saw is also compatible with Festool's BlueTooth controlled dust collection systems, which provide tool-triggered dust collection, helping to keep your work area as clean as possible.
FastFix Blade System
Truly ingenious as far as blade systems go, the FastFix system allows you to change blades faster than ever before. When engaged, the system locks the power switch and arbor so you can easily remove the arbor bolt.
The saw itself is also locked into a position that makes it easier than ever to remove and replace blades.
Triple Motor Bearing
The triple motor bearing provides incredibly smooth bevel cutting for bevel cuts you'd swear came from a high-end miter saw. Whether making straight or mitered cuts, you'll notice incredibly smooth operation compared to most other saws.
Depth Micro-Adjustments
Setting the depth of cut is exceptionally easy thanks to the saw's depth micro-adjustments. The depth adjustment features two cursor lines to help you make the most precise cuts possible whether you're working on or off the guide rail.
Spring-Loaded Riving Knife
The patented spring-loaded riving knife of the TS 55 REQ-F-Plus-FS keeps the cut kerf open, which holds your material away from the backside of the blade. The result is virtually kick-back free cuts that are consistent every time.
Dual Splinter Guards
Both the guide rail and the saw itself are equipped with replaceable splinter guards which help to ensure tearout-free cutting. These splinter guards reduce rework, helping to save you time and material costs.
Widely Available Accessories
All of the features in the world won't matter if you can't find the accessories you need to adapt your saw to the jobs you need to use it for. Festool manufactures thirteen different kinds of blades to suit different materials, and they also have additional tracks available.
With such a wide variety of blades and extension tracks available, there's virtually no end to the versatility of this saw, which enables you to tackle more jobs with a single saw.
Other Products to Consider
While this Festool track saw is one of the most full-featured and powerful saws on the market, that doesn't necessarily mean it's the best saw for you. There are several other popular models available which may fit your needs better.
They also come in a few hundred dollars cheaper than the Festool saw we've covered today.
The DeWalt DWS520 and the Makita SP6000 are both powerhouse track saws that are trusted by veteran professionals and experienced homeowners alike. Each of these saws is a few hundred dollars cheaper than the Festool track saw, so you may wish to take a closer look before making your final decision.
With that said, you'll be hard pressed to find a more impressive or feature heavy saw on the market. The Festool TS 55 REQ-F-Plus-FS is the industry standard for track saws. While it won't necessarily replace your table saw, miter saw, or circular saw, it will make your life substantially easier while allowing you to take the quality of your woodworking to the next level.