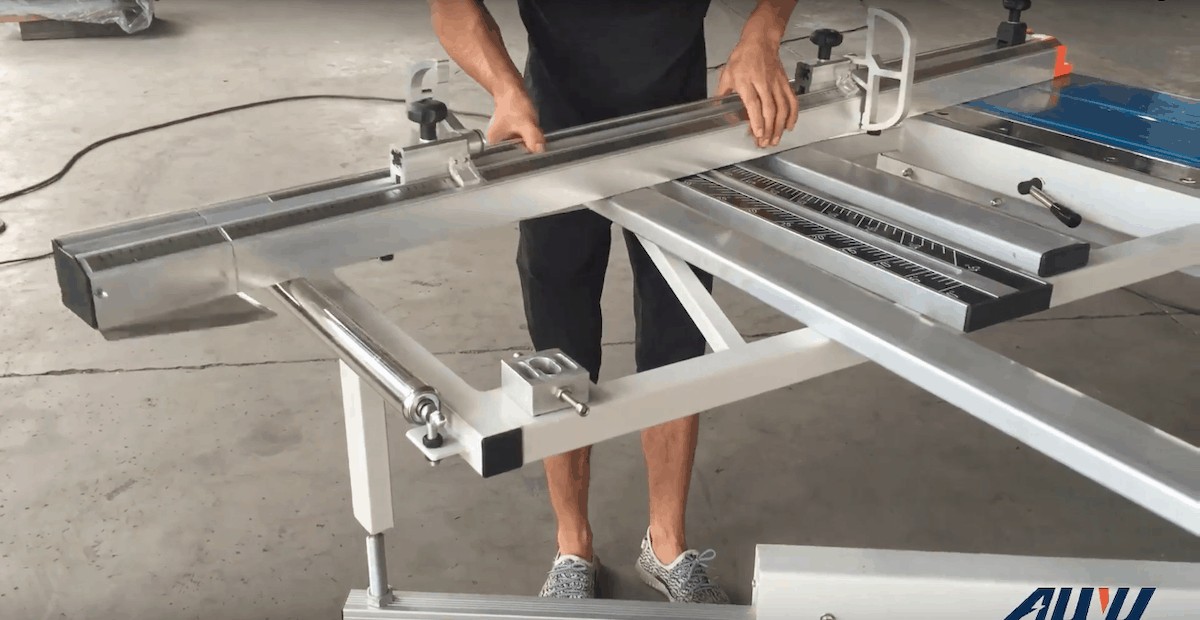 While they may seem like one of the more obscure power saws available unless you're used to working with them, a panel saw could be an indispensable tool in your workshop.
Anyone who regularly works with full-size sheets of material like wood, plastic, or sheet metal can benefit immensely from the precision operation and ease of use of a panel saw.
Today, we're going to take a closer look at five of the most capable panel saws on the market today, and show you exactly what to look for when selecting the perfect panel saw for your shop.
5 Best Panel Saws Reviewed
Getting right down to business, here are our five favorite panel saws. Each of these saws is incredibly well-built and capable, and depending on your needs, you're likely to find that one of them is an ideal fit for your shop.
Saw Trax C52C Compact 52 Classic Vertical Panel Saw
The C52C from Saw Trax is one of the most compact and affordable panel saws on the market. Based on customer feedback and years of experience, Saw Trax set out to make a more affordable panel saw that still possessed the features demanding professionals rely on, and they've succeeded in that mission with the C52C.
What sets Saw Trax apart from many competitors is their Accu-Glide Bearing System, the Accu-Square alignment system, and the Accu-Fence system, each designed to offer more precision, smoother operation, and the cleanest and most precise cuts possible.
While most manufacturers offer a proprietary saw that's attached to their frame, Saw Trax taps Makita for this portion of the tool, making use of Makita's popular 5007F circular saw. This is a great feature since the saw can easily be serviced by Makita or replaced entirely if need be, without compromising the effectiveness or life of the frame.
The frame itself features 12 sealed steel bearings per carriage, and the set-and-forget Accu-Square alignment system, which ensures perfect alignment that never needs to be adjusted.
Another impressive aspect of this saw is it's compatible with many add-ons that other saws can't use, including a floating router, glass cutter, razor knife or ACM rolling shear. This dramatically increases the usefulness of the saw, making it one of the most versatile on the market.
What We Like
Accu-Square alignment for perfect cuts
Incredibly smooth operation
Easy to maintain or replace the saw
Quality customer service
Affordable
What Could Be Better
Doesn't include a stand or additional accessories
Saw handle may seem a bit awkward at first
Safety Speed H6 Vertical Panel Saw
Another popular option that offers professional quality features without the enormous price tag is the H6 from Safety Speed.
The H6 offers a maximum crosscut of 74" which is impressive, and unlimited rip cutting. Many saws in the same price range aren't able to offer crosscut or rip cut capacities like that. The maximum cut thickness is 1 ¾," and this saw makes perfectly straight and square cuts that are accurate within 1/32".
Like the Saw Trax model above, this saw features 1 ¾" zinc-plated guide tubes. The Nylatron bearing system helps keep the saw moving smoothly and accurately along its track, while a spring-loaded counterbalance system provides a grounded, stable feel when the saw is in use.
As for the saw itself, Safety Speed provides a 15 amp 3 ¼ horsepower saw, which carries a one-year warranty. The frame itself is warranted for life, so you'll be covered should anything ever malfunction with the frame of the saw – the most important component of the system.
The saw also features a dust collection bonnet, adjustable vertical and horizontal rulers, and a thin material pressure guard.
What We Like
Impressive capacity
Lifetime warranty on the frame
Industrial-duty saw
What Could Be Better
Mediocre warranty on the saw itself
Milwaukee 6480-20 Panel Saw System
The 6480-20 from Milwaukee is one of the most popular panel saws on the market for several good reasons. It features all-steel construction, it's impressively lightweight, and it's every bit as accurate as some of the saws on the market that are twice as expensive as this one.
This saw features all-steel welded construction and a 15 amp 3 ¼ horsepower 5,800 RPM Milwaukee saw. The saw also features an ergonomic horizontal handle which makes it exceptionally easy to use. It provides impressive cutting accuracy down to 1/32".
The saw features impressively smooth movement. However, it does make use of nylon bearings instead of steel, so it's possible that over time the saw won't move as smoothly as it once did.
While this saw features some of the highest build quality, it does have a limited capacity and isn't recommended for ripping sheets larger than 4×8. However, they do offer an extension accessory that will allow you to increase the capacity of the saw.
Both the frame and the saw itself are backed by a solid five-year warranty.
What We Like
Ergonomic and easy to use
Strong warranty
Industrial-duty saw
All steel construction
Affordable
What Could Be Better
Limited ripping capacity
Nylon bearings instead of steel
Powermatic 511 Vertical Panel Saw
A truly top-of-the-line panel saw that's trusted by professionals across many industries, the 511 from Powermatic is worth a closer look if you're looking for the utmost in quality and reliability.
This panel saw features welded steel construction with stainless steel guide rails for reliable and durable operation. Eight guide roller assemblies provide smooth operation regardless of the size of the material you're using. This saw offers an unlimited rip length and a cross-cut length of 62".
The saw itself is slightly underpowered compared to some of the competition. This saw includes a three-horsepower 13-amp motor with a maximum cut thickness of 1 ½", which is a bit smaller than the usual 3 ¼ horsepower 15 amp motors that provide an extra ¼" of cut thickness.
Dual 4" dust ports help keep your material and workshop as clean as possible as you work. A true counterweight system keeps the carriage right where it's supposed to be as you load new material. This saw also has solid aluminum rollers with support brackets for smooth loading and square cuts.
Large casters are also included so you can quickly relocate your saw to wherever you need it to be within your workshop. This panel saw comes backed by a five-year warranty on the motor as well as the frame.
What We Like
All steel construction
Smooth rollers
High Capacity
Impressive accuracy
Five-year warranty
What Could Be Better
The saw is underpowered compared to most competitors
Saw Trax 1064 Full-Size Varsity Package Panel Saw
For fans of Saw Trax bulletproof construction who need a saw larger than the more compact C52C, the full-size 1064 model may be ideal for you.
This saw boasts the same features Saw Trax is famous for, including their Accu-Glide Bearing System, the Accu-Square alignment system, and the Accu-Fence system. The frame is powder-coated steel, and the guide tubes are 11-gauge zinc plated.
The ten-foot wide frame ensures you have ample room for full-size sheets and are capable of cross cuts up to 64". Larger frames are also available in this same 1000 series saw for support up to an impressive 100 inches.
Like the C52C, Makita's flagship 5700N saw is the brains behind the operation. This industrial duty saw provides 3 ¼ horsepower at 15 amps and is capable of handling even the most demanding jobs. One thing worth noting is that while many panel saws feature 8" blades which are more difficult to find, the 5700N takes standard 7 ¼ inch blades, which are more widely available.
The included Varsity Package provides you with a factory-attached stand that makes transporting this saw around your workshop effortless. Also included is a 12' wide diameter dust hose with a coupler for attaching the hose to any shop vacuum. That and the heavy-duty blade shroud brush combine to provide impressive dust collection capabilities.
What We Like
Impressive capacity
Heavy-duty saw
Industry-leading build quality
Includes factory attached heavy-duty stand
Strong warranty
What Could Be Better
Saw handle may seem a bit awkward at first
What You Need to Know About Panel Saws
Before you decide on the best panel for you, let's discuss the ins and outs of panel saws to give you a better idea of what to look for when it's time to buy.
What is a Panel Saw?
Panel saws are large power saws that have a lot in common with table saws. They're designed to cut large sheets of material into smaller parts. Depending on the blade used, they can be used to cut wood, metal, or plastic.
Who Needs a Panel Saw?
Panel saws are a somewhat specialized piece of equipment, and not everyone needs one in their workshop. But, they're indispensable for certain types of work. If you've ever walked around a lumber yard or the lumber section of a home improvement store, you've probably seen a panel saw in action.
Beyond that use, they're especially helpful for sign makers, cabinet makers, prop houses, and furniture makers.
Types of Panel Saws
There are two types of panel saws on the market, vertical and horizontal.
Vertical Panel Saws
Vertical panel saws are growing in popularity as they bring the same functionality of a horizontal panel saw, but they take up much less space.
Horizontal Panel Saws
Horizontal panel saws are functionally large table saws. They feature a sliding feed table which you use to slide material into the saw blade. These saws are prohibitively large for most shops, which is why the vertical variety has grown in popularity.
What to Consider Before Buying a Panel Saw
Before selecting a panel saw, there are several key features to consider. This isn't an investment of a few hundred dollars; panel saws range in cost from about $1,000 up to $5,000 or more, so it's important to do your due diligence when evaluating different models.
Factory Alignment
One of the main reasons to buy a panel saw in the first place is its accuracy. To produce an accurate saw, the saw must be assembled and aligned by quality technicians to exact tolerances. Make sure the brand you're buying from has a reputation for accuracy from the second you begin using the saw.
Frame Quality
The build quality of the frame is another critical factor. Think of the frame as the backbone of the saw. A poor-quality frame will result in poor-quality cuts and can compromise the life of your saw.
Look for a frame that features one-piece welded construction. Frames that are comprised of multiple pieces that are bolted together can rust or loosen over time, compromising the performance and safety of the saw.
Transport
While most panel saws never leave the workshop, there are instances where you may need to move your saw around or even bring it to a job site. Vertical saws are much more portable than horizontal saws, although even the vertical models aren't exactly a pleasure to transport.
If you may have to move your saw around, a model with wheels will be far easier to maneuver.
Rip Cut Capacity
Rip cuts go with the grain of your material, and they're one of the most popular types of cuts you can do with a panel saw. The higher-end models provide unlimited rip cut capacity, while more affordable models feature a rip cut capacity that can only handle 4×8 pieces of material.
Cross Cut Capacity
Crosscuts go against the grain of your material and put more strain on the tool as it cuts. Higher-end models provide a capacity of around 70 inches, while lower-end models are usually about 50 inches.
Guide System
This ties into the build quality of the frame, but it's worth covering on its own. The guide system of the saw should be made from tubular steel, which is welded to the frame. This will ensure that the guide system is perfectly straight and durable. Avoid guide systems that are bolted to the frame if possible.
Saw Blade Capacity
Blade sizes can range from around 7 ¼" to 10". Depending on what you're working on, you may find that you need to make use of a 10" saw blade.
But not every panel saw can accommodate blades of this size. If you're unsure what size blades you'll need to use, or if you think you may need larger blades for some tasks, make sure the saw you select can accommodate the larger blade.
Ease of Changing from Rip Cut to Cross Cut
In the past, switching from rip-cutting to cross-cutting was a time-consuming affair. Today's high-end saws have a center that rotates, allowing you to rotate the saw 90 degrees, so you can switch from ripping to crosscuts in a matter of seconds. This is a helpful and time-saving feature you're sure to want in your panel saw.
Warranty
A strong warranty is another feature you're sure to want in your panel saw. With cheaper pieces of equipment, if the saw breaks, it's relatively easy to move on from your purchase and try something else. But, with panel saws costing several thousand each, this is a piece of equipment you're going to need to stand the test of time.
A strong warranty provides peace of mind that you'll be covered should something go wrong. Perhaps more importantly, a solid warranty is usually a good indication that the brand you're dealing with stands behind its product and makes quality goods. Keep the warranty in mind when shopping for a saw.
Frequently Asked Questions
Q: Should I Buy a Panel Saw?
A: The answer varies depending on the type of work you do. For more DIYers or general contractors, the answer is no. However, if you're in the woodworking business, especially if you make furniture and cabinetry, a panel saw can be worth its weight in gold.
Q: Is vertical or horizontal better?
A: Vertical panel saws tend to be the better investment these days, as they present many benefits that you don't get with a horizontal saw. For one, they're much easier to move, and they take up significantly less space in your shop.
Unless you have an expansive workshop with plenty of usable space, a vertical saw may be your best bet.
Q: Where is the best place to buy a panel saw?
A: Buying a panel saw can be a bit tricky because of their size and cost; many retailers stock just a few different saws, assuming they stock them at all. Fortunately, more online retailers are beginning to sell panel saws, which makes it easier to find what you need.
Final Verdict
Each of the panel saws we've covered today would make a great addition to your busy workshop. But we believe that one saw rises above the rest, and has earned our title of the best panel saw.
The Saw Trax 1064 1000 Series panel saw with the Varsity Package is our choice for the best panel saw. This saw earns that distinction thanks to their industry leading build quality, impressive customer service, and precision operation.
Saw Trax manufactures several different series of saws, some are more affordable while others are geared to the most demanding professionals. If you find the 1064 model isn't the perfect saw for you, there's a good chance they manufacture another model that's more aligned with your needs.
Which one will you choose? Tell us in the comments.