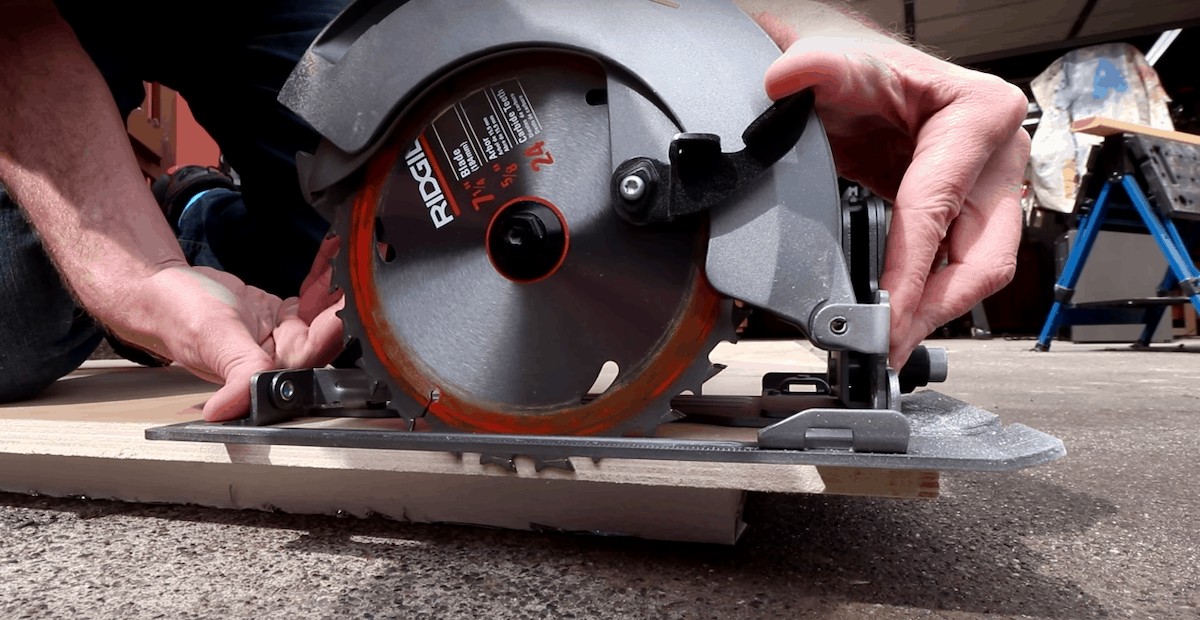 So you've got a looming project ahead that you've decided to tackle, and you're even willing to drop a little cash on some brand new tools to help you get the job done right.
But where to begin? The marketing world will have you believe that you need this, that, the other, and everything in between to even think about getting a job done. Naturally, you start questioning yourself and your tools: 'Well, I've got a decent circular saw … do I need a table saw for that front deck project?'
This is totally understandable.
Yes, there are certainly specific uses for each and every tool out there. And yes, it's justifiable to want the tools that'll help you get the job done as easily, efficiently, and professionally as possible.
Hopefully, this is where we can be of assistance; helping you determine what you need, and what you don't.
In this article, we'll rekindle the old, never-ending argument of circular saw v. table saw: Which one is better? When do you use one or the other? Are there things one can do that the other can't?
Overview: A tale of two saws – Circular v. Table
To be straightforward, there is nothing a table saw can do that a good circular saw cannot do.
Now, this probably makes the dilemma seem very simple, right? With the choice being to obviously go with circular saws​ .
Mmm, not exactly. What that first statement should read is this: 'There's nothing a table saw can do, that a good circular saw cannot do at the hands of someone who knows how to use it."
Contrary to what multiple 'expert' DIY'ers (and probably even some professionals) will say, a circular saw can in fact rip lumber, make cross-cuts, precision miters, tenon/dado/lap joints, inset boards, etc.
The key difference is that to the novice user, these precision cuts will be a fair bit easier to make with a table saw, than with a circular saw.
Note that we emphasized the term novice user. In order for a circular saw to be used to its full potential and make accurate rips, miters, etc, you'll need to use a couple extra tools with it like a speed square, shooting board, or edge guide (we'll talk a bit more about these shortly). This is where things may get a bit overwhelming for novices.
With a table saw, you can rely more on the tool to make these precision cuts, rather than on yourself. There's a little less room for error, so to speak. Simply set the miter or rip fence (depending on whether you're making rip cuts or cross-cuts), and there's no doubt you'll get a perfect cut.
The Circular Saw: Range of use
Like we said, there's really nothing a circular saw can't do in the realm of general woodworking. (Here's a great video showcasing the circular saw's full potential).
However, you've got to know your way around the tool in order to get the most out of it.
Even for standard 90-degree cross-cuts on narrow pieces of material like 2×4's, we recommend using a speed square to ensure a perfect, precision cut. Measure the length that you want your cut at, mark it off with the square, then position your blade and use the square as a guide against the circular saw's fence. If done correctly, this will produce a perfect, 90-degree square cut every time.
The speed square can also be used as a protractor to mark off angled cuts. Simply use the corner of the square as a pivot point, then use the angled side of the square to measure off the exact degree you need. Then you can use the square again as a fence guide to run a perfectly straight cut down the angled line.
For ripping boards, unless you've got some otherworldly ability that allows you to run a circular saw by eye on a laser-straight line, you'll want to use a shooting board, or 'rip-fence jig'.
The shooting board is a homemade jig that's built to the exact dimensions of whatever circular saw you're using. It acts as a fence guide that allows you to make perfectly straight rips, at whatever length you need. If you make the jig right (it's super easy), you'll be able to rip long pieces of lumber or plywood with all the ease and accuracy of a table saw. (Instead of going into a lengthy segment on what exactly a shooting board/rip-fence jig is, here's a great video on how to make one for your circular saw).
Joinery, knotching, and insetting boards is done by simply adjusting the depth of cut on the circular saw blade.
For example, to create an inset on a section of 2×4, simply mark off the desired section to the appropriate length, adjust your blade to the appropriate depth (no more than ½ the thickness of the board you're insetting), and use the speed square to make parallel cuts about 1/16" apart over the entire length of the section. Then, use a hammer and chisel to knock out the material and create the inset.
Lastly, most all decent circular saws have an adjustable plane, allowing for angled cuts up to 45-degrees – just like an expensive ​ compoun​​d miter saw.
The Table Saw: Range of use
The table saw is an extremely efficient tool because it makes cross-cutting and ripping boards a breeze.
Like we just mentioned, a circular saw can certainly be used to rip or cross-cut, but it takes a special jig and generally a keen hand to really make a great, precision cut.
On the other hand, you'd have to kind of go out of your way to screw up a cut with a table saw, as long as the fence is positioned and set correctly. (Here's an excellent video on the ease and advantages of a good table saw, and how to properly use one).
Of course, one of the big downfalls of a table saw is its size and non-portability. Unlike a circular saw which you can use just about anywhere, you've got to have a bit of a workspace in order to operate a table saw.
Price is also a factor worth mentioning: for overall quality, a circular saw will always be less expensive than its table saw counterpart.
What we like about both, and top picks for each kind
It's actually pretty tough for us go so far as to say the circular saw is 'better' than the table saw. Or vice-versa, for that matter.
Like we explained, both saws are fantastic tools that, under the right hands, will produce excellent results.
Here's a short list of a couple of our favorite brands and models for both circular saws and table saws.
Circular saw: Our top picks
*(For a more complete, in-depth guide to the best circular saws, see our full-range buyer's guide​, but here's a quick summary of our favorites below:
DeWalt DWE575SB
This is, in our opinion, hands-down the best and most efficient circular saw that you'll ever use, and should be the standard for which all other circular saws are measured against.
Hitachi C7SB3 15 Amp 7-1/4″ Circular Saw
This one is smooth, stylish, and aesthetically-pleasing to the eye, and it feels and operates equally as smooth beneath the hand as well. Another super high-quality saw that we absolutely recommend.
Table Saw: Our top picks
*(Check out our full-review table saw buying guide here, with in-depth reviews and price ranges for several different makes and models). That said, here's a quick rundown of our top picks:
DeWalt 7491RS
Like its circular saw counterpart, this table saw is the industry standard, as far as we're concerned. It is durable, functional, powerful, and will do just about whatever you ask of it with no hesitation.
Other respectable runner-ups are the Makita 2705X1 10-inch and the Skil 3410-02 10-inch – both of which are pretty capable for the average homeowner and casual DIY-er.
Conclusion / Bottom Line
So what's the bottom line?
The circular saw is, overall, a wider range-of-use tool than the table saw. With a little practice, patience, and studying up, you'll find that there's really nothing you can't do with this awesome little saw. And of course, the convenience and portability speaks for itself.
If you are, however, a relative beginner and you're concerned about your ability to make precision cuts, and/or if you'll be cross-cutting/ripping a lot of similar sized boards, go ahead and go with the table saw. It is by all means a convenient tool that's worth having (if you've got the space for it).
If you're on a budget and have got to choose between one or the other, our general recommendation is the circular saw; invest in a good one, and you'll learn all you'll ever want to know about cutting wood.