A miter saw is one of the most useful tools you can have in your garage, and it's critical that you have one on hand for many types of woodworking jobs, including molding and finish work. If you do work outside of your shop, a quality miter saw stand is something you'll need to have at the ready.
But, with many different stands on the market, each with plenty of bells and whistles, it can be difficult to determine which stand is going to help you get your work done, and which is going to cause nothing but headaches.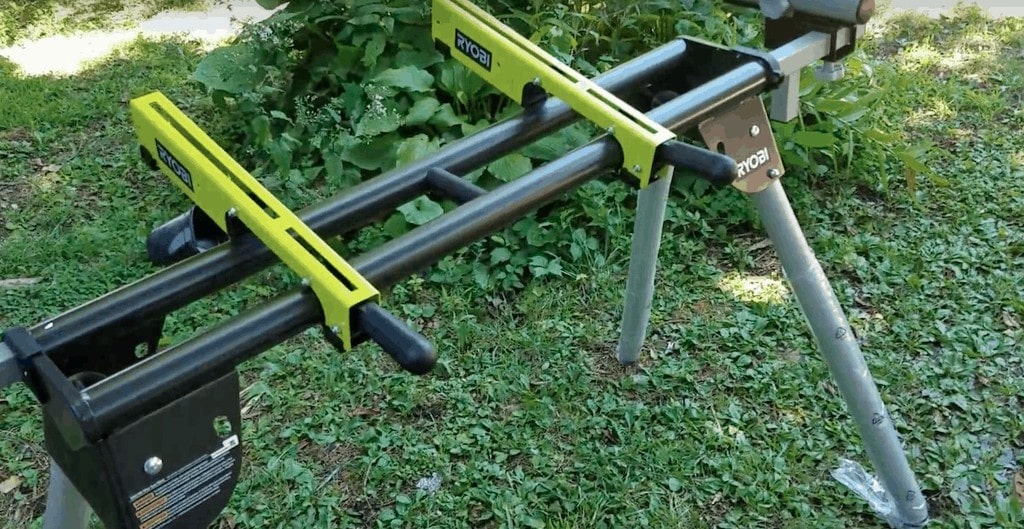 The invention of the miter saw in the mid-1960s completely revolutionized the woodworking industry. Today it's one of the most indispensable tools in any carpenter's arsenal. But even the best miter saw is going to be hard to use without a proper stand.
There are many different types of stands available. Each one has distinct features and benefits. Today, we'll cover everything you need to know to select the best miter saw stand for your needs.
Must Read: Ultimate Miter Saw Resource
Today, we're going to take a look at five of the best stands on the market, and give you some helpful tips for shopping for your stand in our best miter saw stand showdown.
5 Best Miter Saw Stands Reviewed
These five stands represent the best of the best miter saw stands. From rail or compound stands to the increasingly popular gravity rise wheeled stands, you're sure to find something well suited to your needs on this list.
DeWalt DWX726 Rolling Miter Saw Stand
The DWX726 is DeWalt's most popular stand. That says a lot considering the popularity of this leading saw and tool company.
This stand features durable tubular steel construction. It has a maximum weight capacity of 300 pounds. When fully extended, this stand measures 98" long by 32 ½" wide. But, when it's time to pack it in, this stand folds flat, taking up only 60" of vertical space and a paltry 17 ½" horizontally.
Extra-wide adjustable infeed and outfeed support offer the versatility you need. This allows you to work with virtually any material at any length. This is a must for professionals. The mounting rails are easy to adjust. They provide a wide enough adjustment range to accommodate virtually every saw on the market.
Rounding out this stand is it's 3-position pneumatic assist lift system. This system allows you to adjust the height of the saw with one hand easily. Wide rubber wheels provide a stable surface when it's time to work. They easily traverse any terrain when it's time to move the stand.
This DeWalt miter saw stand weighs in at a manageable 67 pounds and can support up to 300 pounds between the saw and materials thanks to its durable tubular steel construction. Wide treaded tires make it easy to transport the table anywhere it needs to go, and when it's time to close up shop, the entire stand can be folded away with one hand.
DeWalt stands behind the DWX726 with a 3-year warranty.
What We Like
Plenty on infeed/outfeed support
Durable construction
Pneumatic assisted lifting
What Could Be Better
Sticky lock mechanism may cause the stand to lock in place
Only supports 300 pounds
BORA Portamate PM-4000 Folding Miter Saw Stand
The BORA Portamate PM-4000 is an economical rail style stand that's built for anything you can throw at it.
This stand features rugged tubular steel construction. It's capable of supporting an impressive 500 pounds.
This stand is quite portable, it weighs only 30 pounds and measures in at only 20" long by 43 ½" wide and 6 ½" high when it's folded up. When it's time for work, the legs fold out from the main rail and are secured with heavy-duty pins.
The PM-4000 features an impressive 116" of material support. The quick-release saw mounts allow you to easily mount virtually any miter saw to the stand. Plus, there are tons of other tools that you could also mount to this stand if you need to. BORA has several different mounts available that are sold separately.
BORA also has a wheel kit available. The kit allows you to add 6" wheels to the stand to greatly increase its portability.
If you're looking for one of the most durable stands on the market but are unwilling to drop several hundred dollars on a top of the line stand, the PM-4000 may be perfect for you.
What We Like
Affordable
Built to last
Multiple accessories and upgrades available
Lightweight and easy to assemble
What Could Be Better
Only has a one-year warranty
Bosch T4B Gravity-Rise Miter Saw Stand
The T4B gravity rise stand from Bosch is the current industry leader. It is favored by pro contractors, carpenters, and home craftspeople alike.
The T4B is the most expensive stand on the market. It's packed with features that aren't available on competing stands.
The T4B boasts the most material support of any stand, with an impressive 18 feet of capacity. Quick release tool mounts allow you to mount virtually any miter saw easily to the stand. The stand also features Bosch's patented gravity rise system. This allows for effortless operation with only one hand.
Another key feature of the T4B is it's leveling feet. Which allows the stand to be perfectly level on virtually any terrain. This feature is especially handy when working on uneven outdoor terrain. Large 8" pneumatic wheels easily roll over anything, including rocks and debris that may be in your way.
This stand is exceptionally well built, and many professionals swear by it. However, you'll be on your own if something goes wrong after the first year. This stand only boasts a one-year warranty.
What We Like
Gravity rise system
Leveling feet
Easy to maneuver
Tons of material support
What Could Be Better
Mediocre warranty
Expensive
Ridgid AC9946 Mobile Miter Saw Stand
The AC9946 from Ridgid is another rolling miter saw stand that's designed to compete with Bosch's T4B.
This stand features the largest wheels in the class, at 12". It makes short work of virtually any terrain you'll need to maneuver over.
Universal mounting brackets are compatible with virtually every miter and chop saw on the market. The AC9946 features an impressive 9 ½ feet of material support. That kind of support is above average. However, it's still only about half of what the T4B is capable of supporting.
This stand also features tool-free indexing lock levers and tool-free material stops. This makes it easy to precisely repeat your cuts.
One of the most impressive features of the AC9946 is Ridgid's industry-leading lifetime service and support. This covers you if something goes wrong with your stand. The one caveat is that the product must be registered within 90 days of purchase or the warranty is void.
What We Like
Industry leading warranty and support
Extra large wheels
Plenty of material support
Tool-free locking levers and material stops
What Could Be Better
Not as easy to raise or lower as other wheeled stands
Evolution Power Tools EVOMS1 Folding Miter Saw Stand
The EVOMS1 is a heavy-duty folding miter stand that features impressive build quality, especially considering how light and easy to maneuver it is.
This lightweight stand weighs in at 34 pounds and is capable of supporting up to 330 pounds. The EVOMS1 supports a robust 118" of material, and the rolling material supports make it easy to manage even the longest pieces of material.
When it's time to pack it in, quick release tool brackets allow you to remove the saw in seconds. The legs and support arms fold up into the main rail of the stand, and the whole stand folds flat and has a small footprint, making it ideal for congested shops, or the back of your truck.
Despite its affordable price point, this stand features robust steel construction and is backed by a solid three-year warranty.
What We Like
Affordable
Lightweight and easy to set up
Solid warranty
What Could Be Better
Height isn't adjustable – might be too short for taller users
Toughbuilt TB-S550
For a portable miter stand that's considerably cheaper than the most popular models from DeWalt and Bosch, look no further than the TB-S550 from Toughbuilt.
This stand measures in at 61.5" long by 24.5" wide when it's folded up, and 127.5" long by 27.5" wide when it's set up. It weighs in a bit lighter than most comparable stands at about 55 pounds. The material supports provide support for up to 124" of material, and you can adjust the working weight between 34 and 38 inches.
As long as your miter saw has bolt holes in the base, you'll be able to use it with the TB-S550. The quick-release tool mounts make it easy to add or remove your saw quickly and easily.
This saw stand is also easy to maneuver and features quick-release leg locks that allow you to collapse the stand and wheel it to the next job with very little effort. The wheels are large, and the tires are flat-proof, so you'll be able to traverse any terrain without worrying about the tires going flat.
Should something go wrong with your stand, Toughbuilt stands behind it with an industry-leading limited lifetime warranty.
What We Like
Easy to use
Affordable
Industry-leading warranty
What Could Be Better
Not as well built as some leading models
WEN MSA750
If you're looking for an affordable, no-frills stand that's still well built and durable, the MSA750 from WEN is one to take a closer look at.
This basic stand supports a whopping 750 pounds, and it supports material up to ten feet in length with its extendable support arms.
The heavy-duty powder coated frame breaks down quickly and easily, and since the support arms are also removable, this stand has a tiny footprint when it's stored. When it's time to set the stand up, just fold the legs out and lock them in place for a stable workspace.
With its large weight capacity and support for up to ten feet of material, this stand is ideal for professionals who are trying to avoid spending $300 on a top-of-the-line stand. Since it's backed by a two-year warranty, you'll also have peace of mind knowing you're covered should something go wrong.
What We Like
Large capacity
Easy to set up
Small footprint when folded
What Could Be Better
Not as widely compatible as other tables
Owning the best miter saw stand is a key accessory for carpenters or any carpentry job. Miter saw stands offer a great level of stability and support, making it easier to work with a miter saw and manipulate the material without restriction. Some stands are portable and can fold down for easy transportation, allowing one to handle projects on the road. Other miter saw stand models can be heavy and they work best on large construction projects.
DEWALT Miter Saw Stand, Heavy Duty with Miter Saw Mounting Brackets
The Heavy Duty, DeWalt Miter Saw Stand has a right out of the box factory setup that has square and angle indents which are very accurate and very smooth operation. You can use it in places when you need that 45-degree angled cut to be just perfect. The DeWalt Miter Saw Stand has strong suction which is both powerful and easy to use with board holders that  extend out to each side. This is an all in one, sturdy, accurate, that is lightweight, long-lasting, and like all DeWalt tools, it's contractor grade and most important, it's American made.
Ryobi Miter Saw Stand
With the Ryobi Miter Saw Stand, there is no compromise between portability and heavy duty. It's fairly easy to fold up and move around but at the same time its heavy enough that it doesn't move around when you are using the stand, which could prove to be dangerous! The miter saw stand has all the adjustments you might need. A stand that is lightweight, highly portable, easy to store, solid as a rock, stable, and is well designed for managing long pieces. The Ryobi Miter Saw Stand is well designed stand that is well made, and easy to set-up and take down.
This is from the Owners manual: "The Ryobi Saw Stand will accommodate many miter saws. However, it should never be used on any miter saw with a blade diameter larger than 12 in.". So take care when using!
Rigid Miter Saw Stand
The Rigid Universal Mobile Miter Saw Stand with Mounting Braces is a miter saw stand that is compatible with most common miter saws and the utility vehicle sets up in seconds. There is a gravity rise miter stand that works excellently each and every time. The weight and portability of the miter saw stand are perfect and it rolls over large steps with ease. The Rigid Miter Saw Stand is a very well thought out design with the end user end mind.
The Rigid stand features an upright folding design for easy storage, set-up and break down. There is one pedal to step on and lift the rail, and opening isn't difficult but does require both hands and a moderate push down to get the saw stand to lock open. As mentioned previously, there are large wheels are great for rolling over lawn. This is not a small miter saw stand but it is very sturdy and has nice features like the supports to hold longer pieces of wood in place. This is an excellent stand for homeowners.
Miter Saw Stand Buying Guide
The stands above are our five favorites currently available, but you may find that there's a stand we haven't covered that you're interested in as well. But, how can you tell if it's a good option for you? Read on, and we'll show you how to evaluate other stands to determine if they are going to meet your needs.
Types of Stands
There are several types of miter saw stands on the market, and they're well suited for different uses. Whether you're a woodworking hobbyist or a seasoned professional, you're likely to find that one type of stand is ideal for you.
Traditional
A traditional miter saw stand is essentially just a set of sawhorses with a solid wooden board in the middle. This type may be ideal for you if you plan on leaving your stand in one place forever.
But, for use on a job site, or for anyone who needs to be able to move their saw to other locations, you're likely to find that this stand isn't a good fit for you. The stand is large and cumbersome to move or transport, and it's impractical for many of today's modern craftspeople.
Rail
Rail miter saw stands are extremely popular, thanks in part to their lightweight and easy to transport design.
Rail stands are exceptionally portable and feature collapsible legs that can easily be folded up so you can move the saw to a new location, or pack it up for transport.
Quality rail stands feature heavy-duty braces that keep your stand and saw level and sturdy, and slide out extensions that allow the stand to support very large pieces of material.
Rail stands aren't the most advanced stands, and they aren't much to look at, but they certainly get the job done, and they're among the most affordable stands available. Plus, since they're extremely portable, they're a good fit for use on the job site.
Tabletop
Tabletop miter saw stands combine some of the functionality of a rail stand with a traditional stand. These stands usually feature collapsible legs, but the main rail is replaced by a tabletop, which your miter saw has to be bolted down to.
These stands offer decent portability and muscular stability, and they're compatible with virtually every miter saw on the market.
Because tabletop stands aren't especially portable, they're not an excellent option for job site use, or for anyone who regularly needs to move or transport their miter saw.
Rolling
If you're looking for the most advanced, most portable, and easiest to use miter saw stand, look no further than the rolling style stands, which have become exceptionally popular with serious enthusiasts and professionals.
These stands blend the advantages of a tabletop style stand, and they're even more portable than a rail stand, making them perfect for job site use and regular transportation.
Rolling stands feature a set of legs on one side and a pair of locking wheels on the other side of the stand. These stands feature a tabletop which the miter saw is bolted down to, and they can be collapsed or expanded with only one hand.
A major benefit of these stands is that since they secure your saw to a table, you can transport your saw and stand at the same time. Since you never need to remove the saw, it's a breeze to set it up, break it down, or pack it back in your truck to bring back to your workshop.
These stands tend to be the most expensive choice, but they also have the most features and are the easiest to use.
Compound
Compound miter saw stands are difficult to pinpoint because there are many different types of stands that fit into the compound category.
These stands tend to combine newer features with the tried and true features of old. Depending on the particular stand, they can be easy to use and portable, or cumbersome and difficult to move.
The most popular compound stands seem to combine the stability of a tabletop stand with the portability of a rail stand. Some even feature wheels which allow you to use the stand like a dolly once it's fully collapsed.
What to Look For in a Miter Saw Stand
Now that you're armed with a better idea of what kind of miter saw stands are available let's take a closer look at the features that will matter most to you when deciding on which stand to purchase.
Portability
For most users, portability is the key factor that will determine which stand is best for you.
If you're a professional, or if you already have a laundry list of projects your new miter saw will tackle, a very portable stand will certainly be your best fit.
From there, it boils down to just HOW portable you want your stand to be. Do you need the type of easy to use and ultra-portable stand that you can transport in a matter of seconds? In that case, a gravity rise wheeled stand is your best choice.
Or, if you need a portable stand, but you can afford to spend the extra time setting up and breaking down your saw and stand after each use, a rail stand may be best for you, as they deliver the features you'll need for much less money than you'd spend on a gravity rise stand.
Finally, if you plan to keep your saw in one place for its entire lifetime, you may be best suited with a traditional or tabletop stand.
Durability
The next factor to consider is durability. You'll want a stand that's built to last, but you'll need to keep in mind that the most well-built stands tend to be the most expensive.
It's also important to consider that if you aren't a professional yourself, and you don't demand as much from your tools, a less durable stand may be a great way to save some money without any effect on the functionality of your stand.
But, if you put your tools to the test regularly, you'll save money in the long run by investing in a stand that can stand up to anything you can throw at it. It may cost more up front, but it will likely be the only stand you ever need to buy for your miter saw.
Material Support
Another factor you'll want to consider is how much material the stand can support on either side of the stand.
Especially if you're doing finish work, like crown molding, you'll need a stand that can support long lengths of material.
Today's best stands support around 120 inches or more of material at once, but more affordable stands tend to not support as much material.
Price
Finally, you'll want to consider the price of the stand, and if that stand delivers enough value to make it worth the purchase price.
Once you decide on the type of stand you want, you can consider whether or not the price is justified by the build quality and features of the stand.
Frequently Asked Questions
Q: Can't I just build my own miter saw stand?
A: You absolutely can. If you don't need your stand to be mobile, and you'd prefer to build your stand, there's no reason why you shouldn't. Keep in mind that the materials you'll need to buy and your time spent building the stand may end up costing you more than if you purchased a stand instead.
Q: Are wheeled stands worth the extra investment?
A: The answer depends entirely on whether or not you're going to take advantage of the additional features these stands offer. If you're transporting your stand to multiple job sites, or new locations at a job, you're likely to find that it's well worth the extra money for a wheeled stand.
Q: Are miter saw stands universal?
A: Most miter saw stands accommodate an incredibly wide variety of saws. But, there's a chance that your saw may not fit the particular stand you're looking at. The best way to be sure is to check the maximum dimensions the stand will accommodate against the dimensions for your saw.
Q: Is A Miter Saw Stand Necessary
If you already have a workbench with plenty of extra space, you may be able to avoid buying a miter saw stand altogether. But, considering that many people need a stand that's portable or one that can adjust up or down depending on the user, most people use a dedicated stand for their miter saw.
Q: Which Type Of Stand Is Best For Me?
Depending on the type of work you do, you may find one style is better suited for you than other styles. If you need to be able to move your saw to different places in your shop, or other job sites, you'll probably want a wheeled table that's easy to transport.
Or, if your saw will stay in one place permanently, you may find that a traditional saw stand or a rail stand is best for you.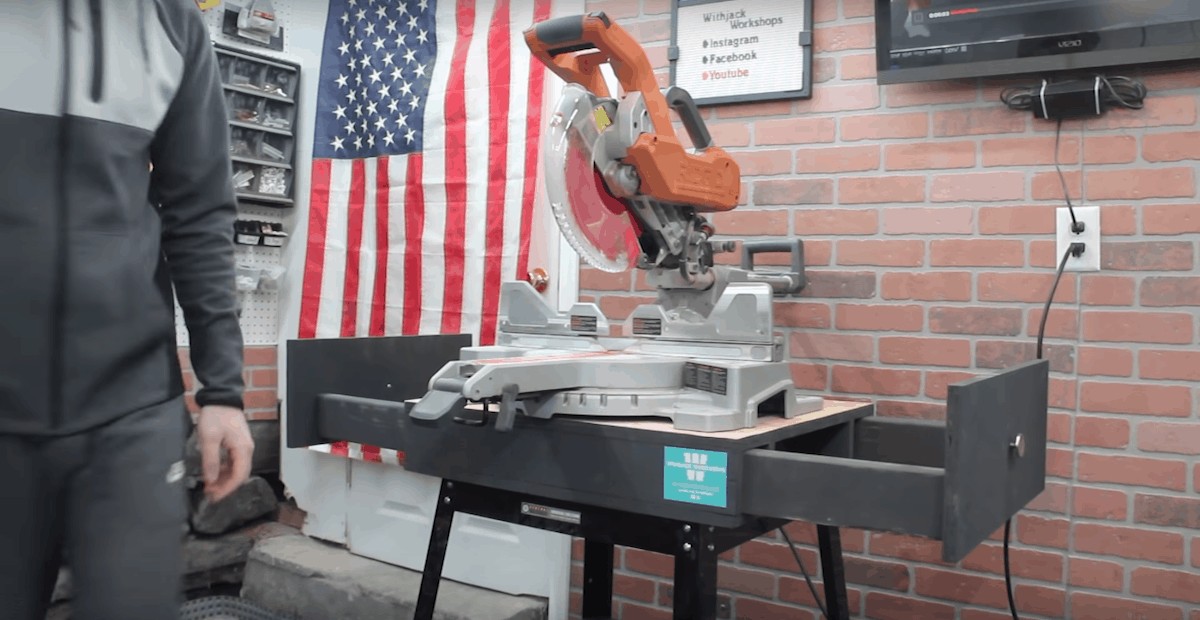 Final Verdict
While all five of the miter saw stands we covered today represent a fine choice for most craftspeople, there can only be one stand that's earned the title of the best miter saw stand.
Our choice for the best miter saw stand is the Bosch T4B gravity rise stand. This stand features the best build quality and the most features of any stand we've covered. Add to that Bosch's patented gravity rise feature which allows the stand to be used easily with only one hand, and you have a premier miter saw stand that's well-suited for virtually any job on the planet.
The T4B is also the most expensive stand on the market, and many people either don't want to spend the money or don't need all the added bells and whistles. In that case, the DeWalt DWX726 stand provides most of the same features, build quality and durability for significantly less money. Which one is your top pick? Sound off in the comments.