Powermatic is a longstanding company that began in the lumber industry. It has since moved on to manufacture some of the best-known power tools in several different crafting and construction industries.
Despite its humble beginnings, this company has gone on to brand some of the top tools and accessories in the trade.
Read on to find out more about Powermatic and the best Powermatic table saw in 2019, particularly the Model 66. 
Are you looking for some general information on table saws or other tools? Check out our complete resource guides on Miter Saws, Table Saws, Chainsaws, Band Saws and Circular Saws. These guides have all the information you need. You will be able to find history, the differnt types of the tool, top brand sold, and more!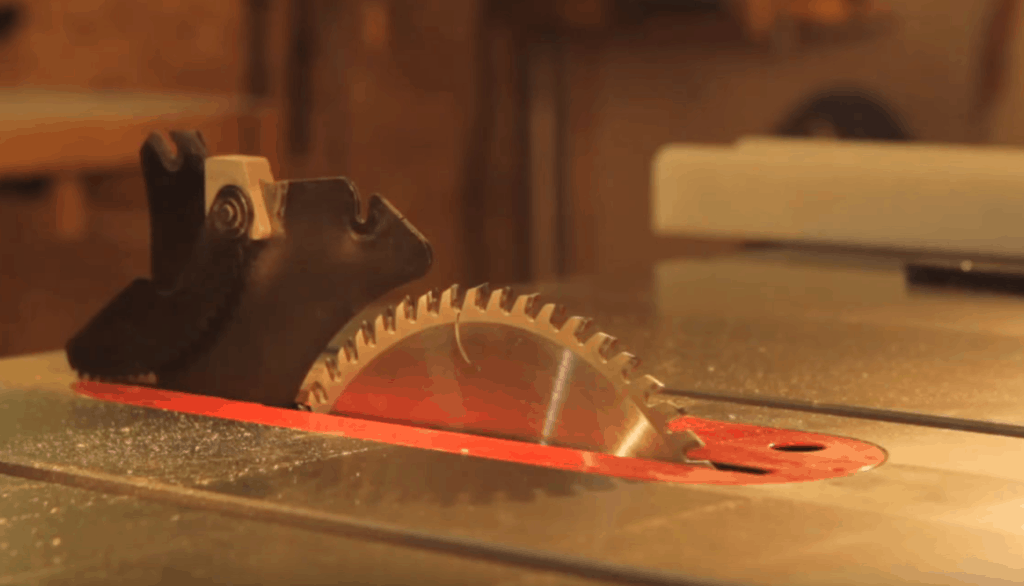 Powermatic Saw Reviews
Powermatic produces a number of different table saw assemblies other than the PS2000 and Powermatic Model 66. Both will be discussed in the buying guide below. Here are a few of the other Powermatic table saw models available:
Powermatic PM1000 1791001K Table Saw 50-Inch Fence:
Powermatic is known for top-of-the-line table saws, and the PM1000 is no exception. This table saw is designed to reduce vibration and provide smooth powerful cuts time after time. While it can have a staggering price tag to match its industrial reputation. It'll be hard-pressed to find better.
What We Like About It

Industrial grade quality cutting power: If you need professional cutting action, this is the cabinet saw to do it.
Handles hardwoods well: Some table saws can struggle with harder hardwoods, but the Powermatic can slice through them like a champ.
Quality cutting ability: The Powermatic's adjustment systems and blade strength make for high quality cuts every time.
What We Don't Like About It
High cost: A Powermatic table saw will easily run you thousands of dollars more than its competitors.
Shipping can be a hassle due to weight and size: This is a massive machine, and while it can be useful once it's been installed, the process of doing so is a bear due to the weight and bulk of the table saw.
---
Powermatic PM1000 1791000K Table Saw 30-Inch Fence:
The little brother of the 1791001K. This table saw is nearly identical except that it features a shorter fence, reducing the footprint of the table saw assembly overall. With ergonomic handwheels for easy adjustment and a blade guard for safety, the PM1000 30-inch is a solid choice for a cabinet saw for the home workshop.
What We Like About It
Good powerful cutting action: It is surprising how strong the blade action is on this table saw despite its low voltage requirements
Beefy cast iron components: Everything about the Powermatic line of table saws means that they are built like a tank, and there are quality materials used for every component.
Accurate fence: An accurate fence makes it easy to cut precise pieces and avoid costly mistakes.
What We Don't Like About It
Very expensive: Like most Powermatic models, this table saw assembly does not come cheap.
Poor instructions to install the riving knife: Many users found this piece difficult to install as a result.
May be too large for a small workshop: In compact workspaces, a Powermatic can dwarf other machinery and get in the way when not in use
No thin kerf knife included in riving kit: For the amount of money spent on this assembly, you'd think this would be included, but it's not.
---
Powermatic PM23150K 3HP 1PH 230V, 50″ RIP:
Another "big boy" table saw from Powermatic, the PM23150 features oversized sturdy cast iron tables, a hydraulic caster system that retracts, and a digital readout for alignments. These bulky cabinet saws aren't a compact design, but they have the power to go with their size.
What We Like About It

Hydraulic lifting wheels: This wheel setup makes moving this massive saw a little easier.
Good paint job: A high quality paint job means this machine will be an aesthetically-pleasing addition to the workshop.
Readable assembly instructions: The assembly instructions on this model are easy to read, and assembly as a result is quick and relatively painless.
What We Don't Like About It
Hard to find replacement parts: Like many table saws, the replacement parts for this model can be somewhat difficult to source, and getting one repaired can be a hassle.
Adjustments to alignment required during assembly: Many of these models are out of alignment after assembly and must be fine-tuned for true accuracy.
Must have available shop vacuum for operation: This is an inconvenience for those who don't already have a shop vac.
Powermatic produces a number of high-quality table saw assemblies as well as bandsaws and other home workshop power tools. They have enough saw configurations and models available that you're sure to find something that catches your eye (even if it might hurt your wallet).
---
History of Powermatic Table Saws

Founded in 1921 by Leonard Smith, Powermatic was original a rough-cut lumber company, and its extension into power tools was an attempt by Smith to increase the profit margin on his lumber by planing the raw lumber with a machine of his own design.
His planing saw was a booming success, and in 1928 the officially named Powermatic brand swiftly moved from lumber into the manufacture of a variety of tools. This expansion included a new design on a tilting arbor table saw, which was new to the carpentry industry at the time.
Since then, Powermatic has continued to be a top name in table saw assemblies and has maintained a strong reputation with regards to the manufacture of various woodcutting tools.
Powermatic Table Saw Model 66
One of the most popular table saw models on offer through Powermatic is the Model 66.
Unfortunately, this model was phased out after a whopping forty-two year run, but many Model 66 machines can still be found on the open market due to their durability and high quality craftsmanship.
Here are some of the features of the Powermatic Table Saw Model 66 that make it so popular with woodworkers of several different generations:
World-class durability (the major reason so many of these decades-old table saw assemblies are still in active use)
Smooth cutting action for professional-looking results
Retains resale value well as it is popular with both hobbyists and collectors
One of the last true American-manufactured table saw assemblies
Powermatic Table Saw Parts
A Powermatic Table Saw assembly consists of the following parts:
Table saw
Extensions (winged)
Miter gauge
Splitter
Guard assembly
Hardware bag
Blade wrenches
Table saw fence (AccuFence)
Front and rear rails
The Powermatic Table Saw comes with all of the parts of a table saw assembly considered standard in the industry, but also allows for further accessories to be added down the line. The table saw can also be integrated with a routing system.
Powermatic Table Saw Specifications
| | |
| --- | --- |
| Blade Speed | 3600 rpm |
| Table Size | 37.5 x 28 |
| Rip Fence | 41.75 x 4 x 2.5 |
| Arbor diameter | 5/8 inch |
| Saw blade diameter | 10 inches |
| Max Depth of Cut at 90 Degrees | 3.125 inches |
| Max Depth of Cut at 45 Degrees | 2.125 inches |
| Rip capacity (right) | 25 inches |
| Rip capacity (left) | 12 inches |
| Dust port diameter | 4 inches |
Powermatic Table Saw Fence
One of the biggest selling points of the Powermatic Table Saw assembly is the included Powermatic Table Saw Fence, also known as AccuFence. This fence helps maintain both accuracy and safety during a saw cut. 
Along with precision alignment, the AccuFence is easy to install and remove, which tends to be a major drawback on many table saw fences.
The Powermatic fence also features a three-position locking system (up, middle, and down) for every stage of setting up the alignment of the fence and the cut.
Final Thoughts on Buying a Powermatic Table Saw
Powermatic Table Saws are not cheap, so they're a serious investment to consider purchasing for any woodworking shop, whether professional or hobby. If you have the money to buy one, however, you can't get much better in terms of durability and quality.
If you can get a good deal on a Powermatic Table Saw, snap it up, as you'll likely end up in love with this powerful machine.
Are you looking for more guides on table saws? Check out some of our most popular guides, The Best Grizzly Table Saw, Ryobi Table Saws – 10in Portable Saws and Parts, DEWALT Table Saws – 10″ Saws, Parts and Accessories, and The Best Portable Table Saws.