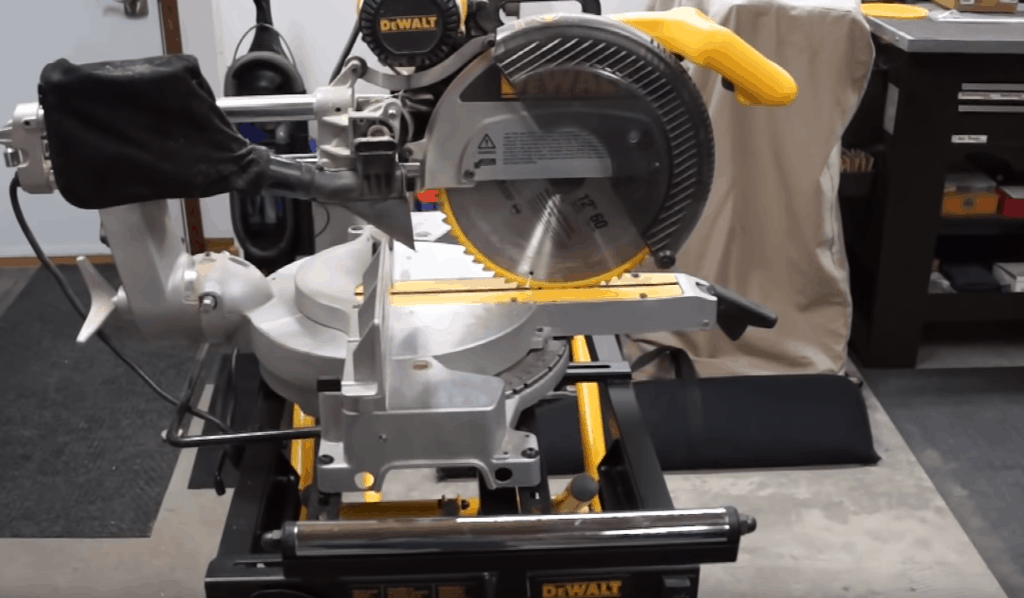 Everybody hates a saw table that cramps your garage and takes forever to set up without even providing much support. The good news is that there are many better tables out there nowadays made by companies who wanted to solve these problems. Keep reading to find the best miter saw table in 2020.
Are you looking for some general information on miter saws or other tools? Check out our complete resource guides on Miter Saws, Table Saws, Chainsaws, Band Saws and Circular Saws. These guides have all the information you need. You will be able to find history, the different types of the tool, top brand sold, and more!  
At A Glance:
Last update on 2020-10-27 / Affiliate links / Images from Amazon Product Advertising API
Here are Our Recommendations for the Top 3 Miter Tables
DEWALT Miter Saw Stand with Wheels
Last update on 2020-10-26 / Affiliate links / Images from Amazon Product Advertising API
A convenient saw table made by DEWALT that is made up of steel to allow a carrying capacity of 300 pounds. You only have to assemble it one time and use the pneumatic assisted lowering and raising to set it up.
It has mounting rails that you can configure to your liking, and it doesn't take up too much space because of its compact vertical storage option.
What we like:
Strong and sturdy, it isn't likely to break on you.
Takes up less space than other tables
It can be set up quickly.
What we don't like:
Can be hard to get closed
Hard to put together initially
Very heavy, you may need bigger wheels to help it roll smoother
The Bottom Line
If your main concerns are space, time, and durability, then this is the saw stand for you. The DEWALT Miter Saw Stand also has a decent carrying capacity that will keep it steady during work.
---
BORA Portamate PM-4000 Saw stand
Last update on 2020-10-26 / Affiliate links / Images from Amazon Product Advertising API
This stand has been specifically designed to work with every make and model of miter saw. It has a low price but is still made from tubular steel construction, and it can hold up to 500 pounds.
There are quick attach mounts that make it very easy to attach and detach the saw. This stand is also versatile because it can be folded up and stored for easy transportation.
What we like:
Price.
Clear instructions with pictures to help you.
Varying bolt lengths to compensate for different thicknesses.
You will barely notice the support arms because they are well hidden
What we don't like:
Possible warping problems making it not very sturdy
Not very durable it breaks easier than other stands
The Bottom Line:
If you want a saw stand that is easy to set up, has a reasonable price, and versatility in its design then this is the right saw stand.
---
POWERTEC MT4000 Deluxe Miter Saw Stand
Last update on 2020-10-27 / Affiliate links / Images from Amazon Product Advertising API
This stand comes with wheels as well as a 110V Power Outlet. Its goal is to be a portable saw workstation. It is made with locking steel legs and steel tubing, which gives it a weight capacity of up to 330 pounds.
It comes with quick-dash release universal mounts that allow planers and other benchtop saws to be secured and removed with ease. There are leveling feet that are adjustable to compensate to any uneven surfaces you encounter.
What we like:
Quick set-up
Easily adjustable legs.
Saw doesn't move around a lot while working
Good price
Easy to open and close
What we don't like:
The electric outlet is slightly blocked by knobs
The stand is slightly wobbly with a saw mounted on it
---
The Bottom Line
If you're looking for a saw stand that is sturdy enough to not move around, easy to install, work with, and adjust all for a decent price, then this is your stand. Be careful when mounting a saw and trying to use the electric outlet.
Can You Use a Miter Saw as a Table Saw?
You can use a table saw for pretty much everything you use a miter saw for. The only caveat is that a miter saw will get the job done much quicker.
Miter saws are best for crosscutting long boards because they will make a clean and straight cut. They are also very light and easy to transport around.
Can You Rip Wood with a Miter Saw?
You can, but it is a bit dangerous because you are dealing with small objects. It would be better to go for a band saw in these situations.
How Do Your Prevent Tears on a Miter Saw?
Tear Outs happen when the wood is cut, and the plant fibers aren't held in place firmly. This can occur when the surface is planed or when the wood is cut across its grain.
Crosscutting has a big problem. It applies pressure across all the fibers on the board. This is okay through most of the cut, but once you get close to the back or bottom edge, the last few fibers will start to have nothing on them, and they would much rather splinter away than be cut through.
When using a miter saw, it is best to use a method of adding sacrificial fences. These are L-shaped auxiliary tables that support the bottom and rear of a stock when you cut small pieces.
Founded in 1923 by Raymond E. DeWalt. He invented the first radial saw and have been growing in machining ever since.
In recent years they have been making innovative designs in the machining world such as its reciprocating saw blade. They're expanding into the electric tool arena, like many other tool companies.
With their FlexVolt, they became the world's first company to make a battery that changed voltage when the user changed tools.
A manufacturer on a global scale, this tooling company focuses on innovative tools that allow all your work projects to go smoother. It is a much more recent company after being founded in 2006.
Recently they have become specialized in angle duplicators, miter saw stations, and clamp edge saw guiding systems. They also have their own measuring and marking product line.
Powertec was founded in 1997, which makes it another relatively new company compared to Dewalt. They mainly focus on woodworking and make many tools and accessories in this field, such as hand tools, measurement equipment, wood-working machines, and accessories.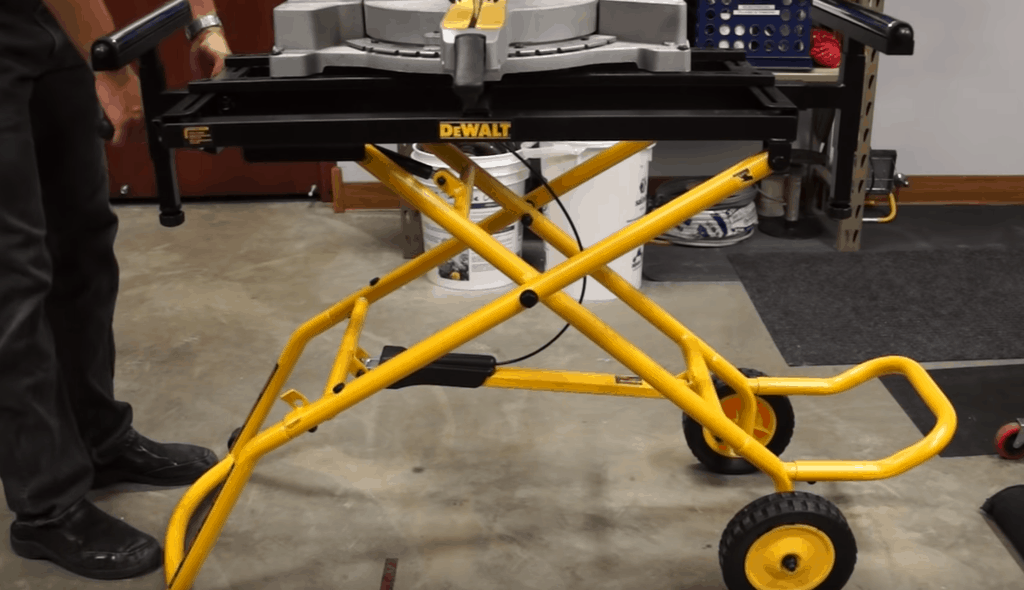 The Takeaway
To conclude, our top picks are:
These saw tables are the best you can find. They are sturdy, easily moveable, and foldable to give you enough space in your garage, and their features are a great help in getting the job done fast. If these tables are a bit out of your price range, then you can try making your own, or you can get the HYD-parts miter saw stand for one of the lowest prices around
If you're sick of saw tables that take up too much space and they can't get the job right, remember that there are better tables out there that will make the job easier and faster. Buy a miter saw table to save you stress and time.
Are you looking for more guides on miter saws? Check out some of our most popular guides, Best Ryobi Miter Saw 2019: Which One Should You Buy?, Home Depot Miter Saws Buying Guide: Our Top Picks, Best Chicago Electric Miter Saw – Buyer's Guide, Best Bosch Miter Saw: See Our Top 3 Picks, and Miter Saw – Everything You Need To Know.