There are lots of table saws out there. It can be overwhelming to find ones that will fit your needs and budget if you have one. The table saws that fit into both of those categories are the ones we are going to focus on today. Are you involved in woodworking? Table saws are used in woodworking very often. If you would like some more woodworking information reviewing the check out our full table saw resource. Now, let's take a look at some of our favorites so you can find the Jet table saw that will give you what you need and give you the most bang for your buck!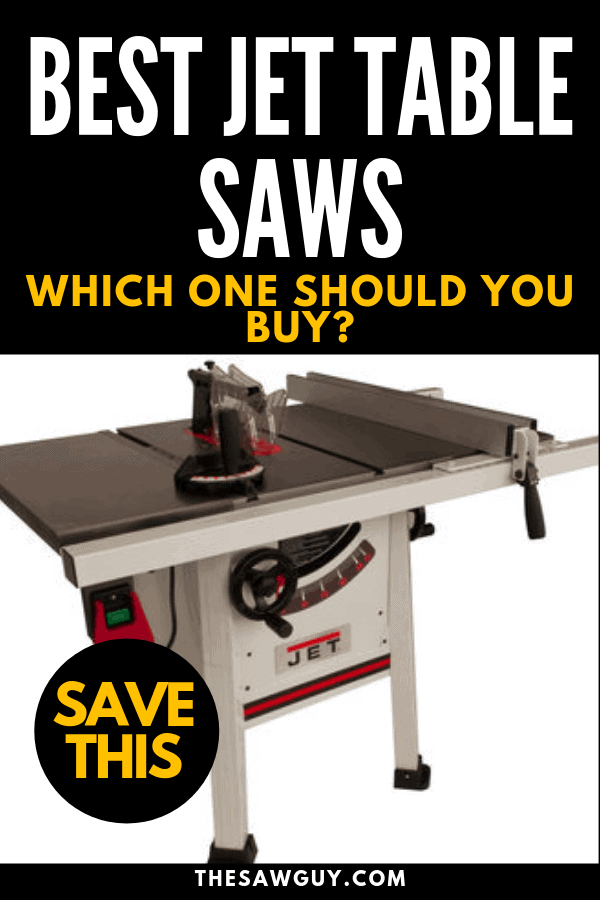 Jet Table Saw: JPS-10TS, 10" ProShop 30" Fence, Cast Iron Wings with Riving Knife
This Jet table saw is a high-quality tool. This saw has features and details you want to have in a cabinet saw. It has a compact design compared to other cabinet saws and it is contractor-style. This jet table saw is a great option because it has what you need.  
Things we like:
Accurate
Little to no vibration when in use
Durable
Easy to use
Things we don't like:
Problems with the table saw coming in with the blade out of alignment
Dust collection system definitely could be better
Features and Benefits
This saw has a large flat table surface to increase cut capacity and allow you more workspace. It has an integrated arbor lock that allows you to change blades safely and efficiently. This saw also has cast-iron extension wings that add stability and support for your workpieces. Not satisfied with just one brand? See our comprehensive best table saw review.
Jet Table Saw: JPS-10TS, 10" ProShop 52" Fence, Cast Iron Wings with Riving Knife
This Jet table saw is best for some who completes lighter projects. This is because this saw doesn't have the performance for more tougher projects. It is not recommended for someone who needs a heavy-duty table saw. It is a larger table saw compared to others, so it can be difficult to move. Do you need more information on how to transport a table saw? Check this out What You Need to Know: How to Transport a Table Saw.
Things we like:
Powerful for light projects
Comes almost fully assembled
Easy to use
Comes with a stand
Things we don't like:
Poor dust collection system
Not powerful enough for heavy-duty projects
Features and Benefits
This Jet table saw has a 53-inch rip capacity. It also has a transparent blade guard that protects your hands and fingers when cutting but still allows you to see what you're doing during operation. You also get the option to choose either steel or cast-iron as the exterior of your saw.
Jet Table Saw JWTS 10
This Jet table saw is best for someone who has large jobs but doesn't have a lot of space to work in. This saw has a 1.5 horsepower motor and a 10″ blade. It also has a drive power system that transfers more power than a traditional belt drive table saw.
Things we like:
Easy to use
Quick setup
Accurate
Powerful
Things we don't like:
The fence isn't the greatest
Rolling it on the casters can be problematic
Features and Benefits
This Jet table saw is a cast iron table this makes it a sturdy and flat work surface. You can also increase your work area with the steel extension wings. You can also protect your fingers and hand when cutting while still being able to see what you're doing with the see-through blade guard.
Table Saw Features
Dust Collection – Sawdust can be a hazardous result when using a table saw. You want to make sure your table saw has dust collection so your workspace stays clean and functional.
Accessory Storage – Accessory storage may not seem important but it can be extremely helpful. With storage you will be able to store tools and accessories you will need when operating a table saw.
Table Extensions – Table extensions are important because they're extremely helpful when you're cutting larger materials.
On / Off Switch – On / Off switches are important because they turn off the saw. You don't want to have to rely on unplugging the table saw to turn it off because if there is an emergency you may not be able to get to it, more features.
Here are some more helpful table saw posts:
Jet Table Saw Parts and Accessories
When operating a table saw it is important that you keep yourself safe. Here are safety accessories you should for when you're operating a table saw:
Mobile base – A mobile base is beneficial because it enables you to wheel your saw to wherever it's needed, and then roll it out of the way when it's not.
Five-piece safety set – A safety set is great for both new table saw owners and professionals. You can benefit from these because having these next to your table saw during operation saves time and eliminates hand and finger injuries.
Safety Power Switch – A safety power switch is important because if a board gets stuck between the blade and fence, you will need to quickly turn off the saw without shifting your attention from the cut. You can do this by using a safety power switch. These are important because they will keep you safe if a problem were to arise.
Goggles – safety goggles are a must-have because you have to protect your eyes. Make sure you can see through them clearly and that they fit comfortably.
Ear Protection – Ear protection is important because a table saw can be loud. Long-term exposure with no protection can damage your eardrums. Fortunately, there are a variety of ear protection options out there so you will be able to find something that works for you.
Push Blocks and Sticks – Push blocks and sticks protect your hands and fingers during the cutting process.
Who is Jet Tools?
Jet is one of the most popular tool brands out there. They have been involved in the industrial marketplace for more than fifty years.
Jet Table Saw Review – Conclusion
While any of the three Jet table saws we've covered above would make a great addition to your shop, we believe one Jet table saw outshines the others. Our favorite saw is the JPS-10TS, 10" ProShop 30" Fence, Cast Iron Wings with Riving Knife. This jet table saw offers the best features overall for the price.
If this jet table saw is too pricey for you, the Jet Table Saw JWTS 10 may be the perfect table saw for you since it is budget-friendly. Regardless of which saw you choose, they all would make a great addition to your tools. For more information check out our list of table saws.