Ryobi 10 Table Saw
Ryobi is an expansive Japanese company that makes a variety of different automobile, electronics, and telecommunications equipment, as well as power tools such as table saws like the Ryobi 10 Table Saw. 
The Ryobi 10 is a ten-inch table saw assembly, which is a cost-effective mid-line saw option for both professionals that need a portable table saw rig and hobbyists working from home.
Read on to find our Ryobi 10 Table Saw Review and more about the Ryobi brand of power tools.
Are you looking for some general information on table saws or other tools? Check out our complete resource guides on Miter Saws, Table Saws, Chainsaws, Band Saws and Circular Saws. These guides have all the information you need. You will be able to find history, the differnt types of the tool, top brand sold, and more!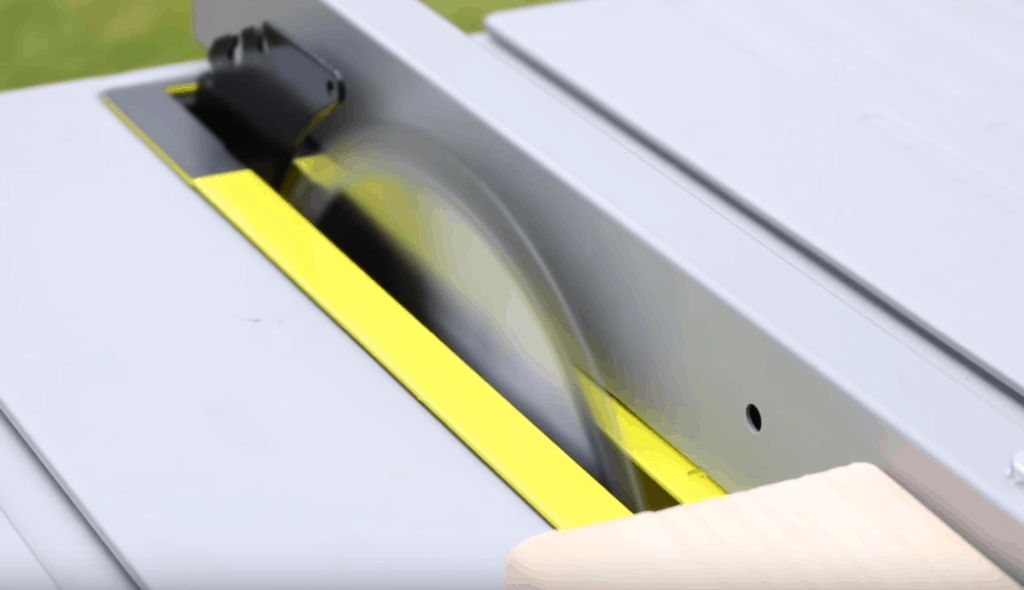 Ryobi 10 Saw Review
Ryobi manufactures a single traditional table saw assembly, which we will go over in further detail in the sections below, but here is a quick overview of the pros and cons of using a Ryobi 10 table saw assembly:
What We Like:
Good price point: The Ryobi is reasonably priced for a table saw assembly of its functionality, which makes it a good purchase for novice woodworkers just starting out.
Heavy gauge steel supports: These supports are sturdy so that you don't have to worry about the saw table wobbling or tipping, but also assemble easily with a dead-simple two bolt system.
Power switch lockout mechanism: This safety feature is a good option for carpenters with children to avoid any sort of injuries or accidents in the workshop area.
Strong motor with good cutting capability: This table saw can handle most of the beginner and intermediate woodworking jobs you can throw at it without missing a beat.
Three-year warranty. Ryobi has a good warranty system and robust technical support in case you experience any problems with your table saw.
What We Don't Like
Fence adjustment is sloppy: This can lead to precision problems when doing finer woodwork.
No zero clearance insert availability: Zero clearance insert availability is a must-have function for many carpenters, so the fact that this table saw doesn't include it is a shame.
Shoddy miter gauge: Many users have complained about the loose, cheaply made miter gauge on this table saw, which is a major drawback in the saw's design.
Poor assembly instructions: This is a Japanese product, and you'll be able to tell because the instructions will be a poorly translated, inscrutable mess.
History of Ryobi 10 Table Saws
Ryobi Limited has been around since 1943, and is primarily considered a brand for home use, but does produce some professional and industrial grade equipment as well.
Ryobi operates under Techtronics Industries, which also owns such famous household brands as Hoover, Dirt Devil, and AEG.
While it started manufacturing die cast and moved into producing offset printers up through the late sixties, Ryobi moved into making power tools in 1968 and eventually came out with its own design for a table saw assembly.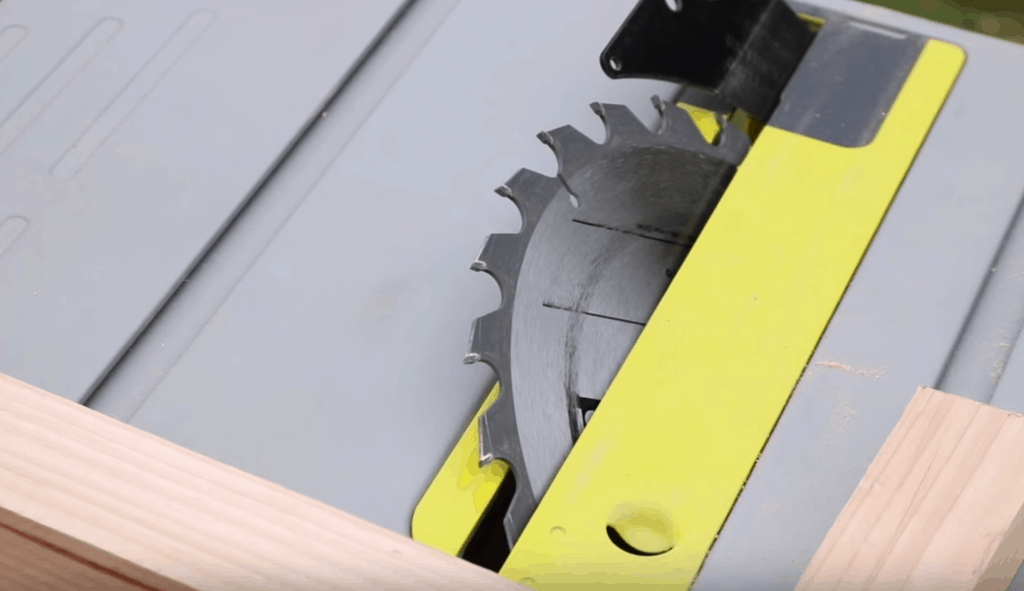 Ryobi 10 Table Saw Parts
The Ryobi 10 Table Saw features the following parts:
Steel support stand
Miter gauge
Blade guard
Onboard storage
Dado insert plate (optional)
The array of features available on the Ryobi 10 Table Saw make it capable of handling almost any novice to intermediate woodworking project, even with users of varying skill level.
Ryobi 10 Table Saw Specifications
| | |
| --- | --- |
| Depth | 30.51 inches |
| Height | 13.95 inches |
| Width | 27.36 inches |
| Max Cut Depth at 90° | 3 inches |
| Max Cut Depth at 45° | 2.5 inches |
| Amperage | 15 amps |
| Blade Speed | 5000 rpm |
| Blade Diameter | 10 inches |
| Rip Capacity (Left) | 8 inches |
| Rip Capacity (Right) | 12 inches |
Ryobi 10 Table Saw Portability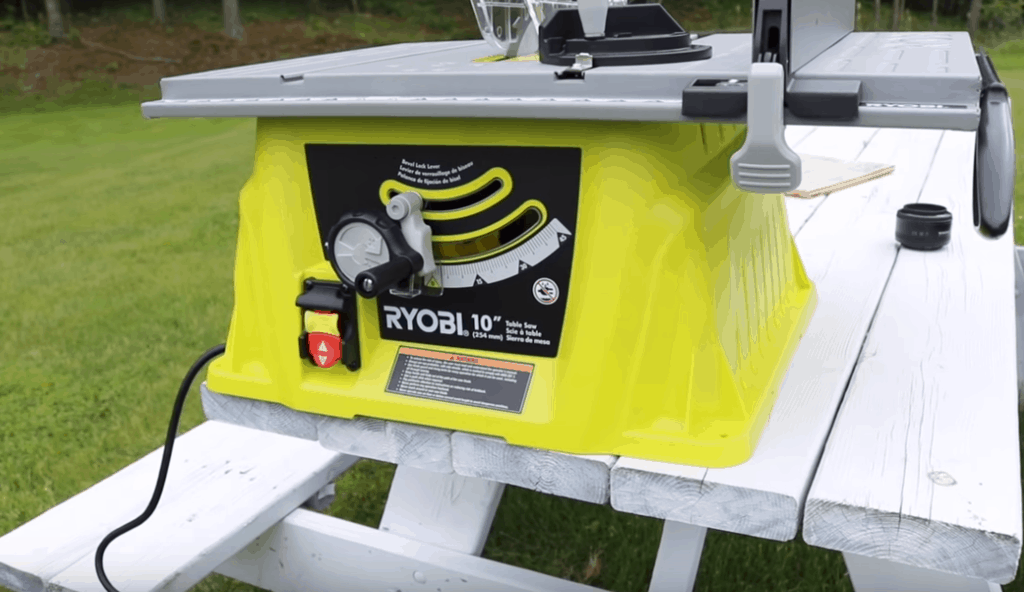 One of the major advantages of the Ryobi 10 table saw is that it is very lightweight and portable. Especially when compared to other table saw assemblies.
Despite its ease of transport, it still features a strong motor that can cut through most types of wood. It can pack a big punch in a compact design.
This can come in handy later too if you decide to upgrade to a more heavy-duty table saw, as the Ryobi can be easily moved aside and replaced elsewhere in the workshop to make room.
For those woodworkers and carpenters who plan on moving back and forth between locations of work often, the Ryobi packs up easily into the back of a work van or pickup truck, making it a great option for carpenters on the go.
Ryobi 10 Table Saw Cutting Ability
One of the most important functions of a table saw is its cutting ability, and in this arena the Ryobi doesn't disappoint despite its small size and economical price.
The Ryobi has several design features that enhance its cutting ability, which include the following:
A strong 15-amp motor for smooth cutting action
A blade guard to prevent against accidental cuts and injuries
A miter gauge for holding projects at a set angle
A 10-inch saw blade capable of cutting through the toughest woods
Even though it is sometimes seen as an entry-level or consumer tool, the Ryobi 10 is still capable of the deliberate, high quality precision engineering that Japan has always been known for in the manufacturing industry.
Ryobi 10 Table Saw Reviews
Because the Ryobi 10 Table Saw has been around for a while and has undergone a few model iterations, there are plenty of reviews online that go into the workings of this table saw assembly in detail. Below you can find some of them:
| | |
| --- | --- |
| Tools In Action | |
| Pro Tool Reviews | |
| ElectroSaw HQ | |
| Power Tools Ninja | |
| Wood Worker Help | |
It is important to consider both critical and consumer reviews before choosing to invest in an expensive piece of equipment.
Final Thoughts on Buying a Ryobi 10 Table Saw
Overall the Ryobi 10 Table Saw is a good choice for any entry-level woodworker or carpenter and can handle up to intermediate carpentry products. Its low price point also makes it an inviting first option for those who are beginning to learn carpentry.
But due to a poor quality miter gauge and fence adjustment, you might consider upgrading to a more expensive table saw system for finer, more complicated woodworking projects.
Are you looking for more guides on table saws? Check out some of our most popular guides, Dewalt vs. Delta Table Saw Edition, Ryobi Table Saws – 10in Portable Saws and Parts, DEWALT Table Saws – 10″ Saws, Parts and Accessories, and The Best Portable Table Saws.