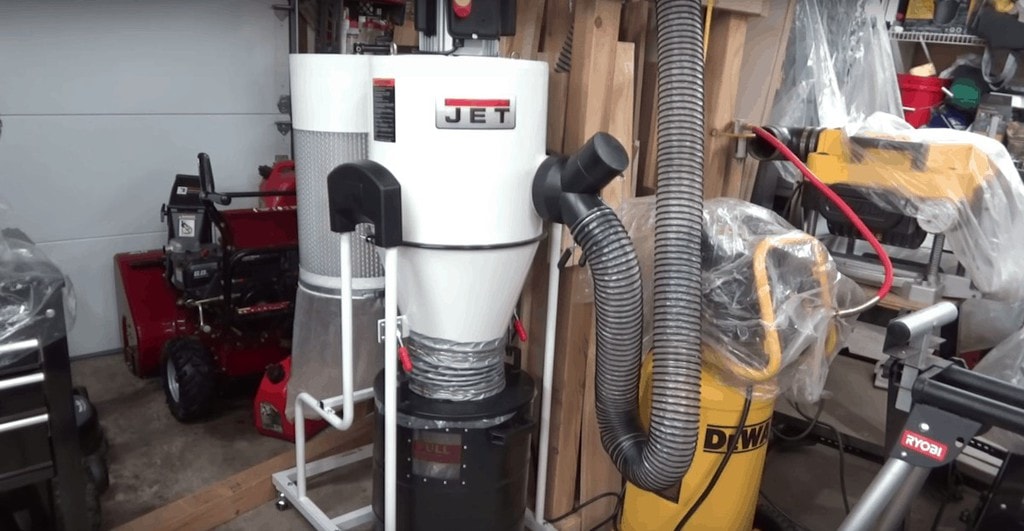 Are you dealing with too much dust in your woodworking shop? If so, you're going to want to install a dust collection system. When comparing different dust collection systems, one of the options you'll likely consider is a cyclone dust collector. In this article, we'll outline everything you need to know about cycle dust collectors so that you can determine whether they're a worthwhile option for your shop.
Things to Consider Before Buying a Dust Collector
If you're working in an area that is not well-ventilated and creates a lot of dust. A dust collector should be at the top of your list. Exposure to dust could cause severe health complications, such as "pneumoconiosis," otherwise known as "dusty lung."
If you're interested in purchasing a dust collector, there are a couple of factor's you're going to want to take into consideration. First and foremost, you need to think about your dust control needs. Do you only generate dust when running machinery? Or does it generate only under volatile circumstances? If it's created when your equipment runs, how many hours a day do you run machinery?
Determining how much dust you create will go a long way toward helping you decide which type of system you need. You'll also want to consider your budget. Are you at a point where you can invest in a massive dust collector that will last for years? Or do you need something a bit smaller? Knowing the answers to these questions will go a long way toward helping you find a dust collection system that meets your needs.
Cyclone Dust Collector: Brief Overview
A cyclone dust collector is a product geared explicitly toward capturing the dust and debris that you create during machining operations. This includes jointing or planing. You may see manufacturers refer to cyclone dust collectors as two-stage dust collectors because they have two collection points.
Not only does this dust collection system collect more massive chips and debris, but it also collects finer matter that may not be visible. A two-state dust collector could go a long way toward ensuring that the air you're breathing in your woodworking shop is healthy and clean.
There are a couple of disadvantages associated with cyclone dust collectors. The units do not work well if the materials that it is processing are tacky or sticky. Additionally, the dust collectors tend not to collect dust particles smaller than ten micrometers. So, while these machines can remove a good majority of dust from the air, they probably won't remove everything.
What We Like
Remove between 50 – 99% of dust particles from the air
An affordable installation and maintenance process
No moving parts
Takes up very little space
What Could Be Better
Does not work well with stickier materials
Does not collect dust smaller than ten micrometers
Feature and Benefits
As mentioned, there are a couple of features that cyclone dust collectors have that help them stand out from other dust collection systems.
Ability to Handle Large Debris
One of the most primary benefits of cyclone dust collection systems is the fact that they can handle large wood chips. Single-stage dust collectors work well with smaller dust particles, but your shop could still be littered with wood chips and chunks. If you're machinery that tends to create wood chips, such as a lathe, then a cyclone dust collector could be useful.
A cyclone dust collector works by drawing air in, putting it into a cyclonic motion. The cyclonic movement causes denser wood chips to fall to the bottom of the collector. As the air continues to spin, smaller dust particles travel through an impeller, where they eventually settle into a filter canister. The clean air passes through this filter and back into your shop.
Easier Clean Up
Cyclone dust collectors can go a long way toward keeping your shop clean, for a few reasons. One of the reasons why this is the case is because they remove larger debris from your shop. When using a single-stage dust collector, you would have to remove these larger particles manually.
You'd spend hours sweeping and cleaning the floor of your woodworking shop. A two-stage dust collector reduces that cleanup process significantly.
Another reason why cyclone dust collectors are easier to clean up is because of the collection bag. If you use a single-stage dust collector, the collection bag produces a massive cloud of dust as soon as you remove it from the machine.
However, this is not the case when you are using a cyclone dust collector. Because the primary collection point only contains chips and debris, you will not create a mess when emptying the container.
Minimal Maintenance
Another stand-out feature of cyclone dust collectors is the fact that they are easy to maintain and keep clean. You'll find that two-stage dust collection systems do not contain any moving parts, which helps increase their longevity. The only thing you'll need to make sure that you have is a power source that is strong enough to support the machine.
Also, there are not nearly as many particles that come into contact with the filter element as there are with a single-stage dust collector. If you were to use a single-stage dust collector, all of the dust particles would need to pass through the filter, including some of the larger ones. This, in turn, can destroy the screen quickly.
A two-stage dust collector does not have this problem. Because all of the more massive particles fall to the bottom of the canister naturally, as the result of air pressure, they never come into contact with the filter. This can improve the lifespan of the screen and ensure its durability. Replacement filters could be rather pricey, especially if you're replacing them often. Fortunately, if you purchase a two-stage dust collector, you won't have this problem.
Convenient
Cyclone dust collectors are also advantageous because they won't take up much space in your shop. If you're working in a small shop, you should be able to find a dual-stage dust collector that can clean your air without taking up much room.
Affordable
Another stand-out feature of dual-stage dust collectors is the fact that they are so affordable. Smaller dust collectors, such as the ones you'd use in a personal woodworking shop, cost around $200. Larger collectors, such as the ones you'd find in a larger factor, can cost around $1,300. You should have no problem finding a dust collector that meets your needs while also remaining in your price range.
Also, remember that two-stage collectors are somewhat of an upfront investment. The machines don't require much by means of maintenance or replacement parts. So, once you purchase the unit itself, your costs should drop off considerably.
Various Buying Options
In addition to size, there are a few other things that you can consider when buying a cyclone dust collector. Fortunately, one of the benefits of cyclone dust collectors is that they are quite customizable. In fact, it's possible for you to build your own cyclone dust collector using a shop-vac and a few other materials.
One of the areas where you can upgrade is your filter. Because the filter of your cyclone dust collector will not find itself exposed to heavier wood chips, you may find to invest in a HEPA-grade filter. These filers are a bit more expensive, but they can process particles as small as .3 microns.
Another area that you'll want to consider when buying a cyclone dust collector is the motor. A motor is the only moving part of the machine, so you'll want to make sure that you purchase something that will last. Fortunately, manufacturers produce dual-stage dust collectors with various motor options. When browsing for a machine, you should have no problem finding a motor that will meet your needs.
Alternatives to Cyclone Dust Collectors
If you aren't ready to purchase a cyclone dust collector or feel that your woodworking projects do not produce enough heavy wood chips that you need a two-stage dust collector, you may want to consider alternatives.
One of the primary alternatives to two-stage dust collectors is those that rely on electrostatic precipitation. These air cleaners separate particulate matter using electrostatic forces. Dust particles move through an electric field, which charges the dust particles with electricity.
Once the dust particles have electricity running through them, they stick to the collection surface. You can then wash the collection surface to remove the dust particles.
These machines work well under an array of conditions. They are very efficient, can handle corrosive materials, and also work well at high temperatures. However, they may not work well for wood, because the material is not particularly good at conducting electricity. Additionally, these units tend to be quite pricey – much more expensive than dual-stage dust collection systems.
The other primary option that you can consider is a media filtration device. These products act as single-stage dust collectors. Air passes through filters, collection dust in the process. They can be highly efficient. However, you're likely going to have to invest in product maintenance considerably, which could add up quickly.
These filters also do not work well if you are dealing with high temperatures or other products, such as corrosive chemicals. So, in that regard, they are not very versatile. Furthermore, these machines do not handle high dust loads very well. If you're going to be creating a lot of dust, you'll find that you're going to have to stop frequently to clean and replace the filter, which will quickly become annoying.
A third option, which is not as common, is a cartridge dust collector. These machines utilize a perforated metal cartridge that's in the shape of a cylinder. Manufacturers line the cylinder with pleated, non-woven filtering media. Then, manufacturers seal one end of the cartridge and keep one end open. The open end is for clean exhaust. These dust collectors are useful for pulse-jet and reverse-air cleaning.
The reason cartridge dust collectors are not as common is because they are limited in use. They only work with specially shaped and sized dust. Dust must be granular shaped and smaller than 50n microns. The machines also cannot handle high volumes. They can only process five grains per cubic foot. For the average woodworker, this machine is not useful.
Final Thoughts
If you're working with wood, you need to consider a ventilation system strongly. Breathing in dust can wreak havoc on your lungs. If you perform woodwork sparingly, a dust mask may be able to protect you just fine. But, if you use heavy machinery in your woodworking shop often, you're going to want to consider something a bit stronger.
In these cases, you'll need to think about a dust collection system. When comparing dust collection systems, you'll primarily two different types of woodworking – single-stage and double-stage. Single-stage devices send polluted air directly through a filter. Double-stage devices use cyclonic air to force heavier pieces down into a cylinder, then passing smaller particles through a filter.
When it comes to keeping air clean, cyclone dust collectors are, in our opinion, the better option of the two. These devices collect heavy wood chips without having to pass them through a filter, which reduces cleanup and increases the longevity of the product. If you produce wood chips frequently, you could quickly destroy a filter were you to use a single-stage device.
Similarly, dual-stage devices should cut down on your required maintenance as well. Even though these machines produce cyclonic air, they don't have any moving parts besides the motor. And, because only extremely-fine particles are coming into contact with the filter, the filter will end up lasting longer as well.
You can find numerous dual-stage dust collection systems available on the market. You should have no problem securing one that meets your needs. Be sure to consider things such as your budget, the size of your shop, the type of machines that you're using, and the projects you're creating. Doing so will leave your lungs healthier.