Anyone who does woodworking knows that there is a lot of dust and particles that get into the air while you're working. Those particles are definitely not good for you and your family to be breathing in, which is why you wear a mask when you work, but the particles continue to float around a lot longer than just while you're cutting, sanding or otherwise working with your pieces. That's why the best dust collector is an important addition to your tool setup.
The Best Dust Collectors
Shop Fox W1685
This dust collector operates with 1.5 horsepower and 1,280 CFM, which means that it can get a lot of small microns of dust and particles out of the air, as much as 2.5 microns. It has a bag that holds up to 5.4 cubic feet of debris and has static pressure of 10.1 inch. The small unit may not look like much but it's capable of a great deal when it comes to removing dust and debris from your space.
It's powder coated and uses balanced steel and a radial fin with a 6" inlet and two 4" openings. You'll get an extra heavy duty 12" steel impeller and the unit runs at 110V so it's compatible with most work stations. It's designed to move quickly and easily so you can get rid of all the dust in your area and it's easy to assemble.
That means you can get moving and start on your next project as soon as you receive it because you'll be able to get rid of all that dust and debris. Made primarily with steel, it's a heavy duty unit overall and is durable and strong enough for any workshop needs.
Things We Like:
Made with steel
1.5 horsepower
5.4 cubic foot bag
2.4 micron filter
16 amp power draw
Things We Don't Like:
Washers are not ideal
Holes at front of intake can get clogged
Wheels don't pivot well
Shop Fox W1826 Wall Dust Collector
This 1 horsepower unit words at 120V or 240V for more versatility in your workshop. While it's running you'll see the window at the side that lets you know how much dust it's taken in already so you know how much space you have left before it needs to be emptied. When it's full there's a zipper at the bottom that makes it easy to dump out the dust.
There's a single 4" intake hole and the bag itself has filtration up to 2.5 microns with up to 2 cubic feet of capacity overall. When the bag is fully inflated the entire system is 44" tall, which means that it will take up a bit of space in your workshop but since it mounts on the wall you won't need to worry about it too much.
It gets rid of the dust right at the source and reduces static pressure loss. There's no complicated system of duct work and the unit has 537 CFM capacity. Somewhat loud, it's made to pick up dust and small debris but is not intended to be used as a standard vacuum cleaner.
Things We Like:
Dual voltage capability
1 horsepower
Zipper release at bottom
Window for easy viewing
Attaches to wall
Things We Don't Like:
Can be somewhat loud
Ideal only for dust
Inlet vent can get clogged
Central Machinery Dust Collector
This unit runs at 2 horsepower, which means it has plenty of power to get the job done. It also uses 120V and has a 20 amp peak for the single phase motor. It gives 3,450 rotations per minute and has a 1,550 CFM suction capacity. Though this unit is quite heavy it's capable of collecting a large amount of dust and debris which definitely makes it a great addition to your workshop.
It also provides 5 micron filtration to the dust collection process. That means you'll get rid of most of the fine pieces of dust as well as some of the larger ones while you're at it. There's a clear bag on the bottom that lets you know just how much dust it's collected and then there's a 4" diameter intake and exhaust.
In the set you'll actually get two different collection bags plus the casters you need to move the unit around where you want it and the hex wrenches to attach it all. The casters can swivel or they can be locked to keep the unit in just the right spot for your use. You'll be able to get just about anything done with this and won't need to worry about the dust and debris that gets all over your room.
Things We Like:
2 horsepower
1,550 CFM, 3,450 RPM
4" diameter intake and exhaust
Inexpensive unit for any workshop
Things We Don't Like:
Heavy unit to move
Difficult to find bags
Difficult to put bag and clamp on at same time
Powertec DC1510 Dust Collector
This collector is actually a traditional vacuum style, so you'll be able to move it around wherever you want in the workshop. It's small enough that you can use it in smaller spaces and you can move it with ease, plus it can collect fine dust or woodchips with ease.
If you prefer it can be set up as a stationary unit or you can attach the casters and you'll be able to wheel it around anywhere. There's also a carry handle that lets you pick it up to transport further distances. It runs at 1100 watts and 120V with 60 Hz. The 108 CFM is lower than many, but still provides enough power and the 13 gallon tank is larger than you'll find with most of the options we have here.
You also get a 6.5 foot hose to pick up absolutely anything and you get a whole lot of great features and accessories included with the unit. It has a suction connector, 4 stackable hose adapters, 2 filter bags, 1 house coupler, filter cartridge, 2 hose clamps, the hose, locking band and of course the canister itself. You'll be ready to go in no time.
Things We Like:
Many accessories included
13 gallon tank
Easily moveable
Small and lightweight
Picks up small and large particles
Things We Don't Like:
Hose is not ideal
Very loud operation
Low level of CFM
Jet DC-650BK Dust Collector
This unit is moderately priced and can be hooked up to three different machines to keep your space cleaner. It has a simple to install collection bag that can gather a lot of dust and debris and then empty it out just as quickly. When it's time to attach it again you can do it easily.
There's a single stage design that makes it more economical and also keeps the system operating more quietly. Plus there are four casters to keep it moving easily and make sure it's portable. The motors are fan-cooled so they can run as long as you want and the entire unit is fully enclosed.
This keeps dust and debris from getting into the motor or the fan itself so it doesn't overheat or cause damage. Though it's large this is a lightweight unit and has a 1 horsepower motor and 30 micron filtering capability. It takes care of a lot of the dust and debris you'll find in any workshop where you spend a lot of your time.
Things We Like:
5 year warranty
1 horsepower
Easy to remove collection bag
Attaches easily to machines
Operates quietly
Things We Don't Like:
Low level of filtration
Not ideal for larger tools
Not packaged well
Features to Consider
When you're looking for any kind of tool you want to make sure you have the best quality available. You want to know the features that will be most important to you and then you start looking for the specific unit that you want. Take a look at each of these features and you'll be able to see why we like the ones we have above. You'll also be able to take a look at some other options for yourself and know what you should be keeping in mind each time that you do.
Horsepower
The first thing you want to look at is how much horsepower the unit has. The higher the horsepower the more it's going to be capable of and that includes the length of the hose as well. Higher horsepower means that it can accommodate a longer hose without losing too much of the suction power.
If you're going to use it only with a small hose you may not need a lot of suction, but if you want something that can get further you'll need a higher horsepower unit to get you there. Look at how you're going to be using the unit and then try to find something that gives you just a small amount more horsepower than you think you need. That's going to get you the most features and capability.
Micron Filtration
The next thing to look at is just how many microns of filtration it has. When it comes to this you want to look for the smallest number you can find. A larger number actually means that the pieces it collects are much larger whereas a small number means that it's getting even the finer pieces of dust.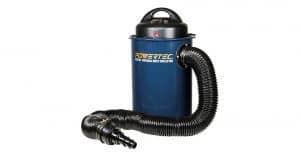 That means a 1 micron filtration is a whole lot better than a 30 micron filtration. Since dust is the worst problem (rather than larger pieces or chips) the lower number is the one that you want. You'll be able to keep that harmful dust and other debris out of the air you breath and safely stored away.
Cubic Feet Per Minute
This is how much volume of air is able to move through the unit in a given amount of time. The higher the level of the CFM the more air is moving and that's going to get you even more suction. You'll be able to pull in a larger amount of air, which is loaded down with dust and debris and that means you're getting the air clean much faster.
You want to look at just what your tools are putting out and then look for a unit that can handle that amount of debris. Somewhere between 300 CFM and 900 CFM is going to be a good range for you to be in.
Vacuum vs. Dust Collector
You also want to take a look at whether or not a dust collector is actually what you're looking for. A shop vacuum can get a lot of dust and wood chips because they tend to have high suction capabilities and can get into small spaces within your tools. They can also connect to most things you need. On the other hand, a dust collector can be smaller, more portable and less expensive at the same time. You'll want to at least take a look at your needs when it comes to picking one over the other.
Wrap Up
If you're looking for the best option that we can give you the Shop Fox W1685 is our top pick. This system offers a slightly lower horsepower than one of our others but at 1.5 it's still enough to accomplish most tasks and accommodate a larger hose. What's even better; however is that it has a 2.4 micron filtration system, which is the best one that we've found in our search.
This means it's going to get rid of even small amount of dust and debris easily. If you're looking for something a little more like a shop vacuum then the Powertec DC1510 Dust Collector is probably the better option for you. It has a more vacuum like feel to it and you'll still be able to get a good amount of dust and debris when you use it.