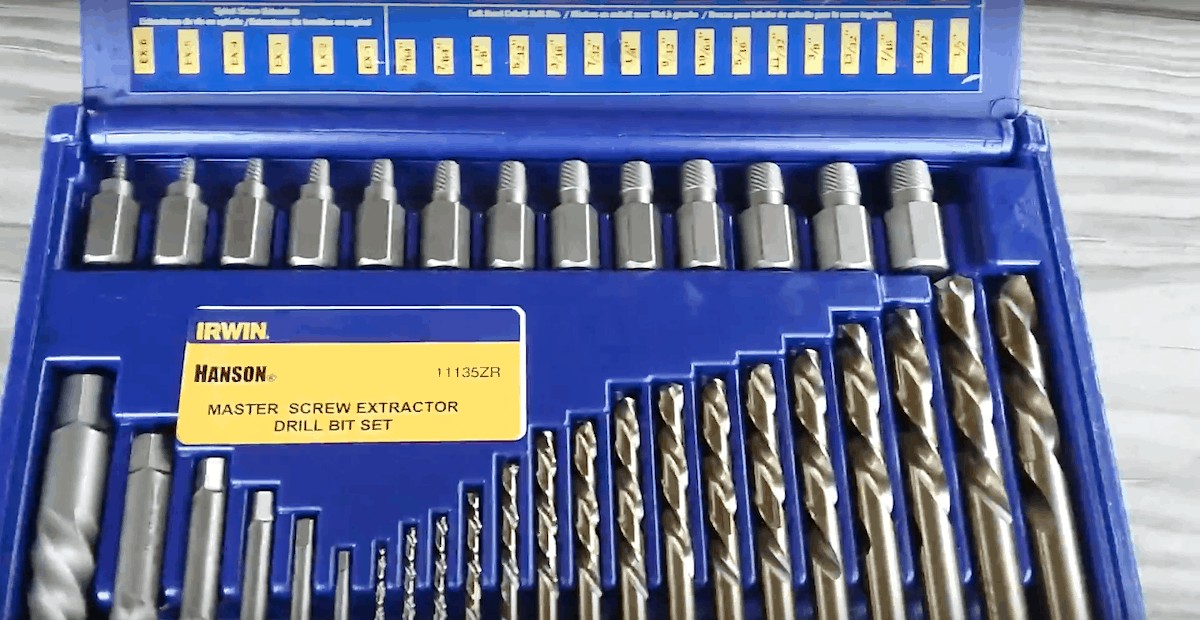 We've all been there before: You're pushing through a project, making good progress and picking up steam when you strip a screw or snap a bolt. Few things can bring your work to a standstill quite like this can. If you don't have the right tools to remove the broken fastener, you're really up the creek.
Fortunately, there are a few secret weapons you can make use of in these scenarios. You can start with the left handed drill bit. Today, we'll take a closer look at this indispensable tool and show you some of the best left-handed drill bit sets on the market.
Top Five Left Handed Drill Bit Sets
Let's jump right into it, shall we? Here are our top five left-handed drill bit sets.
EAZYPOWER 82380 5-Piece Bit Set
If you're looking for an affordable, no-frills bit set to help you extract broken fasteners, this 5-piece kit from EAZYPOWER is worth a closer look.
This bit set includes five common sizes, 1/8″, 3/16″, 1/4″, 5/16″, and 3/8″, which is a good assortment for drilling out smaller fasteners. These jobber sized bits contain M2 high-speed steel and have a 135-degree split-point. That means they'll be able to drill into most fastener materials with little effort.
While this set is a solid option, it does lack the larger bit sizes. The larger bit sizes can be useful for drilling out larger fasteners. The bits also aren't coated. This means there's a chance you'll run into a material that these bits just aren't strong enough to drill into.
What We Like
Affordable
Includes several popular sizes
What Could Be Better
Bits aren't coated
Doesn't include bits larger than ⅜"
Comoware M2 Titanium Coated 13-Piece Bit Set
If you're looking for a more comprehensive bit set that's still affordable, this titanium-coated set from Comoware is a solid choice.
This kit includes 13 popular sizes from 1/16" up to ¼." Each bit contains durable M2 HSS. It's coated in titanium, making these bits ideal for drilling into harder fastener materials. A handy case with a metal index holder is also included.
These bits are also very affordable. This kit makes a great addition to anyone's toolbox, regardless of how tight your budget is.
Between the titanium coating and the 135-degree twist-point on each bit, you shouldn't have any problem drilling out a variety of materials.
What We Like
Titanium coated
Includes 13 popular sizes
Includes case
What Could Be Better
The titanium coating is a bit thin
Thinner bits are prone to breakage
Irwin 35-Piece Extractor and Bit Set
For those of us who like to be ready for any situation, this comprehensive 35-piece set from Irwin is a great tool to have on hand.
While left-handed bits can be an indispensable tool for fastener removal, you're sure to run into instances where a bit alone can't extract the fastener. That's where extractor bits come in. This kit includes a generous assortment of 19 different extractors, in addition to the left-handed bits.
Each bit contains M42 steel with an 8% cobalt content. This is just enough cobalt to ensure these bits can chew through any material without sending the price skyrocketing into the stratosphere.
Beyond the extractors, 15 assorted left-handed bits are included in sizes from 5/64" to ½" as well as an attractive case which organizes all your bits. The case also features a handy chart that lets you know which bits to use with which extractors.
While this kit is significantly more expensive than a simple bit set, it includes everything you'll need to extract any fastener you may come across.
What We Like
Comprehensive selection of bits and extractors
8% Cobalt content for durability and strength
Includes carry case
What Could Be Better
Drill Hog 13-Piece Niobium Bit Set
Drill Hog has carved out a reputation as one of the leaders in the industry when it comes to extraction, and this 13-piece set is a testament to why they've become so popular.
This heavy-duty set includes 13 bits from 5/64" to ¼." Each bit contains Niobium, which has an astounding melting point of over 4,500°F. These bits are ideal for more challenging projects and when working on cars, heavy equipment, stainless steel, and grade 8 bolts.
While they're a bit more expensive than most 13-piece sets, they may end up saving money in the long run, since these durable bits are far less likely to break than traditional HSS bits.
Also included is a metal case with a guide that shows each size, as well as its metric conversion. Drill Hog bits come from America, and they carry a bulletproof lifetime warranty.
What We Like
Made from Niobium
Lifetime warranty
Includes 13 popular sizes
What Could Be Better
Neiko 10037A 15-Piece Titanium Coated Bit Set
Rounding out our top five is this Neiko 15-piece set, which provides a comprehensive selection of popular sizes at an attractive price.
This kit includes 15 popular sizes from 1/16" to ½." The bits come packaged in a case which includes a guide displaying the size of each bit. Each bit contains M2 HSS and coated in titanium-nitride for added durability.
While this bit set is both affordable and comprehensive, the adage "you get what you pay for" may come into play, as these simply aren't as durable as higher end bits. That said, they're still ideal for light duty or occasional use.
What We Like
Includes 15 popular sizes
Titanium coating
Affordable
What Could Be Better
What You Need to Know About Left Handed Drill Bits
Maybe I'm just a tool nerd, but I find left handed drill bits to be kind of fascinating. Here's what makes these drill bits unique:
What is a Left Handed Drill Bit?
Left-handed drill bits, also called reverse drill bits are identical to the standard twist bits you're used to seeing, with one key difference. Unlike a regular twist drill bit, which has flutes which twist up and around the bit in a clockwise direction, left-handed bits twist up in a counter-clockwise motion, which is opposite from traditional bits.
Left-handed bits are threaded in reverse, and when they're used in a drill that's in reverse, the bit will bite into the fastener as you drill into it. Since fasteners are also right-handed, once the bit bites into it, the torque from the drill should allow you to remove the broken bolt or screw and continue with your project.
Left Handed Drill Bit Buying Guide
One positive about shopping for drill bits compared to other tools; there's a heck of a lot less to worry about. There's nothing proprietary from company to company, and there aren't too many features to concern yourself with. That said, you'll want to keep a couple of points in mind to ensure the bits you're buying will stand the test of time.
Drill Bit Materials
There are several different materials used to make drill bits. You'll want to consider this carefully as certain bits are better suited for drilling into a particular substrate.
HSS (High-Speed Steel)
HSS bits are the most popular and inexpensive bits on the market. They're made from steel, and they can make quick work of most materials, including wood, plastic, and softer metals. While these bits are perfectly suited for basic drilling, they don't stand up to drilling into fasteners as well as other materials.
Black Oxide Coated HSS
A step up from regular HSS, black oxide coated bits are more able to resist corrosion, and they're more durable than uncoated HSS. This material is still less than ideal for drilling out fasteners, but it's a step in the right direction.
Titanium Coated HSS
When coated with titanium, HSS bits are substantially stronger, and they stay sharp longer than non-coated or black oxide coated bits. This material is a stronger choice for left-handed bits.
Cobalt
Is exceptionally strong, and it dissipates heat very quickly, making it a strong choice for drilling into extremely hard substrates, such as fasteners. Cobalt is an ideal material for left-handed drill bits, but it can also be expensive.
Niobium
One of the newest and coolest materials for drill bits is niobium. These specialty bits have a coating of an extremely hard and durable metal which is designed to make quick work of drilling through difficult materials, like steel. These bits are becoming popular with metalworkers like locksmiths and gunsmiths, but the jury is still out on whether or not they're better for extraction than cobalt.
Drill Bit Tips
The tip of the drill bit is an essential factor which helps dictate which type of work it's best suited for.
With standard twist bits, there's a variety of different tips available. Some are sharper, some are blunt, and some are specialty tips designed for boring into different materials.
With left-handed bits, there's less to worry about. Bits with tips somewhere around a 135-degree angle are ideal for drilling into harder materials. They're the most popular and useful style of tip when it comes to left-handed bits.
Final Verdict
Each of the left-handed bit sets we've covered above is a solid choice to add to your toolbox. They'll prove indispensable when the time comes where you need to remove a busted screw or bolt.
There can only be one winner, and our top pick as the best left-handed drill bit is the Irwin 35-piece kit. This kit includes everything you'll ever need. Including a broad selection of different extractor bits. If this kit is more comprehensive than you need, you can save some money by opting for the Drill Hog 13-piece set. It is also an excellent choice.