Hitachi has established itself as a consumer-friendly brand at an attractive price point for accurate saw cutting. Hitachi will be departing from their recognizable name to Metabo HPT, offering the same quality products under a new name. While this may be confusing to consumers, we've made it easier to navigate their existing line and their new names.
We've pulled together our favorite Hitachi miter saws and have made recommendations on the best in their line, where to find parts and their brand transition. Are you looking for the best miter saw overall? If so, check out The Best Miter Saw – Complete Buyers Guide & Reviews.
Look no further for Hitachi miter saw reviews. We have mapped out a few of our favorite saws based on your woodworking needs and the qualities each of them brings to the product line.
---
Hitachi Miter Saw C10FCH2 15-Amp 10-inch Single Bevel Compound with Laser Marker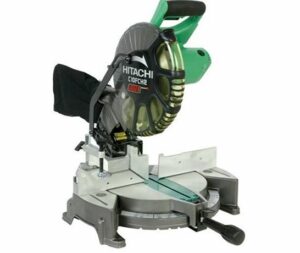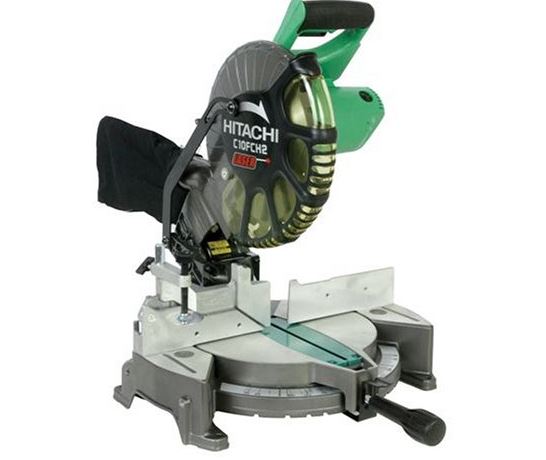 Single bevel compound miter saws are used for making angled cuts one direction. This saw is one of the greatest value saws in their product line because of its simple design and features. You should consider purchasing this saw if you are a homeowner who wants to work on weekend projects without regular use. This saw is easy to use and makes accurate cuts with little complication. You'll be able to make a variety of cuts with this powerful 15-Amp saw.
What We Like
Laser marker lines up the blade to ensure precise cuts
A tall flip fence pivots to easily hold wood for crown molding cuts
Incredibly lightweight (26.4 lbs.) making it easy to transport and store
Price point for the quality of job completed
What We Don't
Dust collection could be improved as lots of debris is not contained
Assembly instructions provided are difficult to follow
Fragile saw material may lead to cracks and missing feet both upon delivery and with use
---
Hitachi Miter Saw C12FDH 12″ Dual Compound with Laser Marker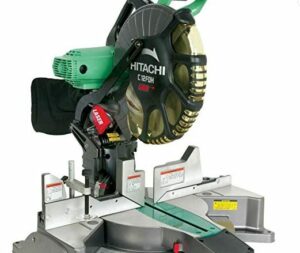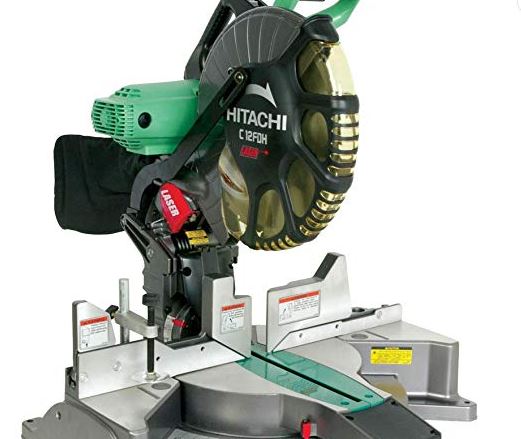 The C12FDH model has been a staple in the Hitachi product line for its quality and accuracy. Moving under new ownership, this particular saw has been discontinued. We show you both saws as people are more familiar with the former model and it provides helpful customer reviews. This saw is incredibly versatile as it can cut crown molding, soft fiberboards, hardboard, plywood, and aluminum sashes.
If you work on DIY projects, are a beginner, or a professional contractor, then this saw is recommended for ease of use and accuracy.
What We Like
Laser marker technology for precision in cutting and exact cutting location
Large base on saw for stability and holding larger materials
Versatile capabilities and features for its lower price point
What We Don't
Dust collection could be improved for a cleaner workspace
Quality of saw material could result in saw damage and need for replacements
Vice clamps can be difficult to secure, making material stability more difficult
---
Hitachi Miter Saw C12RSH2 12″ Sliding Dual Compound with Laser Marker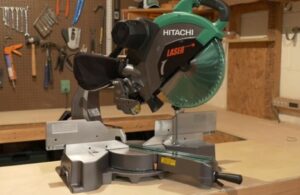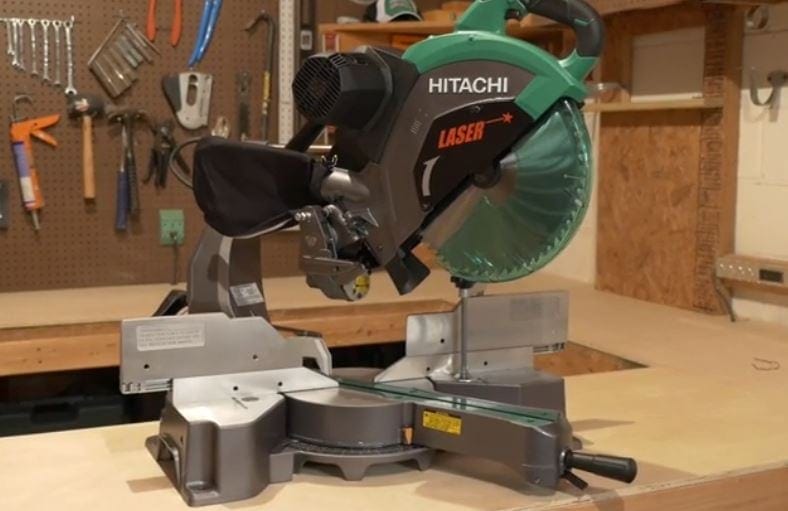 If you're looking for a heavy-duty saw that can accomplish almost any task. This saw is one of the most advanced in the product line, giving you lots of power and quality for a variety of cuts. This is a great choice for both woodworkers and consistent "Do It Yourself" (DIY) users. With a simple design, this saw can cut through tough materials and is accurate and smooth in cutting abilities.
What We Like
Laser marker aligns blade with material for exact cut location
A zero-clearance rail system takes up less room as you can push it up against a wall
Vertical handle for a more natural cutting motion, rare among miter saws
What We Don't
Weight (59 lbs.) makes it difficult to transport compared to other saws
Fragile saw material exposes it to damage and cracks if dropped or mishandled
Clamp for holding material could be improved, requiring additional stability for cleanest cut

Compound vs. Sliding Compound Saw?

These saws come in two variations: compound and sliding compound. Compound saws are simpler and allow for angled cuts that create slopes. They can tilt one way (single bevel) or left and right (double bevel). Choose this saw for simple jobs and irregular use.

Sliding compound saws can accomplish everything a standard compound saw can, but the blade can move in and out as well up and down. This provides more functionality for advanced saw cuts. You should go with a sliding compound if you work regularly on a variety of complex projects.

What is Hitachi vs Metabo?

With changes in division ownership, Hitachi power tools will now be Metabo HPT, providing the same miter saw options just under a. The "HPT" or "Hitachi Power Tools" is noted in the logo. You can still find Hitachi miter saws but they will be phasing out.
The name change is important to note as you will still get the same products with the Hitachi-quality reputation.

Where to a Find Hitachi Miter Saw Stand and Parts?

Miter saw stands allow you to complete a job anywhere, ensuring stability and strength.

When looking for a stand, you should consider:

Weight-bearing abilities

Transportation capabilities

Ease of use

Saw mount compatibility

Check out the best miter saw stand or if you're looking for a DeWalt miter saw check out DeWalt Miter Saw Stand DWX726

Hitachi/Metabo offers a variety of with wheels for easy transport and an ability to hold up to 400 lbs. for securing your saw. You will have to set your saw on something, and a stand makes it significantly easier to use wherever you need to set up shop.

Hitachi miter saw parts can be found from a variety of resellers who still have this brand in stock for your older model saw. Metabo also produces these parts to be compatible with Hitachi models, and new Metabo saw models.

When choosing parts for your miter saw, you should make sure that you choose products within the same line to ensure fit. The brand name change may make this a little confusing for those looking for parts, but both Hitachi and Metabo miter saw parts are interchangeable. Replacing a blade is one of the most common replacement needs for working with new materials. Are you looking for a DeWalt or Ryobi miter saw? Check out these buying guides,
Best Ryobi Miter Saw 2019: Which One Should You Buy? and
The Best Dewalt Miter Saw.
Recommendation
To get the best value for the most capabilities that will satisfy the needs of both beginners and woodworkers, we recommend the C12FDH double compound miter saw. The Hitachi version is still available in limited quantities, but the new Metabo model with the same features will be produced moving forward.
While this brand transition may be confusing for recognition, you can trust that Metabo will be producing the same products that have developed a strong reputation under the Hitachi name.