Craftsman tools have been a powerhouse for the last 90 years due to their wide product line and dependability. Their miter saws also fulfill these promises to consumers. Craftsman was sold to a new company in 2017, making changes to their product line and providing new miter saw offerings. Some of these older models are still available today alongside Craftsman's new line.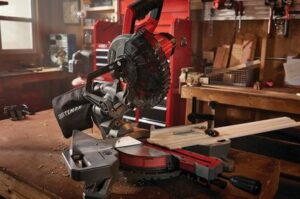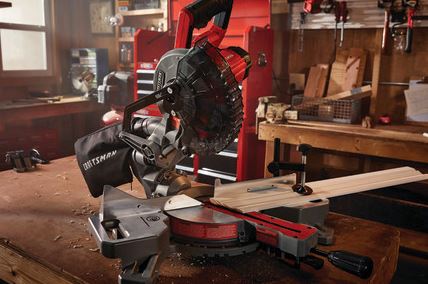 To help you navigate their products, we have chosen the best Craftsman miter saws available on the market and where to find all the accessories to make your sawing experience seamless. Are you looking for the best miter saw overall? If so, check out The Best Miter Saw – Complete Buyers Guide & Reviews.
---
Best Craftsman Miter Saws
The first saw we recommend is part of the old Craftsman line, and you won't find it on their website. We believe it's a great quality saw that you can still find through other online retailers. Our other two recommendations are part of the new product line, which can be found on their website, in big box stores, and on other online marketplaces.
Craftsman Miter Saw: 21237 10″ Single Bevel Sliding Compound Miter Saw
This saw works for almost everyone, and that's why we like it. Whether you are planning on using this around your home or on a job site, its versatility and cutting power make it a great choice for a variety of jobs. Professionals may get the most out of it as you can take it from job to job and perform many types of cuts. At a reasonable price point, this saw satisfies the needs of anyone who needs a sliding compound miter saw.
What We Like
Lightweight (31.8 lbs.) and portable for easy use from job site to job site
Capable of clean cuts on both soft and hard wood
Quiet saw compared to most in its class
What We Don't
Laser location makes it almost impossible to see the line in sunlight
Dust sprays everywhere due to poor dust collection
Plastic carrying handle has been known to break
---
Craftsman Miter Saw: DOIT 15-Amp 10-Inch Single-Bevel Compound Miter Saw with Laser Guide
One of the newer Craftsman offerings, you can find this saw online or at many big box stores and local hardware stores. This small and compact saw is our recommendation for DIY projects, such as framing, molding, and furniture building.
It comes at an affordable price for small projects and those who don't use their saw frequently. While it may be less expensive and for smaller jobs, its accuracy and performance do not suffer. You will find that this saw delivers on quality and precision.
What We Like
This is a folding miter saw, great for flat and small storage
Lightweight design (28 lbs.) makes portability optimal
Electric brake stops your cuts for quickness and efficiency
Laser guide improves efficiency in cutting accuracy
What We Don't
Poor dust collection like most miter saws
Plastic saw base could use improvements in security and stability
Angle gauges are stickers rather than metal plates with potential to rub or scratch off
---
Craftsman Miter Saw: CMCS714M1 7-1/4" Single Bevel Sliding Compound Miter Saw
Don't be fooled by the small blade size, this saw packs a punch for its size. At an affordable price point, this saw is best for those who work on smaller projects. It is a great addition to your home power tool collection for its power, accuracy, and easy storage.
Hardwood flooring, baseboards, trim, and 2-dimensional lumber are just a few of the materials this saw can cut with no problem. With a quiet motor and smooth cutting, we are impressed by the high performance with a smaller blade compared to the competition. We recommend this saw for all your DIY projects!
What We Like
Incredibly lightweight (21.8 lbs.) design with carrying handles makes it very easy to transport and store
Battery-operated machine allows for working in powerless locations
Battery lasts up to two hours without recharging and can recharge in 60 minutes or less
LED light aids in accuracy and visibility of cut line
What We Don't
Poor dust collection gets dust caught in sliding rails and can limit saw movement
Unit only comes with one battery, making a full charge necessary when remote
What Should You Know About Craftsman Miter Saw Stands and Parts?

Once you found your miter saw, you'll need something to put it on. If you do not have a work table with lots of space for long or large pieces of wood, it may be difficult to use your saw effectively. Using a miter saw stand can solve these problems. With an ability to set up in any space, you'll have enough room and can conveniently move it to your desired work location. Are you interested in buying the best miter saw stand? If so check out The Best Miter Saw Stand.

Craftsman miter saw stands pair well with your saw for sturdy and easy use. They offer with outlet connectors, wheels for transport, and increased stability. Make sure you look for a stand that can support the weight of your saw and is easy to transport.

Finding Craftsman miter saw parts doesn't have to be difficult either. When things break down after extended use or accidents happen, we want to know that our saw can be repaired with the correct parts. With the change in ownership from Sears to Stanley Black and Decker, you might be on a chase for your model's part.

If you need new Craftsman saw parts, you can contact them directly. You can also find a variety. Check for correct dimensions for parts that are not made by Craftsman to ensure proper fit.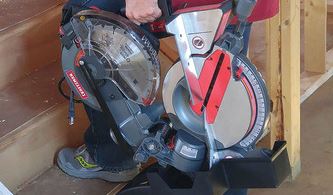 How Should You Navigate a Craftsman Miter Saw Manual?

For many things we buy, we take one look at the manual and throw it away. For a miter saw, it is important that you take the time to acquaint yourself with the tool for safety and proper use.

Miter saws usually require minimal set up, but need to have all parts attached and often need to have the alignment adjusted. Using your manual, it will guide you through these steps. Craftsman miter saw manuals are easy to follow with clear descriptions and photos. Consumers regard them as generally helpful and easy to use.

They are also helpful to refer back to after initial set up when changes need to be made or problems arise with your saw.
Final Recommendation
While it may not be part of the new product line, our favorite Craftsman miter saw is the 10″ Single Bevel Sliding Compound Miter Saw (21237). Its versatility and usefulness for beginners, homeowners, and professionals had us sold. You will be able to complete a wide range of jobs and complete many types of cuts with this easy to use and affordable saw! Are you looking for the best Ryobi or DeWalt miter saw? If so, check out The Best DeWalt Table Saw, DWS709 vs DWS779: Head to Head with Two of DeWalt's Best Miter Saws, and the Best Ryobi Miter Saw 2019: Which One Should You Buy?