If you've been thinking about buying a new chainsaw, a Stihl is an excellent choice. Known for their dependability and performance, these highly rated chainsaws are considered the first choice by many chainsaw users. But the question is where to find a Stihl chainsaw for sale?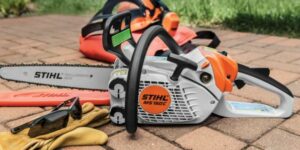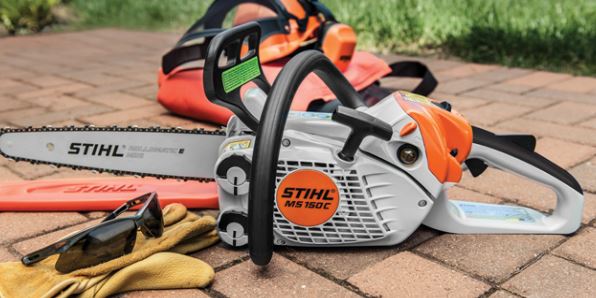 You've come to the right place if you are
Looking for Stihl chainsaws for sale nearby
Wondering where to find Stihl chainsaws online
Thinking if you can find any used Stihl chainsaws for sale
Finding Stihl Chainsaws
You're not going to be able to walk into a Home Depot or Lowes and buy a Stihl. Neither retailer sells them. You won't find one at Sears, if you can find a Sears. Target sells a cute toy battery powered one. It has a rotating plastic chain to make it more realistic that your kids would love. But it's not a Stihl.
So where to find one?
Not online, that's for sure. Searching Google can be frustrating for several reasons. First, some of the names you would expect will pop up. Follow the link, and they will redirect you to other saws they actually sell. After that happens a few times, you want to throw your mouse across the room.
But keep looking until you get to Ace Hardware. When you click on Ace, you will find Stihl products. The friendly hardware folks can sell you a Stihl chainsaw as well as other Stihl products. At that point, you should drive to your nearest Ace Hardware.
Can't find an Ace Hardware nearby? Don't worry—Stihl has authorized dealers. The Stihl website has a handy map that allows you to search for local authorized dealers of Stihl products. If you're looking for information on Stihl chainsaw chains, check out Stihl Chainsaw Chains – Why You Should Buy?
Another alternative is to simply type "Stihl authorized dealer" into your search bar on Google and then click maps/ We can't say specifically what you will find in your area, but in ours we found a lawn and garden store and a contractor's sales and rental shop.
Stihl and the Internet
You would think that Stihl could make it a little easier. Everyone else sells their stuff online. Plus, the Stihl website has all sorts of other goodies, such as these self-help guides for their chainsaws. There's links to Timbersports, their history, and a good F.A.Q page. But nothing telling you where to purchase a Stihl.
Stihl won't let a retailer sell one online. Period. Sure, you can order one from Ace. But you can't have it delivered. We tried. Selected the STIHL 12 in. Battery Chainsaw Set and then saw this message
"This product is unable to ship to home."
Source: Ace Hardware
So Why Doesn't Stihl Sell Online?
According to Stihl there are several reasons why they will not sell their product online, including:
Liability. Dealers are required to provide customers a short training session. This session is designed to ensure that customers understand the different parts and controls of their purchase. As part of these sessions, dealers are available to answer safety questions.
Quality control. Dealers who are authorized, full-line Stihl sellers must prep and test every item they sell. The full-line dealers are also required to service Stihl products, and all parts must be ordered through dealers.
Improved service. Who hasn't spent what seems like hours on the phone waiting for help? Stihl believes that human interaction is a much better way to solve a problem that arises, such as a parts replacement, or when the product needs repairs.
What About Prices?
Another piece of information you won't find on the Stihl website is prices. That's because of how a Stihl product gets into a store:
Stihl sells its equipment to one of only 11 distributors in the U.S.
That distributor sells the Stihl to a Dealer
The dealer now owns the product and decides how much to charge. If they choose to price it at the manufacturer's retail price, they may. Or not.
This is also why you will never find a sale mentioned on their website. Only dealers provide that information, and they often base their sales on the promotions their distributors offer them. Stihl does suggest that late summer and early fall are the best times for chainsaw promotions.
Buying Used Stihl Chainsaws Online
If you want to find a used Stihl online, you better be prepared to spend some time looking around. And remember the old adage—you get what you pay for. If you see an old Stihl on Ebay or Craigslist with a price too good to be true, think twice.
If you decide you want to go a more reputable route, it's going to take more time. Some sites that sell used or refurbished chainsaws will show up in your search results, but might be selling one Stihl, which you will find after scrolling through hundreds of other chainsaws.
Consider looking at sites that focus on forestry or woodworking. There you will find people who might be able to help you. That can still be a longshot, though.
And if you find a used Stihl chainsaw, check out the price. Often, it won't be much cheaper than what you can buy new. Unlike many other tools, their resale value stays high for long. Just buy new is a comment we say repeatedly when looking for a used Stihl on-line. If you're looking for chainsaws sold at Lowes, check out Lowes Chainsaws | Browse Gas, Cordless & Electric.
Stihl has a Reputation to Maintain
In the 1920's Andreas Stihl built the first chainsaw. It was electric, weighed one hundred pounds, and required two people to operate it. By 1929, Stihl had developed the first gas-powered saw, "The Tree-Felling Machine." It weighed 101 pounds, had a 2 hp engine, and also needed 2 people to operate it.
Another first happened in 1950, when Stihl introduced the first hand-held chainsaw, which weighed "only" 35 pounds. A long list of innovations can be found on their website, including these firsts
"automatic chain oiling, centrifugal clutch, chain braking system, electronic ignition system, single-lever Master Control Lever™, anti-vibration system, QCA (Quick Chain Adjuster system), side-access chain adjustment, ElastoStart™ system, Ematic™ System, world's quietest, gasoline-powered chainsaw (at the time, 1996), dual chain braking system, Intelligent Engine Management (IEM), STIHL M-Tronic™, world's first electronically controlled fuel-injection system on handheld outdoor power equipment"
In all Stihl owns over 1,000 patents for its machines. Finally, Stihl brags that it manufactures its tools in America at a Virginia plant. Although it uses some components made overseas, the bulk of its machines are made in the U.S. or Switzerland. Visit their website, here, to watch some of the videos about the company.
Bottom Line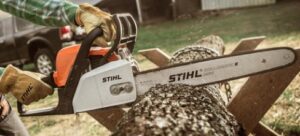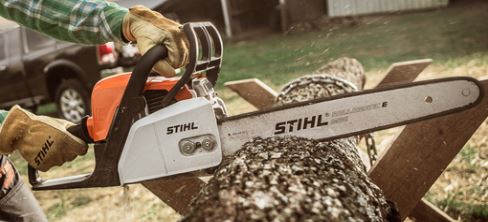 If you're looking for a Stihl chainsaw, to see the helpful hardware folks at Ace, or find a local lawn and garden store or a place that sells and rents equipment for construction companies. You'll be glad you took the extra time. If you're looking for the best compact chainsaws, check out The 5 Best Small Chainsaws.