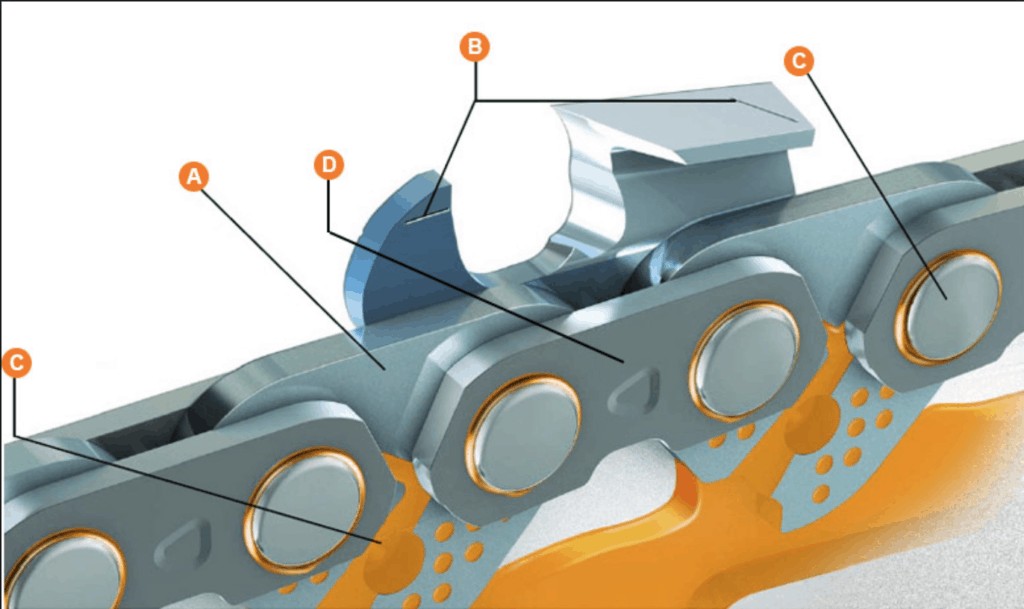 The German owned and U.S. manufactured, Stihl chainsaws are quality tools that get the job done. That's why we have a large inventory at our warehouse. Stihl chainsaws as a majority are manufactured in the U.S., however, the MS201 chainsaw and the larger chainsaws from the MS441 and up are made in Germany. Check our comparison of these two heavy hitters in the chainsaw game: Husqvarna VS Stihl Chainsaws
Chainsaw Chains
There's nothing like a brand new chain for your chainsaw. And Stihl makes several great chainsaw chains that not only fit your Stihl, the chains also fit on a Husqvarna if that's the brand of saw in your shed. If you're in a pinch or not, Stihl replacement chains are perfectly affordable and convenient.
What's the Difference Between Stihl Chainsaw Chains?
Though they may look the same, chainsaw chains are all quite different. It is a matter of a measure called Chain Aggressiveness. There are three different levels of chainsaw chain aggressiveness. But before we talk about the levels of chain aggressiveness, let's talk about kickback. Which is key to understanding chainsaw chain aggressiveness. Don't forget to see our review of the Best Chainsaws for the money.

What is Kickback?
Chainsaw kickback is what happens when the upper nose of the chainsaw guide bar makes contact with a material during operation. This part of the chainsaw guide bar called the "Kickback Danger Zone". It's called the "Kickback Danger Zone" because, if the guide bar makes contact with a material during operation, the increased force of resistance will instantly throw or "kick" the chainsaw back in the direction of the user. Makes for a nasty accident. Need to sharpen your chain? Here is our review of the top pick chainsaw sharpener.

Low-Kickback/Anti-Kickback
Most chainsaw chains have low-kickback or anti-kickback features that reduce the risk accidents related to kickbacks.

Regular or Skip-Tooth Chains
Skip-tooth chains space one link between cutting teeth. This allows for lower-resistance, faster, grittier cutting. If a chain is not listed as low-kickback, full-skip, or as having some other special function or feature, it is most likely a regular, skip-tooth chain for professional applications.
Aggressive or Full-Skip Chains
Full-skip chains space two links between cutting teeth. This spacing provides very low-resistance cutting. Full-skip chains are usually for chainsaws with guide bars of 24″ or longer. When trained to correctly on how to use chains and saws longer lengths and cutting aggression, you can quickly appreciate the extra length because they don't have to bend down as much to reach the work area.
However, these chains are for trained, professional use, and the majority of chainsaw users will not have an application that calls for this type of chain.
Stihl Chainsaw Chains Picks
Aggressive
Stihl 33RS-72 Oilomatic Rapid Super Saw Chain, 20″
This aggressive chain is suited for higher-powered chainsaws.  It's an ideal chain for forestry and industry, including felling, bucking and limbing. These a full-skip chains are designed for trained professional cutters with professional grade cutting needs.
Regular
Stihl Chainsaw Chain- 26RS68- 18 Inch, 68 Drive Links
This is a more of a professional, high performance chainsaw chain for heavier work with higher power saws. I definitely would tell the novice chainsaw user to avoid buying a chain like this. It's been said that you should be able to take down a 40' maple on one gas tank with this chain. Whoa.
Low Kickback
Stihl 26RM3-81 Oilomatic Rapid Micro 3 Saw Chain, 20″
The Stihl 26RM3 chainsaw chain is the perfect chain for felling, bucking and limbing. I think that this is a great all around general purpose chainsaw chain that meets the demands of the nonprofessional user. A low kickback chain that is made to reduce the risk of kickback injuries which can be… Nasty. (Novice chainsaw users may apply). For everything about chainsaws see our Epic Chainsaw Resource. You will find buyer's guides, How To's and the best accessories.
Stihl Chainsaw Chain Prices
The cost of Stihl chainsaws varies widely depending on the type of chainsaw, brand and size of the motor.