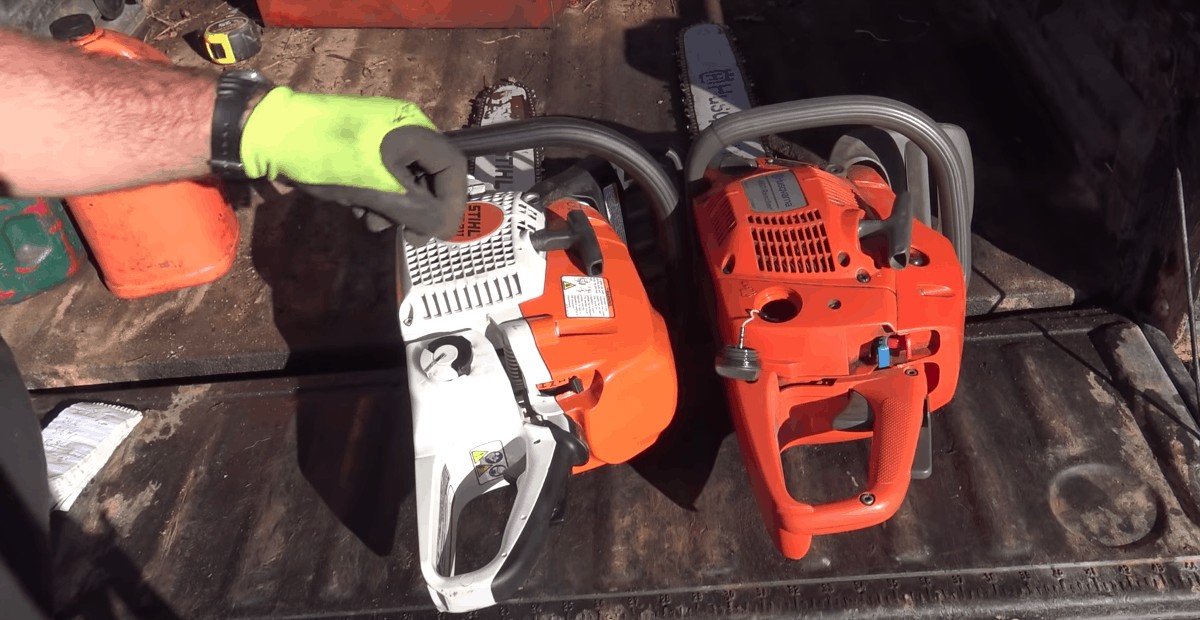 A good chainsaw is always a great investment and it's hard to go wrong when you're choosing between Husqvarna and Stihl. Both companies make great high-quality saws that are internationally-recognized for their durability and performance. Husqvarna vs. Stihl is the chainsaw showdown we've all been waiting for.
If you're on the fence between the two, look no further. In this article, we'll outline the pros and cons of each company's chainsaw so you can make a better buying decision.
Quick Look – Top Picks
Stihl vs Husqvarna: Brief Company Histories
Husqvarna​ is the world's largest producer of power tools with products available in over 100 countries. For more than 325 years, they have been creating and perfecting small machines of all kind. From rifles in the 1680s to bicycles in the 1890s and power tools in the 20th century, Husqvarna has hundreds of years of experience in building tools for personal use.
​The Husqvarna chainsaw is a high-quality and heavy-duty machine with reliability performance. Though there are electric chainsaws on the market, this machine comes in two types: the more eco-friendly battery-powered option and the gas-powered version.
Stihl is a German power tool company that was founded in 1926 in Stuttgart. Today, they are still a privately-owned company whose United States headquarters is located in Virginia Beach, Virginia. They employ over 2,100 people in the U.S. alone, with over 1,900 of those people located at their Virginia factory where they produce their full line of products for distribution throughout the country.
Stihl's chainsaws, along with Husqvarna's, are one of the industry leaders. From professional loggers to homeowners, Stihl has received raving reviews across the board.
Chainsaws are heavy-duty saws that have revolutionized logging, wildfire fighting, and many other industries alike. Stihl and Husqvarna are two companies that have been trailblazers in this market, and each has created a devoted group of loyal followers. These two are at the top of the chainsaw game and loggers everywhere will attest to the durability and power of each.
Stihl vs Husqvarna Chainsaw – Who is the Best?
The Husqvarna Model 455 Rancher
The Husqvarna Saw 455 Rancher is a heavy duty gas powered chainsaw. It's a favorite among loggers and other professionals that use it to take down massive trees or do major repairs. This rancher chainsaw is best for experienced users doing big jobs on properties. It is an excellent tool for these jobs though, and the company has a reputation for durability and excellence that has led to many loyal users.
​​
​The Stihl Modl MSA 160
The Stihl Saw MSA 160 on the other hand is a small, electric chainsaw. This battery-powered piece is best for smaller jobs around the home like pruning trees or repair jobs. Its lithium-ion battery makes it more environmentally friendly than the Husqvarna Rancher series.
Stihl vs Husqvarna: Head to Head
Ultimately, both Stihl and Husqvarna make excellent chainsaws at all power levels.
From smaller saws that are used only for pruning to bigger ones used by professional loggers, there is something out there for everyone.
​​The Husqvarna 455 Rancher and the Stihl MSA 160 are two very different chainsaws. The Husqvarna is a gas-powered 20-inch machine that is heavy-duty and built for storm repair, tree felling, and anything else "heavy-duty" at home. The Stihl, on the other hand, is a smaller electric-powered saw that is best for smaller jobs at home.
Even though these two saws are so different, there still are some points of comparison that can be made between them. And, if you're deciding between the two, it's worth going through the details to see which one is the better option for you.
In comparing the 455 Rancher and the MSA 160, we decided to look at the following things:
Efficiency
When it comes to fuel efficiency, the Stihl MSA 160 wins in this category. As an electric powered saw, there is no fuel or fuel tank that needs to be replaced, nor are there any harmful emissions released.
The Stihl, however, might not be the most efficient in terms of time. It only has a run time of roughly 50 minutes between charges and it can only handle small jobs.
It is also dependent on a battery, so if you were to ever lose power, the saw would be rendered useless.
The Husqvarna does hold its own when it comes to efficiency, largely because of its X-TORQ engine system and fuel tank, which helps reduce the overall emissions by as much as 60% and decrease fuel consumption.
Every gas powered chainsaw is loaded with this, so regardless of which one you choose, you know that you're getting some great technology.
To see the Husqvarna X-TORQ in action, check out this YouTube video.
Safety
Most saws have a variety of safety features to help reduce your risk of injury while you are using the machine, but sometimes, accidents can happen.
Importantly, though, if you've never used a chain saw before we highly recommend that you consult with a professional before taking on any in-home task.
Chainsaws can be incredibly dangerous, so it's important to observe all safety measures​while using one:
including keeping the machine well maintained and wearing proper clothing during operation. However, there are some safety measures that a company should put in place.
One of these is noise and vibration absorbing dampeners. These are important for two reasons.
First, they reduce the vibration that your body experiences, something that not only causes fatigue but also can lead to serious conditions like "vibration white finger".
Second, they reduce noise, something that's important to keep your hearing intact.
Both the Husqvarna and the Stihl have these measures in place, and as companies that are trusted by loggers around the world, it's safe to say that their technology is built in a way to ensure maximum comfort.
Another safety feature that's important to consider is kickback-resistant bars and chain brakes.
These help reduce the damage that can be done by a sudden kickback and prevent the chain from running in the event of an emergency.
Again, both companies have these safety measures in place, but the Husqvarna inertia-activated chain brake detects sudden movements in the bar and automatically stops the chain.
This might make it slightly safer than the Stihl.
Durability
Finally, we looked at durability. Since these are expensive machines, you want to know that what you are buying will last a long time.
With both Husqvarna and Stihl, you can rest assured that you are getting the best that money can buy and their long-held reputations for durability and longevity hold true.
Maintenance
Chainsaws can be dangerous so it's important to maintain your Stihl chainsaw by making the appropriate repairs, keeping the chain sharp, keeping the fuel tank clean, and/or oiling the chain. It's necessary and important so you can ensure that the chainsaw stays working properly. We've found that Husqvarna chainsaws tend to require more maintenance than Stihl chainsaws.
For professionals and DIYers that complete brief tool checks before and after use and more scheduled maintenance, Stihl chainsaws are the best choice. This is because the time between maintenance intervals is longer. However, this doesn't apply to people that routinely check and perform maintenance on their chainsaws every time they use the tool.
Price and Availability
Stihl is a company that is privately owned instead of publically traded. This allows Stihl to control its price, products, and availability with minimal outside influence. Stihl has utilized this to only partner with recognized dealers and keep prices lower than Husqvarna chainsaws. However, by only selling their products through specific retailers, Stihl chainsaw availability is reduced.
So, if you prefer to be able to shop for a chainsaw at big box stores then Stihl may not be the best option for you. Husqvarna products are widely available at several big-box stores and online retailers. However, they do come at a higher price.
Website Usability
Both websites look highly professional and well made. They're both hard to navigate, this is because their menus aren't intuitive. However, the content on the website is useful and engaging.
When it comes to aesthetics, the Stihl Website is more visually relevant and appealing to the eye. They have a product selector tool that is helpful, it shows the nearest dealers' on a map which is prompt.
The Husqvarna Website focuses more on displaying their shiny products, the website almost seems cluttered. However, I will say it does catch your eye.
Both brands have a moderate presence on social media. These companies don't really rely on digital marketing.
Final Thoughts
Ultimately, both a Husqvarna and/or a Stihl chainsaw will help you get the job done.
As the industry leaders there's no clear winner, and when you ask loggers, you'll get a pretty even split on which company's tools they prefer.
That being said, we did rate the ​Husqvarna 450 as our best chainsaw of 2019 because of the simple system that makes it easy to get started with.
Ultimately, though, the choice is yours. We recommend renting either option to test it out then purchasing the one that works best for your needs.