Precise crosscuts and angle cuts on a table saw come back to the use of the crosscut sled. When you're forced by a project to cut against the grain, it is safer to use a table saw sled in order to protect your fingers.
So how exactly do you make a table saw sled? With just a few tools and components, you can build a do-it-yourself table saw sled. It will both increase the accuracy of your woodworking as well as keep your hands clear of the blade.
Are you looking for some general information on table saws or other tools? Check out our complete resource guides on Miter Saws, Table Saws, Chainsaws, Band Saws and Circular Saws. These guides have all the information you need. You will be able to find history, the differnt types of the tool, top brand sold, and more!
Keep reading our table saw sled guide to find out more about why table saw sleds are an important tool to have. You will also find out how you can fashion your very own.
How Do Table Saw Sleds Work?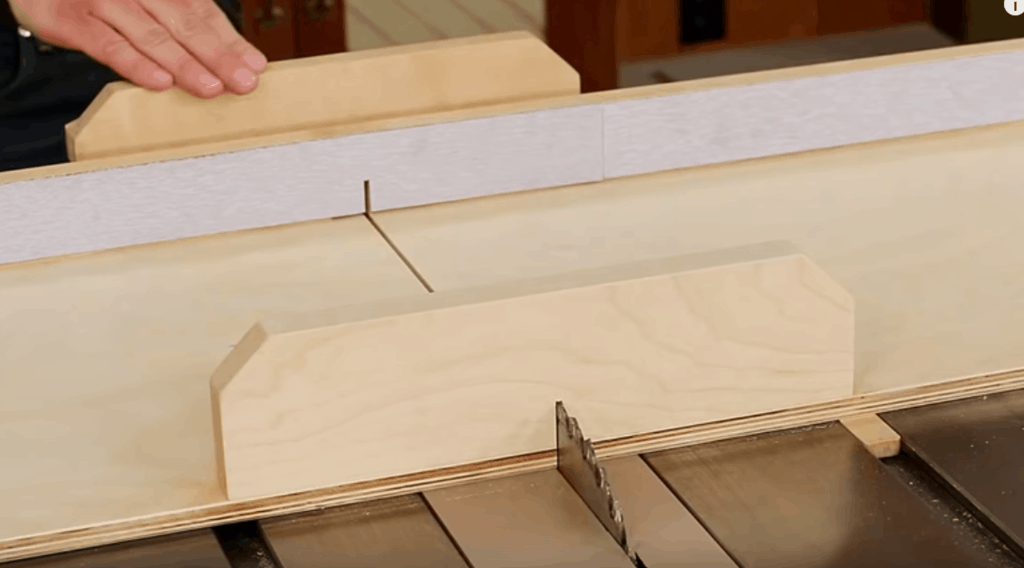 Table saw sleds, also known as crosscutting sleds, are structures made of either wood or plastic polymer. They are used on top of a table saw assembly. Table saw sleds both guide the wood for small intricate or angle cuts. They also act as a guard to prevent the sharp and quick-spinning blade from amputating your fingers while you work.
Along with table saw fences, table saw sleds help woodworkers perform with confidence. This is because they know they are safer from injury, and helps guide them into focused, precise cutting maneuvers. But unlike regular saw fences, table saw sleds add safety when performing cross-cuts. Traditional saw fences don't.
With a good table saw sled, you should be able to line up and cut perfect right angles on your table saw every single time.
Aside from the added quality and precision that a table saw sled can provide, it also provides an even more crucial element in the workshop–safety. Circular table saw blades are one of the most dangerous tools in any workshop, and any guard that helps protect the person using one is an important component of the overall assembly.
Table Saw Sled Runners
Table saw sled runners are an important aspect of the table saw sled setup. These are pieces that fit into the miter slots. These runners can be made with either a wood like maple or ultra-high molecular weight (ULMW) nylon, which can also be planed at the table saw.
ULMW nylon can be a superior choice to wood for table saw sled runners in many cases, since it is very lightweight and cuts easily with any kind of saw but is capable of being made very smooth. It also will take a drill easily.
An important aspect of building table saw sled runners is waxing them when they're complete. Applying a light coating of Johnson's Paste Wax or similar paste finishing wax to the runners will ensure that there is no friction between the runners and the sled. 
Be sure to buff off any residual wax residue after completing table saw sled runners so that it does not transfer to your work projects. Once this finishing touch is added, the runners should be all ready to go for your next carpentry project.
DIY Table Saw Sled
Carpenter's needs in a table saw sled vary so much from individual to individual. Do-it-yourself (DIY) table saw sleds are much more popular. Table saw sleds are generally considered to be a good beginner's woodworking project. This is because they are not complicated and plans abound for building simple yet sturdy versions of them.
With just a few basic materials and some foundational woodworking tools you should already have in your workshop, a DIY table saw sled is within the technical grasp of almost any woodworker.
It can be daunting to make a precision tool for your own workshop, but with all of the guides and plans available, you shouldn't be discouraged. Making your own table saw sled out of common woodworking supplies is easily managed.
Table Saw Sled Plans
There are many plans available for table saw sleds. A lot of them are free to use on the Internet. Table saw sleds are a relatively simple structure to build. It is suitable for just about every level of carpenter from novice to expert.
Below you'll find a series of free plans for table saw sleds to add to your current table saw assembly:
| | |
| --- | --- |
| Source | Plan |
| The Family Handyman | |
| Fix This Build That | |
| Instructables | |
| Toolcrib | |
| WOOD Magazine | |
How to Make a Table Saw Sled
Along with the many free plans available on the Internet for creating table saw sleds, there are also several how-to guides. They give detailed step-by-step instructions on how to build a table saw sled for your table saw assembly. Here are some of the available how-to guides:
| | |
| --- | --- |
| Source | How-To Guide |
| Sawing Pros | |
| The Family Handyman | |
| Popular Mechanics | |
| Popular Woodworking | |
Many of these how-to guides also include plenty of diagrams and photos to make assembly easier, and supply lists so you can gather all of your materials ahead of time. Having everything you need when you start can make the entire project much more efficient.
It's also a good idea to print out any plans or how-to guides you decide to use to construct your table saw sled. This is so you can take them with you when you go to the home improvement store to pick up the things you need.
Final Thoughts on Table Saw Sleds
When performing miter cuts and angled cross-cuts on the table saw, having a table saw sled at your disposal can be the deciding difference between confident, precise cuts and the jagged, inaccurate cuts of a novice.
Feeling comfortable and safe around your table saw is one of the best contributors to gradually increasing your skill in the workshop. So any safety gear such as fences and sleds should be prioritized when it comes to upgrading your table saw setup.
Are you looking for more guides on table saws? Check out some of our most popular guides, Dewalt vs. Delta Table Saw Edition, Ryobi Table Saws – 10in Portable Saws and Parts, DEWALT Table Saws – 10″ Saws, Parts and Accessories, and The Best Portable Table Saws.