Using wood pallets for diy projects is a very affordable option. If you have some pallets on hand but not sure how to use them, you might gain some inspirations from these pallet beds below. They are a great way to create a perfect platform for your bed.
1. Pallet Bed For Kids Room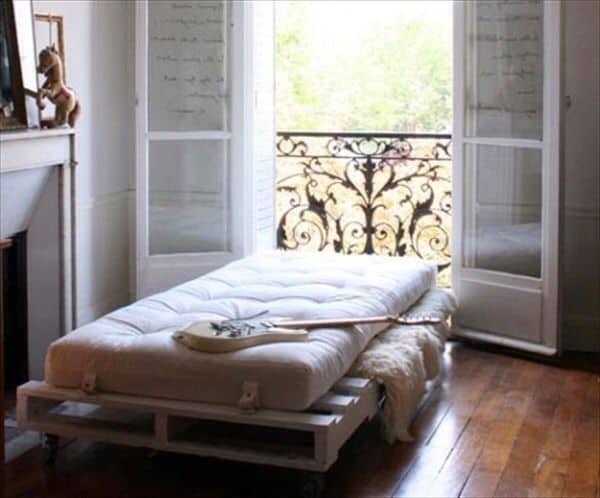 Mister DO over at Instructables wife recommended using a pallet bed as the platform for their daughter's bed. So he got to work and created this bed, and it turns out it worked out great and looks beautiful. See how it is made here.
2. Platform Bed with Headboard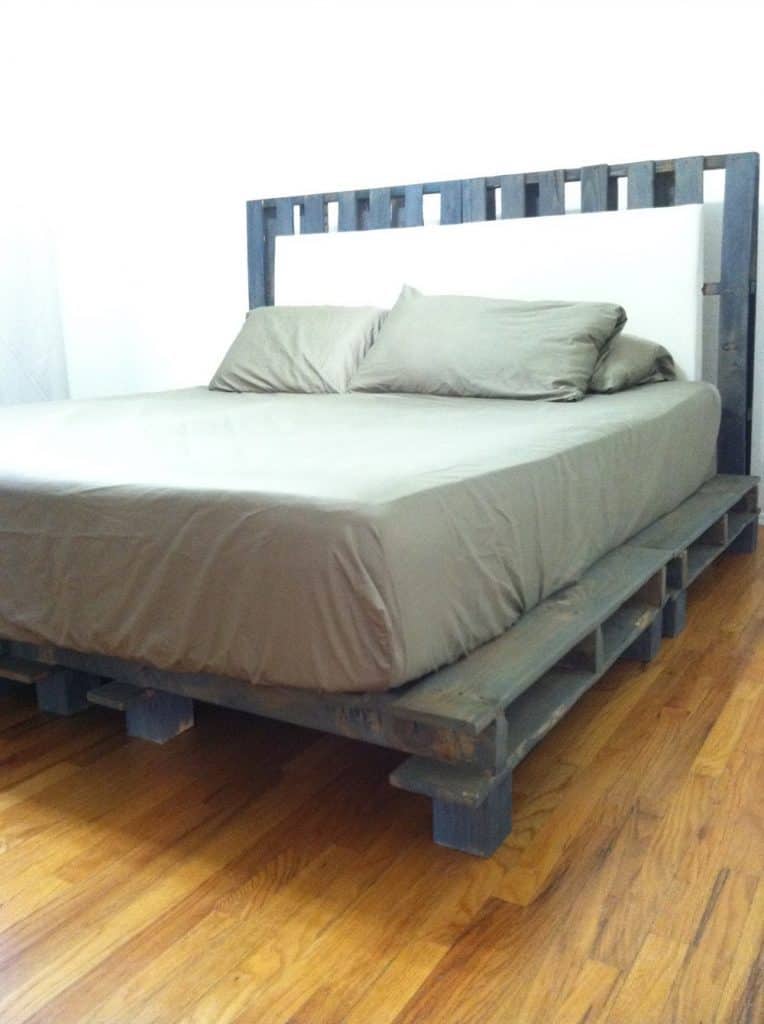 Heather at Seventy 7 Studios, created this one of a kind pallet bed with a bed frame that really added a lot of character to her room. The headboard really adds a lot to the look I think. Tutorial here.
3. Classic Pallet Bed Frame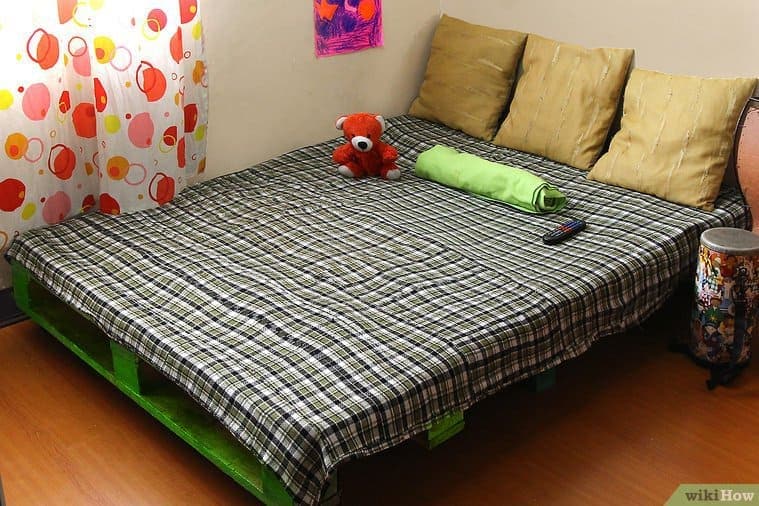 This is a classic style that Wiki How shares how to make. They added some green paint that gives it a whole new look and a nice pop of color to brighten up the room. Check out their tutorial on how to make this here.
4. Pallet Bed with Lights
 
Over at Instructables a husband and wife were on the hunt for a new bed frame and headboard. They had some leftover pallets and decided to get to work on a project. With a $100 invested they made this beautiful bed frame with lights to add to the ambiance. Head here to see the tutorial.
5. Kid's Pallet Bed on Wheels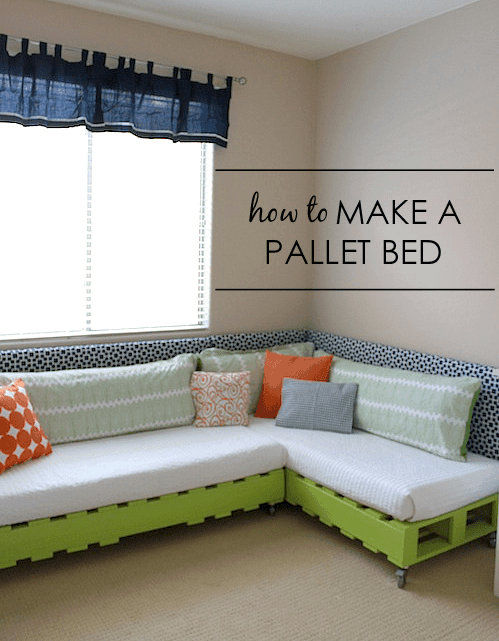 Rebecca from Project Nursery was looking for something to add to the mix with a third baby on the way. She created this stunning kid's pallet bed, that has wheels on the bottom. Great for moving around when you want to rearrange the room. See how it is made here.
6. Pallet Headboard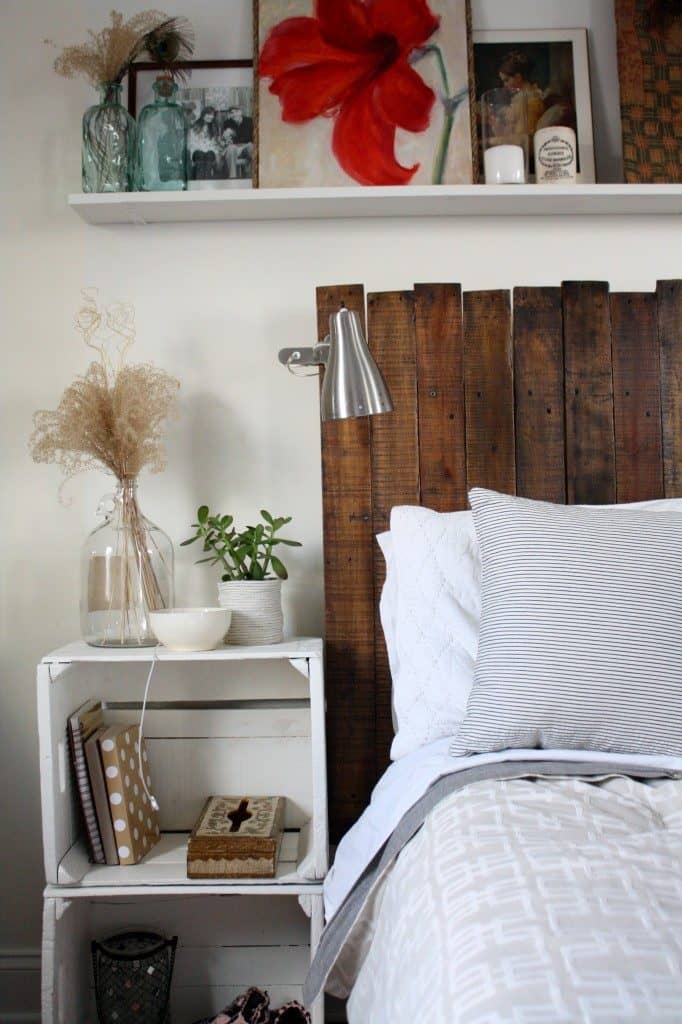 Katy over at Rice Design Blog's shares her biggest project to date with everyone. She wanted a unique and creative headboard, and this turned out great. I love the uneven top. To much surprise, this costs only $20 to make. Learn how to make this pallet headboard.
7. All White Pallet Bed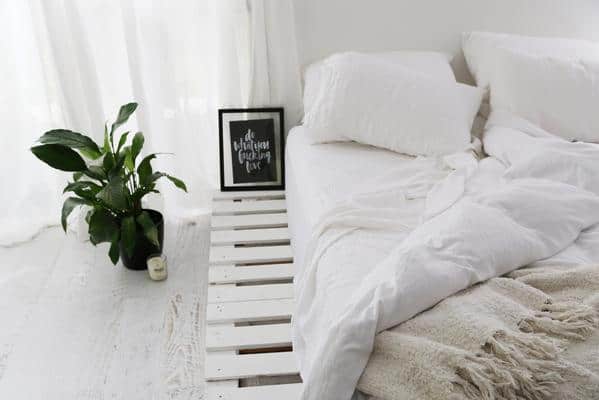 Elle Fit Active got her inspiration from Pinterest, she wanted a timeless look that added a white theme for that clean and crisp look. That is where she came up with how to create this gorgeous look. Simple but stunning, see how to make this here.
8. Cottage Pallet Bed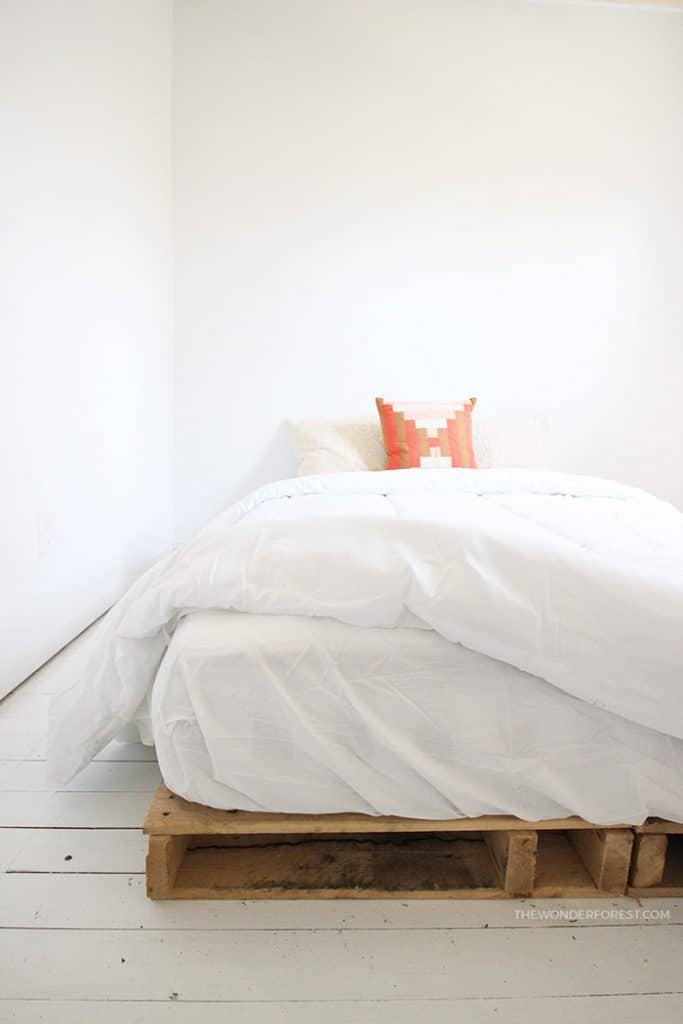 Dana at The Wonder Forest had a cottage makeover on her hands, that she had a limited budget. She reached for wood pallets to create this bedroom look, and it turned out really well. For the simple tutorial click here.
9. Simple And Quick Pallet Bed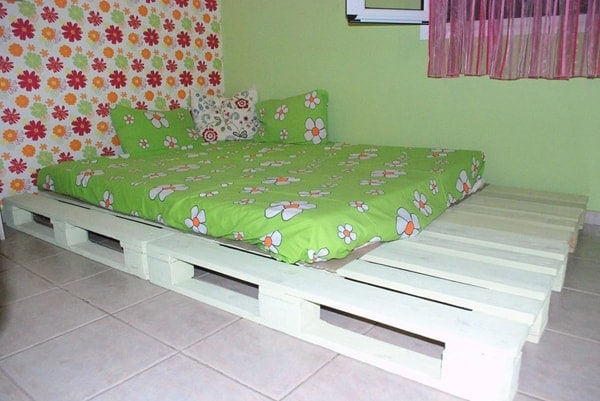 Deco Soup shares how to make a very simple and basic pallet bed. With 4 pallets and sandpaper and paint, you can have a bed frame ready in an afternoon. See how they did it here.
10. DIY Glowing Pallet Bed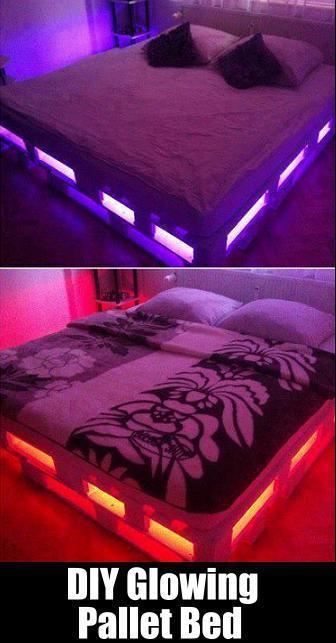 DIY Cozy Homes shares how they added a glow to their pallet bed. This would be fun for a teen's room, to give them a little fun ambiance at the end of the night before they doze off. Head here to see how they created this bed.
11. Simple Elegant Pallet Bed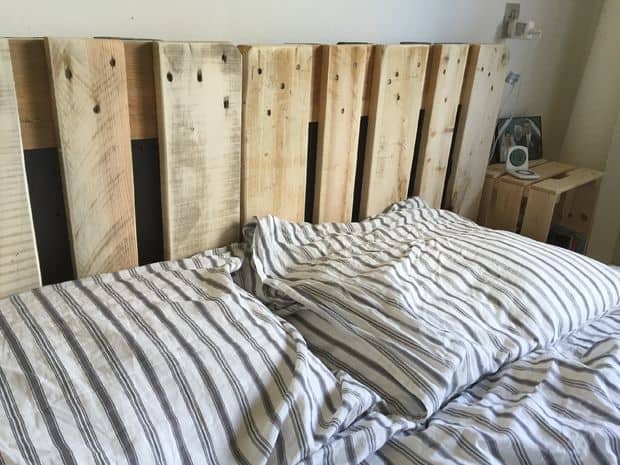 Amos at Instructables made this pallet bed in four hours, which is amazing. With a little help they created a nice and sturdy bed using a few tools. This bed turned out awesome, and I like the headboard. See how they did it here.
12. Toddler Pallet Bed Tutorial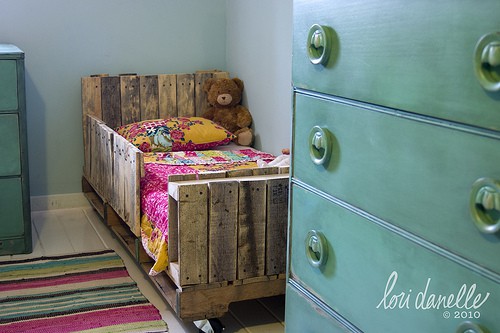 Lori Danelle's Blog shares a perfect style toddler bed using wood pallets. This is a very creative and unique toddler bed to add that rustic feel to a room. Use bright bedding to add a splash of color. Head over and see how she created this masterpiece.
13. Half Moon Pallet Baby Bed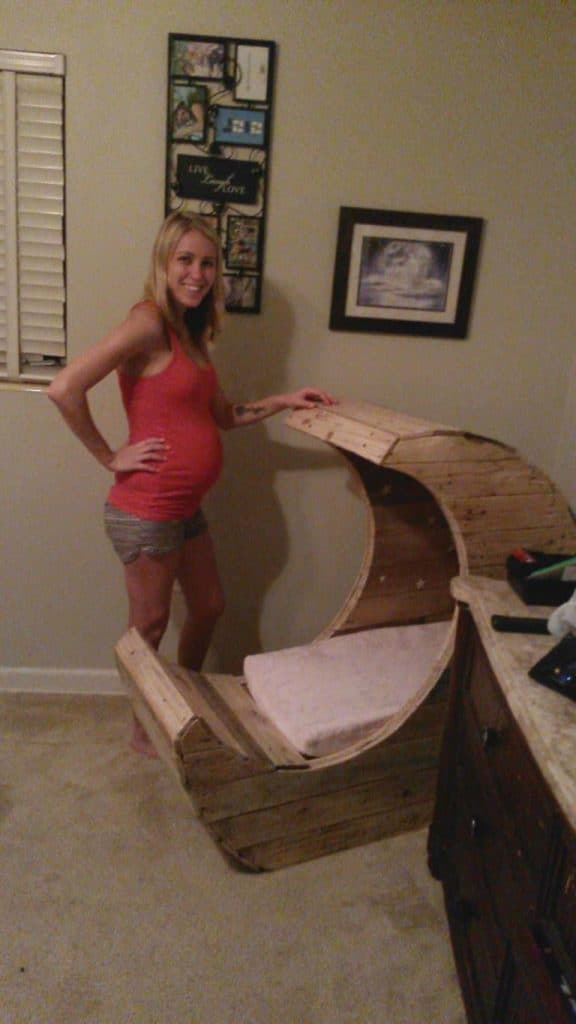 Have a baby on the way, create this beautiful half moon shaped pallet baby bed. 1001 Pallets shares how they wanted something different to complete their baby room. While it takes a little work, the turnout was exactly what they wanted. See how to make one just like it.
 14. Pallet & Pipe Dog Bed Tutorial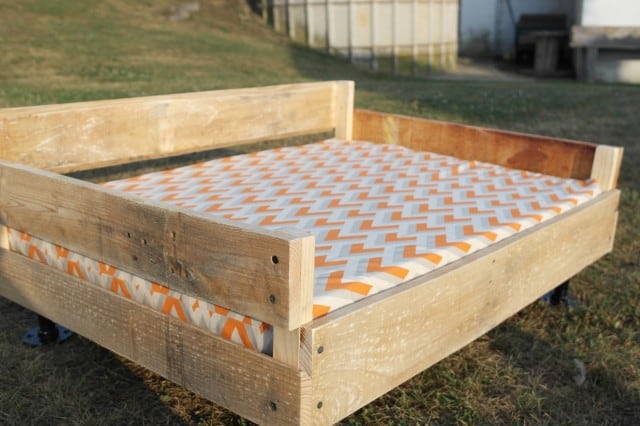 Meagan at The Charming Farmer shares how they made a dog bed out of pallets and pipes. They found the pallets for free so it made this diy pretty affordable. Make a dog bed for your pooch.
15. Airplane Pallet Bed for Kids
Jeremy over at 1001 Pallets really got creative with this Airplane Pallet bed perfect for any kid. He wanted to make a fun kid's bed and I think he definitely succeeded. Learn how he did it here.
16. Multi-Kid Pallet Bed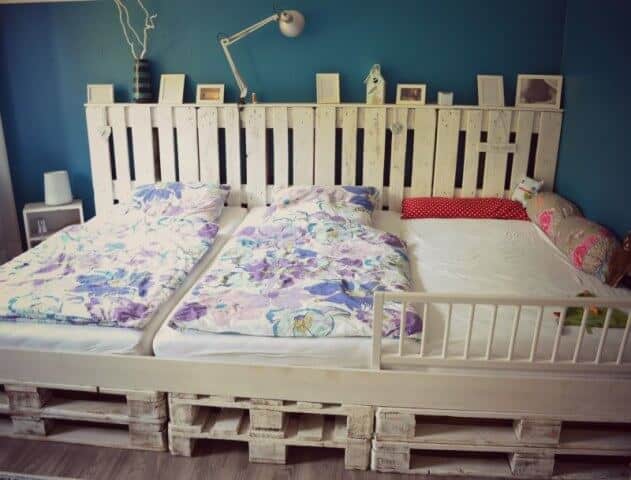 Sehrish over at 99 Pallets created his fun multi-kid pallet bed. You can fit multiple kids on this bed, so they can sleep together to find comfort. Plus it looks really neat in a bedroom. Find out how to create your own!
17. Daybed Pallet Bed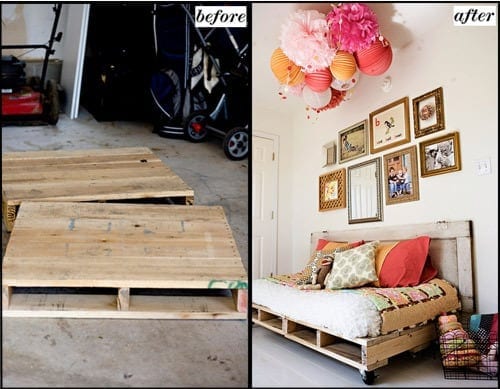 Sophie at Santiago DIY is really creative, she created this daybed style pallet bed, which fit exactly what she wanted without spending an arm and a leg. With a little labor involved and handy work, she had her bed ready in no time. See how it is made.
18. Reclaimed Pallet Bed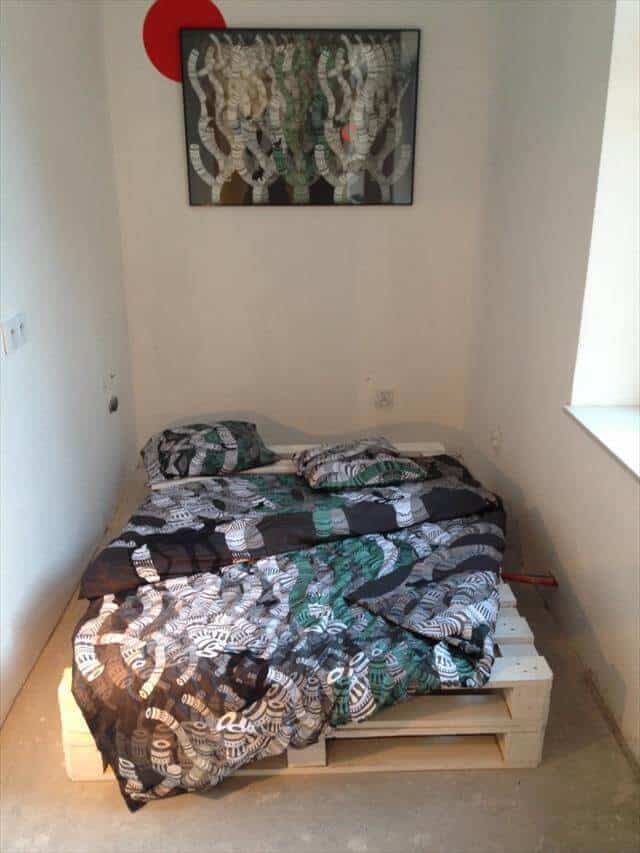 Head over to 99 Pallets and see how they found the perfect shape for their reclaimed pallet bed. They found a beautiful shape that fit their exact needs and size of the room. Head over here to how they created this bed.
19. Outdoor No Fuss Pallet Bed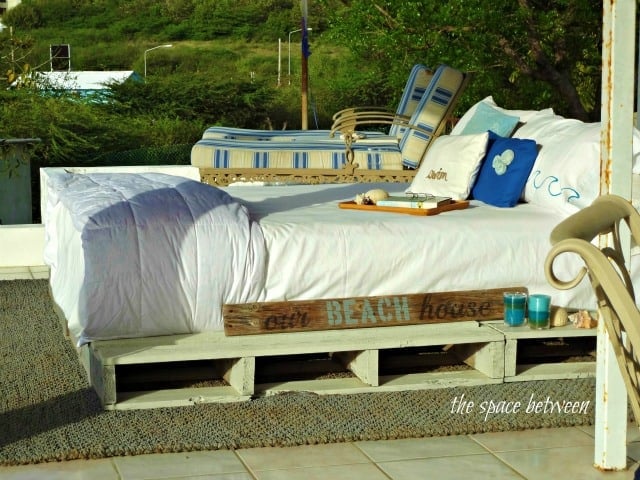 Over at The Space Between they share how absolutely simple it is to create an outdoor pallet bed. They found the pallets and added a little color to add character and cleaned them up, for one simple no fuss pallet bed. See how it is done.
20. Reclaimed Pallet Headboard

Over At Thinking Closet, he takes you through the whole process of how this awesome reclaimed pallet headboard is made. It is a process but your end result will be worth it, and will last years. Head over to see how it is made.
21. Bed Base From Pallets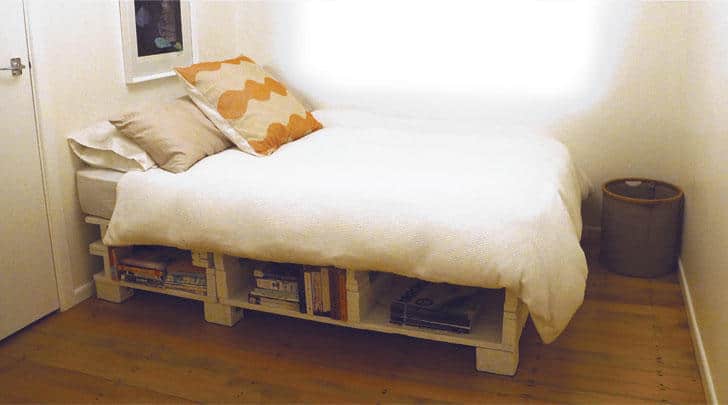 Same from Green Ideas shares how to make this affordable bed base out of pallets. Plus there is room underneath for storage which is an added bonus. Check out the tutorial here.
22. Basic Pallet Bed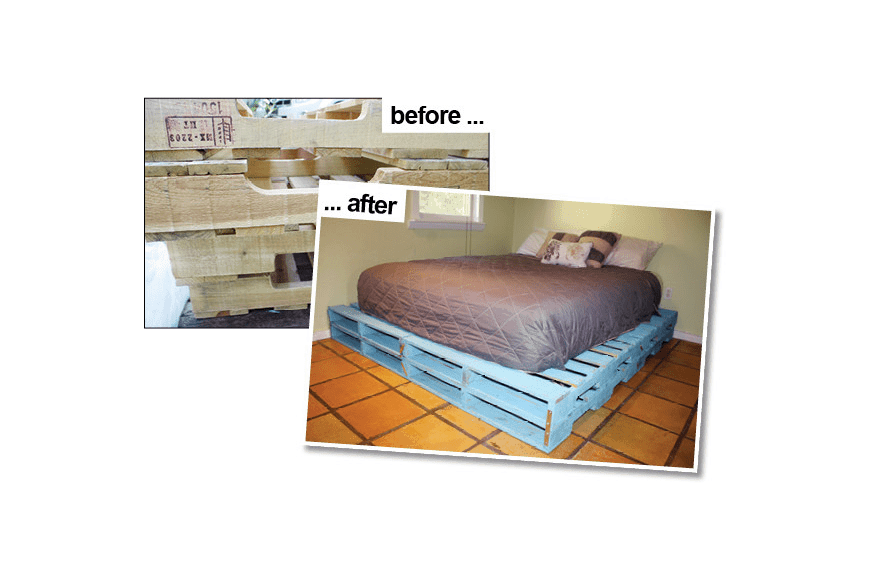 Mallory at Your Observer spent 3 days making this bed, and it turned out great. While it took some time it saved her a lot of money from going out and buying a bed frame. Want to see it made? Go here.
23. Transformed Wood Pallet Headboard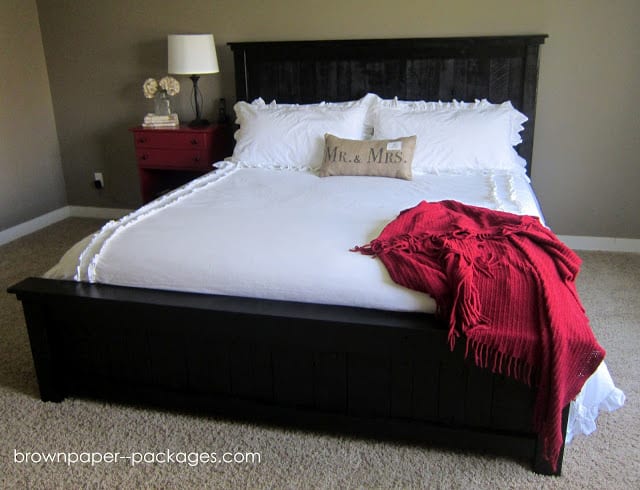 Kierste from Simply Kierste really did a complete turnaround to where you wouldn't even know this was made from a wood pallet. It completely changed the whole look of her room. See how it is made here.
Look at all the handywork that went into these pallet beds! With a little patience and time you can have your own homemade bed frame in no time, and your wallet will thank you later!