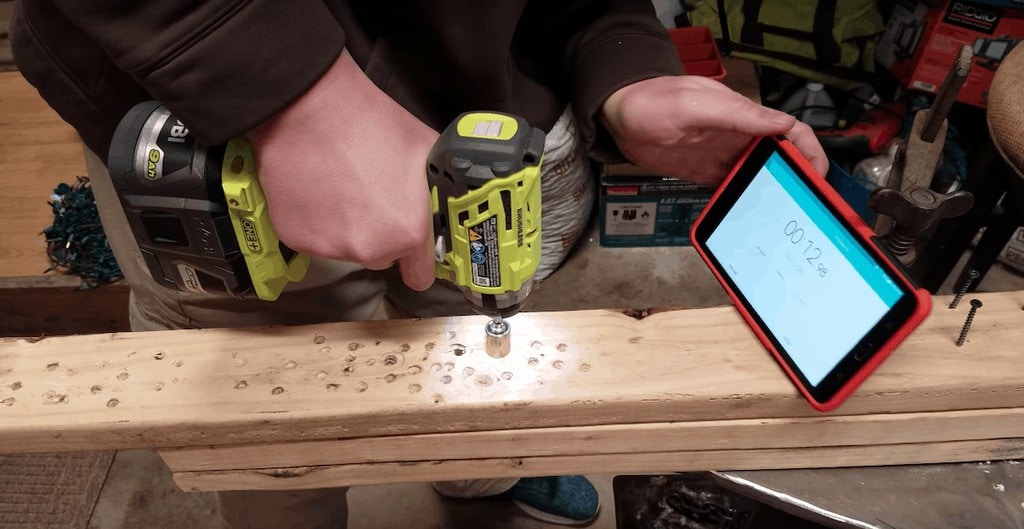 When it comes to the inevitable comparison of Makita vs. Ryobi power tools, there's really only one thing to consider. Is it worth saving the extra money in going with Ryobi, or will it be more beneficial in the long run to spend a few extra bucks and get the quality of Makita?
In terms of performance and quality, Makita hands down makes the better tools. Better construction, more power and efficient, better durability, and longer battery life…. Just better all around.
On the other hand, it's really hard to ignore the fact that you can typically save a lot of money by going with Ryobi. Which, we might add, is a brand that's introduced some surprisingly quality tools over the last several years.
In this article, we'll help you decide which is the better option for your specific DIY intentions. Do you need the quality and professional performance of Makita, or can you "get by" – like thousands of DIY'ers do – with the budget performance of Ryobi.
We'll be comparing reviews, price points, and key features of each brand's newest line of power tools, so read on and find out for yourself.
Company Histories
Not surprisingly, a lot of people nowadays end up basing their purchases or loyalty to a specific company on manufacturing policies. More and more, it seems, folks are getting fed up with seeing that "Made in China" stamp on the box. They associate it with a general lack in overall quality.
While this is true in a lot of cases, Ryobi is actually one of the "budget" brands that is able to hold its own in terms of performance, construction quality, and even durability. (Unfortunately, we can't really say the same anymore for brands like Black and Decker, Kobalt, and, sadly nowadays, Craftsman).
Ryobi Company History
Ryobi is a daughter company owned by the massive international conglomerate Techtronic Industries. Yes, most of their stuff is manufactured in China. You can rest assured, though, that in terms of budget power tool options, they've been the leaders of the pack ever since Craftsman started going downhill over a decade ago. (And in fact, since Ryobi is owned by the same parent company, a lot of their products come out of the same manufacturing plants as Milwaukee tool. We all know that Milwaukee is some of the finest quality out there).
Makita Company History
The Japanese-based Makita, on the other hand, is entirely their 'own company'. They don't fall under the umbrella of any larger corporate ownership. While they definitely take advantage of outsourcing manufacturing to minimize production costs, construction quality has never at all been an issue with them. They've always been at the absolute forefront of reliability and performance.
Ryobi and Makita Parent Companies
Techtronic Industries (TTI)
Techtronic Industries is the parent company of Ryobi. They own a wide variety of brands:
Milwaukee
AEG
Ryobi
Homelite
Empire
Imperial Blades
Stiletto
Kango
Hart
Hoover
Oreck
Vax
Dirt Devil
Makita
Makita is just Makita. It's one of the few remaining power tool brands that is not owned by a larger company. Makita did acquire the Dolmar brand, increasing its already-impressive line of outdoor power tools.
Product Line Depths
Both Ryobi and Makita sell a wide variety of products. Below, you'll find what each brands product line consists of.
Ryobi Product Lines
Ryobi sells power tools, outdoor power equipment, lighting, lifestyle and recreation, generators, cleaning storage, hand tools, batteries, and accessories.
Here are some of the specific types of products you can purchase from Ryobi:
Combo Kits
Drills
Impact Drivers
Ratchets
Circular Saws
Miter Saws
Jig Saws
Table Saws
Sanders
Glue Guns
Routers
Nailers
Paint Supplies
Mowers
Seed Spreaders
Snow Blowers
Heaters
Inflators
Generators
Wet Vacs
Modular Storage
Levels
Taper Measures
& More
Makita Product Lines
Makita sells corded, cordless, and gas powered products. While they may not sell as many products as Ryobi that doesn't mean they won't have what you need. For the average consumer, yhou can find everyhting that you need.
Here are some of the specific types of products you can purchase from Makita:
Blowers
Chainsaws
Hedge Trimmers
Lawn Mowers
Pole Saws
Circular Saws
Miter Saws
Metal Cutting Saws
Hammer Drills
Impact Wrenches
Nailers
Vaccums
Area Work Lights
Random Orbit Sanders
Polishers
& More
Brand Reputation & Cost of Tools
Here we'll go over the reputations and cost of the tools of each brand.
Ryobi Reputation and Tool Affordability
Ryobi tools are considered to be average to above average. The general opinion of its products os that they're not high-end in comparison to other brands, but the quality is still quite good.
It is commonly agreed that Ryobi's tools are more than suitable for small building tasks and light repair work and are a great option for amateur carpenters and craftsmen. Now, some people do not like Ryobi for heavy-duty and professional tasks. However, this is fully going to depend on the individual, industry, and tools in question.
What can for sure be said about Ryobi tools is that people are quite happy with the prices at that Ryobi sells their products. Don't get me wrong, they're definitely not the cheapest option on the planet, but they're far from being the most expensive. This alone is a big reason why Ryobi tools are such a popular choice among DIY enthusiasts, woodworking hobbyists, craftsmen, etc. In other words, when purchasing Ryobi products, you get tools that are better than average for a reasonable price.
Makita Reputation and Tool Affordability
This company has received some high praise due to the performance and high quality of the tools they make. Makita tools are truly durable, long-lasting, and tough.
Unlike a lot of other brands, Makita uses high-quality raw materials for its products and holds itself to high manufacturing standards as well. You can literally drop these tools on the ground over and over again, and they'd still work like the day you first bought them.
Consumers have found that Makita tools last a long time; the electrical components, motors, and other components can withstand high amounts of heat, friction, and general wear. It's also noted how Makita tools are usually comfortable to use, functional, and have a variety of features too.
Overall, Makita tools are viewed as some of the best tools you can buy. Makita tools are great for DIY jobs, crafts, home use, and more. However, Makita products are marketed towards tradesmen, professionals, and anyone else who needs reliable, high-quality tools for daily, heavy-duty use.
The quality you get with these tools does come at a cost. Makita is one of the pricier brands. However, you really do get what you pay for.
Makita vs. Ryobi Tool Review
Ok, so this is why we're here – let's take a look at some actual tools.
When it comes to power tools, multi-tool combo kits generally represent the best value. This is where budget options like Ryobi can really really save you some money.
If you're in the market for single tools, though, i.e., only a drill or only a circular saw, there's often not enough of a price discrepancy to justify the savings you'll get on a Ryobi compared to the performance and reliability you'll get with Makita.
Take, for instance, cordless drill combo sets. You can pick up Makita's brand new 18V sub-compact brushless drill/impact driver combo – two of the best-rated tools on the market behind only Milwaukee's Fuel- for only slightly more than Ryobi's new 18V brushless hammer drill.
Have a look at the reviews below to get a better idea of what we're talking about.
Makita vs. Ryobi: Cordless Drill/Impact Driver Combos, Brushless vs. Brushed
Makita 18V Sub-Compact Brushless Cordless Drill/Impact Driver Combo
Makita's current sub-compact 18V brushless line of cordless tools is one of the best overall values we've seen hit the power tool market in a long, long time.
Performance-wise, the tools are maybe second only to Milwaukee's cordless Fuel lineup. However, price-wise there's no comparison whatsoever – the Milwaukee combos are over 30% more expensive.
Since they were introduced several years ago, the Makita sub-compact brushless lineup has pretty much taken over professional job sites all around the country – you'll see them nowadays more than DeWalt, Bosch, Hitachi, and even more than Milwaukee, given the big price gap between the two.
This two-tool combo easily represents one of the best values available today in the power tool market.
Makita 18V LXT LI-Ion Cordless Drill/Impact Driver Combo
Essentially the same thing as the above combo, but these are the original 'brushed' motor instead of the updated, more efficient brushless. (Check out our article here on the functional differences between brushed and brushless electric motors).
For over a decade now, the 18V LXT lineup has been one of the most efficient battery platforms on the market, and combined with Makita's excellent engineering, construction, and performance, you simply can't go wrong with any of their power tools, especially at a price point that's only marginally more than the Ryobi lineup, which we'll look at below.
Ryobi 18V ONE+ Brushless Hammer Drill Kit
We haven't had a chance yet to try out Ryobi's new brushless hammer drill, but looking simply at the price (it's barely cheaper than the Makita) and overall performance feedback and customer reviews, we can't imagine it even coming close to the value of Makita.
Also, Ryobi doesn't even make a brushless impact driver, and for the price of their hammer drill alone, for a few bucks more you could get a Makita drill/impact combo with the legendary LXT Li-Ion battery platform. For us, that one's a no-brainer.
Ryobi 18V ONE+ Cordless Drill/Impact Driver Combo
This is Ryobi's standard ("brushed") ½" cordless drill/impact driver combo. A good value, and decent enough tools performance-wise, but for just a little bit more you can get the Makita drill/impact combo with the LXT battery, so like we said earlier, it's not really worth it in our opinion to save the extra money when you could be getting a much higher quality tool.
The Verdict: For single tools or cordless drill/impact driver combos, Makita is hands down going to be the better value. Yes, Ryobi is slightly cheaper, but not nearly enough to merit walking out on the reliability, reputation, and performance of Makita.
And as far as warranty, both brands have essentially the exact same 3-year limitedguarantee on all power tools – another reason to go with Makita over Ryobi, if you're only in the market for a single tool or a drill combo.
As you'll see here in just a second though, the real value/savings of Ryobi comes into play when you start getting into the multi tool combo sets.
Makita vs. Ryobi Reviews: Multi Tool Combo Kits
Like we've said a few times now, getting into the four, five, and six-tool combo sets is where you can really save some money by going with Ryobi.
Now keep in mind, these tools are not on the same level performance-wise as one another; Makita is far and away the better tool on all levels. Construction quality, materials, durability/longevity, battery life, power, efficiency – there's really no comparison.
That's not to say that Ryobi is garbage, though. In fact, far from it – we know plenty of folks that have gotten by for years and years with Ryobi combo kits, and have had zero problems with them whatsoever.
The only time you'll really notice the difference in quality between Makita and Ryobi is if you're either using your tools for really long periods of time (6 hrs or more a day), or if you're really putting them through the wringer and working with heavy duty material.
For example, if you're trying to drill a ⅜" hole in a piece of ½" steel with Ryobi's 18V cordless, you're going to be left frustrated. Likewise, if you're trying to use a Ryobi cordless circular saw to rip long pieces of 2×4's or plywood, you're going to have a tough time. This is where you'll want something better quality like Makita. (Although for those kind of jobs, you'd be much better off using corded tools instead of cordless anyway).
So bottom line, if you're just wanting to get a set of tools to have around the house for basic, light work, you'll be fine with Ryobi. If you're gonna be putting in long hours or tackling more heavy duty stuff, though, by all means you ought to spend the extra money and go with Makita.
Makita 18V LXT Li-Ion 6-Piece Cordless Combo Kit
Makita's rock solid, legendary 18V LXT cordless platform in a 6-tool combo set. What's to say about this? There's absolutely no questioning the quality and performance of the tools, it's honestly just a matter of whether or not you feel you'll get your money's worth out of the set.
If you're looking to buy a cordless set that you plan on using for like, the next ten years (or more), and have a decent garage workspace and know that you'll get your use out of them, by all means if you can afford it, go with this Makita lineup over Ryobi. If you're any kind of serious DIY-er, you'll quickly come to appreciate the comfort, power, and efficiency of the 18V LXT platform.
The 6-piece set comes with a 6 ½" circular saw, a hammer drill, impact driver, 4 ½" angle grinder/cut-off wheel (a really great multi-use tool that you'll get tons of use out of), reciprocating saw, LED portable work light, and two of the 3.0-amp 18V LXT batteries (with charger).
Makita 18V LXT Li-Ion Brushless 6-Piece Combo Set w/ 5.0-amp Batteries
To put it simply, this is one hell of a combo power tool set.
All the same tools as the 18V LXT kit aboce, but this one has Makita's new brushless motors, which, to put it simply, absolutely rock.
And by the way, brushless motors are not a marketing gimmick – they really do offer a huge increase in performance, motor efficiency, and battery life (up to 50% more in fact, according to Makita). (Check out our article here on brushless vs. brushed motors).
The only thing that sucks, of course, is that they cost a decent deal more than their older 'brushed' cousins – if you want to get in on this absolutely pro-quality set, be ready to drop almost a cool grand.
Oh and one more thing, this kit comes with 5.0-amp batteries instead of 3.0-amp – you'll literally be using the tools for days on end before needing a re-charge.
Our TOP Value Pick: Ryobi 18V ONE+ 4-tool Cordless Combo Set
If you're not a hardcore DIY'er and you don't really plan on doing a ton of work and/or using and abusing the heck out of your tools, you cannot beat the value of this 4-piece cordless set.
It comes with your standard ½" drill, a 6 ½" circular saw, a reciprocating saw, portable LED work light, and two 18V batteries with the charger – everything you'll ever need for basic, light work in the home and garage, at a price that still drops our jaws to this day.
And don't get us wrong – these are not junk tools by any stretch of the imagination. My father has been using the Ryobi 18V ONE+ platform for probably going on a decade, and has never had an issue with the tools. And that's saying quite a lot, because he definitely puts his time in out in the garage.
Ryobi 18V ONE+ 6-piece Cordless Combo
All the same tools as the 4-piece combo, but with an ultra-handy multi tool and ¼" impact driver added on – two very useful tools that you'll definitely get your use out of.
Comes with the same two 18V battery platform and charger.
The Verdict: We'll go ahead and reiterate what we've already said a couple times now: Unless you plan on getting TONS of use out of your cordless tools, or if you really plan on putting them to the test with a massive renovation project and/or using them for six or more hours a day, it's very hard to ignore the incredible price of the Ryobi combos. And not to mention, they're actually decent quality tools that offer the same warranty as Makita.
Warranty Comparison
Here is a quick overview of both Ryobi's and Makita's product warranty.
Ryobi Warranty
Ryobi offers pretty good warranties. All Ryobi power tools are covered by a two- or three-year manufacturer's warranty. Additionally, the majority of Ryobi's hand tools have limited lifetime warranties, and most of the outdoor equipment features a five-year warranty. Considering that the price of Ryobi products which are reasonable, these warranties are actually quite thorough.
Makita Warranty
Makita offers really good warranties on its products. They have a 30-day replacement guarantee on all of their products. Additionally, all tools have at least a one-year general product warranty for defects. Also, all gas=powered tools have a two-year warranty, and all lithium-ion tools come with a three-year limited warranty.
The Bottom Line – Makita vs. Ryobi
Okie-dokie then, so what's the final say?
If you're only looking to pick up a cordless drill, or a drill/impact driver combo, for us there's not enough of a price discrepancy between Ryobi and Makita to skip out on the performance that you'll get with Makita – spend the couple extra dollars and get yourself the nicer drill. (Preferably, the new sub-compact brushless combo).
On the other hand, we can't emphasize enough the insane value that you can get with a Ryobi four or six-tool combo. If you have realistic expectations of what the tools are built for (light, standard DIY work), you can save yourself a chunk of change by going with them over Makita.
Oh and one final thing that we didn't mention earlier, you do have a couple more options in terms of combo tool kits if you're not looking to get one of the full-blown four or six-piece sets.
For example, Ryobi has its cordless drill/circular saw combo with a battery and charger – the two most used/most common power tools on earth – that you can pick up for next to nothing.
Also, Makita's best-value (cheapest) combo set is available as a 3-piece kit, where you can get a cordless drill, impact driver, and reciprocating saw with the rock solid 18V LXT battery platform.
Frequently Asked Questions:
Are Ryobi and Makita the Same Company?
No Ryobi and Makita are not the same company. Ryobi is owned by Techtronic industries, which is the parent company. They own a wide variety of brands. Makita is a stand alone copmpany.
Is Ryobi Good Quality?
Yes, Ryobi is considered one of the best brands on the market.
Is Makita Good Quality
Yes, just like Ryobi, Makita is considered one of the best brands on the market.
Do Ryobi Batteries Fit Makita Tools?
Although Ryobi and Makita are in the same market space, they each have their own accessories, including batteries, to fit their accessories. This is how companies ensure customer loyalty.