As the market for chainsaws expands with more and more homeowners finding a need for one, you might find that searching for the right model can be an overwhelming task. Knowing how to determine the right model for your needs and budget can be difficult when seemingly every power tool brand offers some type of chainsaw.
With that in mind, utilizing the know-how and selection that a store like Home Depot has to offer can be an invaluable asset. Use this guide as a reference to help you find the best Home Depot chainsaws.
---
Home Depot Chainsaws: RYOBI 16 in. 37cc 2-Cycle Gas Chainsaw
Known for making high quality power tools for the residential market, Ryobi brings that same quality to this 16in. chainsaw. Designed for durability, this chainsaw includes an automatic oiler to keep it in top condition and ease of maintenance.
The three-point vibration isolation system helps to reduce fatigue when handling this chainsaw, and it comes with a heavy-duty carrying case for ease of transport and storage. You can find this chainsaw at a great price on Amazon.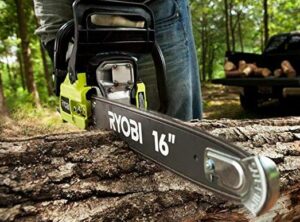 Things We Like:
Saf-T-Tip helps to reduce risk of rotational kickback
Inertia-activated chain brake stops chain automatically
Side access tensioner for easy chain adjustments
Things We Don't Like:
Gas-powered engine means more noise and exhaust than electric models
Lacks some features of higher end models
---
Home Depot Chainsaws: ECHO 18 in. 40.2 cc Gas 2-Stroke Cycle Chainsaw
Another quality brand for outdoor power tools, Echo is a leader in residential chainsaws. This 18 in. model is big enough to tackle large projects, such as felling trees and cutting them down to size for firewood. Equipped with a 40.2cc gas-powered motor, this chainsaw packs a punch.
With an easy, reduced-effort start-up system, this chainsaw is quick to start and warmup. Though a bit larger than the other models on this list, the ergonomic handle helps to make sure this chainsaw is easy to handle for both the novice and the experienced operator. You can find this chainsaw for a great price on Amazon.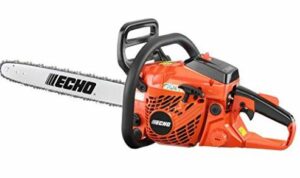 Things We Like:
Larger size means capability for larger projects
Powerful motor packs punch for those larger projects
Things We Don't Like
Doesn't feature a Saf-T-Tip to prevent rotational kickback
Larger size could be difficult for beginners to handle
---
Home Depot Chainsaws: DEWALT 60-Volt MAX Lithium-Ion Cordless FLEXVOLT Brushless 16 in. Chainsaw
DeWalt is practically a household name for those with home improvement hobbies, and it's that kind of guarantee for quality that they bring to this battery-powered chainsaw. As the only battery-powered model on the list, this chainsaw offers complete mobility and no need to mixing fuel or worrying about exhaust.
The Oregon style bar and chain help to reduce the risk of kickback, and the lightweight, ergonomic design makes this chainsaw a breeze to handle. This chainsaw can be found at an affordable price on Amazon.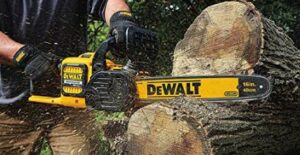 Things We Like:
Tool-free chain tensioning makes for quick, easy adjustments on the fly
Auto-oiling feature allows for constant lubrication to extend the life of the bar and chain
Includes guide bar scabbard for storage
Things We Don't Like:
Battery-powered means less power and capabilities than gas or electric powered
Battery and charger sold separately
---
Home Depot Chainsaws: MAKITA 16 in. 14.5 Amp Corded Electric Rear Handle Chainsaw
Another well-known brand in the realm of affordable power tools for the homeowner's market, Makita backs this chainsaw with a reputation for high quality at an affordable price. At 14.5 amps, this chainsaw provides both a blade and a motor big enough to take on larger projects.
A corded chainsaw, you're limited to being within range of an outlet or extension cord, but you can forget the hassle of refueling and inhaling exhaust. You can find this saw at an affordable price on Amazon.
Things We Like:
Built in current limiter helps to prevent motor burnout
Soft-grip handle makes saw easier to handle for longer stretches of time
Tool-less blade and chain adjustment minimizes the hassle of operating this chainsaw
Things We Don't Like
Cord-powered means you're limited to being in range of an outlet
Electric motor offers less power than gas motor of similar size
---
Why Visit Home Depot
As a leader in the home improvement retail space, Home Depot has a lot to offer as a resource for the hobbyist and professional alike.
This goes double for someone in the market for a chainsaw. In addition to an incredible variety and selection, Home Depot also offer their customers a great chainsaw rental program. Through this program, you can try out various models and types to get a feel for which kind is best for your needs.
Additionally, Home Depot has a full suite of products for chainsaw maintenance, including chainsaw chains, motor oil, and blade lubricant. That, combined with the knowledgeable staff on hand to answer all your questions, makes Home Depot a great resource for the chainsaw buyer.
Writer's Choice:
Home Depot Chainsaws: MAKITA 16 in. 14.5 Amp Corded Electric Rear Handle Chainsaw
It's hard to argue with this chainsaw in terms of being a great option for first-time buyer. Assuming you aren't in need of a chainsaw to go deep into the backwoods and fell towering trees, this chainsaw has everything you need.
The design is lightweight and intuitive, making handling super easy and reducing the potential for rotational kickback. It's also a great option in terms of being easy to maintain. A built-in current limiter can be a lifesaver for your chainsaw if you get into a situation where you're overworking it, and the automatic oiler feature is incredibly helpful.
In terms of the negatives, they're largely limited to those that are inherent to all electric-powered chainsaws. You'll be limited to the range of your extension cords and you'll lack the same power that a gas-powered model features, but if you're looking for a versatile chainsaw to use around your property neither of these drawbacks are deal breakers.
Lastly, this chainsaw comes in at a great price point for the features and quality you're getting. You can find this chainsaw on Amazon or at your local Home Depot. Are you specifically looking for a Black + Decker chainsaw? Check out Review: Black + Decker LCS1240 12" Lithium Ion Chainsaw.