The egress window is a specific type of window that is built for an important safety purpose ahead of style or aesthetic. An egress window is built in particular areas of a building so that they can be used as an escape in case of fire or another kind of emergency. Egress windows are critical for fire safety and are included in the residential code in almost every community. In fact, even the international residential code calls for the abundant use of egress windows in all sorts of structures.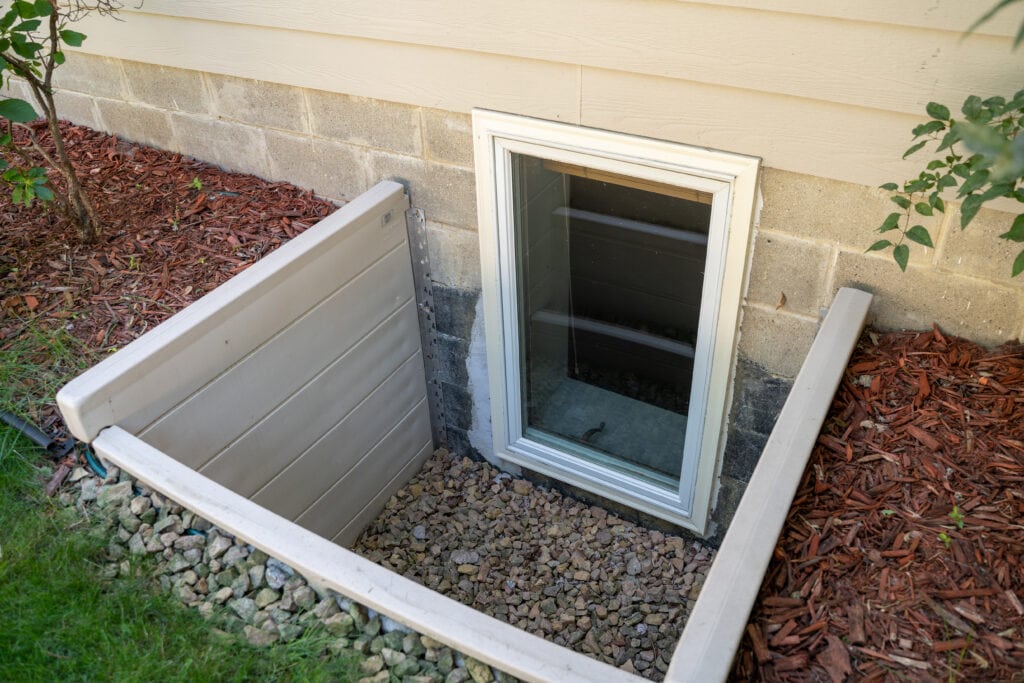 Egress as a standalone term means "the action of going out." Whether you're building new construction or simply remodeling a part of your home, you have to know the egress window requirements in your area to ensure that your windows– whether it's a window for basement use or bedroom use– are up to code.
Different Types of Egress Windows
Egress for windows is available in all different window styles. If your window must allow for access and egress, consider the different window styles that may suit your space best. Some styles of egress windows are better for use in the home, while others are better suited for commercial or industrial spaces. Regardless of your structure, the most important part of selecting your egress windows is ensuring that they provide easy and safe access during an emergency situation.
Sliding Windows
Sliding egress windows open horizontally, much like sliding glass doors. In most cases, this type of egress window has requirements of at least 4×4 sq ft. Sliding egress windows typically also have requirements for a wider window opening than other types, but they are one of the more attractive styles for home use.
Awning Windows
Awning windows open out and look like an awning over a patio, hence the name. They're often narrow windows, and older ones typically don't meet requirements for egress windows. However, they let in lots of light and make a fantastic egress window for the home.
Single Hung Windows
Among the most traditional choices for home use is the single hung window. These windows have a fixed pane on top with a bottom panel that slides up and down. The must be somewhat large to meet requirements for egress windows, but it's easy to build a window well large enough in most structures to accommodate them.
Double Hung Windows
Double-hung windows are similar to single-hung, but they have two panes on the top and bottom rather than one. They're a more aesthetically interesting choice for larger spaces, and it can be easier to meet egress window requirements with these.
Casement Windows
A casement window opens and closes on a side hinge like a door. This gives them the advantage of being smaller than other egress window types, but still meeting minimum net clear opening regulations whether it's a window in basement settings or bedroom settings.
Regulations for Egress Windows
In order for your structure to be compliant, each egress window must meet a particular set of specifications. Let's cover some of the most important egress window regulations you must know to keep your project legal.
Egress Windows in the Basement
Basement window egress is more complicated than most other areas since the basement is an underground location. Despite this, the bottom of the window opening can't be more than 44″ from the floor. Basement egress windows must be at least 24″x20″ and at least 5.7 square feet. The glass must have an area of at least 8% of the floor to allow for sufficient natural light and an opening of at least 4% of the floor for sufficient ventilation. You can, however, use multiple windows to make up the necessary glass area. The sill height is unspecified.
Egress Window Wells
Egress window wells are required for all windows below ground level. They must be dug at least 36″ back from where the glass sits and must not obstruct the opening of the window. Finally, an egress window well must have an area of at least 9 sq ft.
Egress Window Installation
If you're performing renovations on your home, the legal way is to obtain permits for any new construction and to update any affected fixtures to meet modern building code requirements. A job like a window installation is challenging enough by itself. And while the hardcore DIYer might have no trouble installing a fresh window of the same size, it's an entirely different ballgame trying to alter the structure to accommodate a window of a new size.
Altering the window hole to allow for egress windows takes carpentry experience that even many DIYers don't have. Instead, your best bet is to find a local certified contractor with the experience it takes to enlarge your windows. Like any contractor for home renovations, you'll want to make sure that you research the most qualified professionals in your area to determine who will do the best work.