When you think of a coffee table, you may have something traditional in mind, something that you had in your childhood home, and has matching end tables on either end of the family-room sofa.
You won't find anything like that here.
These DIY coffee table ideas are sure to blow your mind and give you something way more interesting and unique in your own home. Let's check them out.
#1 DIY Crate Coffee Table
Tara has "anything and everything". She wanted to redo her living room without spending a fortune, so she got some cheap crates from a craft store and built this baby!
Check out how she did it. See the tutorial.​
#2 Whiskey Barrel Coffee Table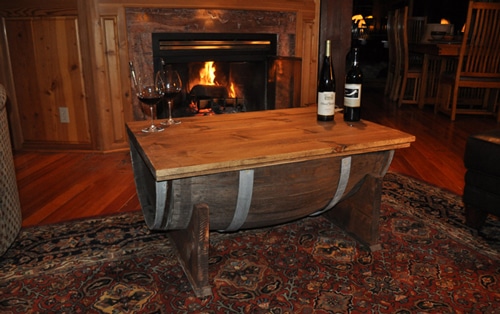 Pete Sveen and his buddy came up with this genius idea. Not only is this a table, but it opens and serves as storage as well. Check out how to make it here.
#3 Old Window Coffee Table

Marty Walden took an old window and made the most charming table. This would look super in a more formal area of your home. Check out how Marty did this here.
#4 Old Door Coffee Table
This table was a dual effort for Rita and Cane. Once Cane agreed that they'd get a coffee table, Rita found this idea and she shows you how to build it with these instructions.
#5 Cable Spool Coffee Table
Pink Stitches had this great idea to up-cycle something to make a table. An old cable spool. Check out her instructions here.
#6 Coffee Table Suitcaase
In eight easy steps, you can take an old suitcase and turn it into this masterpiece of a table for your home. Check out Ruche's instructions here.
#7 Barn Door Coffee Table with Storage
Check out Oh Glory Vintage's idea of taking an 100-year-old barn door and up-cycling it to be this gorgeous coffee table. It even has storage. Check out the tutorial here.
#8 DIY Bottlecap Mosaic Coffee Table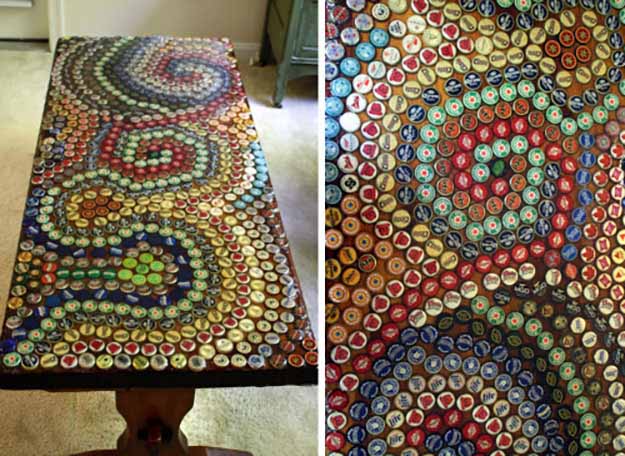 True Blue Me and You gave us this great idea of the most unique table with the coolest design. See this idea here.
#9 DIY Upholstered Coffee Table
Kevin and Meredith are the "not so new newlyweds", and recently they took their coffee table and turned it into this classy ottoman. See how they did it.
#10 Tree Branch Table
Man Made DIY shows us how to make this rustic tree branch table. See the instructions here.
#11 Wire Spool Coffee Table
Lara had this great idea for using a wire spool and casters from a local junk yard to create this masterpiece. See how she did it by checking out her instructions.
#12 Sawhorse Coffee Table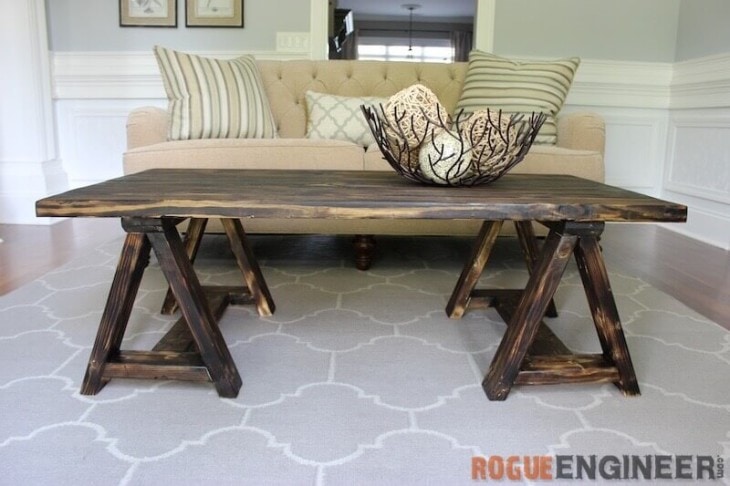 Jamison says this table is a winner for two reasons: cheap and easy. You can make it for under $25 and it's very simple to make. Look at the tutorial here.
#13 Factory Cart Coffee Table
Ashley Turner loves this idea of making a factory cart into a coffee table. Check out the tutorial here.
#14 Storage Coffee Table
This table is great if you have kids or like to store things like blankets. It slides the clutter out of sight quickly and easily, so that people just see that you have a neat coffee table. Check out what Jamison says in his instructions.
#15 Multi-Functional Coffee/Play Table
In eight easy steps and with a bit of chalk paint, you can make this great coffee/play table. The kids can decorate it! Check out how to make this table by reading the tutorial.
#16 Rustic X Coffee Table
Shelly from "100 Things 2 Do" shares her plans of this table she custom-made for her home. She gives step-by-step instructions here.
Ok, so now you have plenty of ideas to choose from, and have plenty of work to do.
Which table best fits your personality and style? Let's do some work!
If you would rather pick up a high quality but reasonably priced coffee table check out Artisan Born's amazing line of coffee tables available on their Etsy shop: Wood Slab Walnut Coffee Table, Live Edge Black Walnut Coffee Table, and Live Edge Walnut Coffee Table.