When you're looking at a compound miter saw but you may not know what kind is the best for you. On the one hand, is the double bevel saw. On the other is the single bevel. If you're just getting started you may not know much about the differences. Keep reading for more on the double bevel miter saw vs. single bevel.
That's why you're here, right? Well, you're in luck, because we can help you figure out the ideal miter saw for your needs. Whether you're a hobbyist, a DIYer or someone who's getting into the professional aspect of it, you want to make sure you have the right tools and we'll get you there. If you're just looking at the basics a double bevel miter saw will allow you to cut angles on two different sides without having to flip the piece over.
On the other hand, with a single bevel saw you're going to have to flip it by hand to get more than one angle. The plus side is that you can do the job with either saw, you're just going to have to put a little more work into it if you decide to get a single bevel saw. Of course, that extra work is going to come with its own benefits as well.
Uses for Each: Double Bevel Miter Saw vs. Single Bevel
Okay, so we've given you the basic feature that sets these two saws apart, but you're going to want to take a closer look at them before you make your final decision. Don't just jump right into one or the other without considering your needs and your overall purpose for getting it in the first place. You don't want to spend money where you don't have to, after all.
Advantages of Each
One of the big things that you always think about when buying something new is how much it's going to cost you. You want to make sure that, while the cost may be high, you're getting something that's worth that added cost. When it comes to pricing you'll pay more for the convenience of a double bevel saw because it can accomplish the task more easily. Even though they do the same work the double bevel saw will do it more easily and that means a higher cost.
When it comes to the actual work being done it depends on how much effort you want to put into it personally. If you're willing to put in a little more work then, as we mentioned, the single bevel saw is going to be able to accomplish the task. On the other hand, if you don't want to put in the extra effort you may want to opt for the double bevel saw, which doesn't require you personally to do quite as much.
You're also going to want to take a look at quality and speed when it comes to your work and in general, many believe the double bevel saw doesn't give you quite as much quality. The single bevel can provide you with a little better accuracy to each of the cuts that you make. On the other hand, the double bevel saw is going to give you greater speed for everything that you do. It's up to you what kind of tradeoff you want to make but keep in mind that neither option is going to give you poor quality or speed, just a little bit less of it.
Double Bevel vs. Single Bevel: Our Top Picks
DEWALT DWS780 12-Inch Double Bevel Sliding Compound Miter Saw
When it comes to a double bevel miter saw we really like the Dewalt DWS780. This 12″ system has a handle design that makes it portable and makes it easy to use. It also has an integrated XPS cross cut positioning system that makes sure you have an adjustment-free cut line indication. The 15 amp motor provides 3,800 RPM and there's a back fence that can cut up to a 2 x 16 at 90 degrees.
The stainless steel miter detent plate has 10 different positive stops to give you more versatility and to make sure that it's completely accurate. There's also a dust collection system that can collect up to 75% of the dust that it puts out so you know that your workstation is going to be reasonably clean when you're done working (or while you are working).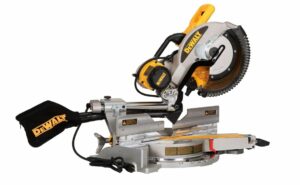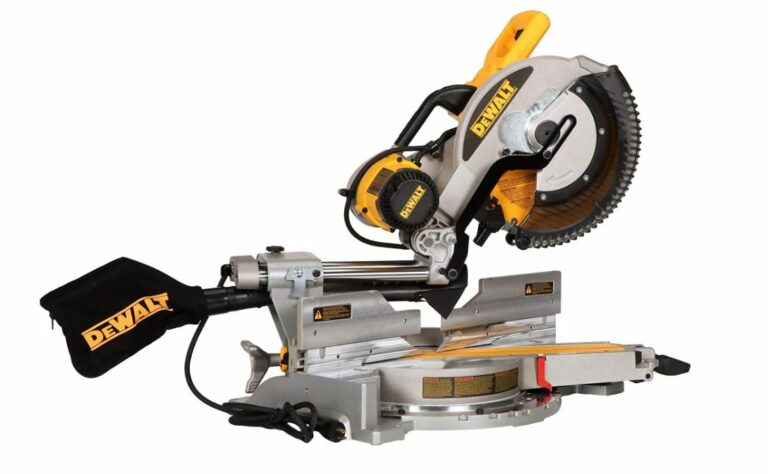 DEWALT DW715 15-Amp 12-Inch Single-Bevel Compound Miter Saw
Our favorite in the single bevel category is actually a Dewalt as well, the Dewalt DW715, which also has a 15 amp motor and a 12" blade. It has a miter detent override that lets you set your own preference for miter stops without having to worry about the blade slipping while you cut, plus it has 11 positive stops of its own.
The sliding fences are able to accommodate up to 5 ¼" nested molding and up to 6 ½" base molding. There's even crosscut capability up to 2 x 8 lumber. There are plenty of stops for angles and there's a cam lock miter handle so you don't need to twist the handle when you need to lock in a new angle for your next project. No matter what, it's ready to go.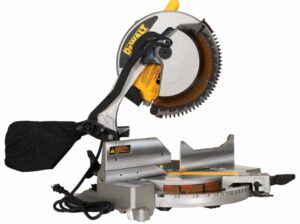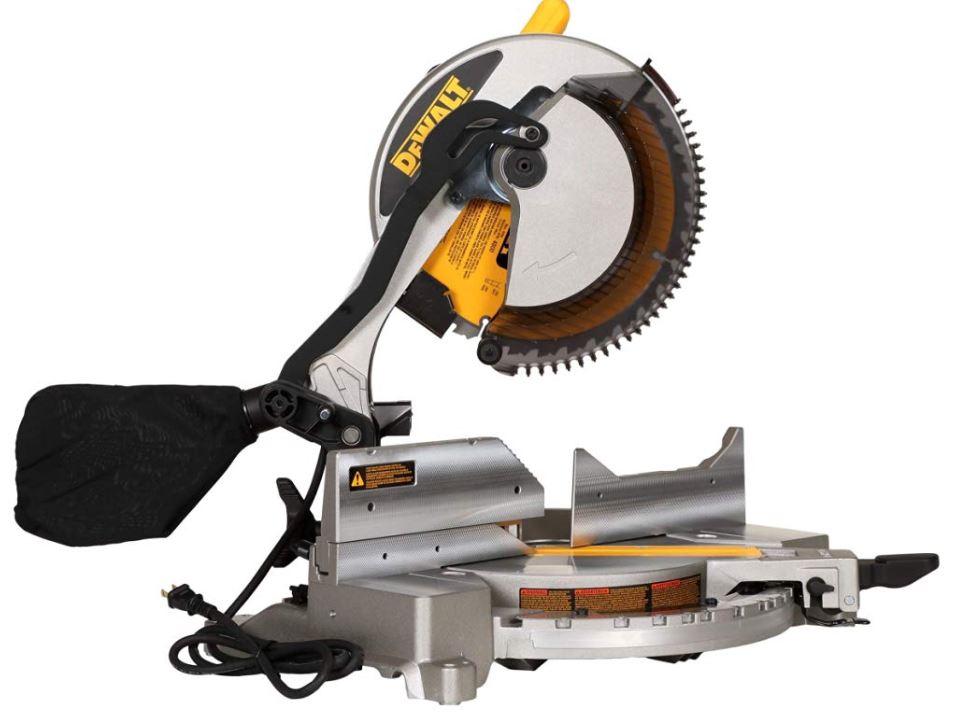 Bottom Line
When it all comes down to the end the truth is that it's up to you what type of saw you're looking for. A double bevel miter saw and a single bevel miter saw are going to give you all the same work. They can accomplish all of the same tasks. It's all about whether you want to put in a little bit more effort to get a more accurate cut or whether you'd rather pay a bit more in order to get something that's simpler to operate.
Not everyone likes the idea of slowing themselves down to make each of their cuts. On the other hand, not everyone likes the idea of paying more money for something that only makes the job a little bit easier. It's going to be up to you what you find most important. The double bevel increases your convenience, but the single bevel keeps your wallet happier. So think it through for yourself.
Are you looking for more guides on miter saws? Check out, Miter Saw vs. Table Saw – Which One Makes The Cuts You Need?, Chop Saw vs. Miter Saw Which One Should You Use?, Best Ridgid Miter Saw: 2019 Buyer's Guide, Home Depot Miter Saws Buying Guide: Our Top Picks, and Best Makita Miter Saw: Our Top Picks.