There's something satisfying about walking into a room and knowing that the feature piece has been created by your own two hands. Your bedroom is no exception. Having an eye-catching headboard that you created yourself is just the thing to allow a person a good night's sleep!
1. Wood Round Headboard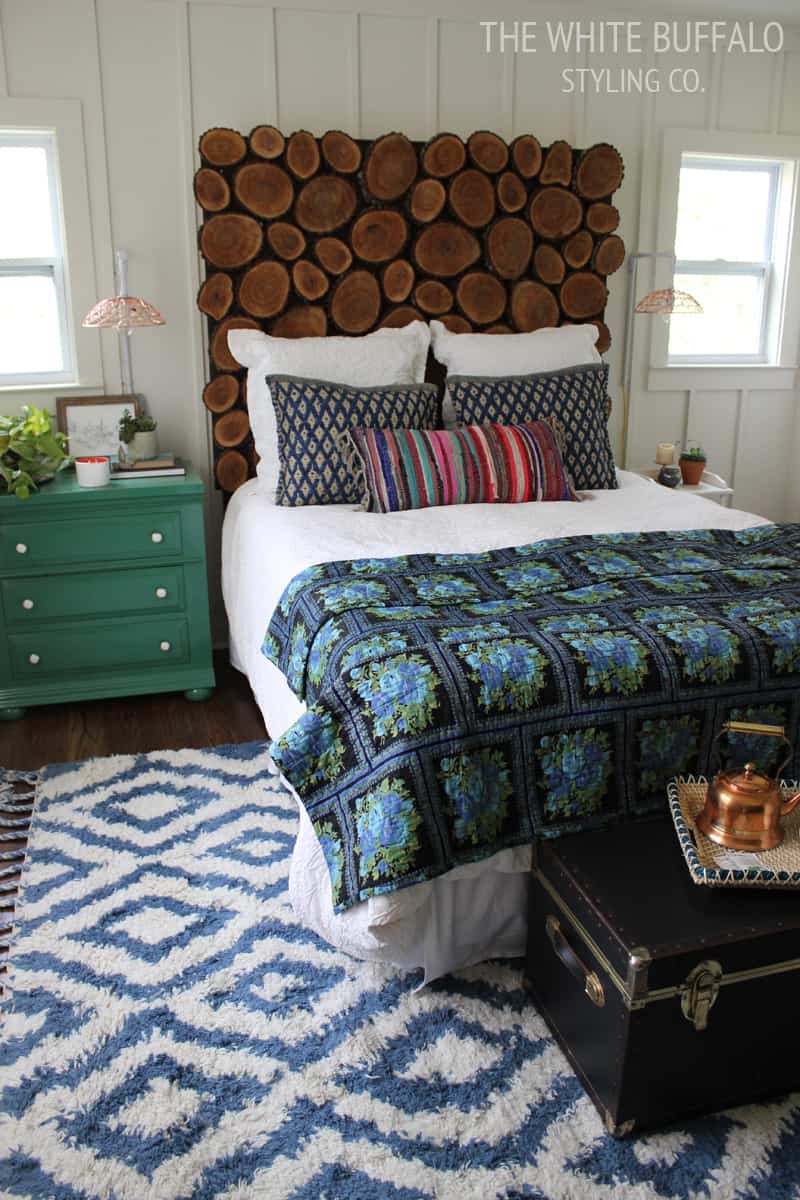 If you are looking to not only create a statement piece in the bedroom but also make good use of all those extra wood rounds you just happened to have from previous DIY projects, look no further than this unique headboard created by Lindsay from the White Buffalo Styling Co.
2. Simple Wooden Headboard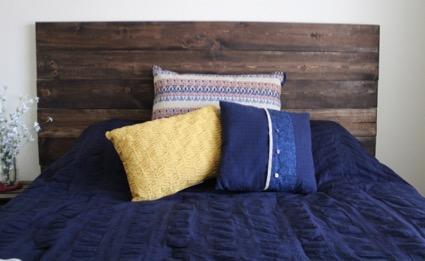 Maybe you would prefer something a bit more traditional. If that's the case, The Primitive Star Quilt Shop has step by step instructions to build this simple yet appealing wooden headboard.
3. Slatted Headboard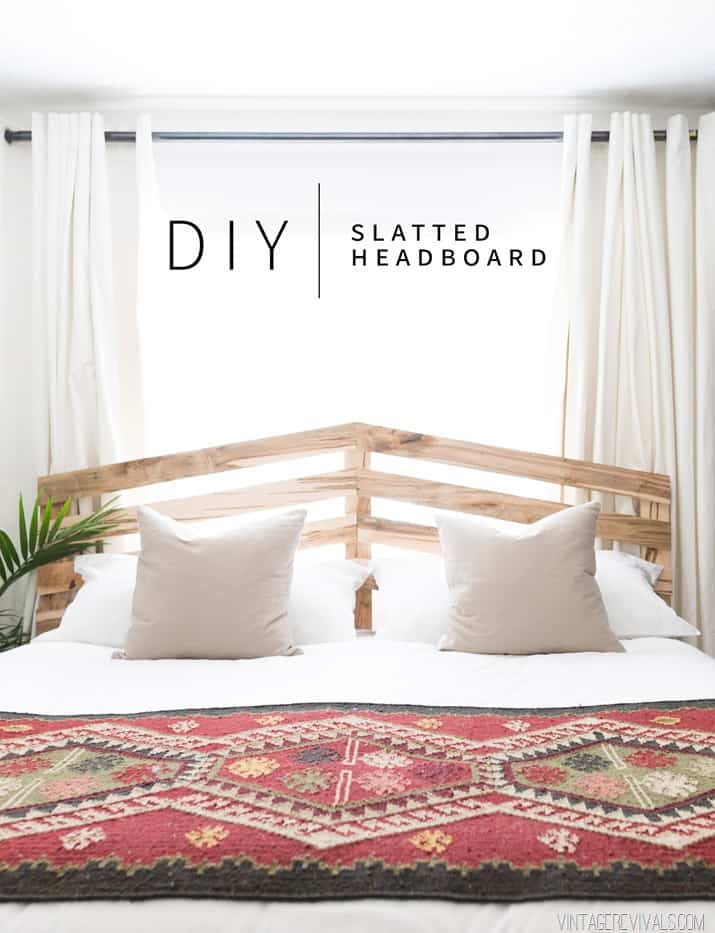 This slatted headboard design reminds me of summertime. Somehow it just feels light and bright. This headboard would be perfect in a smaller bedroom where some of the bulkier designs would just shrink the room.
4. Chevron Reclaimed Wood Headboard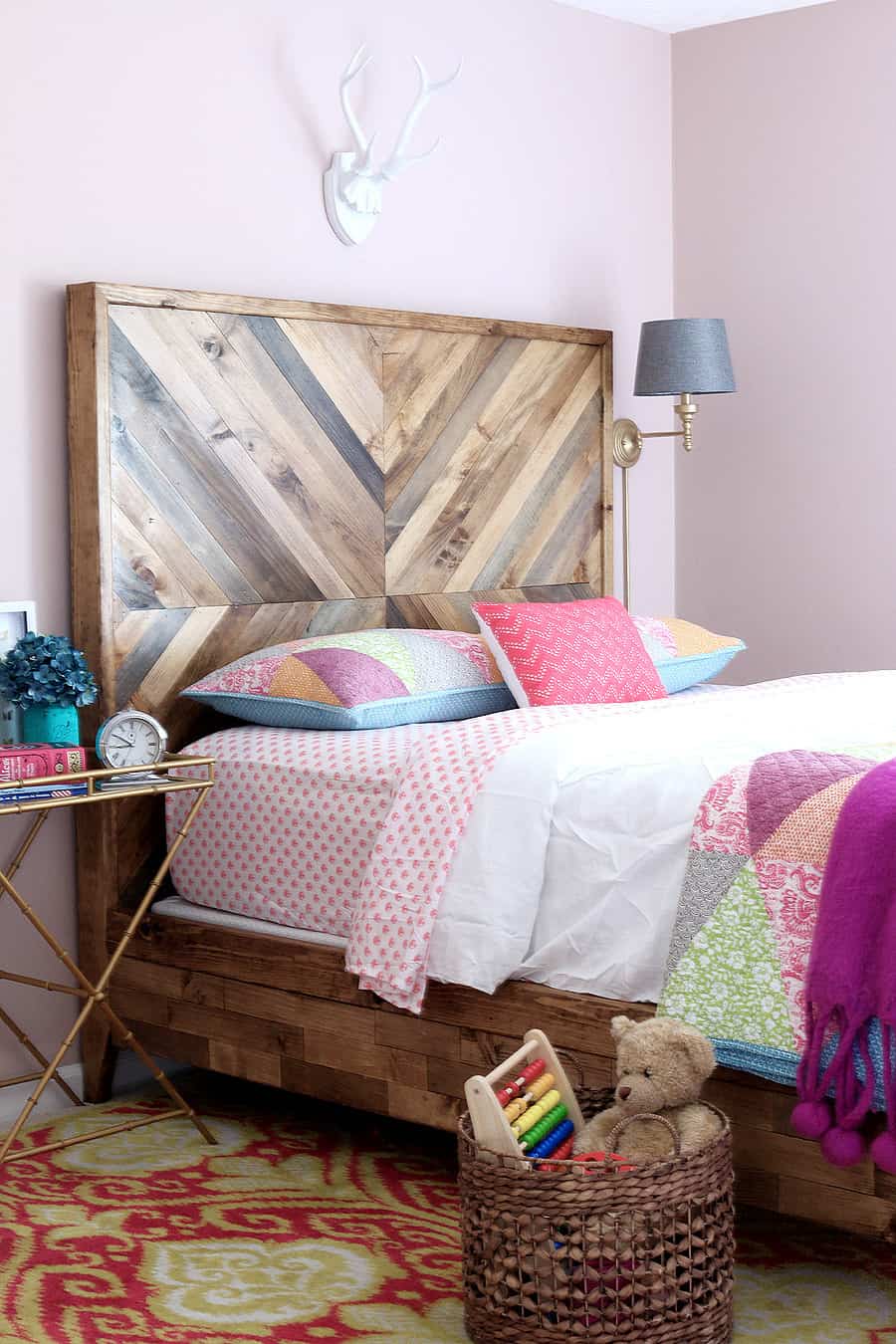 If you want to get a reclaimed wood type of look without the hassles of working without actually using reclaimed wood, use the tutorial found on jenwoodhouse.com to create this beautiful chevron detailed headboard.
5.Fabric Covered Headboard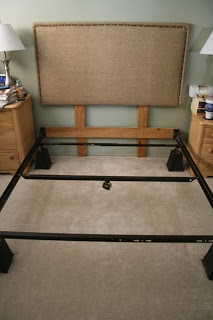 Covering your headboard is a simple way to add whatever colors you want to your bedroom. This simple and inexpensive design by Amy from Design-Aholic is one of our favorite fabric covered options.
6. Storage Headboard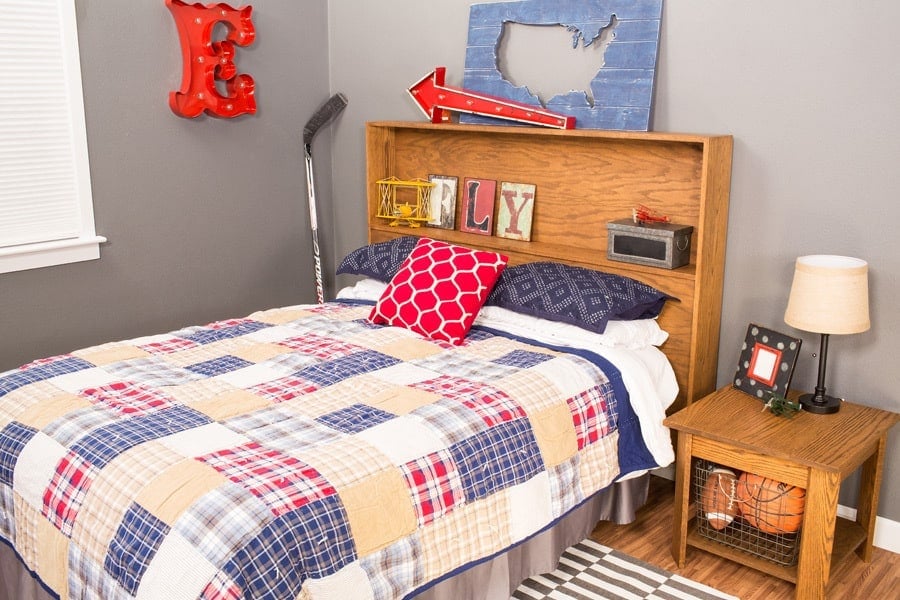 Who doesn't love multi-purpose items? Not only does this headboard look great, but it also doubles as a shelf. You can make it yourself with the easy to follow instructions found at buildsomething.com.
7. Colorful and Rustic Headboard Wall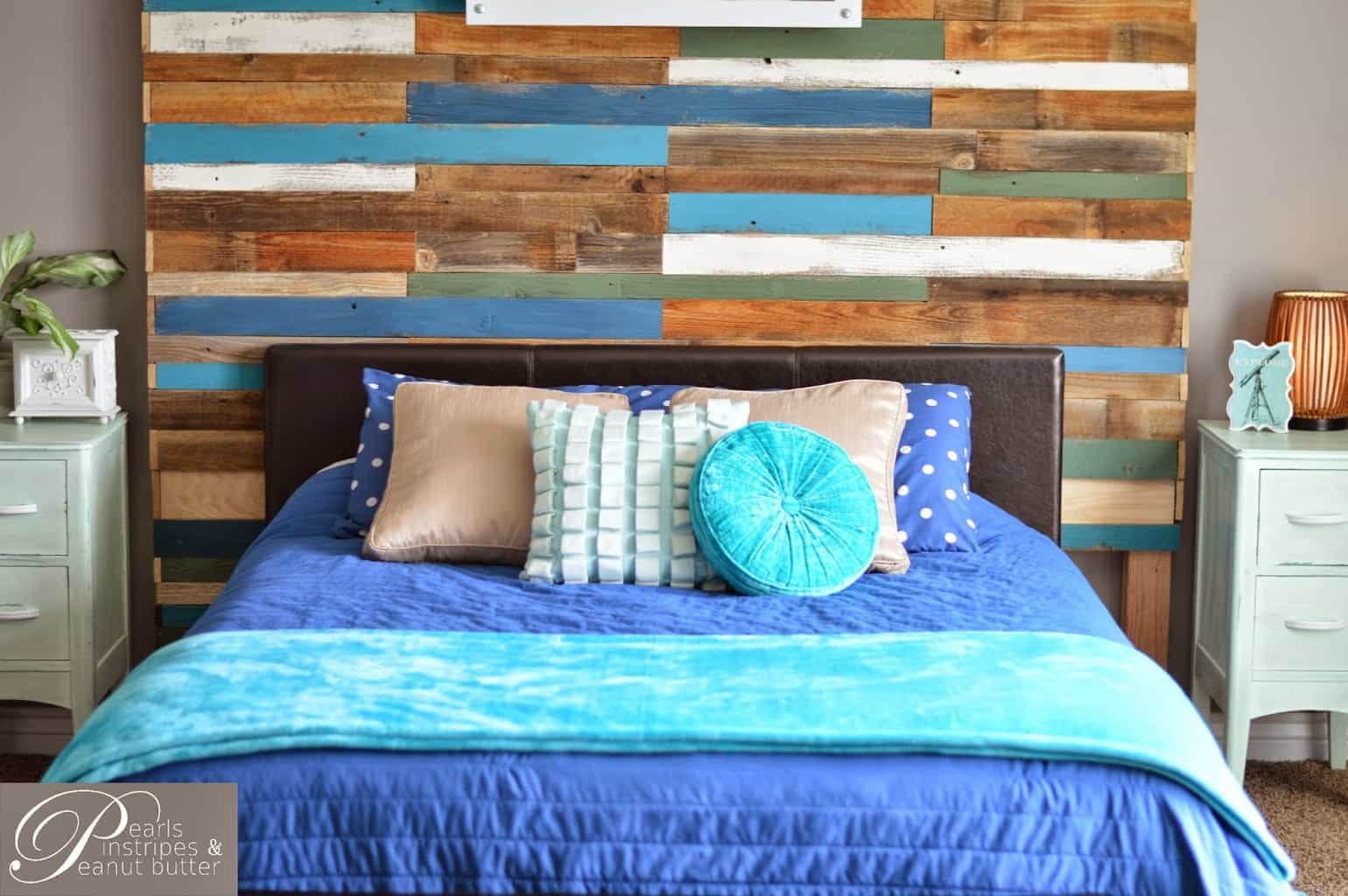 If you are looking for something that will get an amazing reaction you may want to create a look similar to this colorful and rustic headboard. This design is actually built right into the wall.
8. Easy Pallet Headboard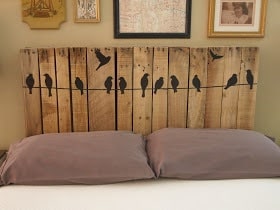 I'm not sure it's possible for a project to be any easier, especially with such fantastic looking results! With nothing more than a pallet and a wall sticker, Cathey with and E has managed to create this eye-catching headboard.
9. Wood Block Headboard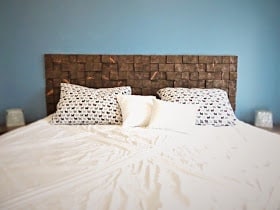 Another headboard we love is this wood block headboard created by Becky at Flipping the Flip. Unique and attention grabbing, this headboard is a definite win!
10. Rubber Mat Headboard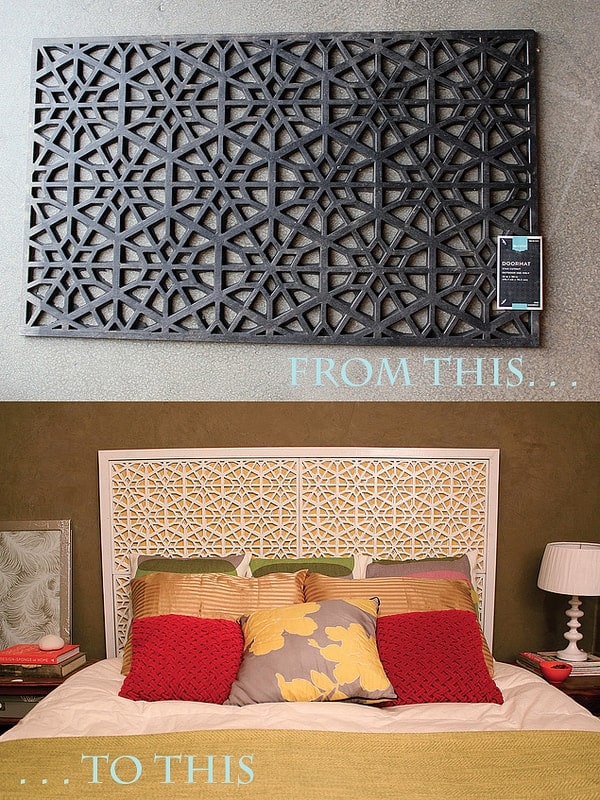 By far one of the most creative headboards we came across, Kara Paslay Designs managed to take a couple of humble rubber floor mats and create this fantastic and original headboard.
11. Reclaimed Wood Headboard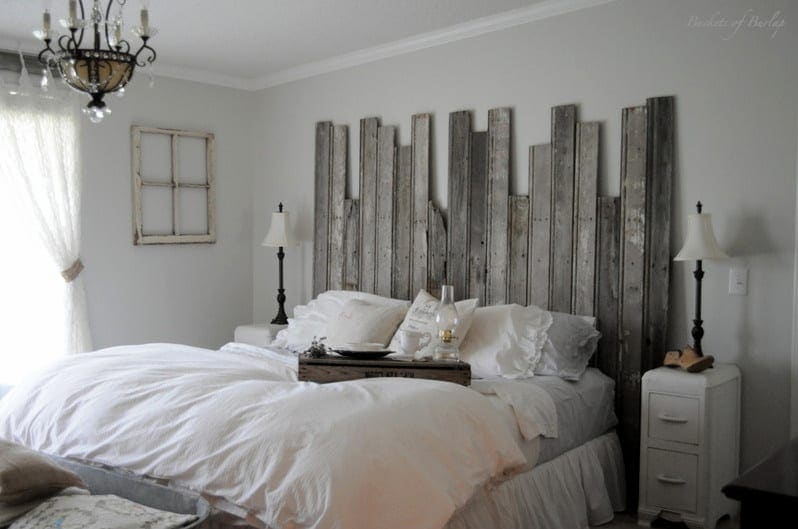 Mr. Buckets of Burlap was able to take some tongue and groove barn wood and create an amazing headboard. The rough cuts and different lengths of wood really add to the appeal of this one!
12. Barn Door Headboard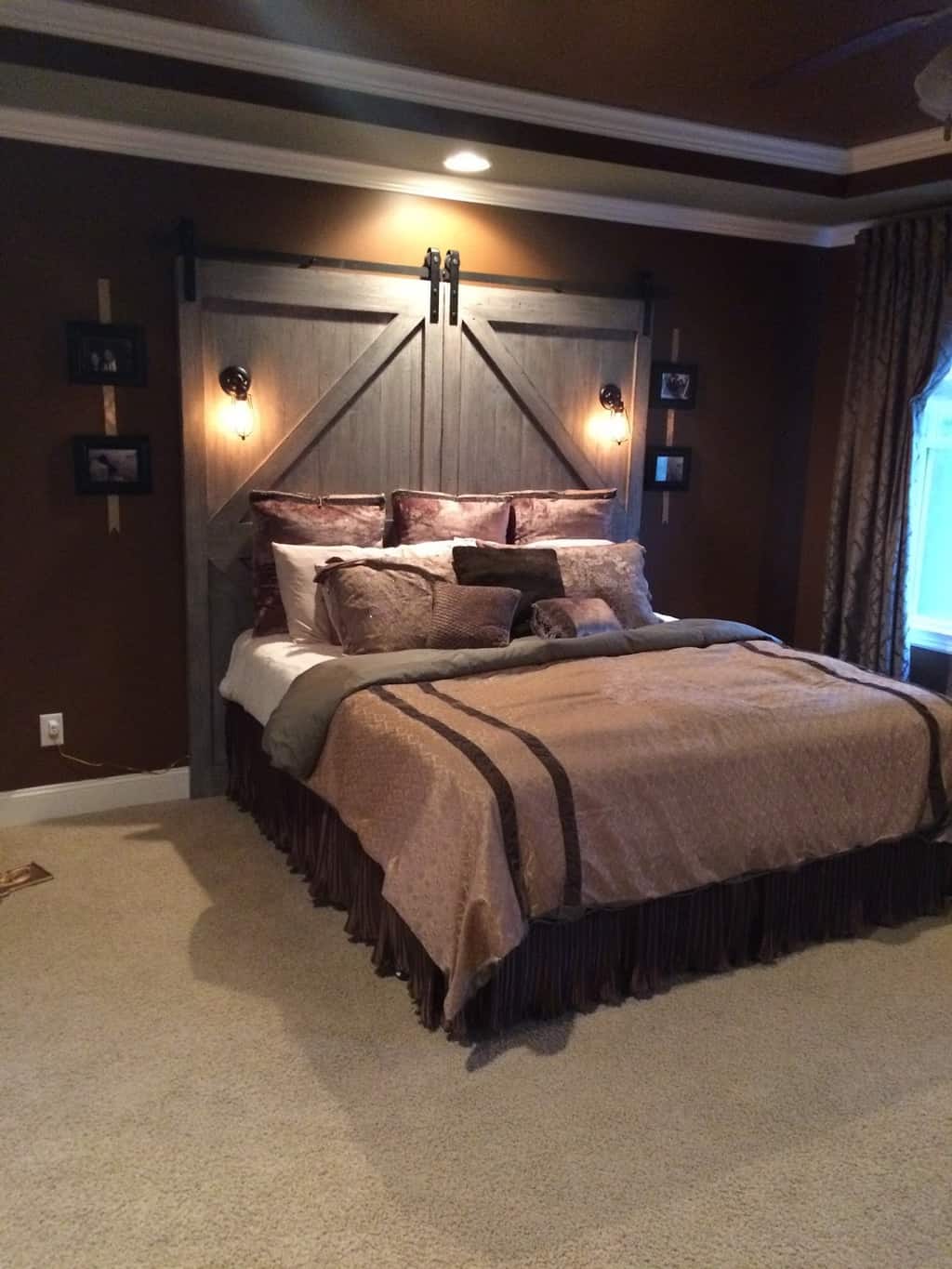 Not only does this barn door headboard look fantastic, but it has the added bonus of having built in lighting as well.
13. Door Headboard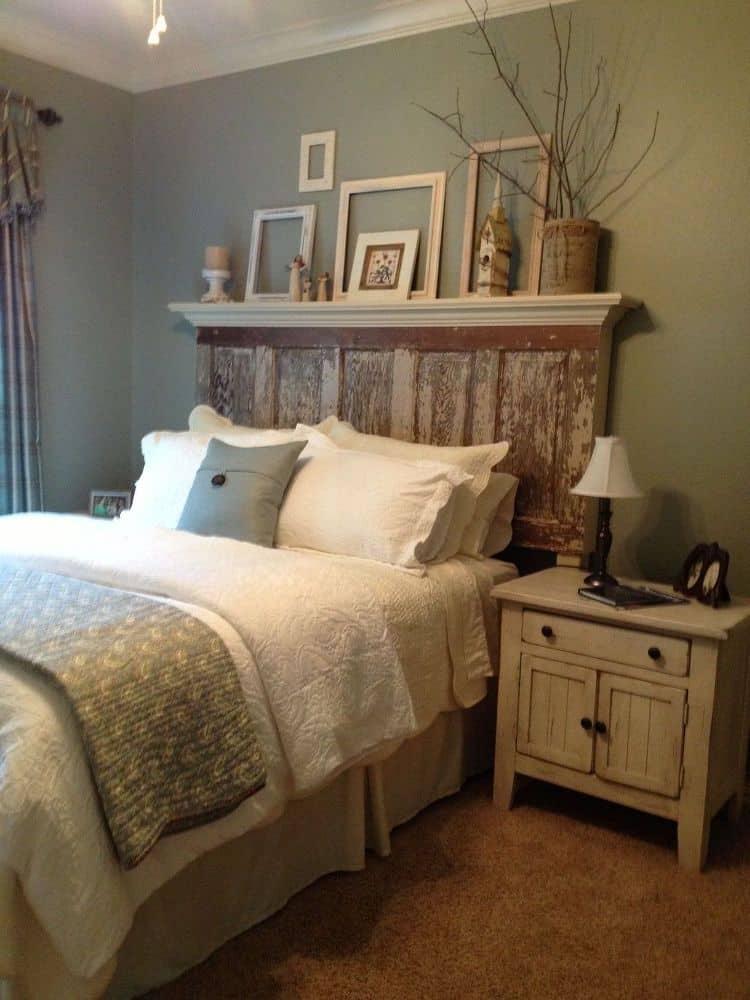 Re-purposing an old door and making it into a headboard really works. Vintage Headboards does this for a living, but you could just as easily do it yourself!
14. Rustic Wooden Headboard with Lights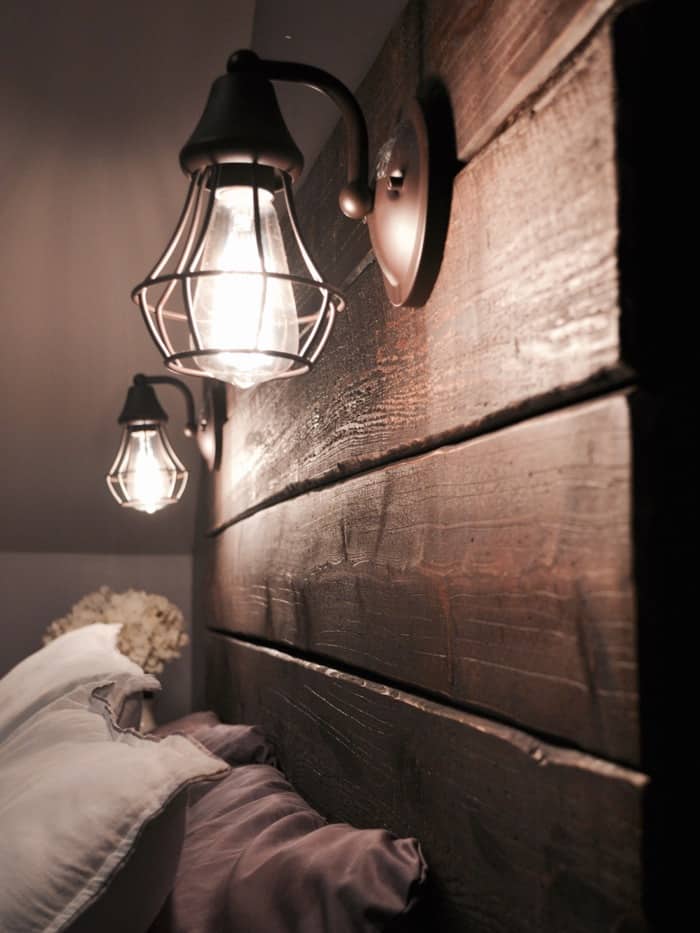 There are plenty of ideas for rustic wooden headboards out there, but the fact that Lisa distressed the wood herself and added rustic lighting to the headboard really caused this one to stand out above the rest. We must give a big thank you to Live Your Goals for featuring Lisa's work!
15. Smaller Barn Door Headboard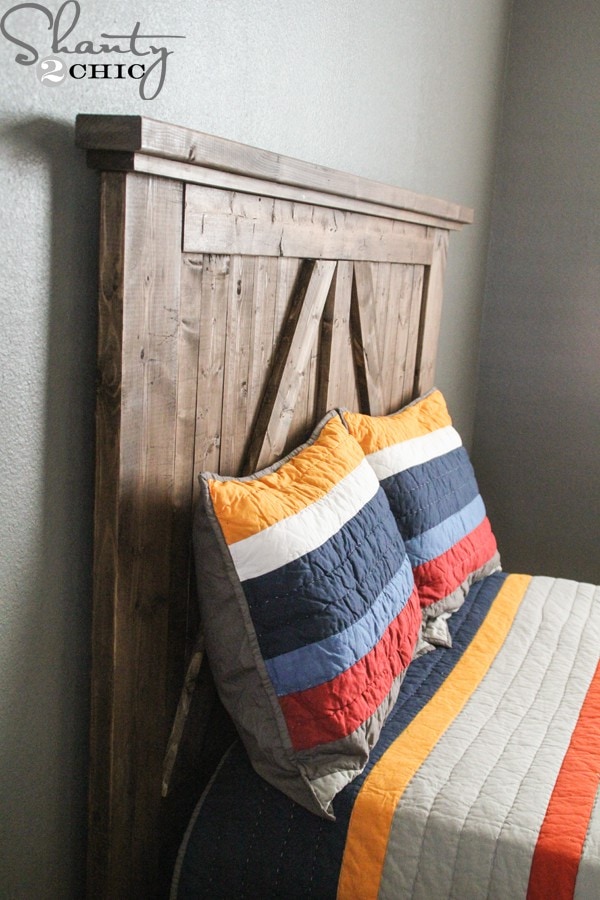 If you like the idea of having a barn door headboard, but the one featured above was too large, or maybe you don't have use for the added lighting, this is another great option for you.
16. Simple Wooden Headboard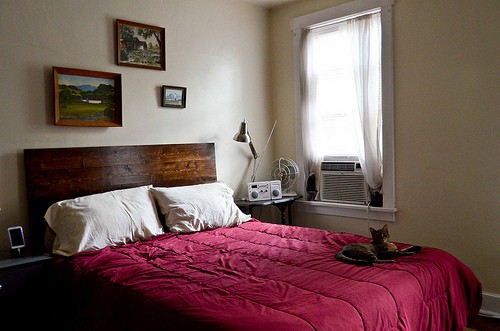 Perhaps your tastes lean more towards a simple, understated headboard. If that's the case, this headboard from BYOV is the one for you!
17. Shutter Headboard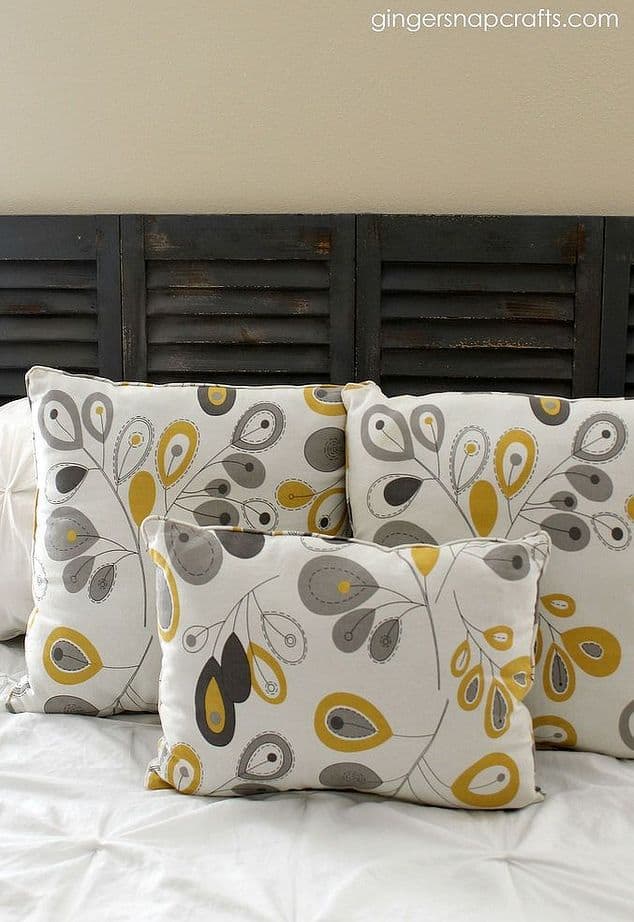 Another great headboard design that is slightly out of the ordinary is this shutter headboard design posted by Ginger from Ginger Snap Crafts.
18. Birch Wood Headboard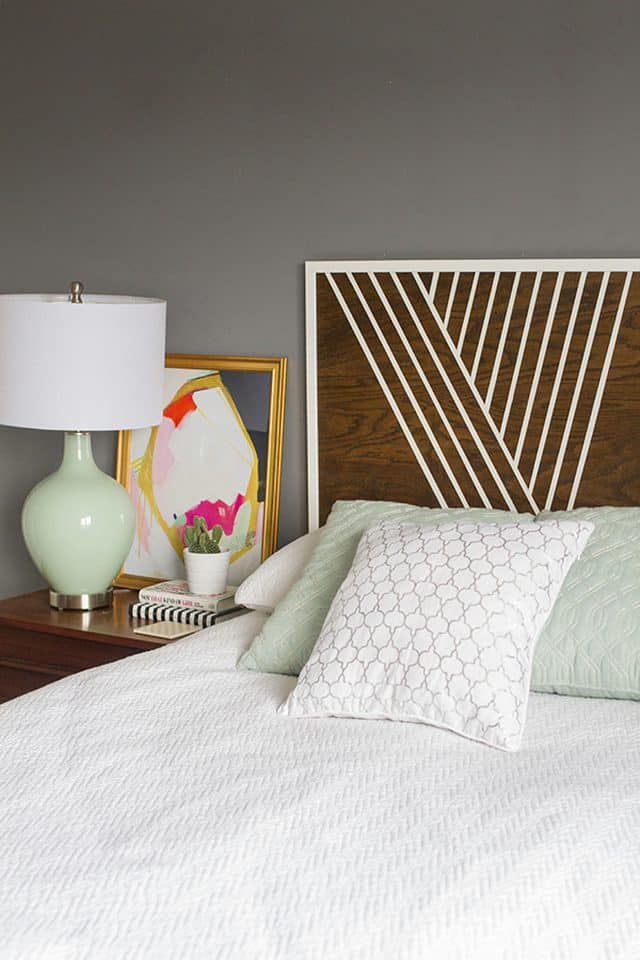 This headboard is so simple and yet visually appealing. Carrie Waller's creativity is simplicity at its finest.
19. Pallet Headboard With Lights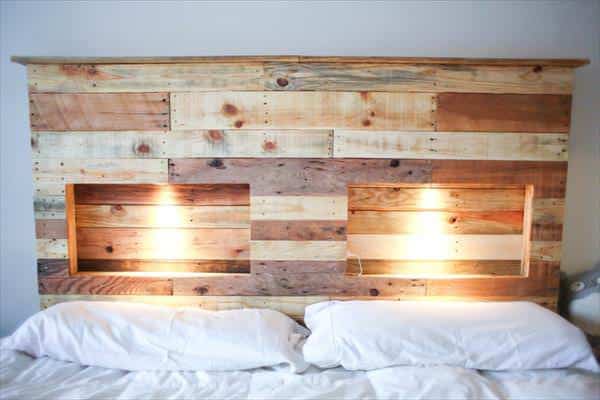 Using pallets to create furniture is nothing new, but this pallet headboard is really unique with the incorporation of lights, shelving and even an electrical socket! Talk about a pallet that's does more than it's fair share of work!
20. Two Doors Makes One Headboard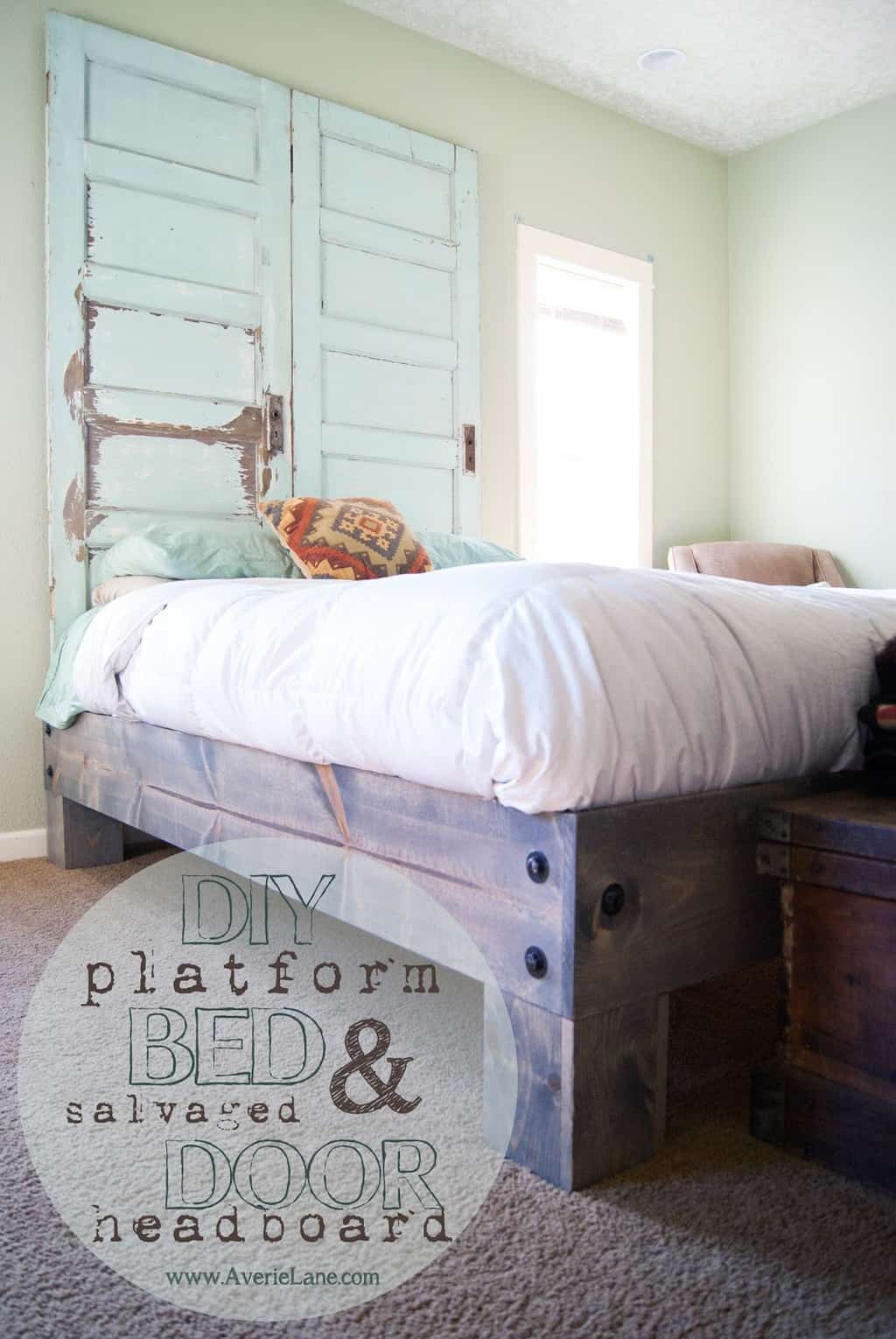 Another great idea for up-cycling, this time using two old doors to create a headboard. If you are feeling extra ambitious you might even want to follow Averie Lane's instructions for creating the platform bed as well.
21. Upholstered Headboard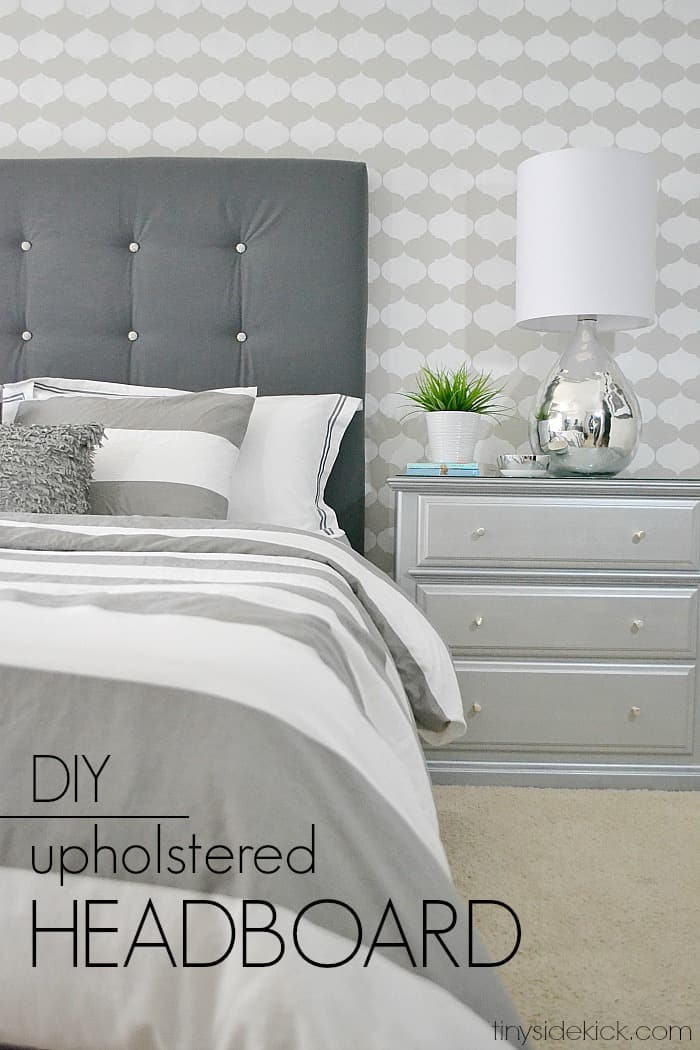 If you want to create this upholstered headboard, use Corey's easy to follow instructions on her blog, Hey There, Home.
22. Window Headboard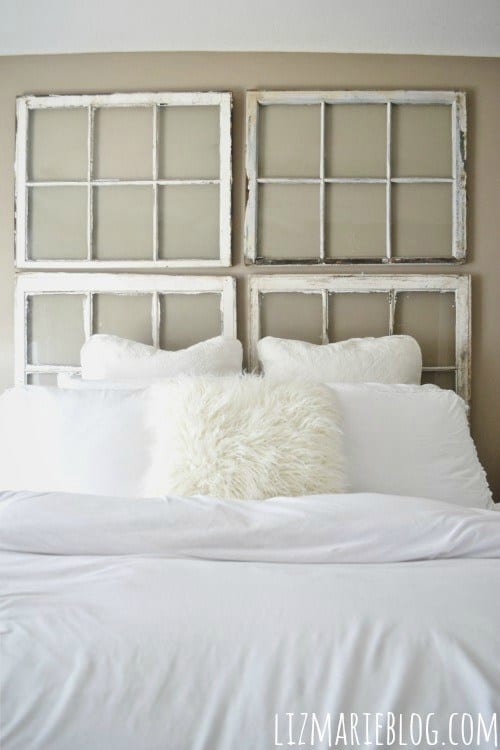 There's just something appealing about antique windows, they can be added to any room in the house. If you agree, you may want to try your own take on this headboard created by Liz Marie.
Faux Tile Headboard

If you are looking for a DIY headboard that is easy on your wallet, on your time, and on your ability, this may just be the headboard tutorial you've been looking for. Sweet C Designs really knows how to make something simple and cheap look anything but!
Now that you've seen all these headboard ideas, all you have to do is choose one and get started on your next bedroom masterpiece!