If you need a saw that will let you cut crown moldings like a pro or wood larger than two by fours, then you should consider buying a dual bevel sliding compound miter saw. We've done the research to help you choose the best sliding compound miter saw for your needs.
Choosing the right one can seem daunting because of the number of manufacturers and models. Here's the three best sliding compound miter saw we recommend.
---
DEWALT Sliding Compound Miter Saw, 12-Inch (DWS779)
What's not to like about a sliding miter saw that can cut a 2 by 16 inch piece of lumber at 90 degrees accurately and wood up to 6.75 inches thick?
This DeWalt Miter Saw has a large cutting capacity, delivers 3,800 rpm from its 15-amp motor, and has a blade positioning system that allows for better visibility and accuracy.
What We Like
The depth and width of its wood cutting capacity
Accuracy of cut—carpenters report their angle cuts are never off more than ¼ of a degree
Weight—at 56 pounds, it's heavy to carry but the added weight provides stability to ensure an accurate cut
Its price—its price point is significantly less than machines of similar quality
What We Don't Like
Lack of a laser. Although an add on laser kit is available, most people report it is difficult to attach
It is a single bevel machine. We like the convenience of a double-level machine. No need to constantly flip wood to get the proper angle on the other side.
The dust collector. It is too small and fills quickly.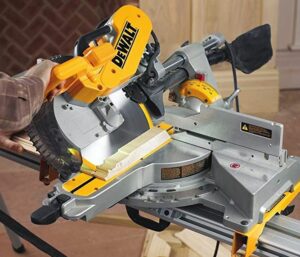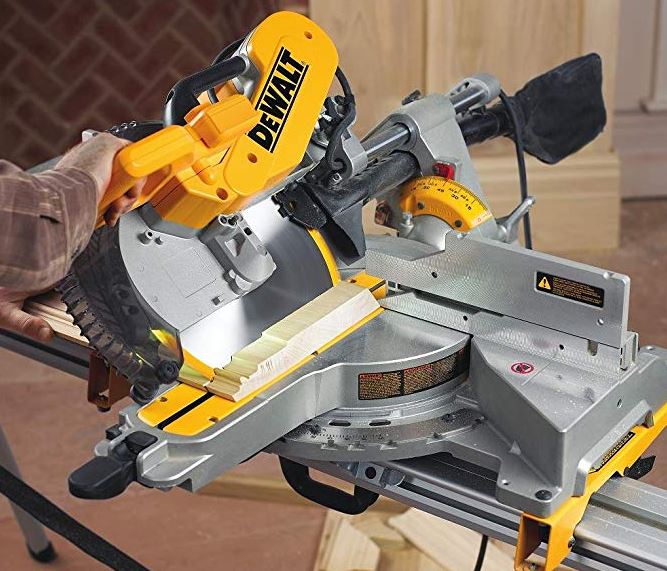 Bottom Line:
This miter saw is excellent for carpenters and woodworkers, but beginners who invest a little extra will get a more durable and accurate machine.
---
Bosch Power Tools GCM12SD – 15 Amp 12 in. Corded Dual-Bevel Sliding Compound Miter Saw with 60 Tooth Saw Blade
One thing that makes this model stand out is that its Axial Guide System—it reduces the amount of workspace needed by 12 inches! That reduction is great for anyone who has a smaller workspace or who needs room for all his tools.
Bosch has a reputation for durability—several shop owners only use Bosch, or have other machines sitting in the corner, gathering dust. Although this YouTube video is about a Bosch power drill being dropped from a helicopter, there are similar videos demonstrating the durability of Bosch products. You can find others here and here.
What We Like
Its cutting ability—it cuts any wood thrown at it, including hardwoods
Price is much lower than machines with similar features
Sawdust unit is designed so an independent dust catcher can be attached
Covered grease joints mean no dust or grease sticking on the rails
What we Don't Like
Dust collection inefficient without an independent dust catcher. One shouldn't have to modify a dust catcher to make it larger
Because of the wide kerf plate and high fence, cutting smaller pieces can be tricky
For its price, it should have a laser.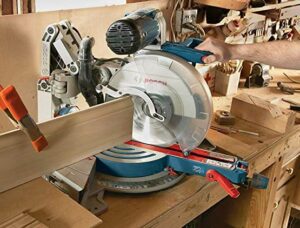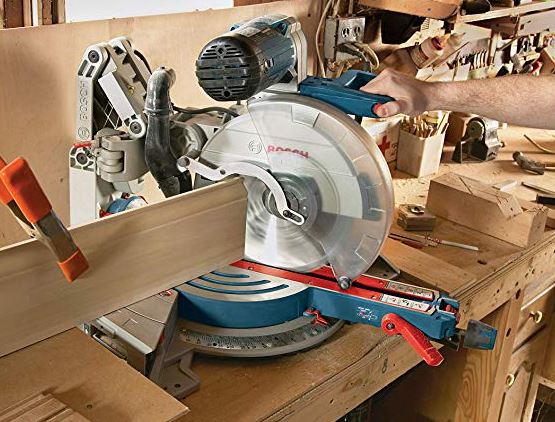 Bottom Line
This is a machine designed for those who work with wood regularly. The lack of a laser and the price tag suggest this is a machine geared toward those who work with wood on a regular basis. If you plan to use a compound miter saw occasionally, buy a less expensive model and treat yourself to a portable miter saw stand.
---
Makita XSL06PT 18V x2 LXT Lithium-Ion (36V) Brushless Cordless 10″ Dual-Bevel Sliding Compound Miter Saw with Laser Kit
Makita has a history of innovation in power tools, having been the first company to sell a rechargeable battery-operated drill. Because of that, they have more experience perfecting the technology.
Also, this is an all in one saw—sliding, dual-bevel, and laser kit. With 4,400 rpm, this saw can match the power of any comparably sized electric saw. The batteries last for 200 cuts.
What we like
A cordless miter saw that has all the best features in a miter saw and is cordless
The automatic speed adjustment that corrects for torque and load
Direct drive for smoother starts
Their Star-equipped technology that allows for communication between the tool and the batteries to protect against over-charging, over-discharging, and overheating
What we don't like
To stay competitive in price, we recommend the 10-inch model, which reduces the size of wood that can be cut
Adapter to connect to a dust vacuum does not come included. Seems stingy that Makita didn't include this (especially since they manufacture an attachement)
Lower temperatures affect the battery performance. But this is true for all batteries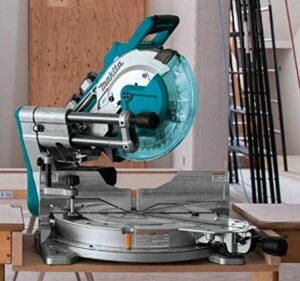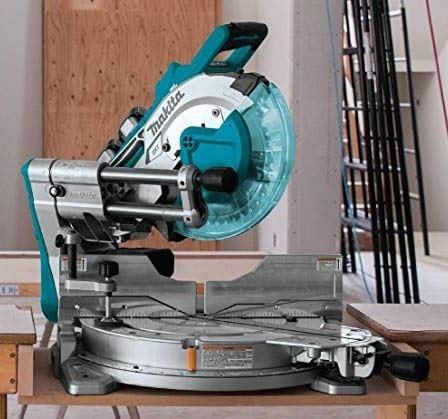 Bottom Line
This is almost the perfect miter saw, except for one thing—price. The 10-inch saw is already pricey, but the 12-inch even more so. If you plan to use this saw occasionally, you should go with the DeWalt. But if you are buying this for heavier use, it is an ideal investment.
---
Sliding Compound Miter Saw vs. Compound Miter Saw
Sliding miter saws have a bar or rails that let you pull the blade forward. On a compound miter saw, you put the wood on the turntable, and then bring the blade down. On a sliding compound miter saw, you can pull the blade toward you and then let it down.
This lets you cut a much wider piece of wood. For example, a regular compound miter with a 12-inch blade can cut no more than a 2 by 8. One with a 10-inch blade can only cut a 2 by 6. If you are making picture frames or working with crown molding, you can get away with a 10 or 12-inch miter saw. If you plan to cut wider boards, such as for fencing, a sliding miter can easily cut a 16-inch wide piece of wood.
Why Spend More on a Dual-Bevel Saw?

Time is the first reason. With a single bevel miter saw, you make one angle cut, and then you have to flip the wood to make the second cut. With a double-bevel, you make your first cut and then slide the wood to the next mark.
If you're one of those people who second-guess themselves, then you might find yourself flipping the wood over and readjusting it to make sure you're going to cut the wood in the right direction. Trust me, I've been there.
The second reason is accuracy. With a dual- bevel, you set the angle and cut, slide the wood and flip the saw, and it can cut at the same angle from the other direction. Say you cut a 23 degree slanting to the right. When you finish that cut, slide the wood and flip the saw to the 23-degree mark and cut.
However, a dual bevel saw will cost more. Many carpenters and woodworkers never notice the difference—until they buy a dual-level. Most never go back. If you want to see the differences between 10 and 12-inch miters, click here. For other videos comparing sliding miter saws to regular miters, click here or here.
Final Thoughts
Any of these miter saws would be a good purchase, but we can't make a final recommendation. To do that we would need to know what you plan to do with your miter saw and how much you can afford. Are you looking for brand-specific guides on miter saws? If so, check out, Best Ryobi Miter Saw 2019: Which One Should You Buy?, Best Hitachi Miter Saw: Top 3 Picks + Reviews, and Best Bosch Miter Saw: See Our Top 3 Picks.