As you start to accumulate woodworking tools, one of the first accessories you will need is a pair (or more) of good sturdy sawhorses. Sawhorses hold lumber up off the ground as you cut, sand, assemble, and paint. You can even use a sawhorse table base with plywood for a temporary shop table. There are a lot of different sawhorses available, but how do you know which saw horse is right for you? Keep reading to find the best saw-horse table in 2020.
Are you trying to find some general information on tools? Check out our complete resource guides on Miter Saws, Table Saws, Chainsaws, Band Saws and Circular Saws. These guides have all the information you need. You will be able to find history, the differnt types of the tool, top brand sold, and more!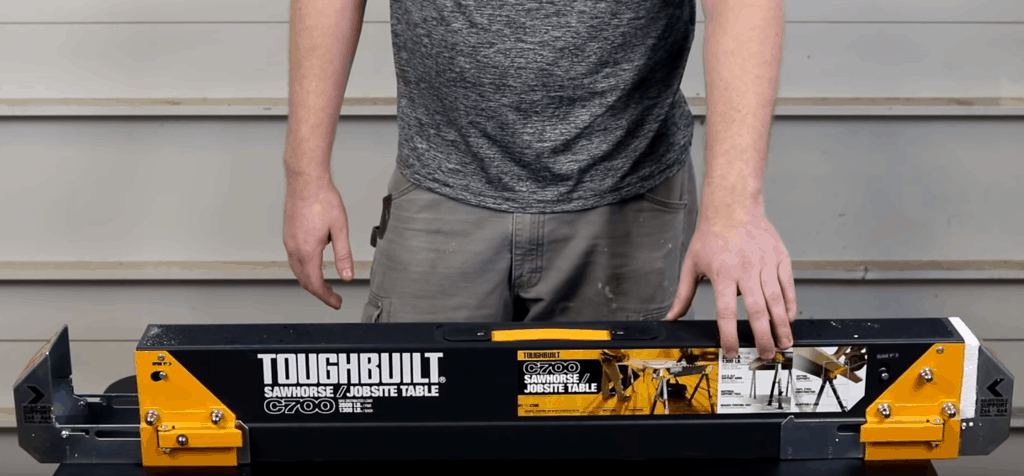 The three most important attributes of a good sawhorse are height, weight, and holding capacity. The best sawhorse is one that is a comfortable working height for you and strong enough to hold your projects. A carpenter who is six foot five needs a taller sawhorse than one who is five foot one. Lighter sawhorses are easy to move, but less durable. If your sawhorses stay in the same place, heavier construction means they will last longer.
Let's take a look at some different sawhorse options to see what is available.
Metabo HPT 115445M Portable Folding Sawhorses, 2-Pack
The portable folding sawhorses from Metabo are made of heavy duty plastic. They fold flat for storage when not in use. These sawhorses have a holding capacity of 1200 pounds per pair. They are 30 inches tall when set up.
Things we like:
Sold in pairs, so you have enough to hold up boards right from the start
Light and portable
Includes built-in hook for cord storage and a bottom shelf
Ends are grooved to accept 2x lumber on edge. This lets you set up a sturdy table
Included sawbucks make it easy to put a sacrificial board on the top to protect it from sawblades
Things we don't like:
Narrow base makes them easy to knock over
Some users report durability is an issue
Best for:
The Metabo folding sawhorses are best for someone who needs to move them around a lot. They are light and fold flat, so they are easy to toss into a vehicle and go.
Keter Folding Table Work Bench
The folding work bench table from Keter isn't just a saw horse to hold boards. It's a full table that is easy to fold up and take with you. It has a 1,000-pound capacity and is 30 inches high when set up. In about 30 seconds, you can have a sturdy work bench on any job site.
Things we like:
It's a table, not just a sawhorse
Built-in vices for holding on to projects while you work
Sturdy steel legs
Things we don't like:
Kind of expensive
A little small for working with 4×8 sheets of plywood
At 30 pounds, it's heavier than most sawhorses
Best for:
This table is great for someone who needs a sturdy table, not just a sheet of plywood over a couple of sawhorses.
Woodstock D4220 Sawhorse Brackets
This isn't actually a sawhorse; it's just a pair of brackets that hold wooden top and legs together. You buy the brackets, cut wood to length, and you've got a sawhorse.
Things we like:
You can make your sawhorse whatever height and length you want
Easy to assemble – cut boards to length, drill two holes, and put in one screw
Things we don't like:
Since you also have to buy the lumber, the brackets make the finished product kind of expensive
Not the strongest sawhorse out there
Best for:
These brackets let you get a sawhorse of whatever height you need quickly. Even with a hand saw, you could have a finished sawhorse in less than thirty minutes.
Toughbuilt Sawhorse C700
The C700 sawhorse from Toughbuilt is the last one you'll ever buy. These all-steel sawhorses have a capacity of 2,600 pounds per pair. The legs are adjustable, so the height can range from 25 to 32 inches.
Things we like:
Heavy-duty construction means these will last a long, long tie
Grooves at the ends for table runners are adjustable for 2x or 4x lumber
Adjustable height means you always have the right-sized sawhorse
Things we don't like:
Heavy-duty construction means they are heavy when moved
Expensive
Best for:
This is the sawhorse for serious construction work. Buy a pair, throw them in the back of your pickup, and don't worry about holding boards at a job site for the next decade (or more).
Homemade Sawhorses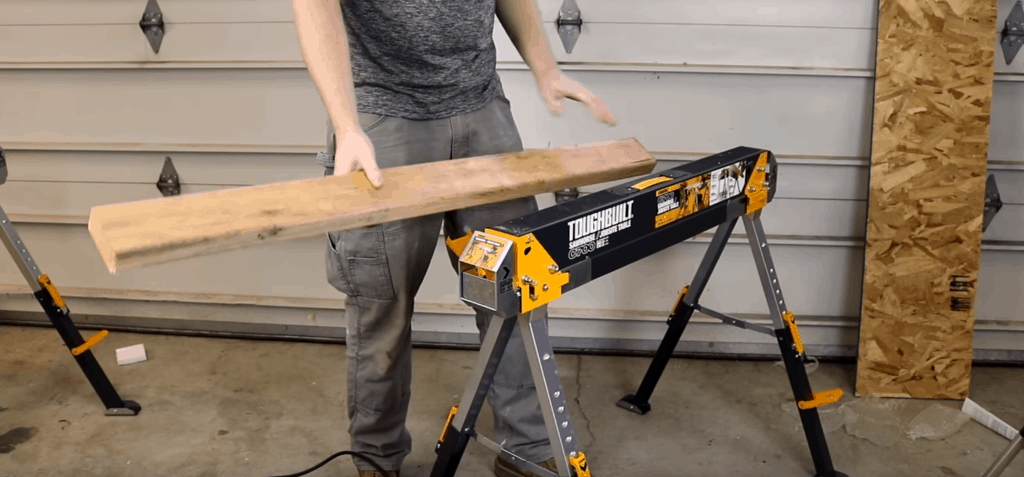 The classic DIY sawhorse is built in the shop (or on the job site) by an individual carpenter. Building your own lets you decide how tall the sawhorses should be, and how sturdy they should be. There are lots of plans for sawhorses available. Here's one example, and here's another. They range from ultra-simple to wildly complicated, with everything in between.
Once you know how to build the sawhorse table legs, you can make a DIY sawhorse table. There are even folding sawhorse plans available that you can use to build a portable saw horse table.
Things we like:
Best bang for the buck
You can make a sawhorse as tall or short, light or heavy, flimsy or sturdy as you need
Why buy tools if you don't want to build stuff?
Things we don't like:
Some plans involve complicated miters and other advanced woodworking skills
All the cutting and nailing to build a sawhorse would be a lot easier if you had a sawhorse to work on
Time spent building sawhorses is time taken from other projects
Best for:
Carpenters with plenty of time, or newbies who want a simple project that doesn't have to look perfect.
Making Your Decision
When you buy a sawhorse, think about how you will use it. If you will be setting up and taking down daily (or more often), light weight and ability to fold or stack are important. If you are using it as a base for a table to use a miter saw or other power tool, stability is the most important thing. For a sawhorse that will hold heavy stuff in a shop or garage, look for strength above all else.
Our Recommendation
The Toughbuilt C700 folding sawhorse is strong, stable, and flexible. The all-steel construction means that it will last for years, and the adjustable legs let you adjust it to match your project. It is expensive, but this sawhorse can do anything you need.
If you are on a budget, try building your own sawhorse. You can get a great tool at a reasonable price, plus you get to practice your tool skills.
Final Thoughts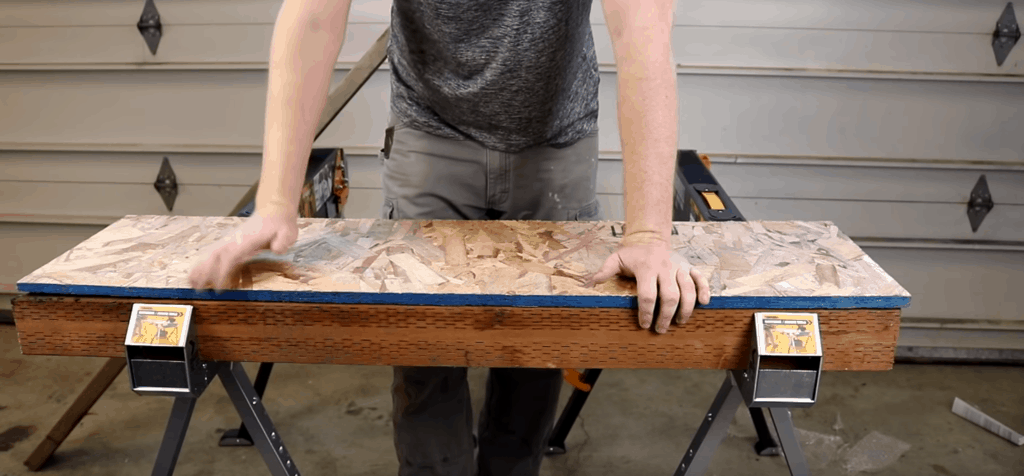 Using a sawhorse for big projects will make a huge difference in your work. Your back will thank you for being able to cut and measure lumber without stooping. If a big (or even a medium-sized) carpentry project is in your future, make sure to grab a pair of sawhorses before you start it.
Are you looking for guides on table saws? Check out some of our most popular guides, Dewalt vs. Delta Table Saw Edition, Ryobi Table Saws – 10in Portable Saws and Parts, DEWALT Table Saws – 10″ Saws, Parts and Accessories, and The Best Portable Table Saws.