Unlike many of the big names and reputations in power tools, Harbor Freight has established itself as a top brand in discount tools. When we hear discount, we often believe it's a tradeoff for quality. The professional-grade miter saw that Harbor Freight has released will prove to you otherwise. Harbor Freight is growing in popularity due to the quality of its products and their reasonable prices.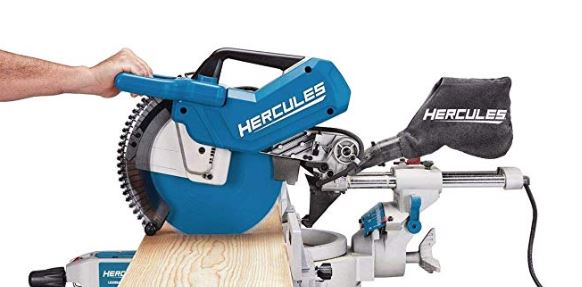 We've selected the best Harbor Freight miter saws on the market today and will be comparing them to their Dewalt equivalents. With a more in-depth look at these saws, you'll see why they far exceed expectations for discount power tools. Are you looking for the best miter saw overall? Check out The Best Miter Saw – Complete Buyers Guide & Reviews.
Quick Look at Our Top Picks for the Best Harbor Frieght Miter Saw:
Last update on 2020-08-04 / Affiliate links / Images from Amazon Product Advertising API
---
Harbor Freight Miter Saw Review
While Harbor Freight offers a full product line of discount miter saws, there are two high-quality saws we want to highlight as they are comparable to the top brands in the market. You will get the same quality as name brands, but still at the discounted price. These saws could give Dewalt a run for their money.
Harbor Freight Miter Saw: Hercules 12-Inch Sliding Compound
As one of the newest saws in Harbor Freight's product line, the dual-bevel Hercules is on par with the competition for professional-grade saws. Power, accuracy, and versatility at an attractive price point should lead you to consider and buy this miter saw.
Last update on 2020-08-04 / Affiliate links / Images from Amazon Product Advertising API
With almost all the same features as its Dewalt counterpart, you'll be getting the same great cut quality for a much lower price. You should consider this saw if you are a professional woodworker as it was designed with this group in mind. Homeowners and DIYers would also benefit from this saw, but it may be much more powerful and bigger than you'll need.
What We Like
LED light casts shadow on materials for clean cut lines
Great value saw for the quality and precision it brings (cheaper than Dewalt)
Professional-grade blade is included for more difficult and heavy-duty work
Adjustable detent plate with preset positive stops for ease and accuracy
One of the best saws available on the market with great value
What We Don't
Heavy (56 lbs.) and not easily portable (same weight as Dewalt)
Larger saw takes up a lot of space in work area
---
Harbor Freight Miter Saw: Admiral 12-Inch Sliding Compound
With similar capabilities as the Hercules saw, the Admiral is a slightly smaller dual-bevel saw that can work on a wide variety of projects. We recommend this saw for DIY projects and homeowner needs. A professional could successfully use this saw, but we feel it works best for your everyday user. This saw makes clean and accurate cuts with the ability to work through large pieces of wood.
Last update on 2020-08-04 / Affiliate links / Images from Amazon Product Advertising API
We compare it to the Dewalt model as being similarly designed, equally as powerful, and using similar LED light technology. The biggest difference comes down to price and size, where the Admiral reigns.
What We Like
Lightweight (49.3 lbs.) compared to competition within its class
Laser technology and LED work light combine for accurate cutting
Easy to use and maneuver
Heavy-duty blade cuts through bigger and thicker wood materials with ease
Great value compared to competitors for quality and price
What We Don't
Some consumers complained of laser losing functionality and potential misalignment
Locking features for cuts could improve in tightness and security
Final Recommendation
We've detailed Harbor Freight's best offerings, especially those comparable to powerhouse brands on the market. A great miter saw is all about performance and precision. Both of these Harbor Freight saws will give you just that.
Last update on 2020-08-04 / Affiliate links / Images from Amazon Product Advertising API
While the saw may be catered more toward professionals, our pick for the best Harbor Freight miter saw is the Hercules 12-Inch Sliding Compound saw. Across the board, it delivers on power, accuracy, and ease of use at a very attractive price. It rivals Dewalt in all metrics but wins out in value.
Going with an unfamiliar brand may be a risk, but it is a calculated one you should take. Consumers are pleased with Harbor Freight's heavy-duty professional-grade saw, and we are too. Give this one a try for all your big job site projects! Are you looking for a Ryobi or DeWalt miter saw? Check out Best Ryobi Miter Saw 2019: Which One Should You Buy? and DWS709 vs DWS779: Head to Head with Two of DeWalt's Best Miter Saws.