In this post, we are going to focus on cheap & easy farmhouse decor ideas. We gathered 50 cheap & easy farmhouse decor ideas to help you easily decorate your home so it can look amazing on a budget.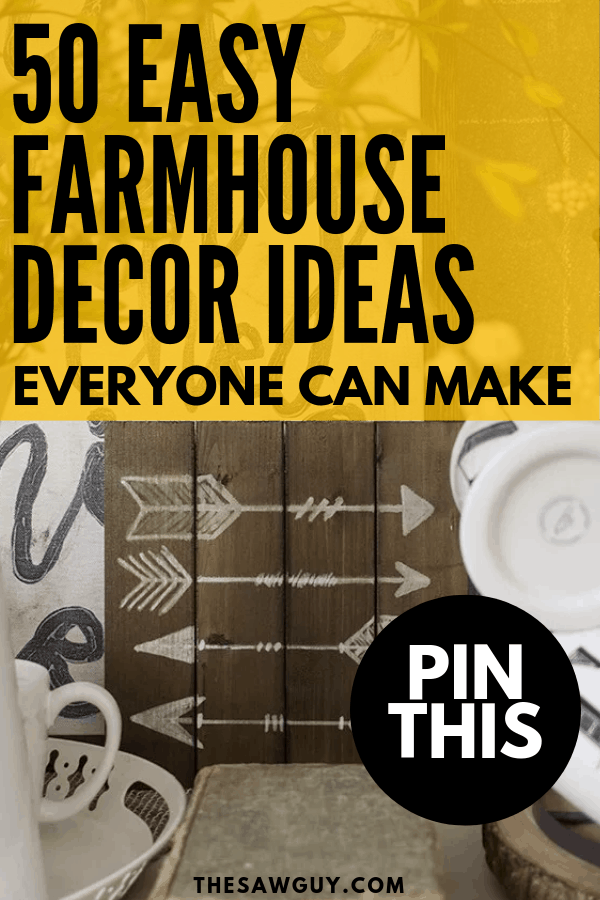 1. Gallery Wall
This gallery wall is an easy way to achieve that farmhouse look. Just add a few pictures, some rustic wood signs, and some old frames. You'll instantly transform your entryway.
2. Wood Framed Mirror
You can buy a cheap mirror and line it with wood to get a very rustic look. It's fully functional and adds a ton of character.
3. Rustic Wood Frame
This rustic wood frame is a really easy project. It's great because you can use it for messages or you can frame objects.
4. Kitchen Rack
Do you want more accessories in your kitchen? If so, this kitchen rack is perfect for you. You can create this kitchen rack quickly and it's budget-friendly.
5. Rustic Succulent Pots
This decor idea is great because you can get almost everything you need at the dollar store. Just add paint and succulents!
6. Farmhouse Pillows
These farmhouse pillows are absolutely adorable. They're cheap and really easy to make. All you need are tea towels, polyfill, white thread, and a sewing machine.
7. Arrow Art
This art is great because you can hang it almost anywhere. To get this look, just paint arrows on an old pallet to achieve this look.
8. Wooden Tote
This tote can be used for a variety of things. You can use it to display flowers, hold magazines, storage and more. It's great for any space.
9. Accent Table
Are you looking for a simple piece to add the farmhouse style to your home? This accent table is perfect for that. You can use any table you want, paint it white, distress it, and then add your detailing. It's that easy!
10. Bench for the Entryway
This bench is great because while it is a great decor piece, it's functional as well. It can seat around four adults in total, and it costs under twenty dollars!
11. Wood Beam with Curtains
Do you want to add the farmhouse look to your bedroom? Look no further, this wood beam with curtains is a simple project but it really makes a statement.
12. Writing Table
This writing table gives off a rustic look and it's great because it's small enough where you can fit it almost anywhere. You can either build the table from scratch or use a table you already have!
13. Pantry Organization Labels
These labels are great for keeping everything organized. You can store all the dry ingredients you want, the way you want, and you never have to worry about losing track of the directions.
14. Pallet Art
The main features of this pallet art are of course the design and pallet wood itself. The whole piece gives off a very country vibe. You can create any design that you want!
15. Farmhouse Light
You will fall in love with this light. It is one of the easier farmhouse decor ideas. Its main feature is chicken wire, and it can be made for around thirty dollars. The cost will be less if you already have some of the supplies laying around your house!
16. Rustic Wreath
Good news, this wreath can be made within twenty minutes! It is simplistic but will still really stand out and transform your front door. You can use any type of greenery you want.
17. Salt and Pepper Shakers
This farmhouse idea is really cute. You can give your home the farmhouse charm without breaking the bank.
18. Antique Cutting Board
Do you have an old wooden crate around that you don't know what to do with? If so, this decor idea is perfect for you. You can easily make this cutting board by fixing up an old wooden crate.
19. Mason Jar Light
With this idea, you can transform a vanity light into something special. Even better this decor idea should only cost you around six dollars!
20. Barn Door
Barn doors are a thing to have in your home. However, they can be really expensive. Fortunately, we have a solution for that. You can make your own!
21. Mason Jar Wall Lanterns
I'm sure you can see a theme here. Mason jars are a really popular staple when it comes to the farmhouse look. These wall lanterns look great and are really easy to make. For more mason jar light ideas check out these 17 amazing DIY mason jar lights.
22. Wood Candle Holders
To get candle holders like these you would have to pay a pretty large price at the store. Fortunately, you can make these yourself. These make great decor pieces or you can give these as a gift.
23. Chalkboard Menu
Just like mason jars, chalkboards are another staple in farmhouse themed homes. With this menu, you will be able to plan and keep track of things like meals, events, activities, etc.
24. Mason Jar Storage
Do you need more storage in your bathroom? These mason jars are great for storing toothbrushes, q-tips, cotton balls, toothpaste, etc.
25. Rustic Ladder
This rustic ladder makes is great for a variety of reasons. You can use it as a side table, a piece of decor, a shelf, etc.
26. Storage Chest
Storage chests are great for storing things like pillows, blankets, and clothes. When placed at the end of the bed it can also be used as a bench.
27. Plank Wall
Adding a plank wall may seem hard but it's really not! You can use planks that you already have or you can pick some up at your local home improvement store. Then all you need to do is cover your chosen wall.
28. Flower Holder
Do you have any old paint cans hanging around? If so, you can easily create this flower holder. You can give your front porch the farmhouse look with a few of these holders.
29. Repurposed Chicken Feeder
Do you have any old chicken feeders? Instead of throwing them out you can repurpose them. If you don't have chickens or an old chicken feeder you can check a local homesteading group in your area for one.
30. Paint Stick Basket
Paint sticks are really inexpensive and versatile. You can really make anything out of them, including this basket. You can buy paint sticks for cheap or you can use some that you have lying around. Just nail the sticks together!
31. Lamp Wrapped in Rope
This is an easy project that can completely change the look of a room. The rope gives it the farmhouse look.
32. Wood Framed Mirror
This mirror can be made from whatever wood you have lying around the house. The wood look is great for farmhouse decor.
33. Wood Striped Wall
To make this you'll need boards to cover the wall. This is an easy project and the best part is it isn't permanent so if you need to move it you can.
34. Twine Pears
These twine pears are super easy to make and only require glue, a light bulb, and twine. The light bulbs are the perfect shape to achieve the pear look.
35. Farmhouse Tray
This tray is great for decoration and for serving. This tray would be a great addition to your home.
36. Bar Stools
Do you have a bar in your kitchen or dining area? If so, these bar stools are a great way to add some country to your home.
37. Kitchen Island
This kitchen island is perfect for your kitchen, it will instantly give it the farmhouse look. It also has additional space underneath.
38. Coffee Table
This coffee table makes a great centerpiece for your living room. It is one of the more intricate farmhouse decor ideas. Most farmhouse style furniture is on the dark side so it's recommended if you want the farmhouse look to keep it dark.
39. Farmhouse Desk
This farmhouse desk is the perfect addition to your living room, office, or bedroom. It's also pretty easy to make.
40. Necklace Holder
Do you have any spare wood lying around the house? You can use it to make this necklace holder.
41. Console Table
This farmhouse console table is easy to create. This table uses natural materials to achieve a simple look.
42. Table Runner
This table runner can be made really easily. It's also really customizable. You can leave it plain or add some details.
43. Reusable Tote Bags
These totes would be cute just as decor, or you can use them as your grocery bags when you go to the store.
44. Star Garland
This is a simple piece of decor that was made as a Christmas decoration. However, it can be used year round.
45. Frosted Glass Vases
This is a great project for someone who wants to upcycle. You can take recyclables and make them into fancy looking vases for yourself or to give as gifts.
46. Painted Pail
These are great for a variety of reasons. They can be used for decor, for storage or you can fill them up with goodies and give it as a gift. For more storage ideas check out these 25 brilliant storage ideas.
47. Painted Mason Jars
These painted mason jars are a really simple way to add a little country to your decor. You can paint the jars to give them a unique look.
48. Side Table Lanterns
To create these lanterns you have to disassemble old lanterns. That may seem hard but luckily it isn't.
49. Yardstick Star
This yardstick star is really easy to make. It is one of the simpler farmhouse decor ideas. All you need to do is glue the yardsticks together in the shape of a star, let it dry, and then stain it. It's that simple!
50. Decorative Plates
These plates can only be used for decoration, but even if you could use them for eating they're too pretty. You just have to display them!
There are 50 cheap & easy farmhouse decor ideas! We hope these things help inspire you to start decorating for cheap. The great thing is these hacks can significantly save you money. Have you ever created farmhouse decor in the past? If so, what did you create? We would love to hear about it in the comments. For more decor ideas check out 20 DIY Dollar Store Decor Ideas.