When people think of Halloween they don't really think of creating their own decorations, they think of candy and costumes. With these DIYs, you won't have to go to the store and buy expensive decorations. You can make them all yourself! In this article, we are going to focus on DIY Halloween decorations that are wickedly creative.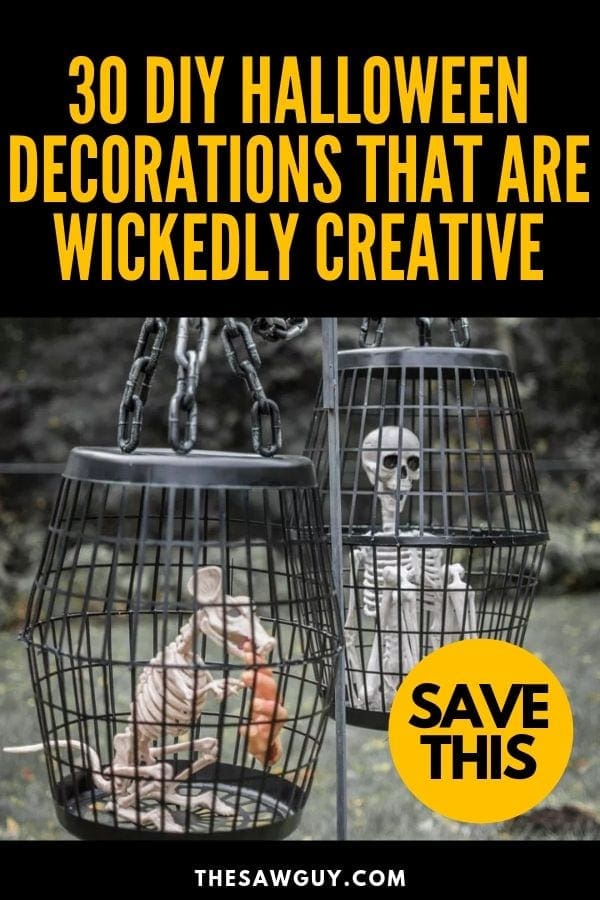 1. Ribbon Bats
These ribbon bats are extremely easy to make. All you need is black ribbon and white acrylic paint. That's it! Try placing them in a small bush or tree in large groups. They may not seem like much but little decorations like these can really tie things together.
2. Directional Sign Post
This directional signpost is a great staple piece for your front yard. You can add different items to it to make it more creative like crows, pumpkins, ghosts, bats, etc. On the signs you can come up with your own creepy location names or you can add your favorite Halloween quote.
3. Bubbling Witches Cauldron
Are you looking for a way to wow your guests at your Halloween party? This witches cauldron will do just that. It adds a spooky vibe because it makes your punch come to life!
4. Candy Corn Garland
This garland is very different than most Halloween garland but it's still very cool. It will definitely add a pop of color to any room you put it in. To create this all you need is candy corn and fishing line. Easy, right?
5. Candy Door Hanger
Are you going to be away when trick or treaters come? No worries, this candy door hanger will still allow you to pass out candy. Additionally, you can make one for the inside of your house so you can treat yourself every now and then.
6. Halloween Pillow
These pillows will be a great addition to your living room, they're not over the top. They have just enough spookiness to them!
7. Skull Candle Holder
These skull candle holders are great because they are elegant looking and spooky. These holders will allow the candles to give off just enough light where you can see but it's still spooky. You can place these almost anywhere too, like a mantel or table.
8. Candle Lantern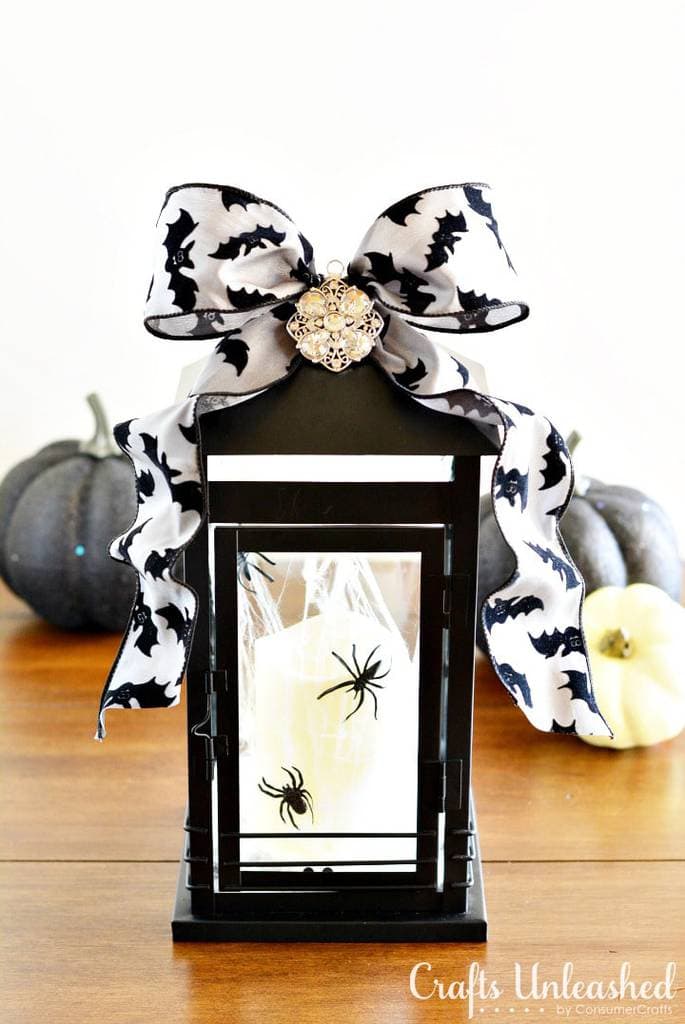 This candle lantern is great because it can be used for more than just a Halloween decoration. You can purchase a plain old lantern from your local hardware store. The dress it up with cobwebs, spiders, ribbon, etc. when Halloween comes around. When Halloween passes you can remove the items and use the lantern as normal.
9. Tissue Paper Ghosts
These tissue paper ghosts look incredible. They're probably one of the more realistic looking decorations. They're made from construction paper, tissue paper, and cheesecloth.
10. Wood Pumpkins
These wood pumpkins look different than most pumpkin decorations, but that's what makes them great!
11. Ghostly Mirror
This creepy ghostly mirror will definitely both amaze and freak out any of your guests. This figure is made from frosted window film. You create the figure by drawing it onto frosted window film, then you cut it out, and apply the film to the mirror.
12. Bloody Candles
These bloody candles can be created in five minutes with red wax and black carpet tacks. They are a great accent piece for buffet tables and mantles.
13. Candy Corn Pots
These candy corn pots can be used as flower pots or they can be filled with goodies and given as gifts. You can create these with white, yellow, and orange acrylic paint.
14. Eyeball Decorations
Another easy DIY is these eyeball decorations. You can create these with two beach balls and a sharpie.
15. Chalkboard Tombstones
You can easily build your own tombstones for under twenty dollars. All you need is a saw, plywood, and chalkboard paint. The best part about these tombstones is you can write anything you want!
16. Candy Corn Halloween Vases
These candy corn themed vases are very modern looking. All you need to make these are tall glass vases, clear, orange, and yellow water beads, and black adhesive vinyl. These would look great on top of a mantle.
17. Monster Door
Dress your door up with faces made out of googly eyes and felt. This DIY is so simple but it really adds detail and the kids will love it!
18. Creepy Ceramic Owl
Easily create a creepy owl with a ceramic owl from the hardware store. All you need to do it spray paint the whole thing black and paint little red eyes.
19. Jack-o'-Lantern Topiary
This topiary is another project that can be created mostly from dollar store products. It is very cool looking and it will definitely spook anyone who comes across it at night.
20. Black Paper Flowers
These black paper flowers are made from black crepe streamers. They are perfect for Halloween because you can gather them into a bowl to create a spooky floral arrangement.
21. Black Wreath
This eerie black wreath is the perfect accent piece for other Halloween decorations. This wreathy is so easy to make, the whole thing is made from black streamers!
22. Skull String Art
Are you looking for a more laid back Halloween decoration? If so, this skull string art is perfect for you! It is a large decoration which means it will definitely be a statement piece. It's not extremely colorful or over the top so it really can be placed anywhere around your home.
23. Halloween Lights
Do you have any old Christmas lights lying around that you don't know what to do with? Well, you can repurpose them to create these Halloween lights! The only other things you will need is orange origami paper and a black sharpie.
24. Halloween Garlands
These Halloween garlands are so cute. You can create a simple colored garland or you can make something a little more intricate like a bat or pumpkin garland. You can place these on a mantle or you can surround your buffet table at your party.
25. Spiderweb Tablecloth
Are you tired of the same old Halloween tablecloths? We have good news, you can create your own! This spiderweb tablecloth will be a perfect addition to your Halloween party.
26. Bat Centerpiece
This DIY Halloween decoration is great because it is easy to make and can be made within twenty minutes. This DIY is also cool because it looks like bats are flying out of a dead bush or tree.
27. "Eek" Sign
This DIY "Eek" sign is so cute, it is definitely one of our favorite DIY Halloween decorations. You will definitely get compliments from everyone who stops by.
28. Crow Wreath
Are you looking for a way to creep out visitors before they even step into your home? This crow wreath will do just that. You can get this by spraying a grapevine wreath with matte black paint and then attaching paper crows all over. You can hang this with patterned ribbon.
29. Hanging Cages
Are you looking for a cheap but great looking DIY Halloween decoration? These hanging cages can be made out of items all found at the dollar store! All you need is two laundry baskets, between one and three plastic chains, zip ties, black spray paint, and scissors. For more dollar store ideas check out 20 DIY dollar store decor ideas.
30. Ghost Windsocks
Are you looking for a Halloween decoration that you can tie into your garden? If so, these ghost windsocks are perfect for that. These are created from recycled tin cans, white paint, black paint, and white streamers.
There are 30 DIY Halloween decorations that are wickedly creative! We hope these DIYs help inspire you to start creating some amazing decorations. The great thing is you can create whatever you want! Have you ever created any Halloween decorations? If so, what have you created? We would love to hear from you, please feel free to leave a comment! For more DIYs check out 23 DIY projects with burlap to dress up your home.