Christmas is a holiday loved by many. During the holidays it's common to get Christmas cards from friends and loved ones, it can be hard to find places to store them. With these DIY Christmas card holders, you won't have to go to the store and buy expensive decorations and you'll have a great way to display your Christmas cards. Check out our awesome Christmas DIY gifts that are fun and easy.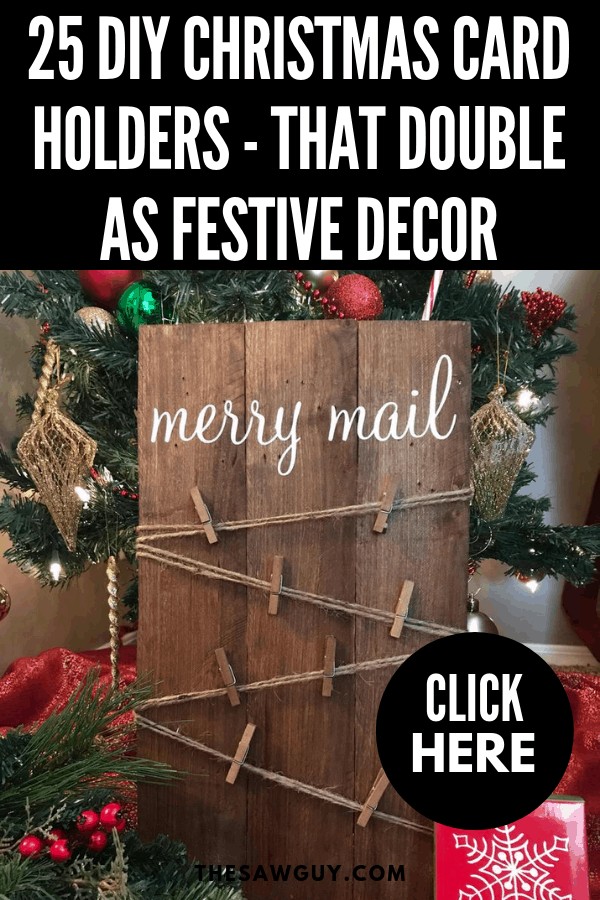 1. Wooden Christmas Card Display
This Christmas card display is made from a decorated wooden board and clothespins. This DIY is very simple but it looks great and you can fit it in almost any part of your home.
2. Ribbon Card Holder
This card holder would look great in an entryway, it's very eye-catching. It's made from wide ribbon, flat ornaments, you use twine to hold the cards in place.
3. Window Card Holder
Do you have old windows lying around that you don't know what to do with? If so, I have great news. You can create a card holder with them! This card holder is made from old windows and twine.
4. Garland Card Holder
Are you looking for a more creative card holder? This garland holder can cover an entire doorway or stairway making it a great decoration as well! It is made from your preferred garland and clothespins.
5. Holiday Card Board
Easily create a holiday card holder with a picture frame. To create this you can repaint the frame, add some light, clothespins, and other pieces of decor. It won't hold many cards but you can hang a few!
6. Vintage Ski Card Display
Are you a fan of winter sports? If so, this vintage ski card display is perfect for you! You can turn a pair of old skis into a fun display for your holiday cards. All you need to do is weave twine around the skis and attach the cards to the twine with clothespins.
7. Simplistic Card Holder
Source
This modern and simplistic looking card holder would look great in the kitchen or office area. You don't see much of the holder, the cards really take over the entire piece.
8. Card Holder Centerpiece
This card holder is great because it doubles as a holder and centerpiece. You can fill it with your favorite holiday cards and fill in the extra space with seasonal fruit and plants.
9. Mousetrap Tree Card Holder
I'm sure you're thinking, a mousetrap tree? Yes, it actually works really well. You can customize them if you see fit. Once that's done form them into the shape of a tree, and attach your Christmas cards with the mouse traps.
10. Old Post Card Holder
This card holder would look amazing in a rustic, country-style home. To create this all you need is an old post, twine, and you preferred decorations. Attach your decorations, tie several pieces of twine around the post, and attach your cards with clothespins.
11. Christmas Light Card Holder
This layout gives off a very whimsical look. You can hang your holiday cards along the lights. Also, you can add other decorations as well like ornaments, ribbon, etc.
12. Book Card Holder
This card holder is for all the book lovers out there. If you have any old books lying around you can use it to display your holiday cards. In this DIY you fold the book's pages so they're sturdy enough to hold the cards in place.
13. Framed Chicken Wire Card Display
Combine some chicken wire and a picture frame to create a card display. To add some flare to this display you can also hang ornaments and add some ribbon to make it a little more colorful.
14. Twine Card Holder
You can create a low-key and simple card holder with just some twine and clothespins. Place the holder in front of a window so the cards really stand out.
15. Twine Wall Tree Card Holder
Do you have a blank wall that you don't know what to do with? Add a twine wall tree! You can add decor and your favorite cards.
16. Snowman Christmas Card Holder
Are you looking for a cute Christmas card holder? If so, this snowman card holder is for you! All you need to make this is three grapevine wreaths, ribbon, and fabric. You can attach your cards with clothespins.
17. Holiday Card Display
This display is so easy to make. All you need is some ribbon and a door. Just wrap the ribbon around the door and use tacks to keep it in place. Then clip your cards in place with clothespins.
18. Shutter Card Holder
Use shutters as your next card holder. You can leave them as is or you can paint and decorate them to fit more into the Christmas spirit. All you need are clothespins to attach the cards to the shutters.
19. Festive Card Holder
This festive card holder is super easy to make and it will keep your holiday cards nice and neat. You can customize this piece to say your favorite holiday slogans.
20. Dual Card Holder
Do you have a lot of holiday cards that you don't know what to do with? These dual card holders will allow you to hang most of them. You can customize them to say your favorite Christmas phrases.
21. Wooden Christmas Tree Card Holder
This is another great holder to add to the entryway of your home. It is pretty tall so it's a great eye-catching statement piece. The whole thing is made from wood and you use clothespins to hold the cards.
22. Metal Christmas Card Holder
Source
You can store up to 33 cards with this card holder. It is more modern looking than most, but it's also very simplistic so you will be able to tie it into any room in your home.
More Great DIY Christmas Ideas:
23. Wreath Card Holder
Wreaths are one of the most popular Christmas decorations. So why not create a card holding wreath? If you have a lot of Christmas cards you may want to consider this holder.
24. Reindeer Christmas Card Hanger
This really cute card hanger is made from reindeer clips and twine. It would look great in a country style home. You will be able to hang quite a few cards from this!
25. Rustic Christmas Card Holder
This Christmas card holder would fit in more rustic or country style homes. Are you looking for a more simplistic looking holder? If so, this card holder is definitely the way to go. This is made from wood, twine, and clothespins.
There are 25 DIY Christmas card holders – that double as festive decor! We hope these DIYs inspire you to start creating some amazing pieces. The great thing is you can create things that you love! Have you ever created any Christmas card holders or decorations? Tell us in the comments. For more DIYs check out the ultimate list of 31 DIY Christmas ideas.