Your bathroom is a place where you perform sacred daily routines. It's essential that your bathroom is a comfortable and welcoming environment for you and any guests in your home. Sometimes a small bathroom can feel like a curse. But a small bathroom is what you make of it.
There are tons of cool ways to transform give your small bathroom a big appeal. Check out our curated list of our favorite small bathroom ideas that will transform your powder room into a power room.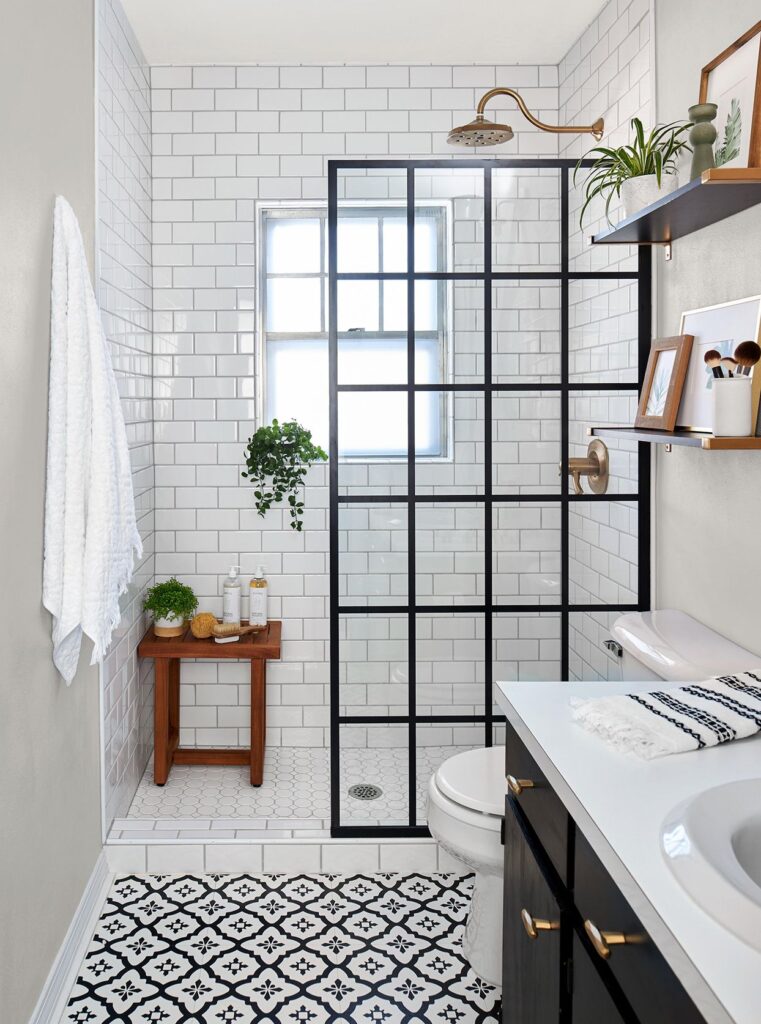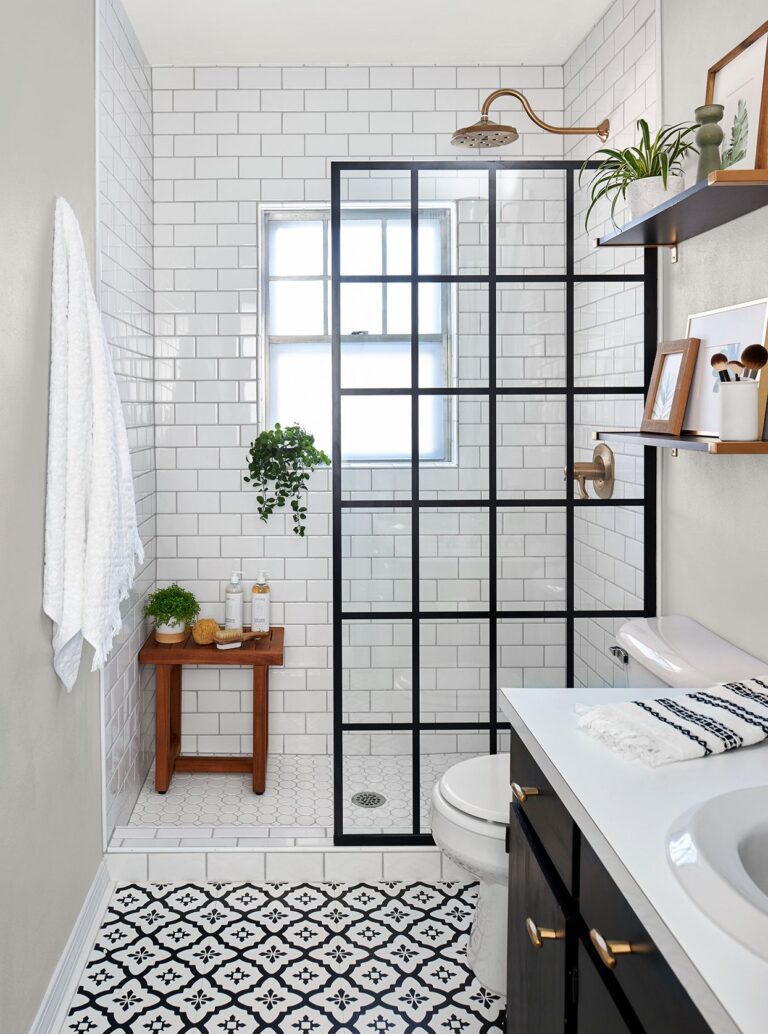 Skylight
Obviously this is only an option that works if your small bathroom is located on the top floor of your house. And in many cases, this is where the smallest bathrooms in the house are found. A skylight is the perfect lighting solution for any small space like your upstairs bathroom.
During the day, they provide a beautiful and refreshing natural light from the outdoors. And at night, they let in the stars and moonlight, giving you enough light to find your way around but not so much that you're jarred awake by aggressive artificial lighting.
Raised Shower Curtain
Changing up the pattern and design of your shower curtain is a fun way to stylize your bathroom for every season, but there's a cool trick you can do with your shower curtain as long as you're able to move your curtain rod.
If your curtain rod isn't fixed to the wall, raise it as close to the ceiling as you can without letting the curtain rings scratch the paint. Of course, for this to work, you'll need a nice and long curtain. Once you see the results, you'll be surprised and impressed at how something as simple as raising your shower curtain can make it seem like your bathroom suddenly has towering vaulted ceilings.
Glass Shower Doors
If you prefer a different style in your bathroom, glass shower doors a sleek and functional way to make your small bathroom feel a little bit bigger. A foggy glass door protects your privacy while you bathe, but allows light to pass through and maintain the open design and feel of the smaller room.
An opaque curtain is a clear dividing line that makes your small bathroom design feel as small as it is. A glass shower door can make a small space feel much more open and roomy without having to make any change to the room design itself.
Wet bath
A wet bath is a type of shower and bath combo with a small cubby for the shower place and a drain on the floor. There's no tub or even a lip to section off the shower itself. You're showering in the tub area, and vice versa. Don't worry, you can still section off the shower with a curtain.
Wet baths are the perfect way to minimize space in any ultra-compact floor plan, particularly spaces like manufactured homes or RVs. However, they're also very common in older homes and in some styles of European interior architecture.
Big Mirrors
What easier way could there be to make a small space seem twice its size than to install a mirror that quite literally displays the room back to you again? Hanging a mirror from wall-to-wall in your small bathroom will instantly give off the impression that the room has expanded by twofold, making even the most discrete small bathroom a luxurious space for personal care.
Many small bathroom ideas call for stylized mirrors or even tinted mirrors, but a full-size wall-mounted mirror is the best way to make your small space feel not-so-small at all.
Wallpaper Versus Tile
The debate will rage on forever between wallpaper diehards and tile junkies. For small bathrooms, the choice should be obvious. Tile is the only way you can keep your small bathroom looking fresh and clean without having to constantly maintain and replace wallpaper.
A small bathroom doesn't offer the ventilation that a large bathroom does. Bathroom odors and hot steam from the shower will hang around a lot longer in a small bathroom and in higher concentrations.
Besides, wallpaper just looks tacky in bathrooms. Tile is used in kitchens and bathrooms for its combined utility and versatile style. You can find far more interesting and attractive options for your small bathroom in tile than you can in wallpaper.
Dynamic Lighting
The lighting can make all the difference in a small bathroom, particularly when it doesn't have the advantage of being on the top floor where you can install a skylight. Consider the lighting fixtures in your small bathroom and how you can manipulate them to enhance the space.
Oftentimes, fixtures are just bulky and annoying in small spaces. Try recessed lighting in small bathrooms to give yourself more storage space around the walls and medicine chest. You can also try installing backlighting from the mirror. Combined with a bright interior choice like white tile, the right lighting can be efficient, stylish, and functional while helping to give you more space.
Floating Shelves
In small bathrooms, every inch of floor space makes a big difference. Instead of adding racks of shelving for your linens and toiletries, install floating shelves on the wall above the vanity and the toilet.
Floating shelves have a cool and modern look, and they can save you a ton of space on the floor. They're also easy to install yourself, and you can even make a DIY project to design and build your own floating shelves for your small bathroom storage space. No powder room ever has enough floor space, so get those shelves off the floor and float them up on the wall.
Floating Sink
While we're on the subject of floating, you can also get rid of the bulk of your sink fixture by eliminating the shelving and stripping everything to the bare essentials. A floating sink has a unique look to it that works well with almost any decor. With the floating sink, however, you may want to replace your pipes with a color that better matches the rest of your small bathroom.
Your floating sink is easier to clean and take care of, too. If you have floating shelves, why would you need the extra storage around the sink? Especially in a powder room where you typically only perform small, quick personal hygiene routines, a floating sink design is a perfect way to make the room as spacious as possible.
Extended Countertops
There's no shortage of small bathroom ideas you can implement right now, but if you're in the middle of a remodel, take the opportunity to extend your countertops all the way to each wall. If you aren't going with a floating sink, then why not make use of the entire space and run the counters across the entire room?
Your bathroom countertops are inevitably the place where most of your bathroom spend most of their time. It's also the "bathroom workstation," so to speak, where you perform your daily personal routine. Give yourself as much space as you need by installing extended countertops in your powder room.
Pocket Doors
In a small bathroom like a powder room, simply opening the door can take up three-quarters of the available space, leaving you to squeeze yourself past the door just to close it behind you. The perfect solution to a large door in a small bathroom is a pocket door.
Pocket doors slide in and out of the doorframe and wall where they're completely out of the way for you to pass through. But they slide back out and lock like any traditional door so that you have the privacy you need in your bathroom. Pocket doors are difficult to install, so the next time you're looking to remodel your bathroom, don't miss the opportunity to save tons of space by installing pocket doors.
Ledges, Not Shelves
As we discussed with floating shelves, you need as much floor space as possible in a small space, particularly in a powder room. If you have a particularly compact bathroom but you have a window, try getting rid of the shelving entirely.
Using existing ledges in the bathroom is a tremendous way to save space that doesn't cost you a dime. If you have a windowsill or any other platform surfaces in the structure of the bathroom itself, you can leverage them for storage space when adding standing shelves just won't do.
Alcoves, Not Shelves
The essence of small bathroom ideas is cutting down on space in the shower. One of our favorite ideas is a shower with alcoves for your bath products, not shower shelves or caddies. Alcoves dug out of the shower wall look much more interesting and save you a ton of space.
You'll need to wait until it's time to remodel your bathroom before you get to install alcoves, but once you do you'll have much more room to enjoy while washing.