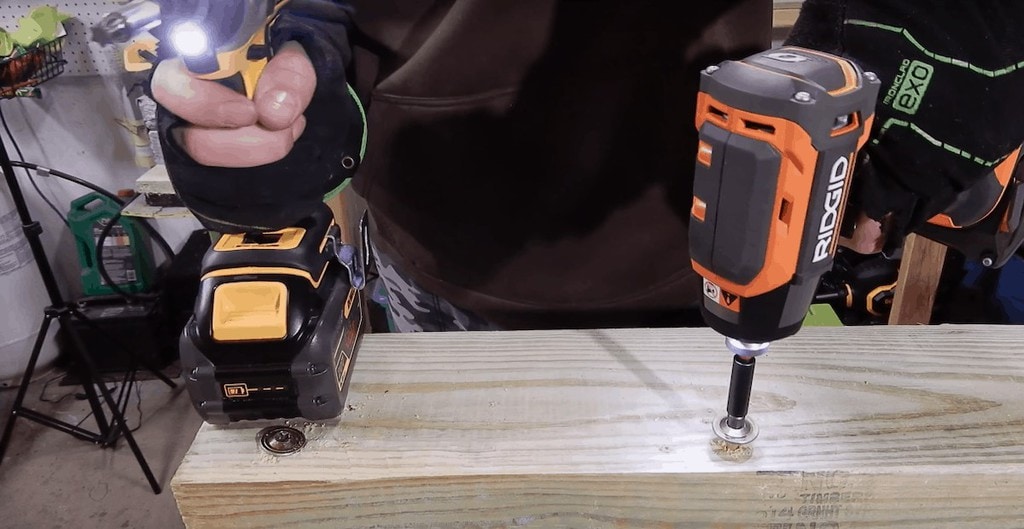 If you need a serious power tool to loosen up bolts, then look no further. The heavy-duty but lightweight impact driver makes removing screws and bolts a breeze and is one of the best tools you can have in your arsenal. In this article, we will explore Ridgid vs. DeWalt and which brand makes the biggest impact.
If you're shopping around for new tools and considering impact wrenches, hammer drills, drill drivers, cordless drills, and other cordless tools, make sure you consider an impact driver—especially a cordless impact driver with a lithium-ion battery. And when it comes to impact drivers, two that you might run across are the Ridgid and DeWalt models. These two American companies make great tools in general, and their impact drivers are no different.
In this article, we take a look at two of the different models that are offered by each of these companies and compare the features and benefits.
Ridgid vs. DeWalt: Brief Company Histories
Ridgid and DeWalt are two of the more well-known construction companies out there, and they have similar histories. While we gloss over it briefly in this piece, if you're looking for a complete look at the differences between these two companies, take a look at our more comprehensive brand review
Ridgid Company History ​
Ridgid was established in 1923 in North Ridgeville, Ohio, but relocated to its current location in Elyria in 1943. It is most well-known for its iconic red pipe wrench—a design that the company premiered that changed the tool forever. Since its founding, Ridgid has been focused on innovation in the market. Bringing new technology to everything from power drives to thread pipes to drain cleaning products.
Ridgid has become an iconic American brand in many ways, and the red pipe wrench is well-known throughout the country. Today the company is owned by the larger Emerson Electric company.
DeWalt Company History
DeWalt is another major American tool company that has a global reach. Like Ridgid, it was founded in 1923, though with a very different tool The founder, Raymond E. DeWalt, debuted the company with his invention of the radial arm saw. It's a type of circular saw used for cutting long pieces of wood.
​DeWalt's history of innovation can still be seen today. In April of 2016, the company, now a subsidiary of Stanley Black & Decker, released a one-of-a-kind Android smartphone that is designed specifically for worksite use. The phone can survive long drops and extreme temperatures and is a testament to the company's ability to create products that are perfect for its client base.
Ridgid vs. DeWalt: Parent Companies
Emerson Electric Co
Emerson Electric Co is the parent company of Ridgid. They own a wide variety of brands:
Cooper-Atkins
Copeland
Dixell
EasyHeat
Fusite
Greenlee
Grind2Energy
InSinkErator
Klauke
Lumity
O-Z/Gedney
ProAct
ProTeam
RIDGID
RIDGID Software Solutions
Sensi
Therm-O-Disc
Verdant
Vilter
White-Rodgers
WORKSHOP Vacs
Stanley Black & Decker (SBD)
Stanley Black & Decker, also known as SBD, is the parent company of DeWalt. They own a wide variety of brands:
DeWalt
Black + Decker
Craftsman
Stanley
Lenox
Irwin
Ridgid vs. DeWalt: Product Line Depths
Both Ridgid and DeWalt sell a wide variety of products. Below, you'll find what each brand's product line consists of.
RIDGID Product Lines
Ridgid sells a wide variety of power tools, lights, stationery, vacuums, and more.
Here are some of the specific types of products you can purchase from RIDGID:
Cordless Combo Kits
Cordless Kits
Drills
Impact Drivers
Miter Saws
Multi-Tools
Right Angle Drill
Reciprocating Saws
Circular Saws
Belt Sanders
Finish Nailers
Random Orbit Sanders
Jobsite Blowers
Jobsite Radios
Hybrid Fans
Heaters
Portable Power Sources
Planers
Rotary Sanders
& More
DeWalt Product Lines
DeWalt sells power tools, outdoor power equipment, lighting, generators, storage, hand tools, batteries, and accessories.
Here are some of the specific types of products you can purchase from DeWalt:
Drill Drivers
Hammer Drills
Jump Starters
Cable Cutters
Compressors
Blowers
Dust Extractors
Angle Grinders
Polishers
Impact Drivers
Oscillating Multi-Tools
Finish Nailers
Staplers
Air Hammers
Air Sanders
Combo Kits
Rotary Hammers
Jointers
Planers
Routers
Orbital Sanders
Track Saws
Table Saws
Miter Saws
Circular Saws
Screwguns
Ridgid vs. DeWalt: Brand Reputation & Cost of Tools
Here we'll go over the reputations and cost of the tools of each brand.
RIDGID Reputation and Tool Affordability
Let's go over arguably one of the most important sections of this brand comparison. Brand reputation and cost of tools. The general consensus is that Ridgid tools are high quality. Even though this is a smaller company in comparison to other power tool companies out there, they do seem to focus on making products that are built to last.
What really seems to stand out about Ridgid products is their durability. The tools are usually built with high-quality materials, have high impact resistance, and have good internal parts that aren't easily impacted by dust or moisture.
Ridgid tools are tools that you want on the job site. However, I would like to mention that even though Ridgid tools are known to be tough, you have to make sure that you take care when using them. This is especially true for big jobs. Some Ridgid products don't have the power needed to perform certain tasks that require heavy-duty tools. They're good tools but may not be for heavy-duty use.
Overall, it's agreed that Ridgid tools are very functional. They're comfortable to handle, they work well, and they don't cost much. In fact, this is one of the things that people are most surprised by. How affordable Ridgid is and the quality you get for the price.
DeWalt Reputation and Tool Affordability
The number one thing that can be said about DeWalt products across the board is that they are likely some of the best out there. The general consensus about DeWalt tools is that they are fairly high-end, maybe not the very best in the world, but certainly up there with the best of them. What most people say, what we agree with, is that DeWalt produces tools and all sorts of products that are ideal for professional and heavy-duty use.
In general, these are the kinds of tools that a tradesman would use on a daily basis for big jobs and not have to worry about them breaking down. Indeed, DeWalt tools are well known for being durable and long-lasting, often using top-of-the-line materials and components in the construction of their power tools and other products.
Now, this is not to say that non-professional people, such as hobbyists, DIYers, and people looking to do home repairs, cannot use them. They are, of course, more than good enough for occasional and lightweight use.
That being said, DeWalt tools are not exactly cheap, which is why hobbyists and people who just need them for occasional use may not buy them. The flip side of that is that you do get what you pay for with DeWalt, and here you do get a whole lot of quality. Overall, DeWalt tools are recognized for their durability, longevity, comfort, functionality, and ability to deal with big jobs.
Ridgid vs DeWalt: Tool Comparison
Impact drivers are used to loosen or tighten larger screws and nuts in hard-to-reach areas or with greater force than a screwdriver. They're not to be confused with impact wrenches which are bulkier, more powerful, and used differently than a driver. They also shouldn't be confused with traditional drills, which are used for more lightweight jobs.
DeWalt and Ridgid both make impact drivers that are guaranteed to get the job done. They are both ¼-inch hex drives that can support a number of different bits. At the end of the day, you'll be happy with either one. However, there are some differences that are worth investigating.
​Ridgid R86035 Cordless Impact Driver​
The Ridgid R86035 is a heavy-duty impact driver meant for tough situations. It has a high power rating of up to 2,000-inch pounds of torque, all of which can be used in three different settings.
DeWalt DCF885C1 Impact Driver
The DeWalt is a lighter impact driver that might be more comfortable for prolonged periods of use. However, that lightness comes at a lower power rating. This impact driver only clocks in at 1,400-inch pounds of torque, a whole 600-inch pounds less than the Ridgid.
Head to Head
We took a look at some of the key factors that everybody buying an impact driver should think about. We also evaluated how each of these companies stacked up.
Power
Regardless of which tool you choose, you're going to get a powerful one. Impact drivers are built on power, and the Ridgid and the DeWalt both provide that.
That being said, the Ridgid does have a higher power rating. With 2,000 inch-pounds of torque output, it's guaranteed to perform well even in the toughest situations. It also has three different speed settings that you can choose from. Its 18-volt STEALTH FORCE pulse driver gives you double the speed at half the noise of other impact drivers. All of this is combined into a 3.1-pound package, so it's easy enough to carry and hold in tough-to-reach areas.
The DeWalt comes in at a lighter 2.8 pounds with 1,400 inch-pound torque. It also has a three-speed setting, allowing you to choose which mode is best for the situation.
Comfort
No matter the tool, you want to ensure that the experience is comfortable. If not, it can quickly become unsafe as your body becomes fatigued.
Impact drivers are fairly safe in general, nowhere near as unsafe as a chainsaw or table saw. However, comfort does play a big role. This is especially true if you'll be using the impact driver for a longer period of time.
The Ridgid and DeWalt both score fine in this category, and both have comfortable grips that also reduce slippage.
So, feel free to use these tools on a hot summer day; you'll still have a firm grip!
In the end, though, we do think that DeWalt tools, overall, feel better in our hands. Ridgid's tools feel clunky at a certain point, so the lightweight design is definitely a bonus in the comfort department, especially if you plan on using the driver for a prolonged period of time.
Extra Features
Both the DeWalt and the Ridgid have some extra features that set them apart from other drivers on the market.
One of the more notable ones, however, is the fact that both have three LED lights installed around the bit to reduce shadows and allow for more accurate use of the tool.
The lights are a major game changer. They're especially wonderful in cases where there might be low or no light.
DeWalt's lights have a special feature of having a 20-second delay after the trigger on the impact driver is released before turning off.
This might not sound like much, but it actually makes a huge difference.
If you're fumbling around trying to align the driver in the dark in a hard-to-reach area, this added 20 seconds can make a huge difference in getting the job done quickly.
Ridgid vs. DeWalt: Final Thoughts
At the end of the day, both of these impact drivers are good options.
If we had to pick one, we would probably go with the DeWalt. This is because in our experience, their tools perform a little bit better than Ridgid's. Of course, we want you to choose the best option for you. The best option for you may not be the top-end option. If you need something to complete projects around the home and other light duties, then the Ridgid impact driver may be the best choice for you!
Ridgid vs. DeWalt: Frequently Asked Questions
Are DeWalt and Ridgid the same company?
No, DeWalt and Ridgid are not the same company. Ridgid is owned by Emerson Electric Co, which is the parent company. They own a few different brands. DeWalt is owned by Stanley Black & Decker. They own a variety of different brands.
Is Ridgid good quality?
Ridgid is often seen as one of the best tool brands that you can purchase today. They offer both brushless and brushed options, and the quality is great for DIYers and home use.
Are Ridgid tools worth buying?
Some Ridgid tool tests have found that their tools underperform when compared to other top tool brands. However, Ridgid offers incredible value for its tools.
Are Ridgid tools as good as DeWalt tools?
For the most part, Ridgid has several tools that are right on par with DeWalt tools, but there are some DeWalt tools that are of higher quality than the Ridgid version.
Is Ridgid better than Dewalt for cordless hand tools?
There isn't a direct answer to this question. Dewalt tools are good quality and perform well. Ridgid tools are cheaper but can get the job done. However, one is technically better performance-wise. But Ridgid may be better for you if you're just performing tasks around the house. DeWalt makes excellent tools for heavy-duty projects and jobs, but if you don't need that, why pay the extra money?
Do DeWalt batteries fit Ridgid?
Although DeWalt and Ridgid are in the same market space, they each have their own accessories, including batteries, to fit their tools. This is how companies ensure customer loyalty.