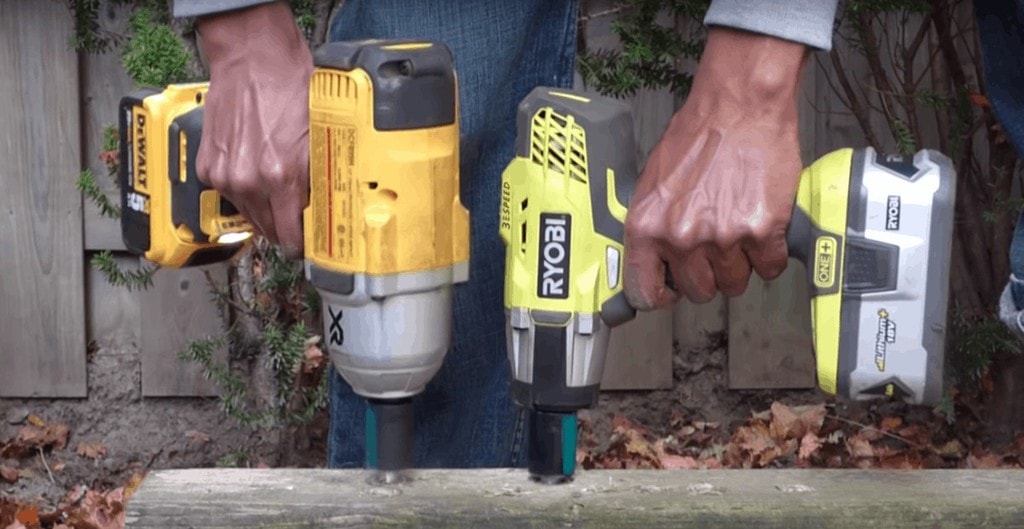 When looking for a set of new tools for around-the-house jobs, the first thing most any pragmatic homeowner or DIY'er will do is compare prices and check out the swath of customer reviews available for each brand online. And out of the half-dozen or so top name brands out there to choose from, the DeWalt vs. Ryobi rivalry continues to be one of the most difficult decisions for would-be buyers to navigate.
Last update on 2021-09-28 / Affiliate links / Images from Amazon Product Advertising API
One the one hand, you can grab a Ryobi drill, saw, cordless combo kit, or whatever it is for about half the price of its DeWalt counterpart. On the other hand, it doesn't take much searching to find plenty of online 'experts' out there telling you to 'avoid the cheap stuff!' – dishing out life lessons like, "you get what you pay for." Or, "take it from me, I learned the hard way…"
And so on and so forth.
So what's the average guy (or gal) to do?
In this article, we'll do our best to bust all the myths, illusions, and straight-up baloney when it comes to the never-ending DeWalt vs. Ryobi debate.
(And hint hint: if you like saving money, you'll probably be pleased to hear what we have to say).
DeWalt vs Ryobi: Brief Histories/Backgrounds
First of all, it goes without saying that DeWalt makes great tools; they're reliable, efficient, durable, they come with a nice warranty, and they prove themselves day in and day out at professional job sites all around the country (and world).
That being said, it never ceases to amazes us how many people out there are of the misconception that DeWalt is some 'solitary entity' – an American company building 100% American tools.
That's just straight-up nonsense. While it's true that Raymond DeWalt built the brand from the ground up in Leola, Pennsylvania, it's also true that they've operated under a corporate umbrella since the 1940's. Today they're just a small entity of the much larger, monster conglomerate that is Stanley Black and Decker; while a small percentage of their tools are manufactured in the USA (of 'global' materials, no less), the vast majority of them are popped out of far-east manufacturing plants.
While Ryobi operates in much the same way (they're owned by Hong Kong's Techtonic Industries, another massive international conglomerate), we don't want you to be under the impression that DeWalt is still some kind of household American name, or that you're paying top dollar for 'American craftsmanship' or something like that, because unfortunately those days are long gone.
(If you truly want to support 100% American companies, check out brands like Klein or ChannelLock).
Talk to a tool expert in minutes, 24/7
Talk to a tool expert in minutes, 24/7
First NameContinue
16,216,105
questions answered
11,990
verified experts
DeWalt vs. Ryobi: Warranties
Another major consideration that can't go unconsidered is warranty. Even if you're spending half the money on a set of tools, you still want to make sure that they're backed by some kind of guarantee.
We've found that a lot of people just out and out assume that since they're more expensive, DeWalt tools will have a better warranty than Ryobi, or any of the cheaper stuff for that matter. As it turns out, both companies offer virtualy the same exact warranty: the industry standard 3-year Limited on all power tools.
"But shouldn't a better, more expensive tool have a better warranty," you might be wondering?
That's a good question, and we were actually thinking the same thing…
Head-to-Head Tool Comparisons: DeWalt vs. Ryobi
Ok, so let's actually talk tools. When it comes to cordless power tools, the big marketing thing nowadays for all brands is the brushless motor.
In a nutshell, brushless motors offer an increase in performance, power, and efficiency over the standard 'brushed' motor that nearly all prior cordless tools were powered by. (For an in-depth article on why and how, check out our article here on brushless vs brushed motors).
Is this just another marketing gimmick though for brands to sell you new tools at a higher price point?
Not really – there actually is a pretty significant difference between the two types of tools both in terms of performance and efficiency, and also in terms of longevity/durability.
Of course, though, there's also a huge difference in terms of price: brushless tools are much more expensive.
In any regard, this is one aspect (perhaps the only one) where DeWalt has the upper hand over Ryobi – they currently offer a complete range of brushless tools, from circular saws and sawzalls, to impact drivers, hammer drills, and even leaf blowers.
At the time of this writing, Ryobi only has a hammer drill and a standard cordless drill available in the brushless variety.
DeWalt vs. Ryobi Brushless Drills
DeWalt 20V MAX Li-Ion Brushless Compact Drill/Driver
Last update on 2021-09-14 / Affiliate links / Images from Amazon Product Advertising API
Ryobi 18V ONE+ 6-Tool Super Combo Kit
Last update on 2021-08-20 / Affiliate links / Images from Amazon Product Advertising API
If we were to recommend any one cordless tool combo kit for the average homeowner/DIY'er to keep around the house, this would be the one – you simply can't beat the value either in terms of the quality of tool(s) that you're getting for the price.
Not to mention, the kit comes with just about everything you'll ever need for the next eight ot ten years or so of DIY projects: cordless drill, impact driver, circular saw, sawzall (reciprocating) saw, 90-degree multi tool (a superb addition that you'll get tons of use out of), an LED work light, and two batteries with a charger.
My father is a big-time garage/woodworking/project hobbyist, always looking for something to tinker around with, and he has been using these exact tools almost weekly now for probably going on eight years, with no problems at all. If you have realistic expectations of what the tools can (and cannot) do, we guarantee you'll be pleased with them.
(In other words, don't go out and buy this combo if you just got your first job at a professional contracting company, and plan on beating the hell out of your tools for eight hours a day).
Oh and also, if you're looking for an even cheaper kit than the 6-tool combo, Ryobi also has their immensely popular 4-tool combo which includes everything but the impact driver and the multi tool).
DeWalt 20V MAX 5-Tool Cordless Combo
Last update on 2021-07-17 / Affiliate links / Images from Amazon Product Advertising API
This is DeWalt's counterpoint to the Ryobi 6-piece super combo: a five tool setup that includes a circular saw, reciprocating saw, drill, impact driver, and work light, with one battery and a charger (remember the Ryobi combo came with two batteries).
Are the tools good? Absolutely. Better quality, better construction, and better performance overall than the Ryobi's.
Are they worth THAT much more though, for one less tool (you don't get the super-useful multi-tool) and one less battery? In our opinion, no way.
The Verdict: First of all, let's again be very clear about something: if you plan on really beating the tarnation out of your tools, and getting tons of hardcore use out of them day-in-day-out, you're going to want to spend the extra money and get the better construction and stronger performance of DeWalt.
Put simply, if you plan on doing things like drilling through ¼" angle iron or zipping off lug nuts on a ½ ton pickup truck, you'll likely end up disappointed with Ryobi tools.
If, on the other hand, all you're looking to do is some standard drilling, driving, and cutting on basic home renovation/repair projects, the Ryobi gear will absolutely suit you just fine, and we can't recommend their value enough.
Bottom Line: DeWalt vs. Ryobi
So at the end of the day, when it comes to the never ending DeWalt vs. Ryobi debate, we have no hesitation whatsoever in recommending folks save some money and go with Ryobi.
We might get a lot of guff from 'seasoned pros' in saying that, but when all's said and done, as long as you have realistic expectations of the tools' capabilities, you simply can't beat the value that Ryobi offers. For average projects (setting up drywall, deck building, general repairs), their quality, performance, and even durability will be all you'll ever need.
Are DeWalt products better? Sure. But not at the point of spending almost double the price.