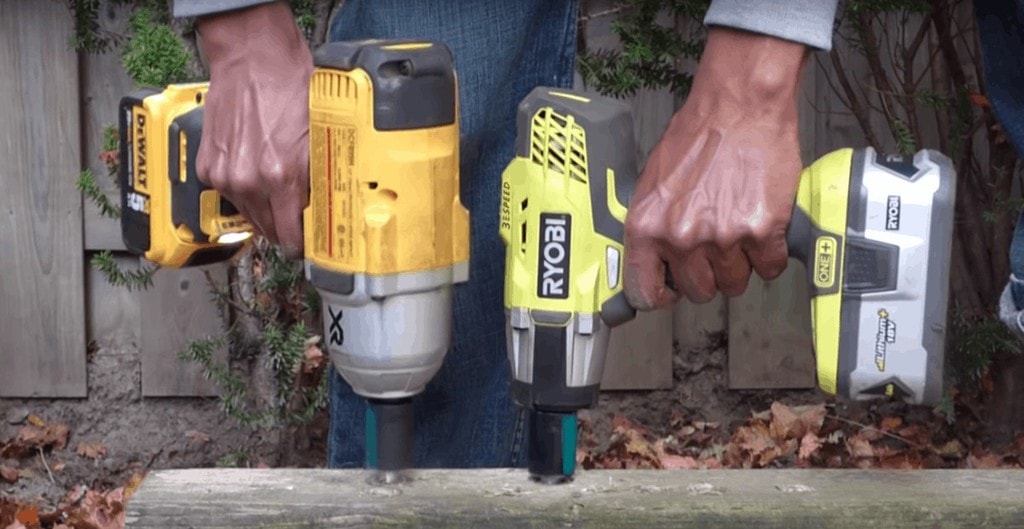 When looking for a set of new tools for around-the-house jobs, the first thing most any pragmatic homeowner or DIY'er will do is compare prices and check out the swath of customer reviews available for each brand online. And out of the half-dozen or so top name brands out there to choose from, the Ryobi vs DeWalt rivalry continues to be one of the most difficult decisions for would-be buyers to navigate.
One the one hand, you can grab a Ryobi drill, saw, cordless combo kit, or whatever it is for about half the price of its DeWalt counterpart. On the other hand, it doesn't take much searching to find plenty of online 'experts' out there telling you to 'avoid the cheap stuff!' – dishing out life lessons like, "you get what you pay for." Or, "take it from me, I learned the hard way…"
And so on and so forth.
So what's the average guy (or gal) to do?
In this article, we'll do our best to bust all the myths, illusions, and straight-up baloney when it comes to the never-ending Ryobi vs DeWalt debate.
(And hint: if you like saving money, you'll probably be pleased to hear what we have to say).
Ryobi vs DeWalt: Company Histories
Here we'll briefly go over the histories of both Ryobi and DeWalt.
DeWalt Company History
First of all, it goes without saying that DeWalt makes great tools; they're reliable, efficient, and durable, they come with a nice warranty, and they prove themselves day in and day out at professional job sites all around the country (and the world).
That being said, it never ceases to amaze us how many people out there are of the misconception that DeWalt is some 'solitary entity' – an American company building 100% American tools.
That's just straight-up nonsense. While it's true that Raymond DeWalt built the brand from the ground up in Leola, Pennsylvania, it's also true that they've operated under a corporate umbrella since the 1940's. Today they're just a small entity of the much larger, monster conglomerate that is Stanley Black and Decker; while a small percentage of their tools are manufactured in the USA (of 'global' materials, no less), the vast majority of them are popped out of far-east manufacturing plants.
Ryobi Company History
While Ryobi operates in much the same way (they're owned by Hong Kong's Techtonic Industries, another massive international conglomerate), we don't want you to be under the impression that DeWalt is still some kind of household American name, or that you're paying top dollar for 'American craftsmanship' or something like that, because unfortunately those days are long gone.
(If you truly want to support 100% American companies, check out brands like Klein or ChannelLock).
Ryobi & DeWalt Parent Companies
Techtronic Industries (TTI)
Techtronic Industries is the parent company of Ryobi. They own a wide variety of brands:
Milwaukee
AEG
Ryobi
Homelite
Empire
Imperial Blades
Stiletto
Kango
Hart
Hoover
Oreck
Vax
Dirt Devil
Stanley Black & Decker (SBD)
Stanley Black & Decker, also known as SBD, is the parent company of DeWalt. They own a wide variety of brands:
DeWalt
Black + Decker
Craftsman
Stanley
Lenox
Irwin
Product Line Depths
Both Ryobi and DeWalt sell a wide variety of products. Below, you'll find what each brand's product line consists of.
Ryobi Product Lines
Ryobi sells power tools, outdoor power equipment, lighting, lifestyle and recreation, generators, cleaning storage, hand tools, batteries, and accessories.
Here are some of the specific types of products you can purchase from Ryobi:
Combo Kits
Drills
Impact Drivers
Ratchets
Circular Saws
Miter Saws
Jig Saws
Table Saws
Sanders
Glue Guns
Routers
Nailers
Paint Supplies
Mowers
Seed Spreaders
Snow Blowers
Heaters
Inflators
Generators
Wet Vacs
Modular Storage
Levels
Taper Measures
& More
DeWalt Product Lines
DeWalt sells power tools, outdoor power equipment, lighting, generators, storage, hand tools, batteries, and accessories.
Here are some of the specific types of products you can purchase from DeWalt:
Drill Drivers
Hammer Drills
Jump Starters
Cable Cutters
Compressors
Blowers
Dust Extractors
Angle Grinders
Polishers
Impact Drivers
Oscillating Multi-Tools
Finish Nailers
Staplers
Air Hammers
Air Sanders
Combo Kits
Rotary Hammers
Jointers
Planers
Routers
Orbital Sanders
Track Saws
Table Saws
Miter Saws
Circular Saws
Screwguns
Brand Reputation & Cost of Tools
Here we'll go over the reputations and cost of the tools of each brand.
Ryobi Reputation and Tool Affordability
Ryobi tools are considered to be average to above average. The general opinion of its products is that they're not high-end in comparison to other brands, but the quality is still quite good.
It is commonly agreed that Ryobi's tools are more than suitable for small building tasks and light repair work and are a great option for amateur carpenters and craftsmen. Now, some people do not like Ryobi for heavy-duty and professional tasks. However, this is fully going to depend on the individual, industry, and tools in question.
What can for sure be said about Ryobi tools is that people are quite happy with the prices at that Ryobi sells their products. Don't get me wrong, they're definitely not the cheapest option on the planet, but they're far from being the most expensive. This alone is a big reason why Ryobi tools are such a popular choice among DIY enthusiasts, woodworking hobbyists, craftsmen, etc. In other words, when purchasing Ryobi products, you get tools that are better than average for a reasonable price.
DeWalt Reputation and Tool Affordability
The number one thing that can be said about DeWalt products across the board is that they are likely some of the best out there. The general consensus about DeWalt tools is that they are fairly high end, maybe not the very best in the world, but certainly up there with the best of them. What most people say, what we agree with, is that DeWalt produces tools and all sorts of products that are ideal for professional and heavy-duty use.
In general, these are the kinds of tools that a tradesman would use on a daily basis for big jobs, and not have to worry about them breaking down. Indeed, DeWalt tools are well known for being durable and long-lasting, often using top of the line materials and components in the construction of their power tools and other products.
Now, this is not to say that non-professional people, such as hobbyists, DIYers, and people looking to do home repairs cannot use them. They are of course more than good enough for occasional and lightweight use.
That being said, DeWalt tools are not exactly cheap, which is why hobbyists and people who just need them for occasional use may not buy them. The flipside of that is that you do get what you pay for with DeWalt, and here you do get a whole lot of quality. Overall, DeWalt tools are recognized for their durability, longevity, comfort, functionality, and ability to deal with big jobs.
Head-to-Head Tool Comparisons: Ryobi vs DeWalt
Ok, so now for the moment you've all been waiting for. Let's talk tools. We know that cordless power tools are the preferred option, for good reason! They're lighter, more portable, and easier to use. However, the big thing companies are marketing these days are brushless motors.
Brushless motors increase the performance, power, and efficiency of tools. They're much better over the standard 'brushed' motor that is found in a wide variety of tools. You may be thinking, is this just another marketing gimmick, though?
The good news is that it's not a marketing gimmick. There is actually a significant difference between the two types of tools in terms of performance, efficiency, and durability.
Ryobi vs DeWalt Brushless Drills
When comparing Ryobi vs DeWalt drills, the biggest factor is cost. One thing you'll definitely need to take into consideration is the type of work you'll be doing. Will you be consistently drilling through double-stacked headers or using large hole saws and self-feed bits? If so, the DeWalt DCD997 will be able to handle a lot more torque for longer periods than something like the Ryobi HP Brushless hammer drill. The DCD997 also slows down very little once you give it a job to do. Additionally, the DeWalt drill will drill much quicker through concrete than the Ryobi HP Brushless Hammer Drill.
However, the Ryobi HP brushless drill excels when it comes to speed. If you only intend to drill holes that are 1/2-inch or smaller or tackle the occasional Tapcon, then a Ryobi drill will be perfectly fine for you. I would like to mention that by no means is a lightweight drill. It can also take care of heavy-duty projects. The only reason you shouldn't pick a Ryobi drill is if you need to complete heavy-duty projects on a DAILY basis. The price of a Ryobi HP Brushless drill is around half the price of the DeWalt DCD997. That alone can help you see the appeal of Ryobi for some users.
Ryobi vs DeWalt Impact Drivers
If the above brushless drill comparison indicates anything, it just shows that these tool companies remain competitive. When comparing the Ryobi vs DeWalt impact drivers, two things stood out. The DeWalt DCF850 shaves off over 1 1/2 inches in length of the Ryobi. I also know that DeWalt has significant advantages when it comes to this tool, including both speed and torque.
I like the chuck-based tri-LED light that DeWalt implements because it lights the work area up so you can see much more clearly. The DeWalt DCF850 features 3-speeds while the Ryobi also has 3-speeds. but it has an Assist mode that helps when removing and tightening fasteners.
In this comparison, both brands offer a tool that does very well overall. This makes it hard to make a decision. To help you decide, the choice should have much more to do with the product line you prefer. It doesn't matter if you're a home user or a professional.
Ryobi vs DeWalt Circular Saws
When it comes to buying a Ryobi vs Dewalt circular saw, we have to say that DeWalt is the brand to go with. Ryobi makes a great 7-1/4″ cordless circular saw, but it doesn't have the professional feel that DeWalt circular saws offer. Ryobi also doesn't have a rear-handle saw. I would like to mention that Ryobi does have both 7-1/4″ and 6-1/2″ models.
The price for a circular saw from Ryobi, and the price for a circular saw from DeWalt differs almost as much as their physical traits do. The DeWalt 60V DCS578 is nearly two pounds heavier than the Ryobi PBLCS300B. You could argue that this makes for a more heavy-duty tool. The DeWalt also has an aluminum shoe, while the Ryobi uses steel. However, it is worth noting that the Ryobi features a sightline for cutting that's a little bit better.
Ryobi vs DeWalt Miter Saws
Ryobi has several miter saws that are an excellent value. However, performance wise DeWalt wins for miter saws as well. To know which brand is best for you, though, you need to figure out what kind of work you intend to do.
The DeWalt DWS716XPS miter saw remains a favorite of mine. I love the LED cutline that lets you see where you're making your cut. This remains true even when working in a shop with bright lights. This saw also cuts 6-1/2 in. vertical base and 6-5/8 in. of vertically nested crown molding.
As stated in the beginning, Ryobi has several miter saws to choose from. They range from 7-1/4″ to 12″. They also have non-sliding and sliding options as well as a stand. I would like to note, though, that none of Ryobi's options offer tall rear fences and innovative features. Instead, Ryobi prioritizes value. Their entry-level corded saw runs for just $99 when it's on sale.
Ryobi vs DeWalt: Warranty Comparison
Here is a quick overview of both Ryobi's and Makita's product warranty.
Ryobi Warranty
Ryobi offers pretty good warranties. All Ryobi power tools are covered by a two- or three-year manufacturer's warranty. Additionally, the majority of Ryobi's hand tools have limited lifetime warranties, and most of the outdoor equipment features a five-year warranty. Considering that the price of Ryobi products which are reasonable, these warranties are actually quite thorough.
DeWalt Warranty
DeWalt does a pretty good job on the warranties for their tools and other products. They offer a 30-day money-back guarantee on all of their tools. It also offers three-, seven-, or lifetime limited warranties depending on the specific tool you purchase.
Bottom Line: Ryobi vs DeWalt
So at the end of the day, when it comes to the never ending DeWalt vs. Ryobi debate, we have no hesitation whatsoever in recommending folks save some money and go with Ryobi.
We might get a lot of guff from 'seasoned pros' in saying that, but when all's said and done, as long as you have realistic expectations of the tools' capabilities, you simply can't beat the value that Ryobi offers. For average projects (setting up drywall, deck building, general repairs), their quality, performance, and even durability will be all you'll ever need.
Are DeWalt products better? Sure. But not at the point of spending almost double the price.
Frequently Asked Questions
Are DeWalt and Ryobi the same company?
DeWalt and Ryobi have the same parent company, Techteronic Industries. This parent company is also behind Milwaukee, AEG, Homelite, Hoover, Hart, Oreck, Vax, and Dirt Devil.
Is Ryobi good quality?
Ryobi is often seen as one of the best tool brands that you can purchase today. They offer both brushless and brushed options, and the quality is great for DIYers and home use.
Are Ryobi tools worth buying?
Some Ryobi tool tests have found that their tools underperform when compared to other top tool brands. However, Ryobi offers incredible value for its tools. For example, professionals love the Ryobi 18v Brushless Impact Driver. It's a powerful tool that costs only $100.
Are Ryobi tools as good as DeWalt tools?
For the most part, Ryobi has several tools that are right on par with DeWalt tools, but there are some DeWalt tools that are of higher quality than the Ryobi version.
Is Ryobi better than Dewalt for cordless hand tools?
There isn't a direct answer to this question. Dewalt tools are good quality and perform well. Ryobi tools are cheaper but can get the job done. However, one is technically better performance-wise. But Ryobi may be better for you if you're just performing tasks around the house. DeWalt makes excellent tools for heavy-duty projects and jobs, but if you don't need that, why pay the extra money?
Do DeWalt batteries fit Ryobi?
Although DeWalt and Ryobi are in the same market space, they each have their own accessories, including batteries, to fit their tools. This is how companies ensure customer loyalty.