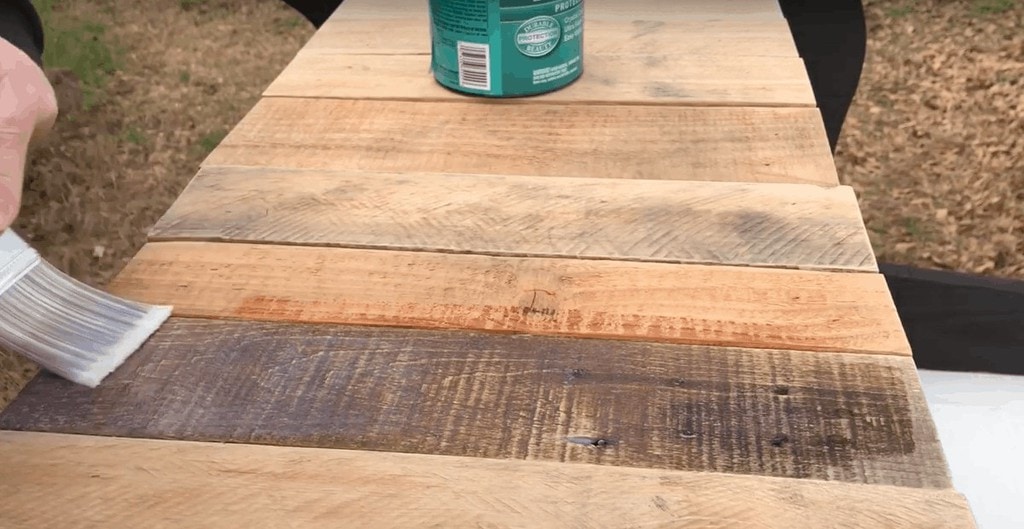 Polyurethane is a protective finish that is available in both oil based and water based forms. It comes in 2 varieties – glossy and satin finish.
Water-based polyurethane is famous for being low odor and low toxic. It is a transparent protective finish as compared to the oil based version which has a slight color.
The water based version also dries much faster. Water based poly is good for things that are not exposed to extreme or rigid temperatures such as picture frames, side tables, bookcases and desks etc.
Water Based Polyurethane For…
Side Tables
Picture Frames
Desks
Book Cases
Oil based polyurethane is comparatively more durable than water based especially when it comes to handling extreme heat.
It brings about the richness of wood like a wood stain but it can add a slight yellowish tint.
Kitchen tables and wooden flooring are good candidates for oil based poly. Both oil and water based versions can be applied on acrylic/latex paints. If your going to be on your knees working check out our guide to the best knee pads and keep your body in top shape.
Oil Based Polyurethane For…​
Kitchen Tables
Wood Flooring
Surfaces that may get wet
Polyurethane is a sealer available in either spray on or wipe on form. If you are not concerned about yellowing of the surface, polyurethane is the best option.
» COMPARE: Polyurethane vs Tung Oil
Top Rated Finishes:
| Finish | Quality | Price | Rating |
| --- | --- | --- | --- |
| Minwax Clear Gloss Polyurethane | A | $$ | |
| General Finishes Water-base Polyurethane | A+ | $$ | |
| Minwax Satin Polycrylic | A | $$ | |
Here is a video from Minwax that shows both finishes in action:
Pros Of Polyurethane

Adds a Shiny Clear Coat

Virtually Scratch-proof

Extremely Durable
Polyurethane is like melted plastic. Once hardened, it forms a strong protective shell over bare wood.
Moreover you cannot dispute the shine that polyurethane layering gives to expensive wood furniture and wooden flooring.
Polyurethane finish is hard and durable and is scratch proof.
Cons of Polyurethane
Takes a long time to dry
Needs Ventilation – Toxic and Flammable
It takes approximately 12 hours to dry so the drying process is long
While working with polyurethane, you have to make sure that the room is well ventilated. The reason being that polyurethane is highly flammable and toxic.
Polyurethane Application Tips:
Sand your piece with fine grits of sandpaper
Once the wood is free of blemish, remove any dust
Dilute your oil based polyurethane with mineral spirit and apply long even strokes of the liquid on the wooden surface. Be sure to catch and even out any drips.
Use undiluted polyurethane varnish to do the second and third coat and let dry for 24 hours
Once the surface is completely dried, cut away any drips with a razor evenly
Use a foam brush and brush the final coat within 48 hours of previous coatings. Use the same care with the topcoat too.
Polycrylic Overview
Polycrylic is water based protective coating. It is available in high gloss and satin finishes. It can be applied with a spray bottle or roller. It offers protection of wood along with faster drying times. It adds beauty to interior wood pieces such as painted furniture, woodwork, doors and cabinets. It is ideal for use on light wood surfaces like ash, maple, birch because it has no tint. It also works well over water based finish.
Pros of Polycrylic
Very Affordable Product
Easy Clean-up
Durable Finish
Clear finish – particularly on lighter shades
Polycrylic is very affordable and readily available at hardware stores.
Polycrylic creates a durable finish and is great for surfaces that are very frequently used such as desks, kid's furniture and tables.
It is completely clear and does not have a yellow tint like oil based polyurethane. So it is best used when you don't want a yellowish colored layer over your furniture and more so over light colored or white paint.
Tidying up is super easy because it is water based. Simply clean your rags, hands and brushes with water and soap.
Cons of Polycrylic
Runny Consistency, challenging to apply well
Dries very fast – hard to work with large pieces of wood
Milky finish if applied too thickly on dark paint
It works well over standard latex paint but not over matte latex. The additives in matte paint keep the "easily dried" polycrylic from drying up. It remains runny leaving behind cracks when dried.
Due to its runny consistency, you will have to apply a very thin coat on vertical surfaces and watch closely for drips.
Once you have applied a polycrylic coating, you can't go back to re-do it as it will make your surface an untidy sticky mess.
Difficult to use on large pieces because it dries really quickly.
Polycrylic is actually opaque and not transparent. Over dark colored paints it can give a milky finish if applied too thickly.
Polycrylic Application Process:
First make sure the surface is free of dust. Debris trapped up in polycrylic will create an uneven polycrylic finish.
Sand very lightly using sand grit paper
Apply a thin layer of polycrylic with a foam or soft bristled brush and let it dry
Sand again using grit paper
Apply two more coats.
WHICH ONE TO USE?
| Finish | Quality | Price | Rating |
| --- | --- | --- | --- |
| Minwax Clear Gloss Polyurethane | A | $$ | |
| General Finishes Water-base Polyurethane | A+ | $$ | |
| Minwax Satin Polycrylic | A | $$ | |
There is no standard answer when it comes to deciding which poly to use. One thing I would like to add is neither option needs wax added.
Are you still having trouble deciding which option is right for you? You should always consider your specific wood project when choosing your sealer:
To be honest, polycrylic and polyurethane are good for many of the same projects. This includes dressers, side tables, desks, and picture frames. If you don't know which one to choose, ask yourself the following questions to help you decide which one to use:
Will the wooden piece you're making be exposed to high moisture or temperatures? If so, then you will want to use an oil-based polyurethane.
Are you applying the sealer to a wood surface such as maple or will you be using it over wood finish that is painted white or another light color? If so you do NOT want to use an oil-based polyurethane. Oil-based polyurethane can dry with a yellow tint.
Are you sealing hardwood floor? If you're sealing wooden floors you will want to use oil-based polyurethane because it provides the most durable finish in high-use situations like flooring.
Do you need a product that dries quickly? If so, definitely go with polycrylic. It dries much faster than polyurethane does.
Are you working indoors or in a place that doesn't have good ventilation? You'll want to use polycrylic, it is less toxic than polyurethane. This is especially true when working in an area that doesn't have good ventilation.
Are you sealing a large piece of furniture? You'll want to use polyurethane. Polycrylic dries very fast, which makes it hard to achieve a smooth finish if you're working with a large area.
Are you sealing a vertical surface? Polyurethane is easier to work with on vertical surfaces. This is because it's thicker than polycrylic which makes it less prone to dripping.
Do you want easy cleanup? Polycrylic is the way to go if you want easy clean up, all you need is soap and water to remove it from your hands and any other surfaces.
Is budget a big concern? You'll want to go with polycrylic, it's usually less expensive than polyurethane.
REFERENCES:
http://www.familyhandyman.com/floor/water-based-vs-oil-based-polyurethane-floor-finish/view-all
http://www.doityourself.com/stry/pros-and-cons-of-polyurethane-finish
http://www.silive.com/homegarden/homeimprovement/index.ssf/2009/07/the_pros_and_cons_of_lacquers.html
http://ana-white.com/2010/12/polyurethane-vs-polycrylic
http://www.minwax.com/wood-products/clear-protective-finishes/interior/minwax-polycrylic-protective-finish
http://www.domesticimperfection.com/2012/04/polycrylic-the-new-polyurethane/