Enhance your space with this easy & unique DIY outdoor furniture ideas! Even if you are a beginning DIY'er there are plenty of fun ways you can make your own furniture. In many cases, you can repurpose items that you no longer use and transform them into useful pieces. Add your own design, color, and flair to whatever you are making and I promise you will be happy with the results.

1. DIY Adirondack Chairs
Now you can build your Adirondack chairs in your shop. Imagine relaxing after a long day on chairs that you made yourself! Grab your materials, fix an iced tea and get to work making some of these gorgeous chairs! These would also be really lovely gifts or crafts that you could sell.
Source & Instructions: Just The Woods
2. DIY Outdoor Storage Bench
It is so convenient to build furniture that also is a storage solution all in one. That is precisely what you get with this DIY outdoor storage bench. Not only does this look fabulous it isn't hard to make either. You can stain the wood or paint it so it will match your other furniture.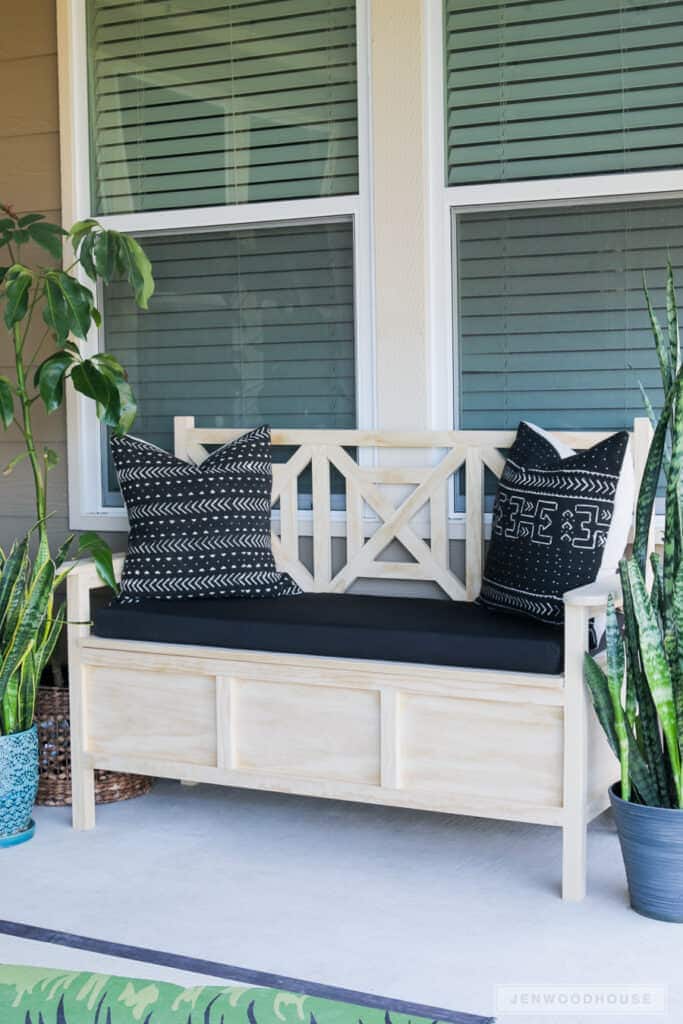 Source & Instructions: Jen Woodhouse
3. DIY Copper Cabana
This stunning DIY copper cabana will add an ambiance that makes you feel like you are on vacation! You can customize your cabana to fit your deck, so it can be larger or smaller than the one they made. The finished result looks like a million bucks, but in reality, it is very inexpensive to make!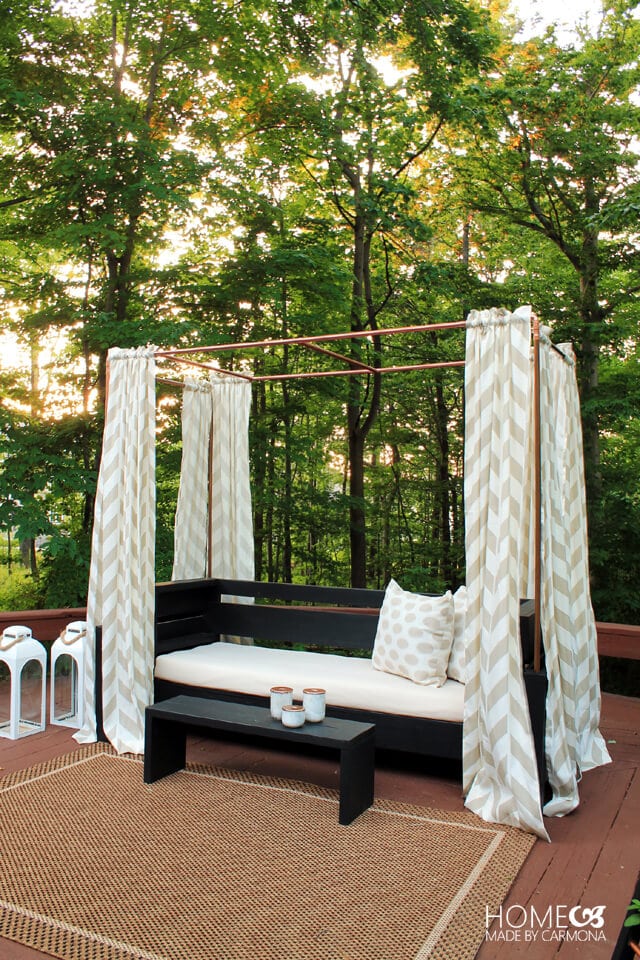 Source & Instructions: Homemade By Carmona
4. DIY Rope Ottoman
Looking for a place for people to kick their feet up? This DIY Rope Ottoman is great for indoors or outdoor decorating. It is sturdy and robust while adding a rustic feel to your space. Plus, it is so easy to make even your kids can help put it together.
Source & Instructions: Handimania
5. DIY Outdoor Storage Bin & Bench
This storage bin is so attractive, and it can hold a lot of things! Hide your kid's balls, toys, or gardening tools in this sleek bench. These are especially helpful if you have a tiny yard, limited storage or your patio.
Source & Instructions: Sand & Sisal
6. DIY Coffee Table With Herb Garden
Your friends and family will be envious when you show them this unique coffee table with an herb garden. The best part is you will have all of your favorite herbs right at your fingertips too. This is seriously one of the coolest pieces to add to your patio.
Source & Instructions: A Beautiful Mess
7. DIY Pallet Swing Bed
This DIY pallet swing bed is charming, colorful and inviting. This bed would be a sweet spot to take an afternoon nap, read a book or watch the sunrise or sunset. No matter what, it is sure to be something everyone in the family gravitates towards.
Source & Instructions: The Merry Thought
8. Outdoor Movie Theater Seats
Relax under the stars watching a summer movie on these excellent movie theater seats. There is nothing better than having the family together and being outside. This is a win-win combination! Grab the popcorn and treats because you are going to love this idea!
Source & Instructions: Not Just A Housewife
9. Rolling Storage Table
I am always on the hunt for storage solutions that also add a decorating aspect! This rolling storage table is the winning combination of useful and incredibly stylish. Excellent storage solution for throw pillows, garden tools, or anything else you want out of plain sight.
Source & Instructions: Simplicity In The South
10. Side Table With Concrete Top
This x-brace side table with industrial style concrete top is beyond amazing! Thankfully, they provide a detailed tutorial to guide you through this process. It is pretty simple, and the hardest part is waiting for the concrete to dry so you can see your masterpiece!
Source & Instructions: Rogue Engineer
11. Vintage Chair Drink Stand
Repurpose an old vintage chair into a new summer drink stand! The look and style of this drink stand are terrific for all your backyard entertaining. Barbecues and picnics will be even more fun! Add your favorite beverages and some ice, and you are ready to party!
Source & Instructions: Oh My Creative
12. DIY Backyard Bar
You don't have to have loads of money to have an incredible backyard bar! The best part is that it is hinged so when you are using it you can fold it up and have it out the way. Break out the margaritas for this one!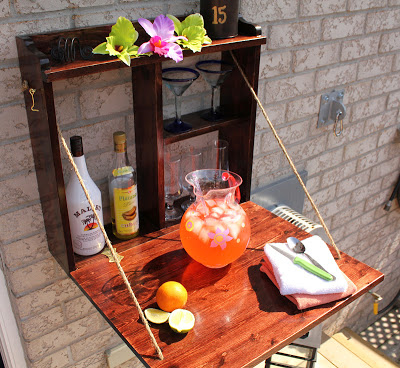 Source & Instructions: Turtles and Tails
13. DIY Arbor With Built-In Benches
Your backyard is going to be so beautiful, and you will have a lot of additional seating when you make this arbor with built-in benches. Use climbing plants for a pop of vibrant color. I know it looks like a lot of work, but it is surprisingly easy to make.
Source & Instructions: Family Handy Man
14. Make Your Own Hammock
Dreaming of spending the afternoon resting in a hammock without a care in the world? Guess what, you can make your own hammock with little effort and very few supplies. The hammocks are simple enough you can make several.
Source & Instructions: The Merry Thought
15. Patio Table With Built-In Coolers
Backyard barbecues won't be the same when you have this awesome patio table with built-in coolers. If you are hosting a birthday party for kids, you could fill it up with pop & juices. No matter how you use it, I am confident it will be the talk of the party.
Source & Instructions: Ana White
16. Pallet Wood Sofa
Build a pallet wood sofa, and you will have a terrific outdoor entertaining area. It is easy to make and comfy to sit on as well. The instructions are very detailed which will make it simple for you to replicate. Add some vibrant throw pillows and some potted plants.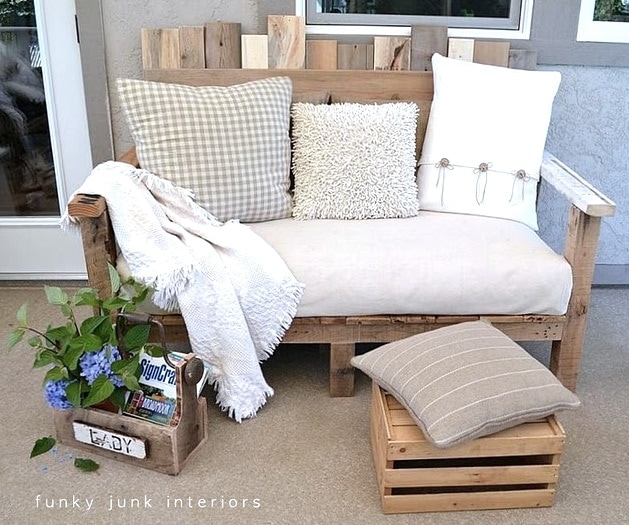 Source & Instructions: Funky Junk Interiors
17. DIY Wood Stools
Who knew you could turn a tree stump into a stunning wooden stool? This project is practically genius! The seats will look great if you make several and place them all over your deck or patio. Farmhouse style stools are certainly going to be a hit amongst your friends.
Source & Instructions: H&A Happenings
18. Vintage Milk Jug Side Tables
Pick up some milk jugs at a thrift store or yard sale, and you can craft your own milk jug side tables. Using items that would usually be tossed out gives you an extra appreciation for this type of project. Add your initial, and you will have a personalized and useful side table.
Source & Instructions: Pretty Handy Girl
19. Coffee Table With Storage
This coffee table with storage has multiple uses! You can store items, not in use, it has a lift, and a slide out! I think you are going to love it! Put this beauty on your patio and enjoy all the many things you can do with it. The best part is that it's on rollers, so it is easy to move too!
Source & Instructions: Instructables
20. DIY Swings Around Campfire
How fun will it be to spend the evening gathered around the campfire on DIY swings? Roast marshmallows and hotdogs while enjoying the great outdoors. Plus, you can swing for hours. Your house is going to turn into the go-to spot for barbecues!
Source & Instructions: DIY & Crafts
21. Build A Tree Bench
Do you have a large tree that would be perfect with a bench around it? Take a look at this tutorial on how to make your own tree bench. This is going to add charm, curb appeal while giving you plenty of additional seating for guests.
Source & Instructions: This Old House
22. Cast Iron Bathtub Sofa
This idea is so creative and unique! Take a look at this guide on how to make a cast iron bathtub outdoor sofa. You can change out the pillows for different seasons and add as much color as you like.
Source & Instructions: One Krieger Chick
23. DIY Tile Table
Transform your space with a DIY Tile Table! Even if you are just started and have never tiled anything before you can make this table. Add whatever colors match your style, and you will have a charming piece of furniture you made!
Source & Instructions: Censational Style
24. DIY Table From Old Door
Turn an old door into an awesome outdoor dining table. Gather around the table for your next outdoor party and all your guests will be shocked you made it! The best part is you only need a few supplies and very few tools.
Source & Instructions: The Handmade Home
25. Wooden Pallet Chillout Lounge
Take a load off and get some rest on your homemade wooden pallet chillout lounge. This is an excellent project for the entire family to help with. Plus, it is a great way to use old pallets.
Source & Instructions: Freckles and Fluff