Decorating for Easter can be a lot of fun. It's even more fun when you make the decorations yourself. See some really fun Easter decorating ideas below.
1. Beautiful DIY Easter Centerpiece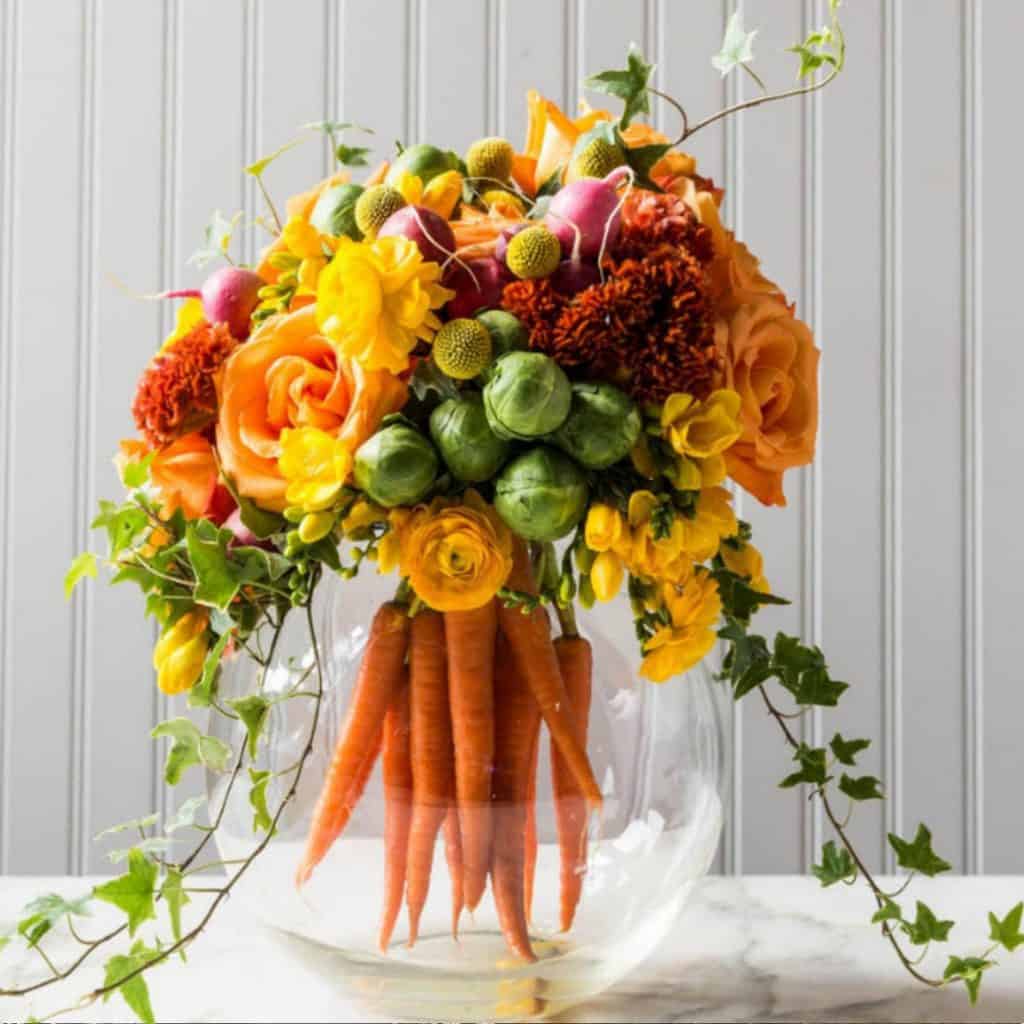 Southern Living wanted to try a different centerpiece instead of the traditional style. This Easter centerpiece turned out so beautiful! See how they did it.
2. Easter Bunny Canvas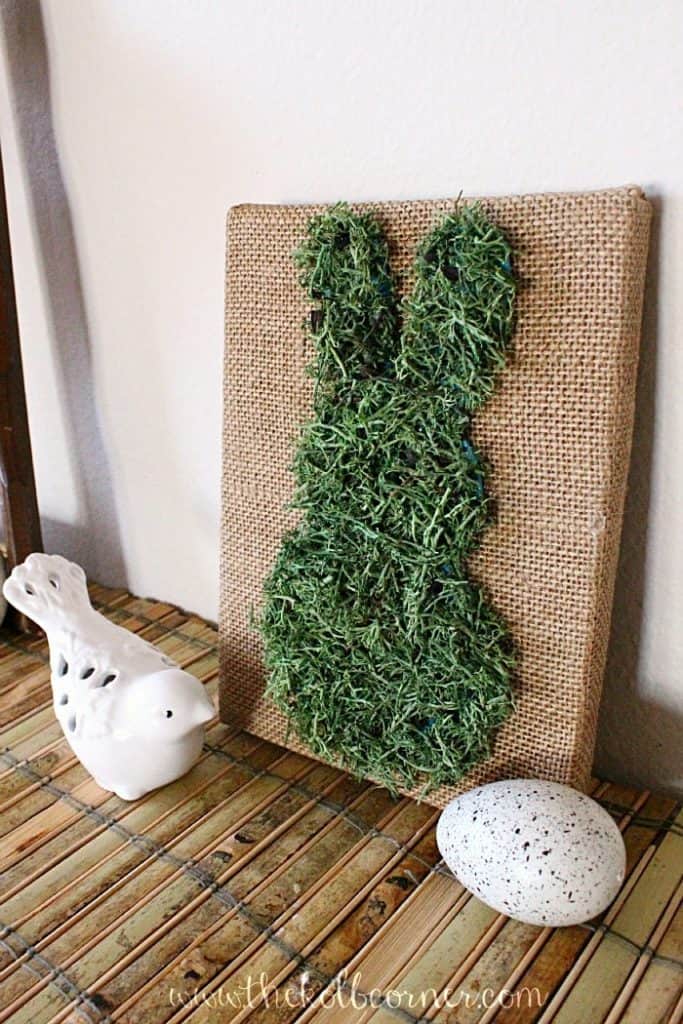 Amanda at Domestically Creative made an adorable Easter decoration with moss and canvas! This is a perfect DIY project for beginners. Give it a try.
3. DIY Wooden Block Bunnies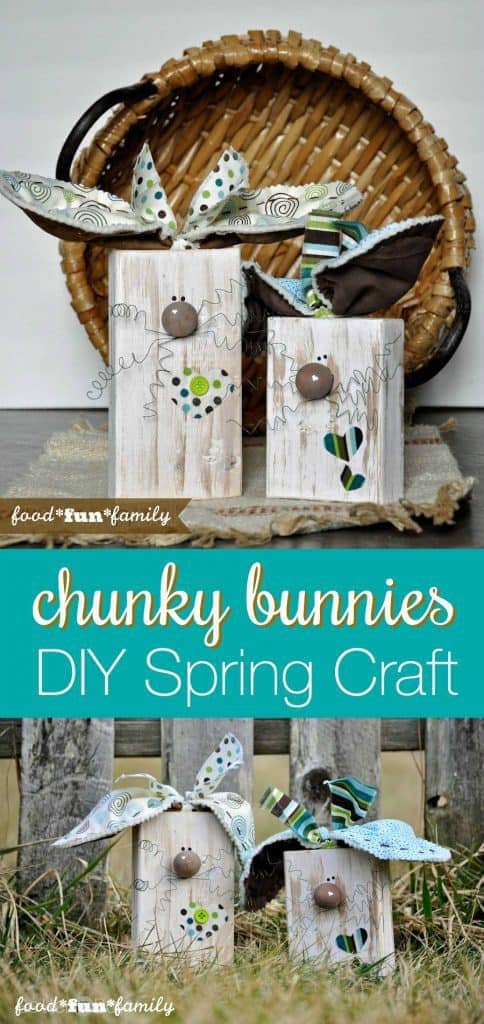 Lisa at Food Fun Family was so excited for spring to come, so she made these DIY wooden bunnies. They turned out fantastic! See how she made them.
4. DIY Easter Mason Jars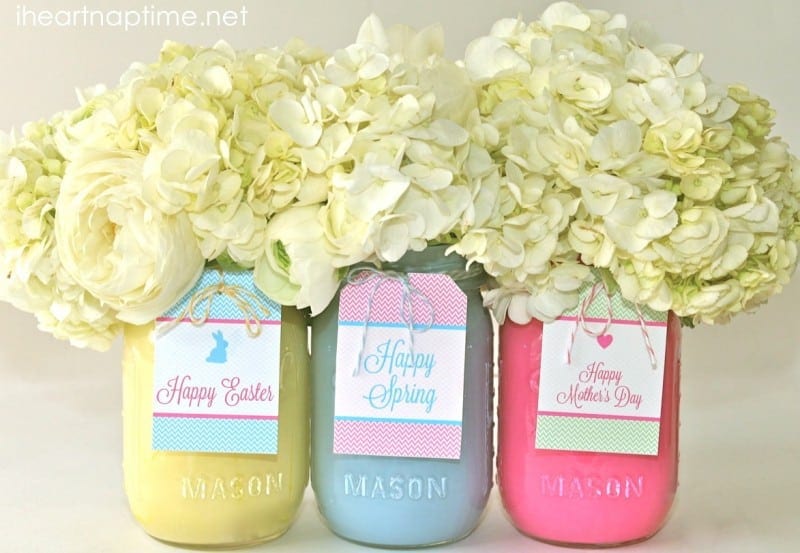 I Heart Naptime decorated some really cute DIY Easter themed mason jars. I love the pastel colors, It just screams spring! Full tutorial here.
5. Fun DIY Egg Poppers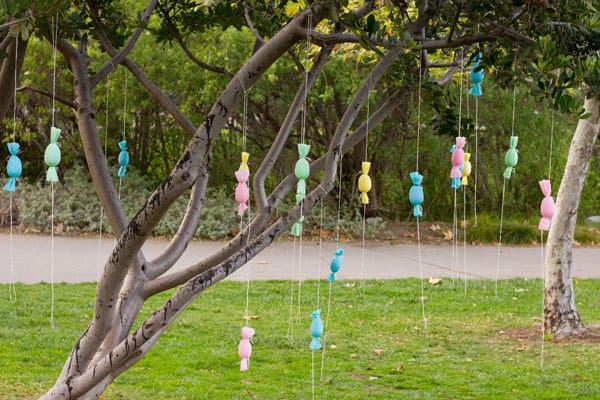 Studio DIY got really creative and made some egg poppers similar to what they had as kids. This is so fun and I think kids of all ages would love this. Try it yourself.
6. Easy Rustic Easter Pallet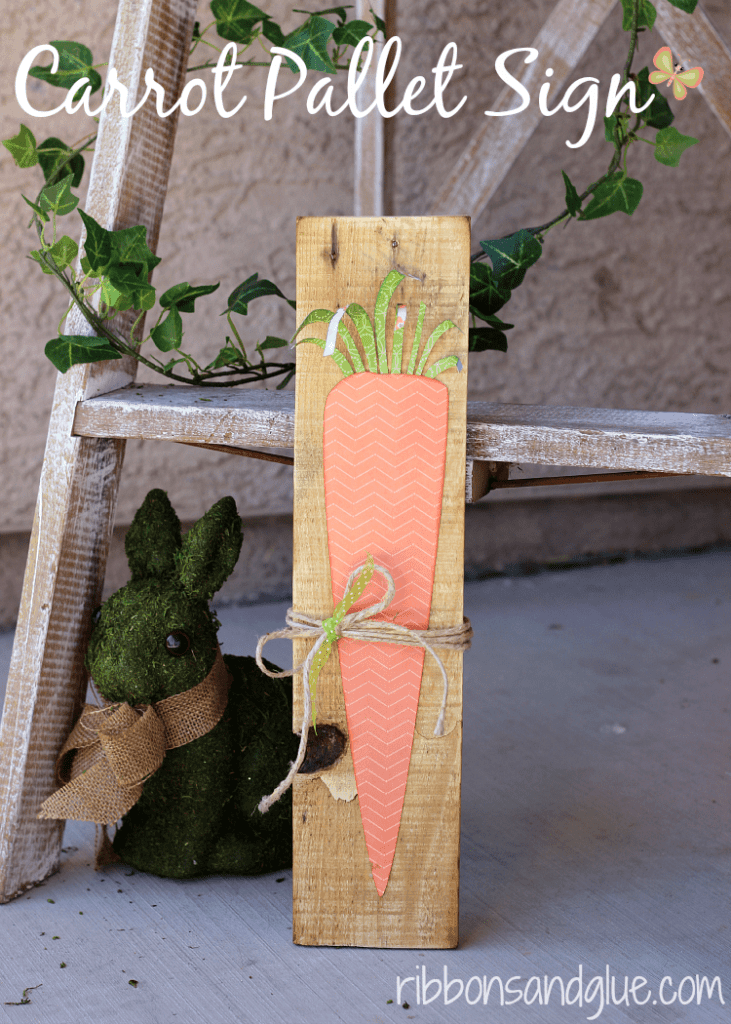 Holly at Ribbons & Glue shares how she made a fantastic rustic Easter pallet. It has an adorable carrot that is perfect for spring! Make your own Easter pallet.
7. DIY Carrot Yard Ornaments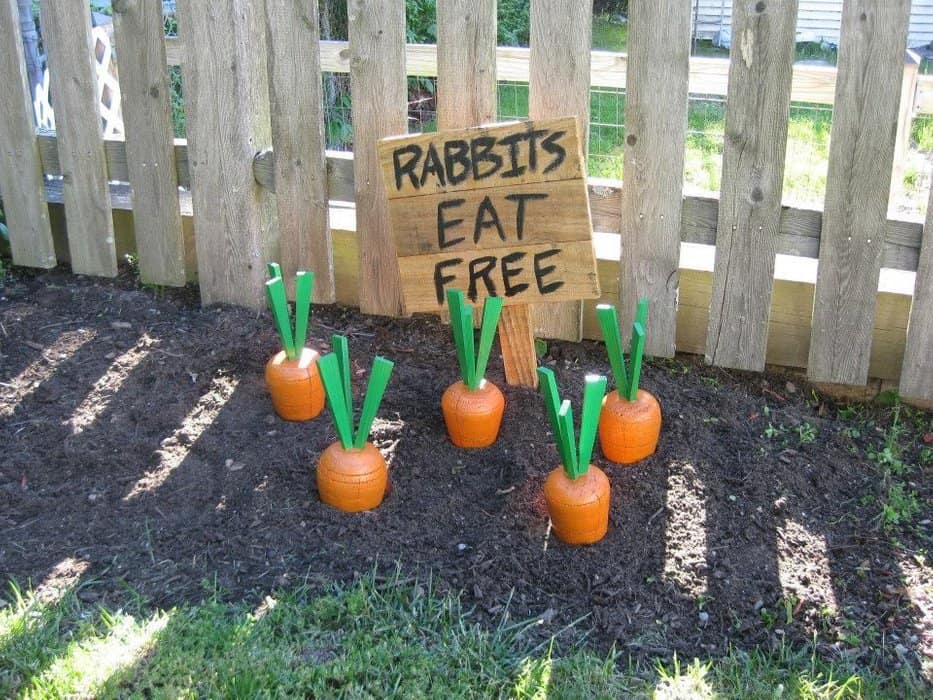 Instructables gives a great tutorial on how to make these really fun yard ornaments that look like carrots. They are easy to make and look fantastic! How they did it.
8. Make Your Own Simple Easter Baskets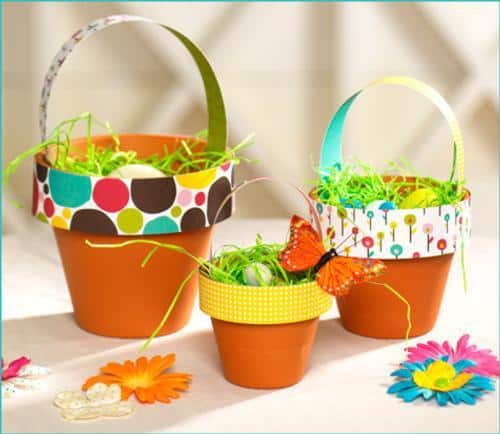 Hostess With The Mostess wanted to make Easter baskets that were both cute and easy. She came up with these baskets using terracotta pots. Try it out.
9. DIY Bunny Planter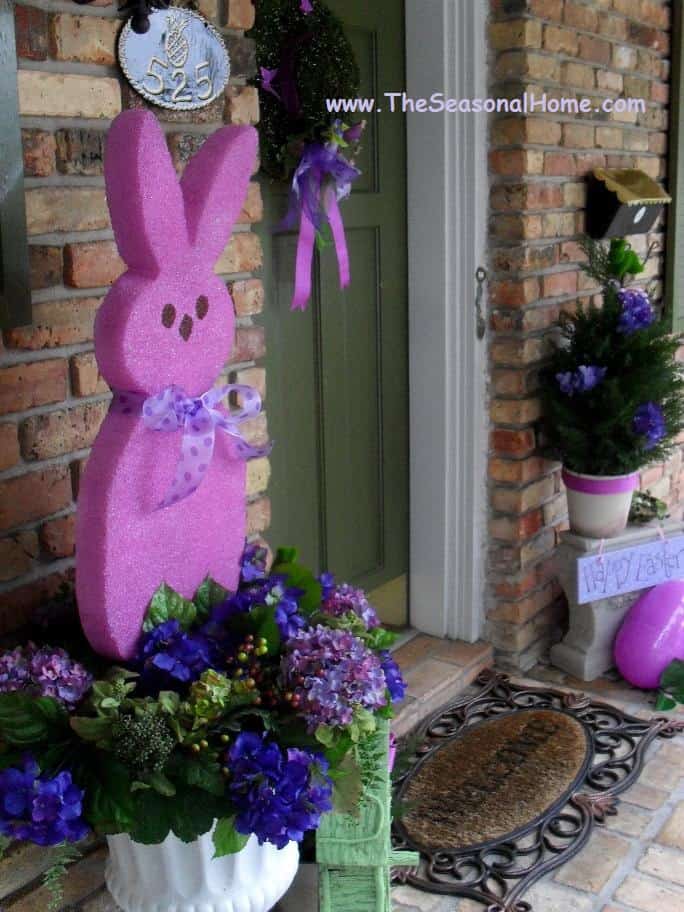 Craft-O-Maniac got inspiration to make this bunny planter from purple bunny treats she had. This planter is awesome and everyone will be impressed with your handy work! Check it out.
10. Spring Easter Wreath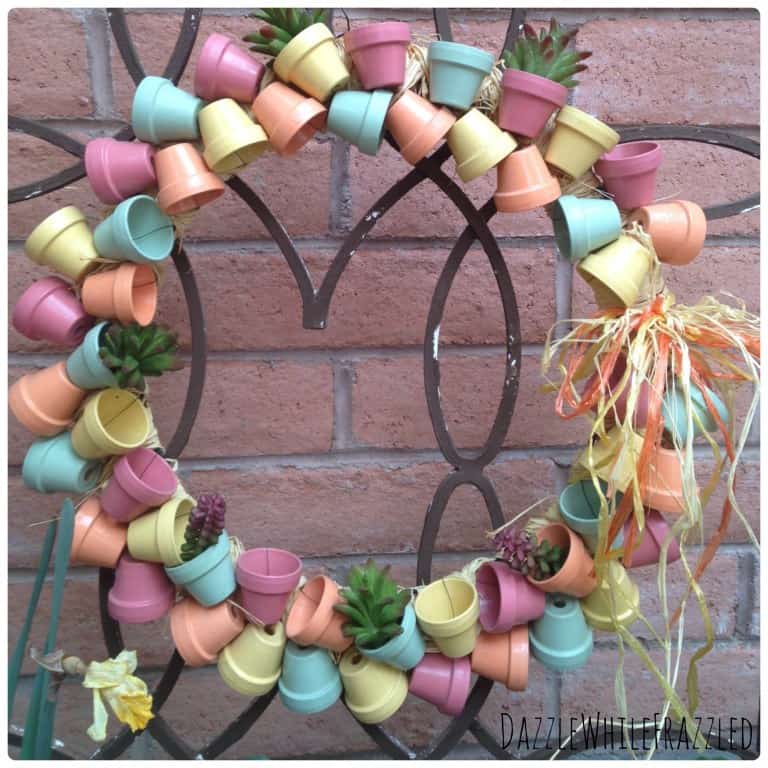 Dazzle While Frazzled made a unique Easter wreath out of terracotta pots. I love the look of the wreath with the succulents too. See tutorial here.
11. Burlap Table Runner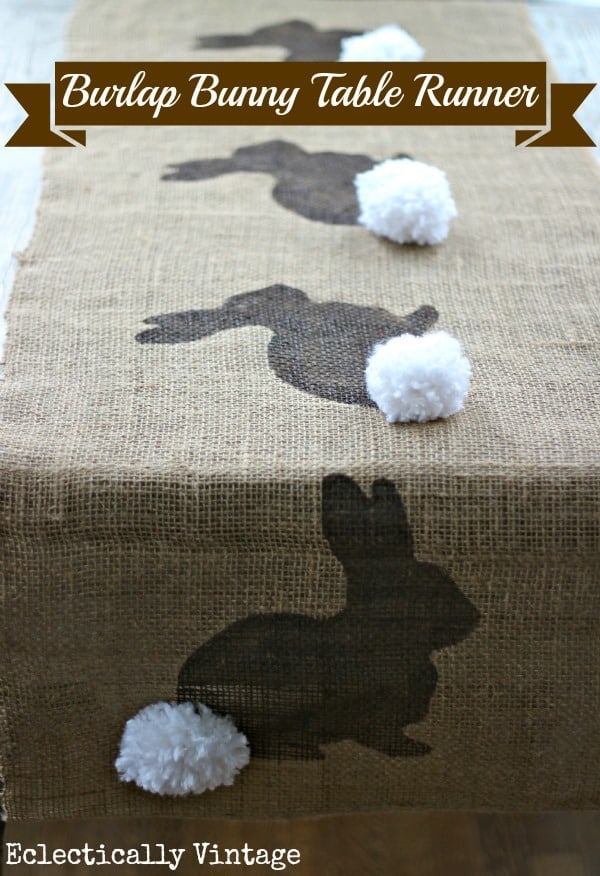 Kelly Elko made an awesome Easter table runner with adorable bunnies. This is a fantastic beginner DIY project. Give it a try!
12. Gorgeous DIY Easter Basket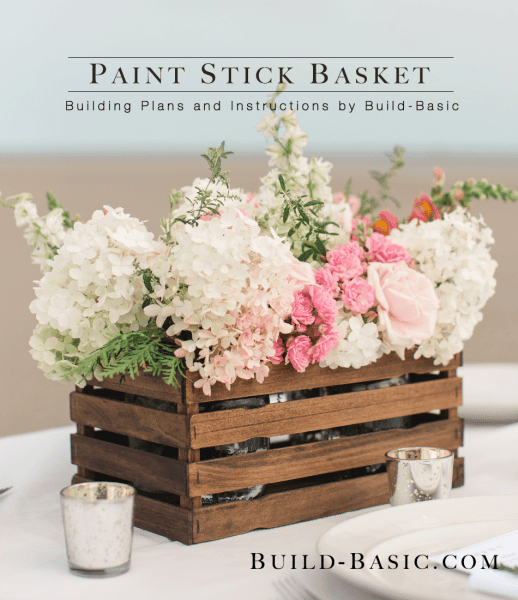 Build-Basic shares how they took paint sticks and transformed them into a beautiful Easter basket. They added flowers to create a rustic look. See how they did it.
13. DIY Easter Egg Lights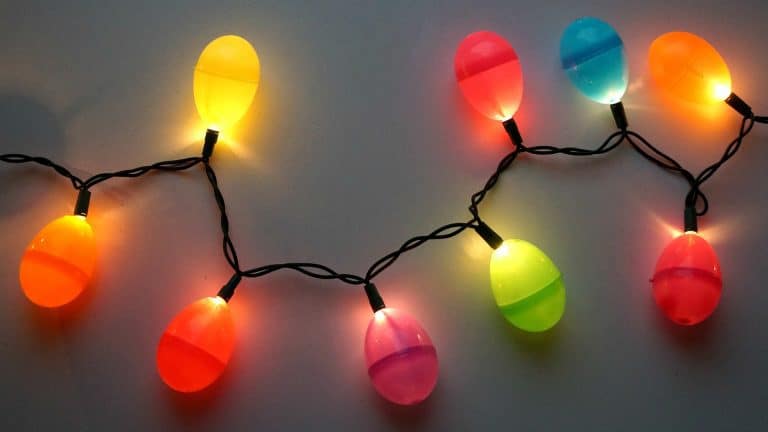 Creative Ramblings made some awesome string lights with some plastic eggs. They will add a festive touch to any space you hang them in. Full tutorial here.
14. Bunny Made With Reclaimed Wood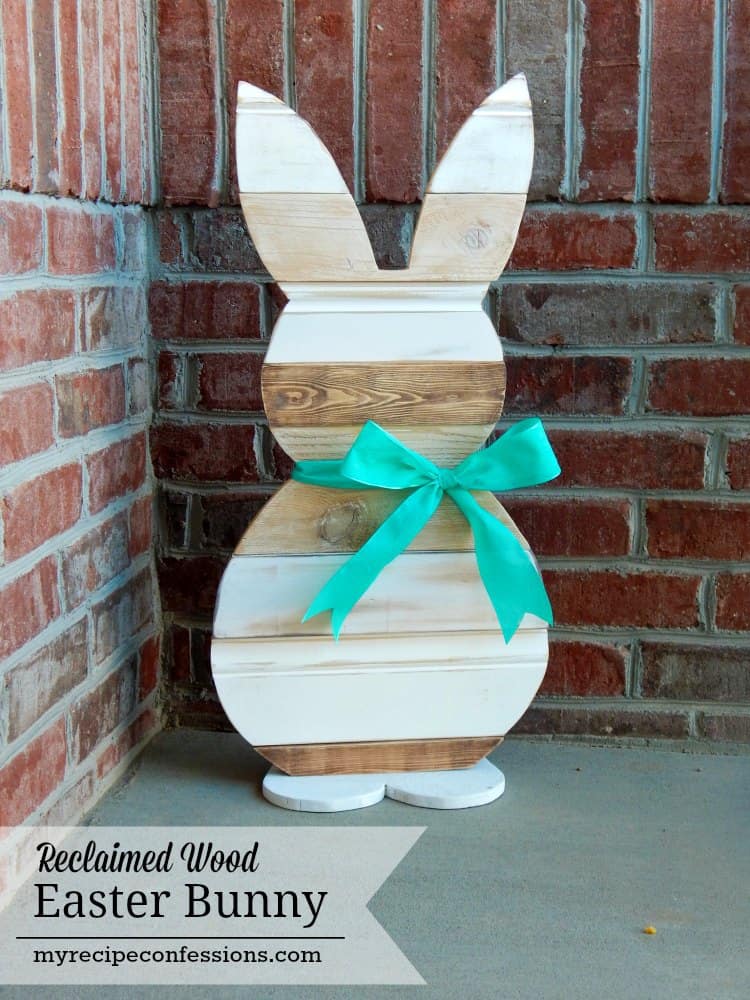 My Recipe Confessions used reclaimed wood to make an adorable Easter bunny decoration. The wood is gorgeous and it turned out beautifully. See how to make your own.
15. Colorful DIY Easter Wreath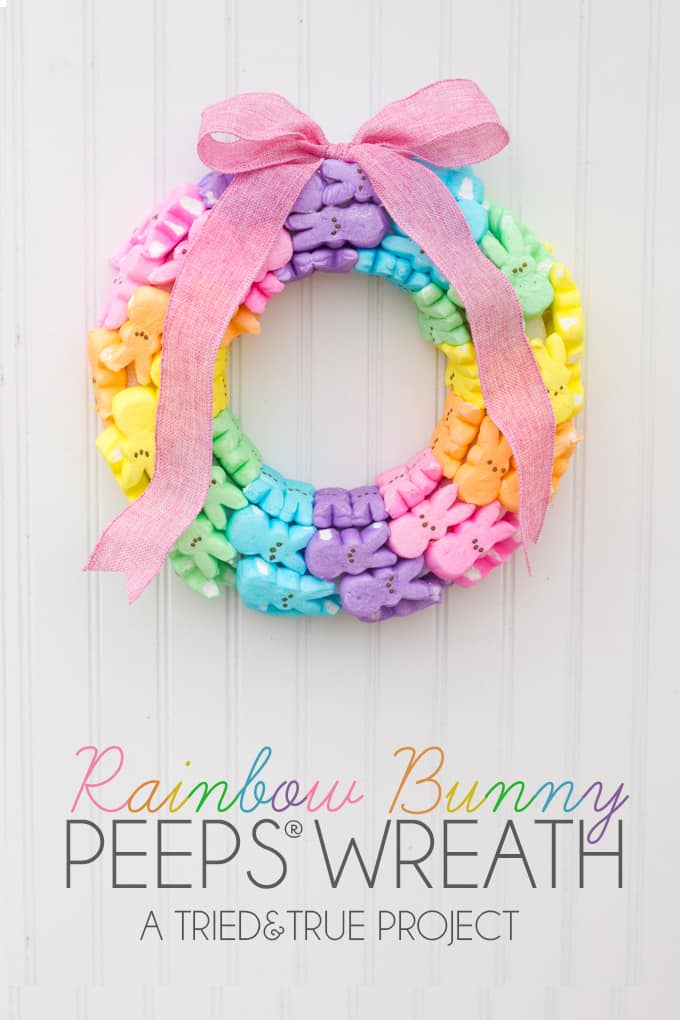 Vanessa at Tried & True made a colorful rainbow with Easter marshmallow treats. It turned out awesome! The bright colors make it pop. Check out how she did it.
16. DIY Easter Themed Mason Jars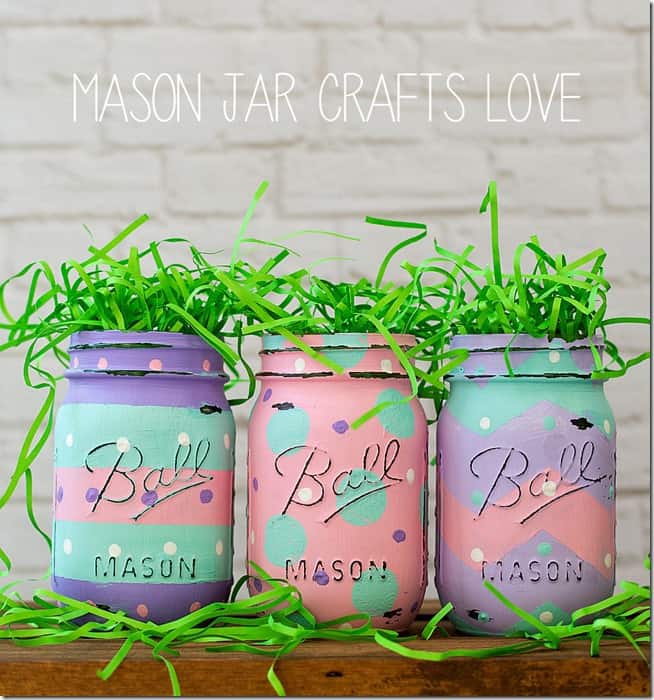 Linda at Mason Jar Crafts updated some mason jars with beautiful Easter pastel colors. They are a perfect spring decoration. Make your own.
17. Easy Bunny Sign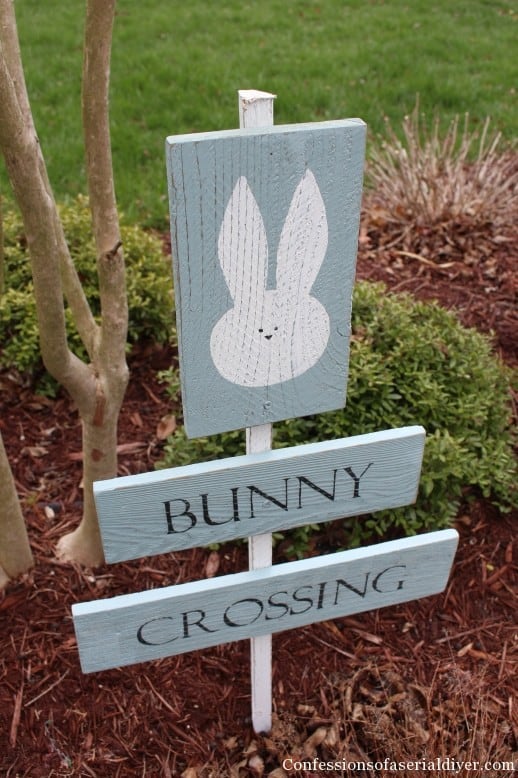 Confessions of a Serial Do It Yourselfer created this rustic bunny crossing sign. They did a great job and it turned out so awesome! Do It Yourself. 
18. Simple Rustic Wood Bunnies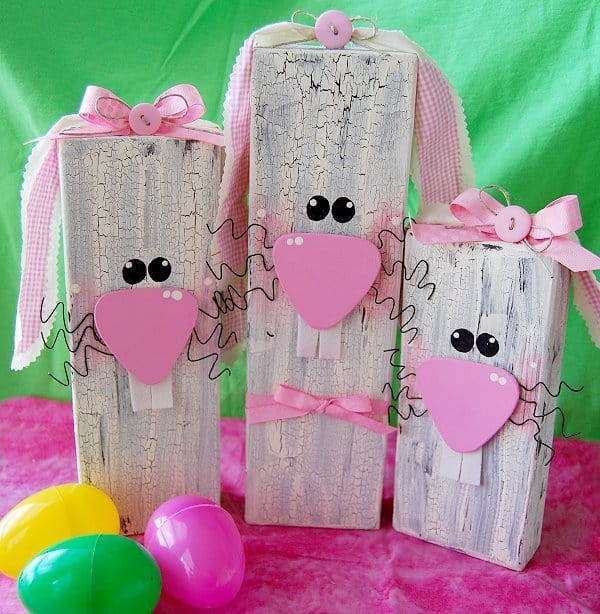 Kris at Creative Me Inspired You was excited to complete her very first wood project. These adorable bunnies turned out fantastic. They are cute and rustic. See how she did it. 
19. Stylish Easter Candle Holders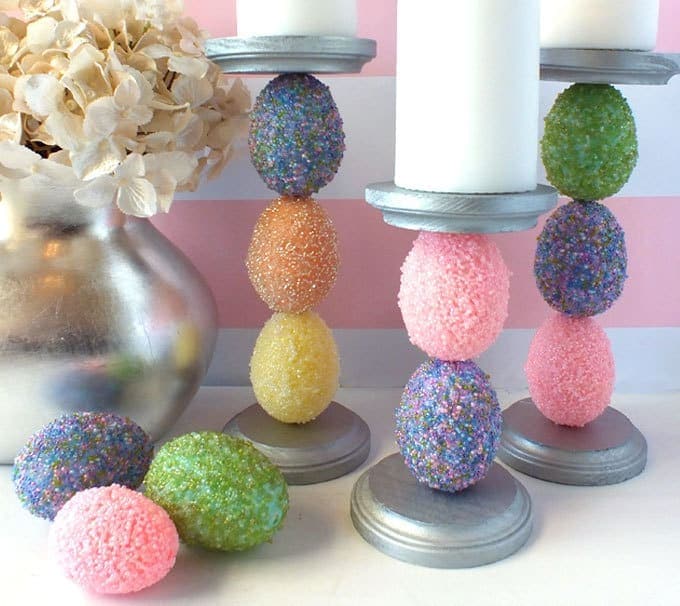 Two Sisters were inspired to make candle holders out of decorated plastic Easter eggs. This is a perfect beginner project. They are stylish and look great. Make some yourself. 
20. Framed DIY Easter Art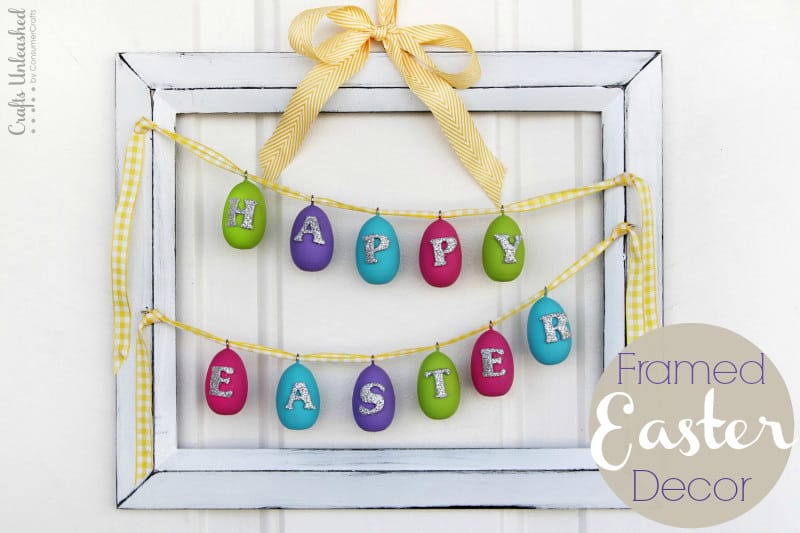 Crafts Unleashed share how they made this vibrant Easter framed artwork. I love the bright colors and the overall style. Try your hand at DIY. 
21. Awesome Easter Egg Heads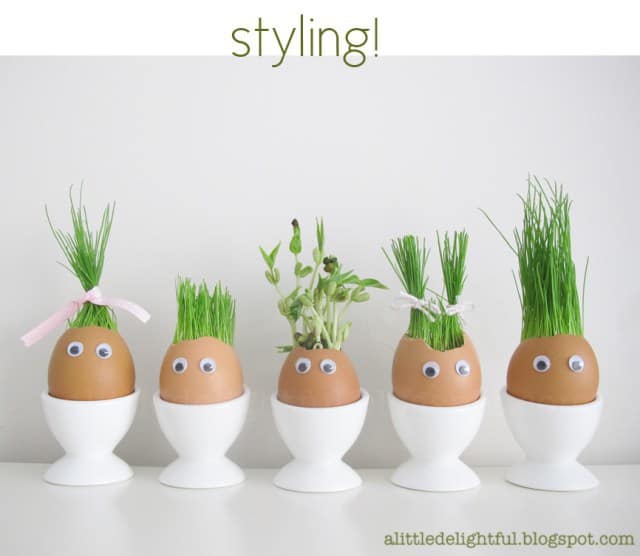 Bianca at A Little Delightful shares how she created these adorable egg shell faces that have plants for hair. These egg heads are so fun and a great decoration for Easter. See how she did it. 
22. DIY Easter Tree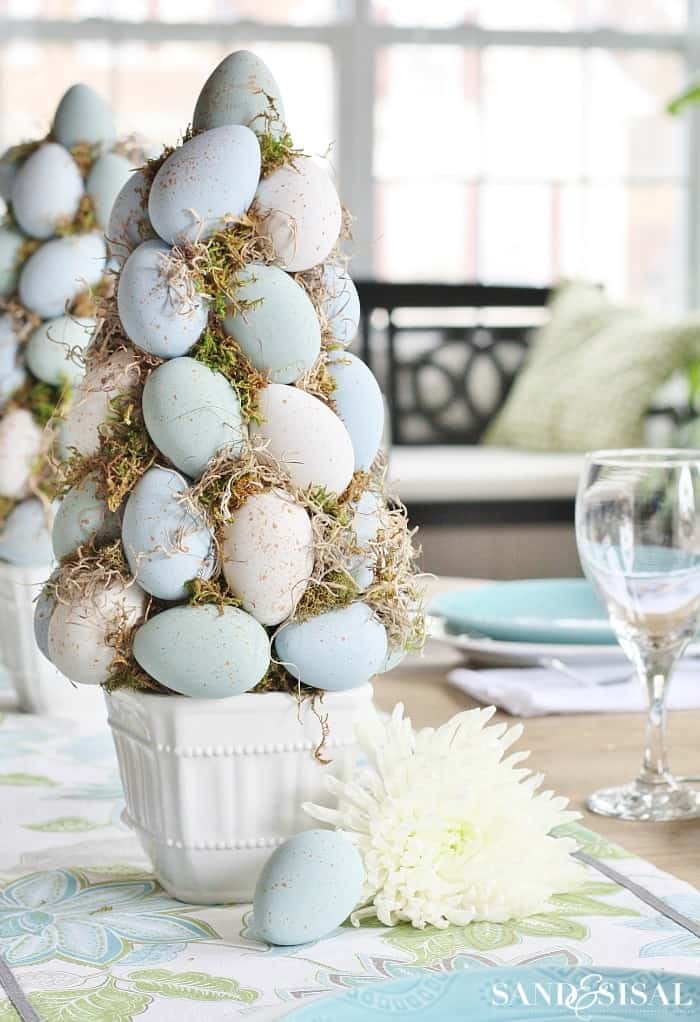 Sand & Sisal was excited for spring and wanted to make something DIY for Easter that was light and beautiful. She nailed it with this Easter tree. Check it out. 
23. Make Your Own Decorative Egg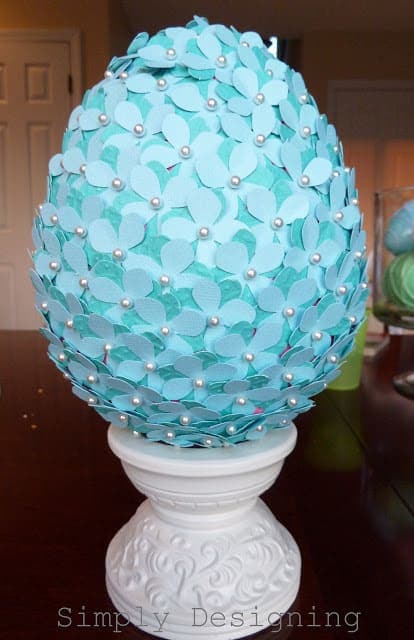 Simply Designing got inspired to make this fantastic giant egg decoration. This decorative egg will transform any space. Try making your own decorative egg. 
24. Easy Decorative Bunny Bread Board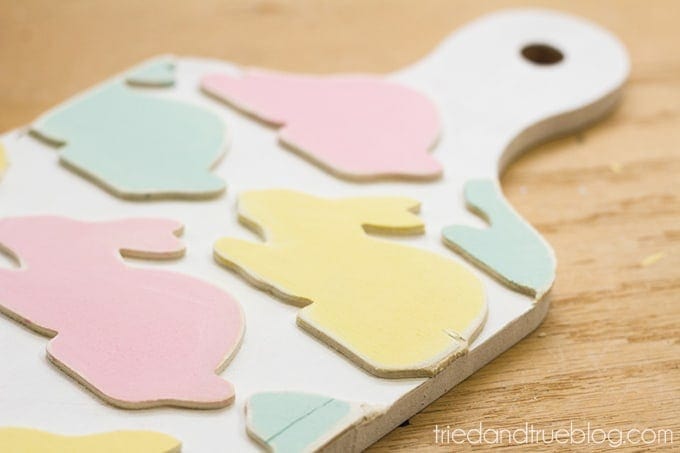 Tried & True made this adorable Easter bunny bread bored with a few simple supplies. The best part is it can totally be customized to fit your needs. Full tutorial here. 
25. Simple Rabbit Wreath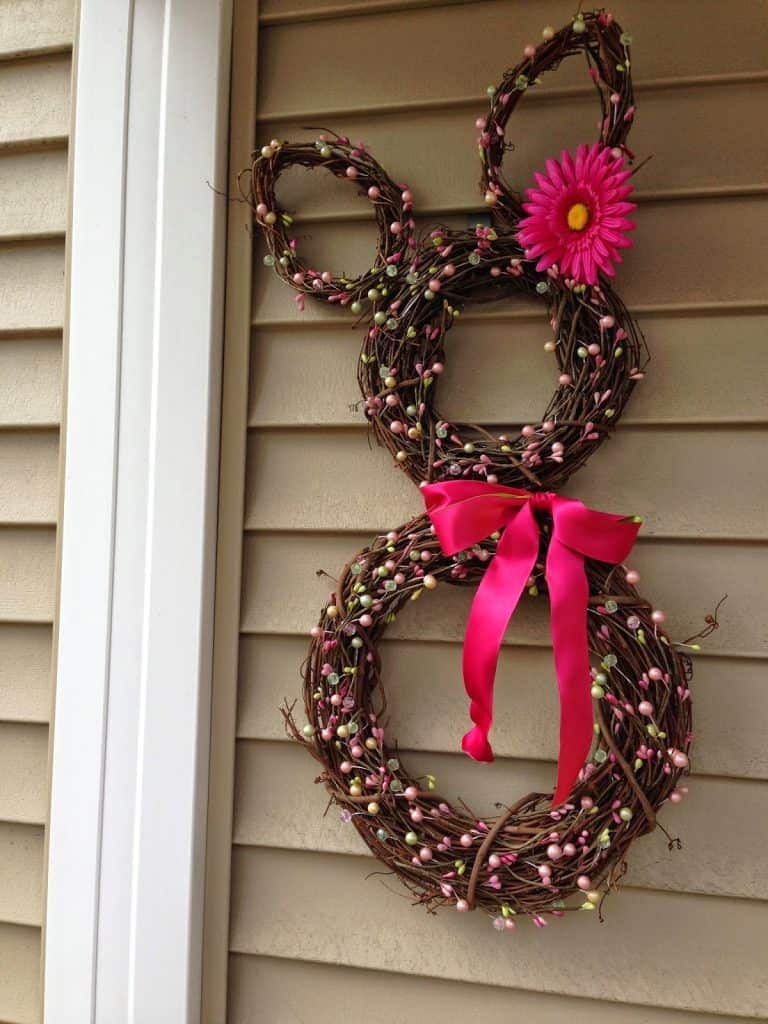 Cheryl's Blog shares how she transformed some grapevine wreaths into an adorable rabbit wreath. I love the look and you can change the colors depending on what you like. Give it a try. 
26. Simple DIY Easter Chalkboard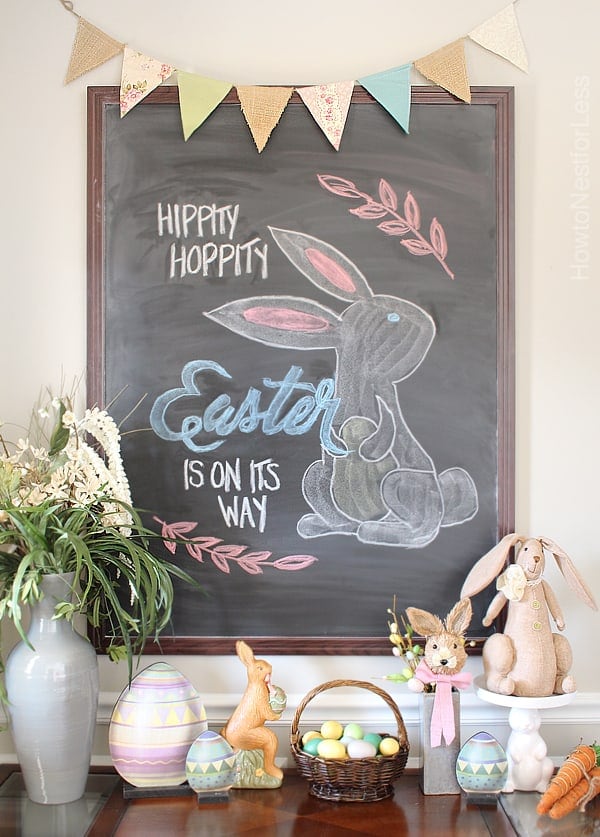 How To Nest For Less added some awesome Easter decorations to her foyer. She made this easy Easter chalkboard and it looks so fantastic! How she did it.  
27. DIY Decorated Birdhouse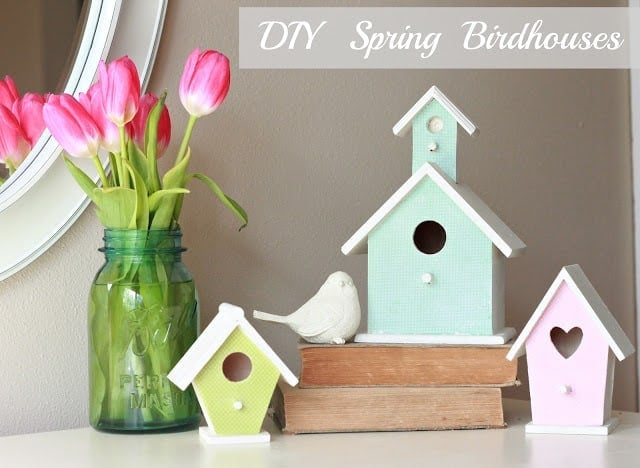 Tonya at Love of Family and Home wanted to spruce up her mantle with some Easter decorations. She found a great deal on the pre-made birdhouses, so she decorated them. Find out how she did it here.