Anyone that loves working with their hands and creating their own wood pieces will definitely need their own wood chisels.
A set of these tools can make sure you are ready for absolutely any project and that you are more than capable of creating something high quality and elegant. If you're the type that prefers doing things without the multitude of electronic tools then this is for you.
Wood chisels come in a range of different sizes and shapes, which means that they're going to give you a slightly different output when it comes to working with your next wood piece. You'll need to look at the different sizes of blades and handles to find something that will work for each job that you're trying to do. If you're going to be doing a lot of different things you'll likely need several different chisels, but you don't need to worry about overloading yourself.
We've gathered a list of 6 different chisels that you're definitely going to want to take a look at. Each of these is going to help you get the job done right and will make sure that you are ready for the next project when it comes. Whether you're just getting started or you've been doing this for a long time, you're definitely going to have no problem using any of these tools to help you in the process.
The Best Wood Chisels
Stanley 16-791 Sweetheart 750 Series
This 4 piece set comes from a company that's known for producing excellent quality tools and they definitely haven't skimped with these. They have a hornbeam wooden handle that increases their durability and a thin blade that's still long enough to do just about anything you might want.
The chisels are made of high carbon chrome steel and have tapered bevel sides. With a ¼", ½", ¾" and 1″ option included you're definitely going to be prepared for anything. These chisels are easy to sharpen and even have no problem holding a sharp edge.
The side bevels are narrow, even more so than most chisels, which mean that they are less likely to damage your project while you work. Everything even comes in a genuine leather tool roll so they're easy to carry around when you need them. Manufactured in England, these chisels have a comfortable feel and work great for anyone, even those who are just getting started.
Facts and Features
¼", ½", ¾" & 1" chisels
Narrow side bevels
Carbon chrome steel blades
Genuine leather tool roll
Hornbeam wooden handle
4 pieces included
Stanley 16-150 Series
This 3 piece set is inexpensive but still provides you with some great features. The handles are made with black polypropylene to keep them resistant to deformation and to make sure that they are comfortable for you to hold for extended periods of time.
The blades are made using heat tempered steel and are lacquer coated to make sure that they prevent rust as well, meaning that they're going to stay high quality for as long as you need them. Durable and strong they also have a limited lifetime warranty to go along with them.
Uniformly hardened all the way through the blade, these tools are lightweight and ready for absolutely anything. They're made not to roll, so if you set them down they'll stay right where you put them, and they provide even distribution to the load while you work.
Precision ground, they are available in ½", ¾" and 1″ sizes and have full-size blades and handles to go along with them. In the long run, you're definitely going to have something that you can count on for excellent quality work and continued quality, no matter what you do.
Facts and Features
½", ¾" and 1" sizes
3 tools included in the set
Full-size handles and blades
Limited lifetime warranty
Heat tempered steel blades
Polypropylene handles
VonHaus Craftsman Wood Chisel Set
Here you're going to get plenty of tools to get you started with your woodworking crafts. In fact, you may not even know where to get started when you see everything that this convenient little case can hold. You get 6 different chisels in sizes from ¼" all the way to 1 ½", plus you'll have a honing guide and sharpening stone.
The blades are heat treated and made with a chrome vanadium steel alloy, which keeps them strong and durable for extended use, whenever you need them. They also have narrow side bevels to get the job done right. The ergonomic design of the handles makes them easy to hold onto for extended projects and helps you keep control even better.
You'll be able to take care of pieces just the way that you want, without having to worry about mistakes. Because you get such a variety you'll also be able to work on larger and smaller projects with ease. They're made for DIY or beginners or for more advanced woodworkers as well. When you're done just put them in the box and you'll be ready to take them anywhere you want to go.
Facts and Features
6 chisels from ¼" to 1 ½"
Includes everything to get started
Comes in a convenient carrying case
Great for beginners or more advanced users
Ergonomic design handle
Narex Woodworking Chisels
Here you'll get 4 different chisels that are actually made by a small company in the Czech Republic. The blades themselves are ¼", ½", 13/16″ and 1 1/32″ to give you plenty of variety for different types of projects ranging from large to very small. They have a 25-degree bevel to get just the right angle and they're made from fine-grained chrome manganese steel that's hardened to Rc 59.
The handles themselves are made with lacquered European beechwood, so you know you're getting quality. The handles have an ergonomic style fit, making them easier to grip and hold for extended use or any time that you might need to work on a project for a long time.
They're lightweight and have a well-seated steel tang as well as handles that include 2 ferrules to make sure that even when you have to use a mallet with them you won't have a problem. They can hold up to absolutely anything and you'll be able to keep right on going.
Facts and Features
4 sizes included
¼", ½", 13/16" and 1 1/32" blades included
Lacquered European beechwood handles
Chrome manganese steel blades
25-degree bevel
2 ferrules for added durability and strength
Irwin Marples Woodworking Chisel Set
Here you're getting 6 different chisels that range in size from ¼" all the way up to 1". They also include a wooden case that makes them easy to transport whenever you need or helps you to keep everything stored together when you're going to be working at home. Designed to be used by hand or with a wooden mallet, these blades are high carbon steel that's hardened to 58 HRC, improving the edge retention considerably.
You'll be able to hold onto them easily as well because they have a contoured handle. The design of the chisels definitely makes it easier for you to get the job done for even fine woodworking needs and you'll have no problem using them for a long time because they're made to be comfortable in your hand.
Not to mention they're made by a company that's been in the business for almost 200 years. That means you're definitely getting a name that you can trust when you decide to go with these tools and get started on your woodworking ventures. Whether you need something for the details or for larger work you'll have it.
Facts and Features
6 chisels included
¼", 3/8", ½", 5/8", ¾" and 1" chisels included
High carbon steel hardened to 58 HRC
Company in business nearly 200 years
Comes with a wooden case
Narrow handles for easy grip
Each blade includes cover for safety and durability
Moderate pricing for high quality
Features That Matter
Size
When it comes down to it different sizes of chisels are going to make it easier or more difficult for you to get the job done. A smaller chisel is going to give you more flexibility and freedom so that you can get in closer or work on smaller projects. A longer chisel gives you more leverage however and may be just fine for larger projects or larger spaces. It's going to come down to just where you're working and what type of woodworking you really want to do.
Purpose
While most people will be able to get started and maybe even do all of their work with a standard chisel (either short or long) there are several different kinds of specialized chisels as well. These specialized chisels can help you square corners, create specialized accents on your pieces and a whole lot more. That means you're going to have an easier time getting those projects completed even if you do decide to do everything by hand.
Mortising Chisel – This type of chisel is good for chopping out your own mortises by hand, which can also be done with a mortise or drill press, but the heavy duty aspect of the chisel makes it possible to do without.
Corner Chisel – This chisel can do just what you'd expect, make square corners, but it can also work for things like rabbets, dadoes, grooves or even mortises. You can get everything done without the fuss of having to set up your drill press or anything else to get the job done.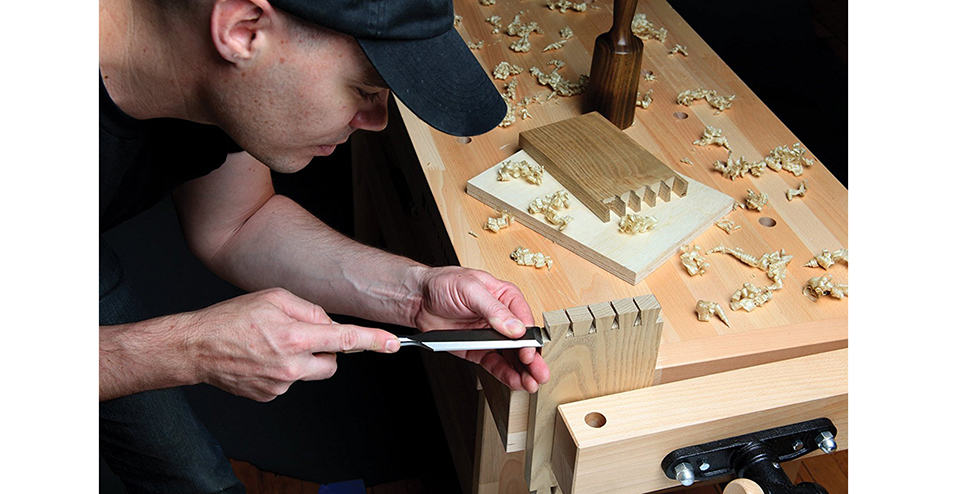 Crank-Neck Chisel – With this chisel, you'll get the ability to slice away excess material without having to move the blade because it can rest flat on the project you're working on. Because it has a bent handle it's easier to hold onto without hitting your hand on the wood piece. If you're trying to get out glue or you're working on dowels this can be a good option.
Skew Chisel – This chisel has an angled cutting edge so you can get into smaller areas to cut out pieces. You can actually get left or right facing ones and for more delicate work you're definitely going to want both of them.
Japanese Chisel – These chisels have steel forged together to make the blade and they provide you with a sharp cutting edge that holds much longer than a standard chisel you'll find anywhere else. It also features a hollow ground backing to make it easier for you to clean.
Bench Chisel – This is the standard style for a chisel. It's somewhat long and can be a bit too large for some smaller or more detail oriented projects. For most purposes, this or a butt chisel will be the only thing you really need.
Butt Chisel – These are another standard style of chisel but they're a little smaller in size than the bench chisel. The handle and the blade each are smaller making it easier to get into small spaces when you're working on smaller projects.
Final Thoughts
With so many different types of chisels out there it can be difficult to figure out which ones you really need. Just getting a couple of bench and butt chisels, however, will help you prepare for anything that you want to do.
If you start getting into more delicate work you'll always have the ability to pick up more specialized chisels later on. Of course, even choosing among the various options in those two chisels can be difficult, so take a look at what we have here and then make your choice on where to go.
If you decide that none of these seem like the right option for you then you'll still be in luck because you now know what you're looking at and you can make sure that you're getting just what you need without having to go through all the stress of researching it yourself. Just take a look at what's here to help you.