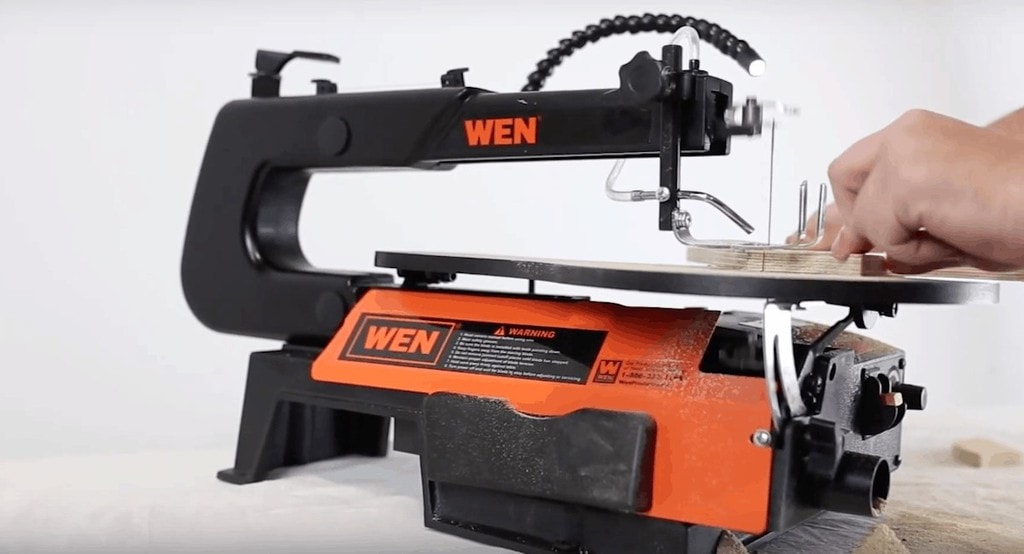 It's a good thing to first know exactly what you're looking at when you see a scroll saw, so let's go over what a scroll saw is and all of its components.
Before we get there, you may be curious if you even need a scroll saw are you aren't quite certain what kinds of things you might use it for. For that, check out this great video showing some common uses for a scroll saw before we talk specifics: ​
Now, let's start with a couple of basic things you should be considering with your purchase. Then, we'll dig into some other buying tips before recommending some top models.
First, you need to know how the scroll saw turns on. Where is the on/off switch located? Preferably, you want the power switch to be on top and easily accessible in case a blade was to break and cause harm to you or to whatever piece you're working on.​
Variable Speed control is next – Every person scrolls at a different speed. Some like to take their time, others put it to max speed most of the time. It depends really on your personal preference. It also really depends on what kind of material you're cutting- metal (hard or soft), wood, etc…. You need to know where the variable speed control is, and it's a good idea to have it right next to your power switch if possible. However, you do want the power switch and the speed control to be separate switches rather than a combo that does both.
What should you look for in a scroll saw?​
​THROAT SIZE: The first term you need to know is "throat size". You may look at the box and see: "16 inch scroll saw" or "30-inch scroll saw". This measurement or "throat size" measures the distance from the back of the blade to the very back "throat" of the saw. The reason you need to know this is because whatever throat size you have, you can cut a piece of wood double that length. A 30-inch scroll saw can cut a 60-inch piece of wood. A 16″ scroll saw is pretty basic and for beginners. If you're just starting out with woodworking, this size would suit you well in order to get your feet wet.​ If you're more experienced, you could go with a 20″ or 21″. If you purchase a 30″ scroll saw, you're just showing off. Those can be a bit overkill, but you do whatever you feel suits your needs.
BLADE TYPES: What type of blade does the scroll saw accept?

Pinned – these are much thicker blades used for much thicker cuts of wood, not allowing for cuts of fine details.
Unpinned (or pinless)- allows for much more options when it comes to cutting wood. There is a much bigger variety of pinless blades, which allow you to do tighter, more detailed cuts.

TOOLED OR TOOL-LESS BLADE CHANGES: When shopping for the best scroll saw, you need to look specifically at how the blade mounts.

If you're doing a piece that requires many, many cuts, if you have a tooled blade, you are going to have to change blades for every cut that you make. Some tooled blades require many tools in order to change the blade out. You need to know this up front because you may get extremely irritated or tired of having to use tools to swap out your blade every time you need to do a new cut.
Many experts prefer a tool-less blade, but do warn that the little mechanism used to change blades can strip out on you and have to be replaced. These pieces are not indestructible, so remember this when considering which is the best scroll saw for you to purchase.(see image below)

BLADE TENSIONING: Some scrolls saws have levers, some have a cam, some have knobs at the back, all of which tighten and loosen the blade of the scroll saw. It's important that the location of whatever is used for tensioning the blade is convenient for you. For example, many 16″ scroll saws have the tensioning lever or knob strictly at the back of the saw rather than at the head. This can be very difficult to get to when you're trying to do a cut. You'll be tensioning your blade often-pretty much for every cut you make. Think about it.

Things to consider:

Material (plastic or metal)
How easy it is to tighten the blade
What method is used – lever, cam, knob
Location of tensioning mechanism

​THE WORK TABLE:

Size- do you have enough room on the table to work on a piece comfortably? You need to be able to freely spin the piece and have it fully supported while you're cutting.
Material -you need to be sure that the material and texture of your table is extremely smooth so as not to create resistance when you're trying to work and move a piece.
Durability – the table needs to be strong enough to hold whatever you're cutting. Steer away from a wooden table- look for aluminum or cast iron if you can.

DUST COLLECTION: Honestly, there really isn't a scroll saw on the market that does an impeccable job at collecting dust. Some have blow tubes, some have compressors, but what you really need to be sure of is if the blow tube is flexible and can be moved so that it doesn't blow dust directly onto your lap while cutting. Other than that, you're going to see some dust. (blow tube image below)
THE HOLD DOWN FOOT: Is it sturdy and capable of holding down the piece that you're working on? It's good if the hold down foot is adjustable too. It's important that if you're a beginner, you will want to use this foot. As you become a pro, many experts feel you will no longer need to use the foot because it can actually break the more delicate, intricate pieces you are working on rather than help you. Just something to keep in mind.
BLADE ROCKER ARM TYPE: This is the thing that provides the strokes of the blade or gives it the up and down motion.

Some scroll saws have one, solid arm that goes from the front to the back and handles all the movement for the blade. That arm pivots (along with the lower arm). Some feel that this is a bit too turbulent of a motion when making delicate cuts. The scroll saws with a single arm can be quite a bit more budget friendly.
Other experts prefer smaller arms which work more like a cam and provide less vibration on the work table. It's really your personal preference. Excaliber and DeWalt, Delta

RAISING TOP ARM: You really need to consider what type of work you're planning to do so that you can purchase the best scroll saw for your needs. A top lifting arm will greatly benefit you if you are planning to do a lot of fret work (working from the top of the table down).
TABLE TILT (blade tilt): Scroll saws can have a right tilt, left tilt or right and left tilt. You need to know if it has a definite, accurate angle (see image below). The best way to know if the scroll saw you are looking to buy has accurate measurements on its table tilt, is for you to bring a construction square with you to the store and test it out. There's nothing wrong with that. It's your money that you're spending. You want to be sure you're getting what you paid for. You need to consider the ease of adjustment and how solid it is once adjusted. Some tables stay flat and the blade/arm does the tilting.
BLADE STORAGE: Chances are good, that as you get into using your scroll saw, you will have many different shapes and styles of blades. You need to consider where you're going to put those blades. Looking for a scroll saw that stores them may be an added bonus when shopping for the best scroll saw.
WORK LIGHTS: This is simply an added bonus- not a "must have", but something to consider when shopping for the best scroll saw. Good lighting is essential, but if you have a good work room where lighting is up, you should be ok even if your scroll saw doesn't come with this added bonus.
TOOL STAND: Many scroll saws come with their own stand. Commercially available stands typically have adjustable legs. You do want to be sure you're able to work at a height that is most comfortable for you, not too high or not too low. Some people prefer to use 2x4s and make their own stand.
LUBRICATION: This may or may not be an issue, but we definitely want you to be well-informed. Some scroll saws have greaseless bushings and bearings, others require lubrication or recommend it after so many hours of cutting.
Best Scroll Saw Overall
DEWALT DW788 1.3 Amp 20-Inch Variable-Speed Scroll Saw
"All and all it is a joy to work with and I can't imagine ever going back to the $99.00 saw I had been using. Well worth the price if you are going to use it regularly or if the price is of no concern and you can afford it for occasional use go for it." – Bill – Homedepot.com Review